WBB Preview: Aggies Seek A Very Rare Win Over BYU
Utah State WBB has just tipped off against BYU, looking for its first home win against the Cougars in... a very long time. Here's everything you need to know: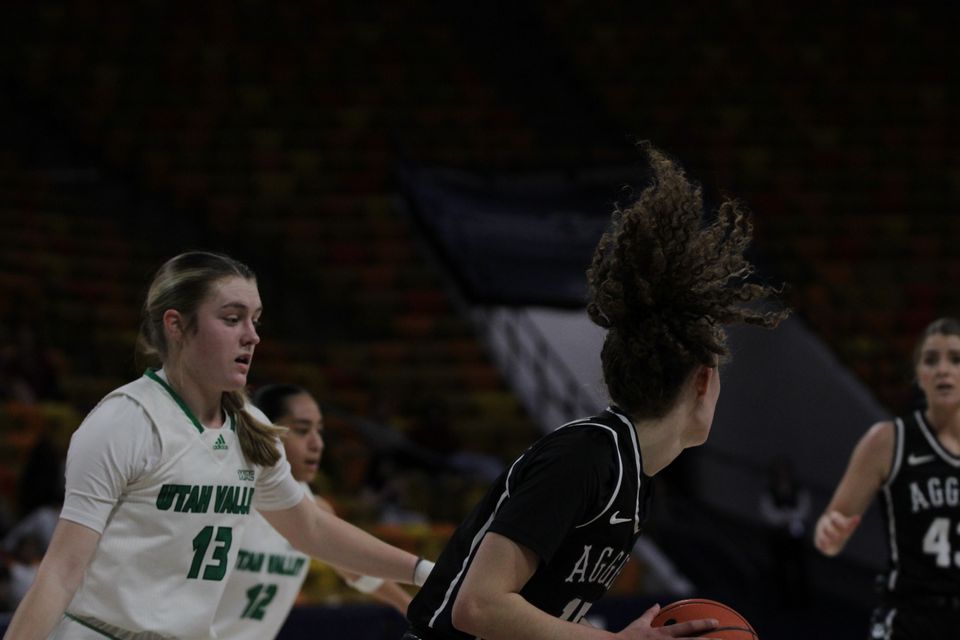 It hasn't been that long since Utah State's women's basketball program toppled BYU. The Cougars have won four straight in this series, but the Aggies claimed a victory in Provo back in 2017, 76-69. The 28 games before that? Well, Utah State would rather not think about those.
BYU's dominance in this series is well-documented. Despite several close calls, like a 62-57 overtime loss in 2018 or a 62-58 double-overtime defeat in 2014, Utah State hasn't hosted and returned BYU to Provo with a loss since 1978 – one of just two wins at home in 19 games, the other coming in 1974.
There is a bit of good news on this front for the Aggies. Longtime BYU head coach Jeff Judkins, who held a career 15-1 record against Utah State, retired at the end of a 26-4 campaign last season. His replacement, Amber Whiting, has no college coaching experience. She was an excellent AAU coach for a decade and led Burley (Idaho) High School to a state title last season, but she's new to this. The Cougars returned just one starter from last season's excellent group, and they're off to a less-than-ideal 3-5 start – with plenty of shifting in the starting lineup.
Utah State cannot take this as any sort of implication that it will automatically have a chance in this game. BYU is an extremely talented team even as it undergoes a youth movement, and despite a two-game winning streak, Utah State has not been playing especially well. It knows that to beat BYU, it will need its best outing of this season to this point.
"I don't think we played very well tonight," head coach Kayla Ard said after Utah State's win over Utah Valley on Sunday. "I'm happy to get the win, but I just didn't think we played very well. Our offensive flow is not very good right now. I'm happy that we held them to 55 points and I think our effort is there, but we're sloppy and we need to be cleaner if we're going to beat better teams moving forward. We have BYU coming up and we need to have a better offensive flow than that (to beat BYU)."
Projected Lineups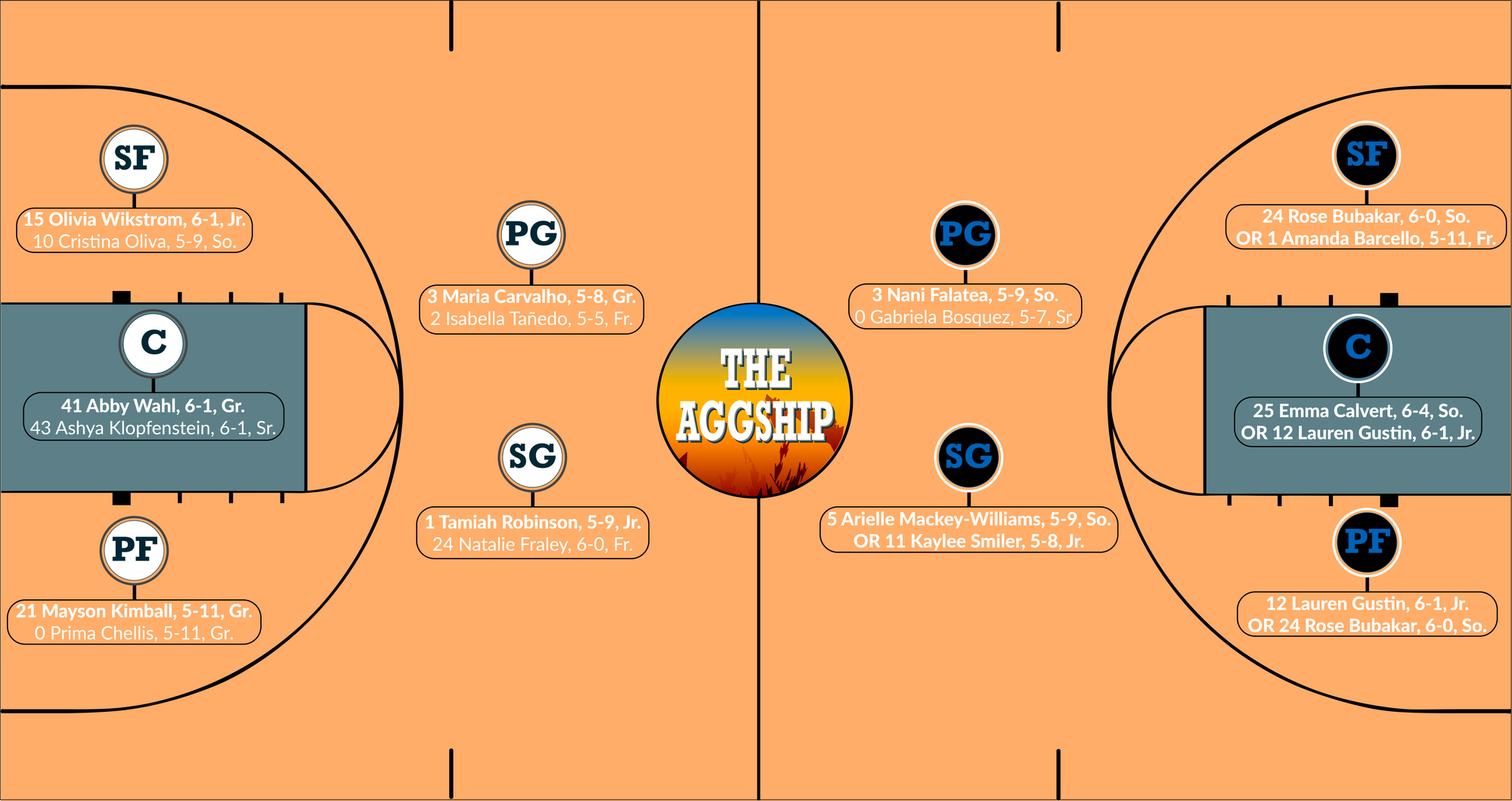 Players To Know
Nani Falatea: A part-time contributor as a freshman last season, the Salt Lake City native has excelled through her move into the starting lineup this season. She's one of only two Cougars to start in all eight games this year, averaging 36.6 minutes per contest (second on the team) as she's taken over at point guard in a backcourt with the unenviable task of replacing Tegan Graham (graduation) and Shaylee Gonzales – the back-to-back WCC Player of the Year who transferred this offseason to Texas.
Gonzales she is not, though it would be asking a lot of a sophomore to match the 18.3 points, 5.6 rebounds, 4.1 assists and 2.3 steals per game her predecessor provided during her final season in town. Falatea hasn't been as far off as those around the program may have feared with such a sharp transition. The 5-9 guard is averaging 13.4 points, 5.1 rebounds, 4.5 assists and just over one steal per game this season – the latter two lead the team, while she's No. 2 for scoring and rebounding.
BYU would love for that scoring to come with a bit more efficiency, as Falatea is shooting just 37.1 percent from the field and 28.2 percent from deep, but there's no questioning her talent or confidence. Maria Carvalho will need to stay close to her at all three levels of the offense, and cannot afford to let her get loose for any long rebounds. It's not the daunting task to handle these guards that it was a season ago, but it's still one of Carvalho's toughest assignments of the season so far.
Lauren Gustin: If BYU could have picked which of its five starters from 2021-22 would return to lead this young group, it very well might have picked Gustin. A 6-1 junior from Salem, Utah, Gustin has been a do-it-all player in BYU's frontcourt for three years now, earning first-team All-WCC honors and an AP All-American honorable mention as a sophomore in 2020-21 and repeating as a first-team all-league pick last season.
Gustin is a true forward – she's taken only four shots from outside of the arc this season (all misses) and tried just one last year – and will play either power forward or center depending on the surrounding lineup. She's an elite post scorer – averaging 16.4 points per game on 53.3 percent shooting – and an even better rebounder, checking in with 14.0 rebounds per contest.
Defense is not as much a strong suit for Gustin, but she will give Utah State's defense everything it can handle in the paint. If the Aggies are not very careful, Gustin could put up 30 points in very short order.
Kaylee Smiler: Smiler is a hinge player here because her status is going to decide which lineup the Cougars go with. When she's on the floor, she gives BYU a much-needed sharpshooting threat – she's averaging 10.7 PPG on 48.8 percent shooting from the field and 50 percent from deep. That's not a given, though. She hasn't played in BYU's most recent games, and her status for this matchup is at this point unclear.
If the Cougars have their shooting guard, they'll probably go small. Falatea and Smiler can hold down the backcourt with Amanda Barcello (3.0 PPG, 4.0 RPG, 1.25 APG) at small forward, Rose Bubakar (10.4 PPG, 4.8 RPG) at power forward and Gustin in the middle.
When BYU is without Smiler, as it was in a 76-67 win over Boise State, it likes to move Gustin to power forward and Bubakar to small forward, making room at center for Emma Calvert (4.4 PPG, 3.0 RPG) while slotting Arielle Mackey-Williams (8.6 PPG, 1.1 RPG) in at shooting guard.
Stats To Know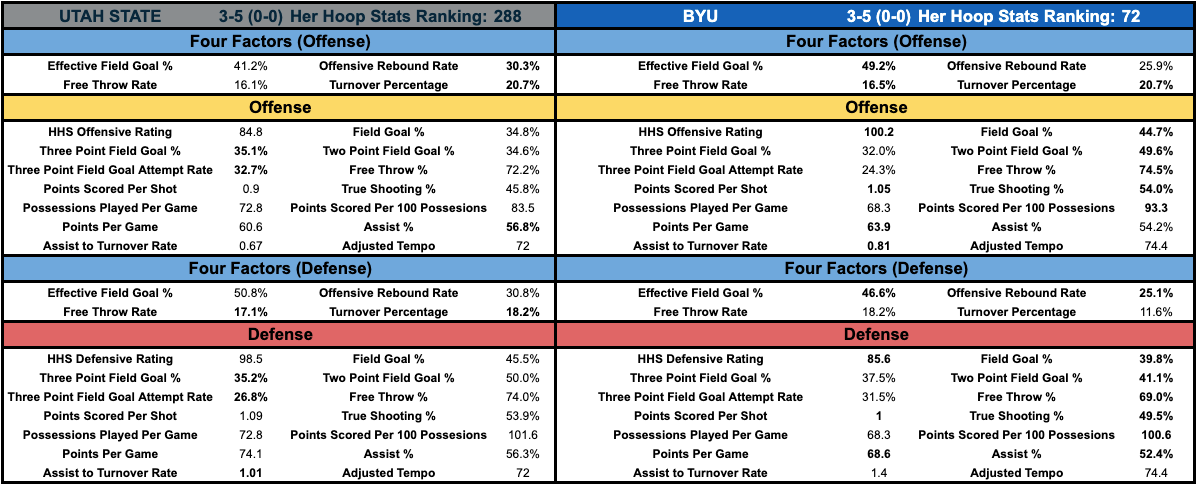 Offensive Rebound Rate: BYU, outside of Bubakar, Falatea and Gustin, does not rebound especially well. It isn't bad on the boards, but the Cougars lost a lot of physicality over the offseason and it's shone through on several occasions this season.
Utah State hasn't been able to keep its opponents off the offensive boards with much consistency, but the Aggies have been able to keep possessions alive with their work on the offensive glass. A dominant performance there would give Utah State the exact kind of edge it needs to be competitive here.
Turnover Percentage: On a similar note, Utah State just is not going to win this game if it turns the ball over the rate it has turned the ball over this season. BYU's defense is very conservative, built around preventing open shots. Giving that kind of group a bunch of free turnovers is not a recipe for success. Utah State has to be smarter and cleaner with its passes, and it has to stay away from the corner on the baseline – where opponents have forced the Aggies far too frequently this season.
Adjusted Tempo: I hope you're ready for a track meet. These teams both like to run, and they're going to do a whole lot of it here. The team that wins the fast-break points battle may very well find itself on top when the final buzzer rings.
Prediction
Utah State is improving. It's a whole lot more ready for this game than it was just a few weeks ago, and it's only going to get better as it finds more comfort within its rotations. There's a world where this game is competitive for all 40 minutes – one where Utah State shoots as well inside the arc as it has outside of it, where it wins the rebounding battle and where it doesn't surrender easy turnovers.
I think the Aggies can probably get one of those keys, and might be able to get two. At this point, though, getting all three would be a first – and that feels overwhelmingly unlike against one of the most talented opponents on the schedule. Keeping this game close for four quarters would be an accomplishment, even if it may not feel like it.
BYU 82