WBB Preview: Aggies Hit The Road For Second Matchup With Wyoming
Tonight in Laramie, Utah State WBB will look to build on its moments of success when it last played Wyoming while trying to eliminate the struggles of the second half that ultimately doomed it. Preview: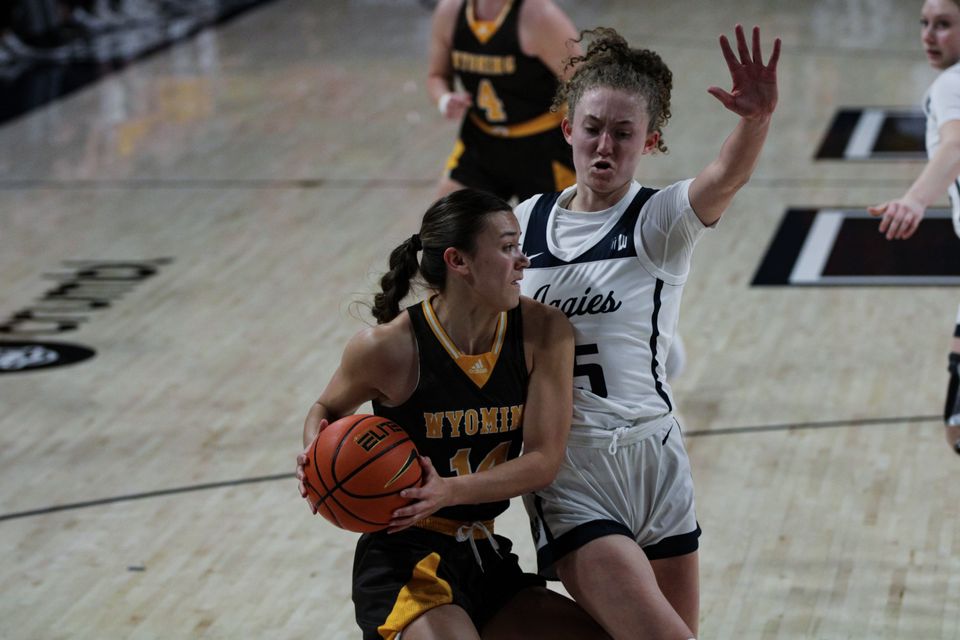 For the first 16 minutes of Utah State's first meeting of the season with Wyoming, which came in Logan back on Jan. 26, the Aggies looked primed to upset the Pokes – who sat near the top of the Mountain West standings. They used a connected and stout defensive effort to make room for their offense, which leaned on the interior play of Ashya Klopfenstein and a few critical three-pointers to build an advantage that grew as large as 18 points, 33-15, with 3:46 left on the first half clock.
Wyoming spent the next 24 minutes proving itself to be one of the better teams in the Mountain West, slashing the Aggie lead in half by the end of the quarter and eventually claiming a 42-41 edge with a little more than two minutes to play in the third quarter. Utah State kept itself in the fight for much of the final frame, pulling within two points with 4:18 left to play, but some excellent shooting at the free-throw line ultimately lifted the Pokes past Utah State's upset bid and to a 12-point victory, 64-52.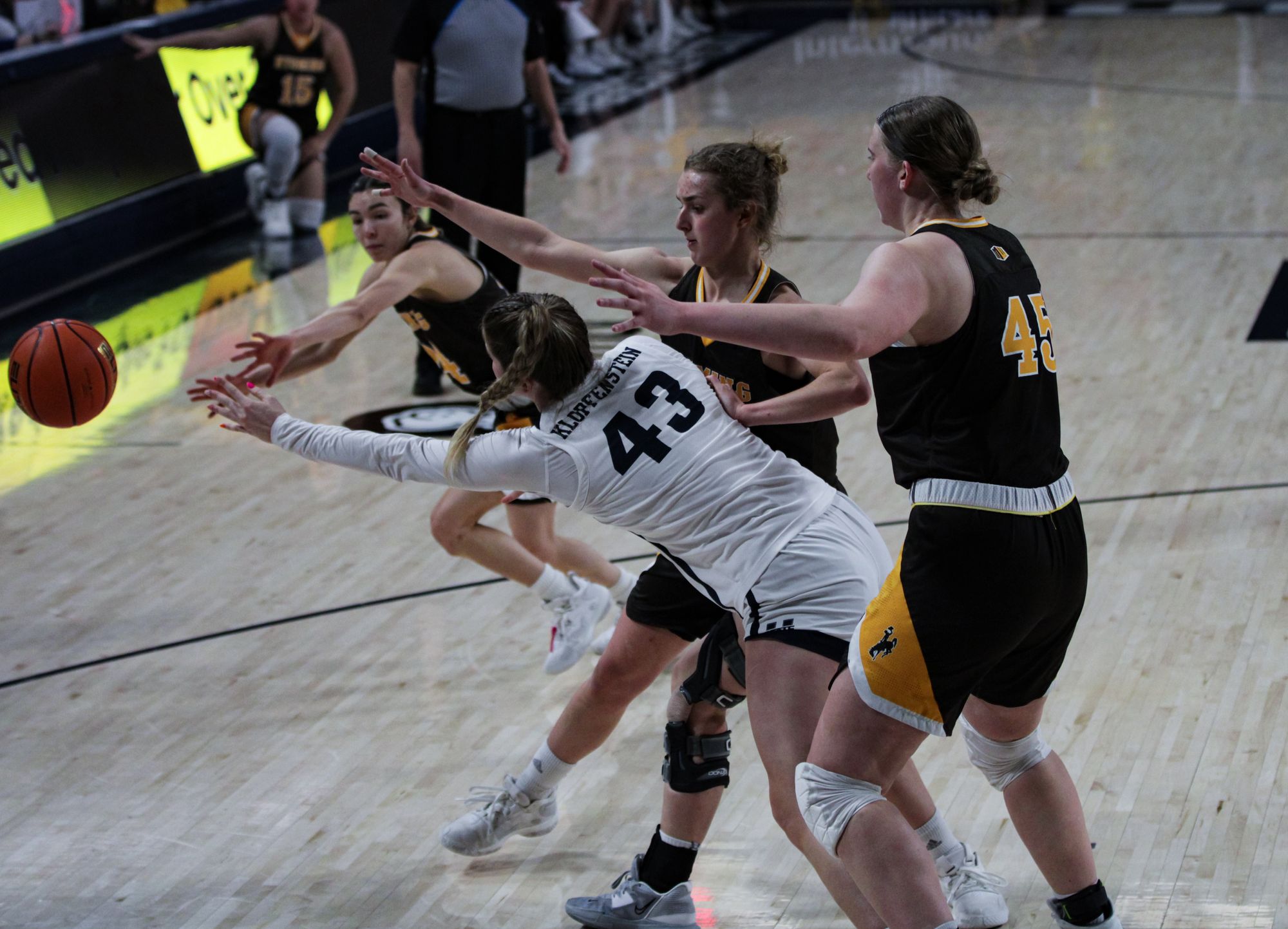 For a Utah State team that has often struggled with stringing together complete performances, it was a second late-stage collapse in as many games. As with the first, a loss to Air Force, the lack of depth on the Aggie bench seemed to play a major role. Utah State deployed only seven players for more than 10 minutes of playing time (Isabella Tañedo also added five minutes, and Lillian Harris played for about 20 seconds) and looked exhausted in the waning moments of the game when it desperately needed to deliver only a few more critical plays.
Heading into its second matchup with the Pokes, this time in Laramie, the situation hasn't gotten any easier for Utah State. The Aggies are fresh off a bizarre bout with Nevada, which saw a mid-game fight and a furious comeback surge from Utah State, erasing a 29-point second-half deficit and pulling within three points before ultimately suffering another brutal defeat. They played that game without forward Prima Chellis, and given that she's no longer listed on the team's roster, will likely have to do the same on Thursday evening.
Mayson Kimball's return (she played 29 minutes and scored 10 points against the Wolf Pack) helps to cover that new vacancy, but Utah State will again be tasked with overcoming a short bench as it looks to snap a six-game losing streak and pick up its second conference victory in 13 tries. The Aggies are as far as they could be from competing atop the Mountain West, but every potential win is still very important for end-of-season positioning heading into the MWC tournament, which is approaching quickly.
Projected Lineups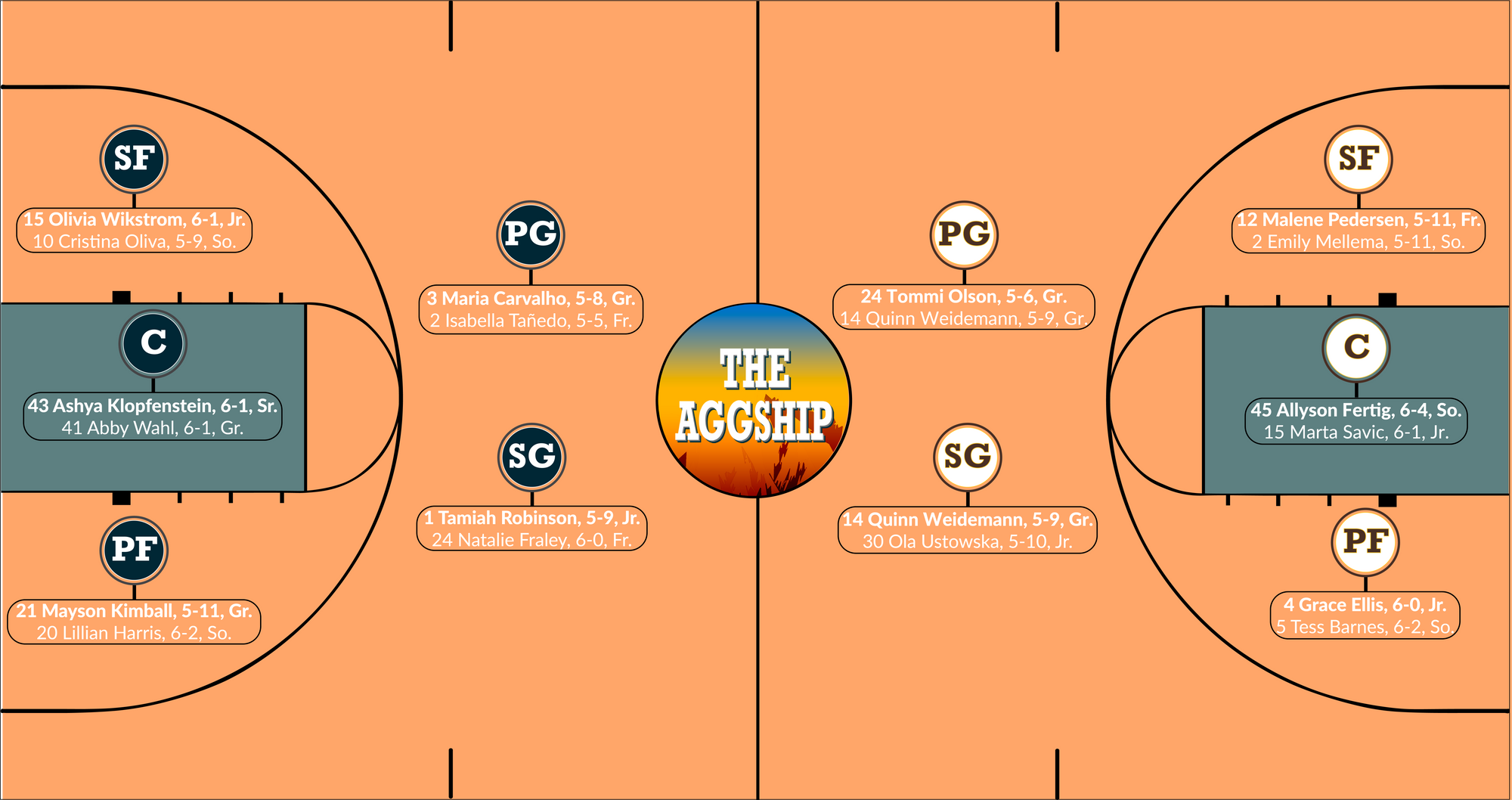 Players To Know
Grace Ellis: It's been an up-and-down season for Ellis, a 6-0 junior from Brisbane, Australia and one of four Wyoming players averaging at least 9.0 points per game this season. When Utah State lined up across from her, she played a lot more down than she did up, hitting only 2 of 8 shots from the field and missing all five of her tries from deep to finish with just five points – though she did add four rebounds, three assists and a pair of steals.
In her next two appearances, however, Ellis put up 11 points, seven rebounds and three assists against Boise State and notched 17 points with three rebounds and three more assists against San Jose State. That's been the story of her year. She's a solid wing defender and a good rebounder, averaging 4.3 RPG on the season and bumping that number up to 5.6 RPG in league play, but her value to Wyoming is most dependent on her scoring.
When she's on, as she was against the Broncos and Spartans, this offense is quite a bit more difficult to deal with than when she's a non-factor. A big part in keeping her from getting hot is doing exactly what the Aggies did and limiting her from beyond the arc, which has become something of a theme in Mountain West play. She shot 53.8 percent from deep in non-conference and was always going to see some regression, but it's hard much harder than expected – she's shooting 18.9 percent from deep.
Utah State cannot afford to be the defense that allows her to break out of this slump, there are just too many other weapons on this offense to worry about. The Aggies need another slow night at the office from Ellis.
Malene Pedersen: If Pedersen is going to hit a freshman wall, she's running out of time to do it. Though this is her second season in college basketball (she was at Kansas State last season), it's her first as a contributor – though you wouldn't know it from her play. The 5-11 winger has started every game for the Pokes this season, averaging 9.8 points, 3.7 rebounds and 2.2 assists per game while shooting 47.8 percent from the field.
Though she's also struggled with on-and-off play, including a 3-of-10 shooting night against the Aggies, Pedersen has really only improved as Wyoming has moved into conference play. All of her averages are up – she's contributing 10.7 points, 4.1 rebounds and 2.4 assists per game against MWC opponents – as is her shooting percentage (50.0 percent) and free-throw rate (13.7 percent to 14.7 percent).
Pedersen's defense has not been especially notable in either non-conference or conference play, but her play on the other end has been distinctly un-freshman-like. Keeping her under wraps was a big challenge for Olivia Wikstrom and Utah State's other wingers last time, and will be an even bigger test on the road.
Marta Savic: Savic's job on this team is very simple, and she's very, very good at it. The 6-1 junior averages just 11.9 minutes per game, checking in to give Fertig a break and using those minutes to do exactly three things: Stay near the rim, rebound, and then do with those rebounds whatever she sees fit.
Savic's rebound rate, which sits currently at 21.1 percent overall (18.8 percent offensive rebound rate, 23.0 percent defensive rebound rate), trailing only Fertig (23.4 percent) – the best rebounder in the Mountain West – and more than twice that of any other contributor to this team. She snared four in five minutes of playing time against Utah State, including three on the offensive glass.
Her other stats (4.3 PPG and 0.9 APG) are products of her rebounding acumen. For the No. 5 defensive rebounding team in college basketball, Savic is a perfect fit. If there's any good way to deal with her, the Mountain West has yet to uncover it, and it's hard to imagine that Utah State will have any new answers.
Stats To Know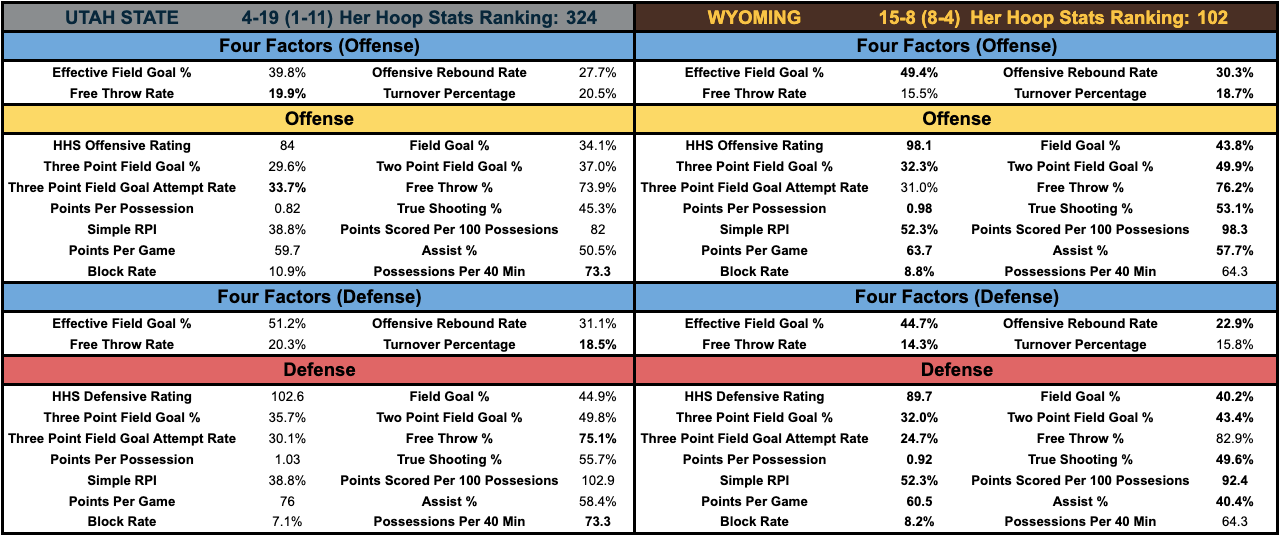 Free Throw Rate: Wyoming doesn't much care for free throws. The Pokes have an excellent defensive free throw rate, allowing opponents to the line on just 14.3 percent of their shot attempts (though they do allow a comical 82.9 percent free throw percentage, which is both damaging and entirely out of their control) and the exact opposite success with their offensive free-throw rate. On that end, the Pokes get to the stripe only 15.5 percent of the time (264th nationally).
Of course, they had no issues with getting 22 tries at the line against Utah State, which the Aggies would do very well to avoid a repeat of on Thursday. They're probably not going to be the offense that breaks through this defense and gets a bunch of free throws of their own, but they could certainly afford to cut down on the times they send the Pokes to the line. This offense really doesn't need the extra help, and Utah State may very well have won the first meeting had it not given so many away.
Possessions Per 40 Min: As with most frontcourt-driven teams, Wyoming likes to slow its games down to a crawl as much as possible. The Pokes average 64.3 possessions per 40 minutes, good for No. 357 of 361 teams and the slowest in the Mountain West. Part of that is due to their rebounding prowess, keeping possessions alive longer than most teams do, but this is also just a very deliberate offense paired with a zone defense that can only be beaten with patience.
When Utah State had that patience, it built an 18-point lead. When the Aggies got antsy and started pushing to speed the game up, everything fell apart. They don't have an especially potent zone offense, but they've proven capable of making plays against this defense before. They have the blueprint, but having it and following it have been two very different challenges for this team all season.
Turnover Percentage: It comes with the territory for a zone defense like this one, but it bears mentioning all the same that Wyoming doesn't put a whole lot of pressure on opposing offenses. The Pokes are 342nd in forced turnover percentage (15.8 percent), and that's good news for a Utah State team still working (and largely succeeding in recent weeks) to cut down on its turnovers. The Aggies need to make sure that those successes carry in this game, because giving the ball away to a defense that doesn't really want it is rarely a recipe for success.
Prediction
There aren't many matchups worse for Utah State as it is currently constructed. The Aggies are down to one true center barring the surprise return of Chellis, Olivia Mason or Abby Wahl, and don't have a whole lot of size at forward between Kimball, Cris Oliva and Wikstrom. Harris has been playing more and can provide some size, but she's really not ready for MWC competition and Utah State would much rather keep her protected from this kind of matchup.
The Aggies may be able to generate some plays with a relatively even matchup in the backcourt, but they will need to execute with the kind of connectivity on both ends of the floor that they just have not been able to find for a full 40 minutes in any league game (save for the Fresno State win) this season. It's hard to imagine this being the time for that to change.
Wyoming 77, Utah State 55