WBB Preview: Utah State Travels North For Boise State Rematch
Utah State WBB is back on the road for a trip to Boise State, where it'll face a Broncos team jockeying for position in the top half of the MWC. Preview: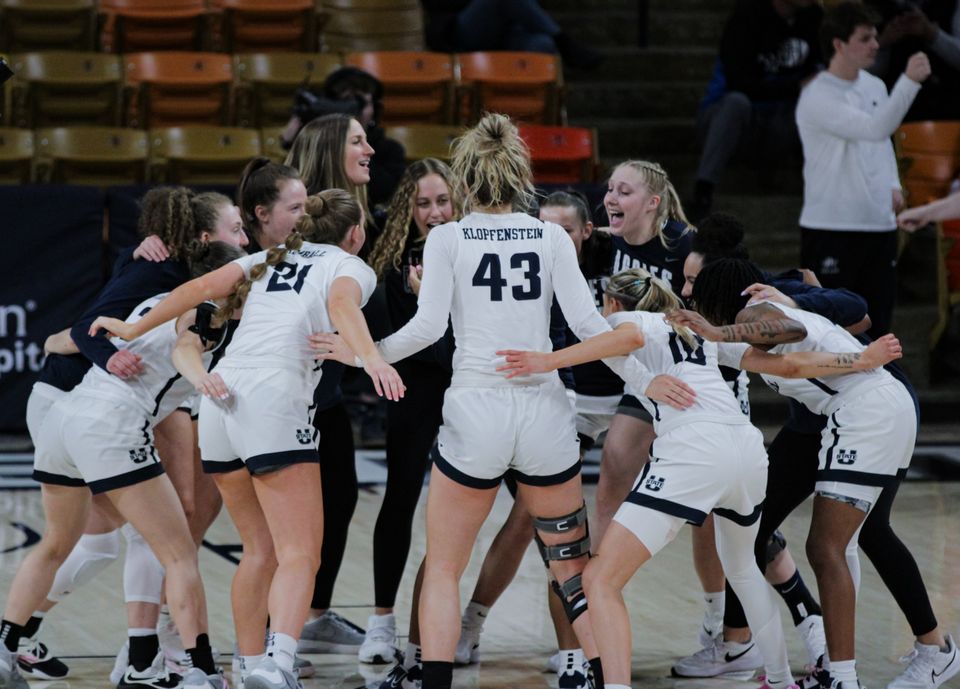 The final score of Utah State's first meeting with Boise State, a 73-56 margin in favor of the visiting Broncos, is not entirely representative of that Jan. 7 matchup.
Boise State pulled away down the stretch, doubling the Aggies up in the fourth quarter (26-13), but the Broncos couldn't feel secure in their lead and eventual victory until the very late stages of the game. The two sides were knotted at 29 heading into the break (Utah State led by as many as six points in the first half) and ended the third quarter with four points of separation as Boise State led 47-43.
It was a seven-point game a little less than halfway through the final frame, and it wasn't until the Broncos rattled off five quick points to pull ahead by 12 that the game felt truly out of reach. It bears mentioning, too, that Boise State knocked down 11 free throws in the last 5:17 – many of which came after intentional Utah State fouls.
On top of that, the Aggies were playing without starting point guard Maria Carvalho, who watched from the sidelines donning a walking boot in what is still the only game she's missed this season. For a shorthanded effort, Utah State could have fared much worse.
This is not to wave away a 17-point loss – injuries exist in basketball, free throws count as points all the same and the fourth quarter has consistently vexed Utah State this season – but to contextualize it ahead of the second meeting between these two teams. Utah State will head to Boise State on Saturday afternoon seeking its first win in more than a month (1-9 in 10 games since their last matchup), while the Broncos look to continue what has been a pretty good conference season.
They're 9-6 in MWC play, including five wins in their last six games, and would love to move further up the conference standings with a strong finish. Currently in fifth place, Boise State is two games behind No. 2 San Diego State (11-4), one game behind Colorado State and Wyoming (10-5), and half a game in front of New Mexico (8-6).
With a road trip to Colorado State to end the season, as well as big games elsewhere in the conference – including a bout between the Rams and Pokes, a road trip to San Diego State for Wyoming and a matchup with the league-leading UNLV Runnin' Rebels for the Aztecs – the Broncos could benefit from some chaos as long as they hold up their end of the deal. It starts on Saturday with the beleaguered Aggies coming to town.
Projected Lineups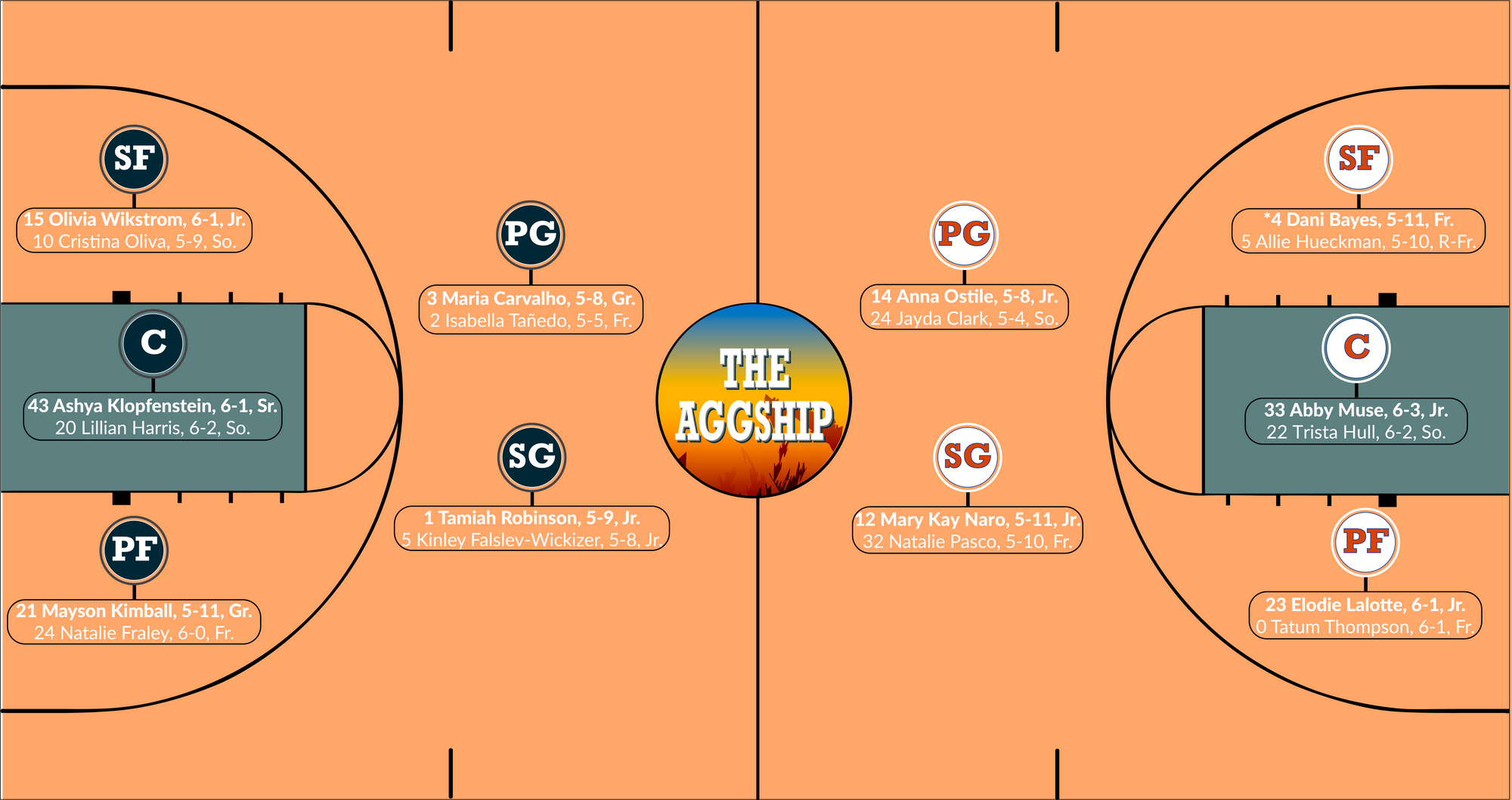 Players To Know
Dani Bayes: While that first game was closer than the final score (and the team records) would indicate, which is worth noting, it's also necessary to note that these teams have changed in the 42 days between their games.
Carvalho won't miss this one (unless she's sustained an injury not yet made public), but the Aggies no longer list forward Prima Chellis on their roster, and center Abby Wahl hasn't played since Jan. 21 as she deals with an injury. Those two accounted for more than 42 minutes in the first matchup, combining for 15 points and eight rebounds as two of the leaders in the Utah State frontcourt.
Boise State has faced its share of attrition, too. Starting point guard Mya Hansen (9.1 PPG, 3.0 APG, 1.9 RPG) hasn't played since the end of January and backup forward Mandy Simpson has been sidelined since playing 18 minutes against the Aggies (4.3 PPG, 3.9 RPG, 2.2 APG). The Broncos may be adding a third major contributor to that list with Bayes, a 5-11 freshman with 27 starts to her name.
Bayes, who has averaged 8.7 points, 3.0 rebounds and 1.3 assists per game in her first season of college basketball, didn't suit up for the Broncos in their 59-54 victory over Air Force on Thursday. She didn't suffer any apparent injury in Boise State's previous game against UNLV, and there's been no reporting on her status in the days before or since that matchup with the Falcons.
While Bayes is an all-around contributor for the Broncos, pitching in as a versatile defender and a capable rebounder on the wings, her biggest impact on this team comes from her perimeter shooting. Bayes easily leads the Broncos in three-point volume (47 for 129), and with Hansen sidelined, she's also the highest-percentage sharpshooter on the active roster (36.4 percent).
Her status could play a major role in shaping Saturday's matchup. If she's back in the lineup, the Broncos can operate their offense as usual, working the ball inside as a priority but relying on Bayes to keep defenses honest from beyond the arc. Without her, they'll need big performances from unproven youngsters like Allie Hueckman, Natalie Pasco (who filled in as a starter against Air Force) and Tatum Thompson.
Mary Kay Naro: Anna Ostlie has been tasked with filling in the starting spot vacated by Hansen, but she's far from alone in shouldering the traditional playmaking duties of a point guard, and it's due in no small part to Naro.
Though she does very little of the scoring for the Boise State offense, averaging just 4.7 points per game on dreadful shooting splits (25.2 percent from the field, 24.6 percent from three), Naro has started 80 games in three seasons (28 this year) for good reason – she's the team's assists leader for the third consecutive year, averaging 3.3 per game while turning the ball over less than twice a night. It's not quite her 5.2 APG pace she set as a freshman, but she's still the engine for this offense.
And what makes her all the more valuable on that end is her tremendously low usage rate (13.0 percent), creating more space and more opportunities to shoot to her teammates who are a lot more likely to find success from the field, paired with a 24.5 percent free-throw rate that ranks third among all Broncos. It's hard to ask for much more from a non-scoring guard on the offensive end.
To make matters even better for Boise State, Naro is nearly as impactful on the defensive end as she is offensively. She's nabbed 18 steals this season and trails only center Abby Muse in shot blocking, sending aside 28 attempts and helping to make this one of the best rim-protecting defenses in college basketball. Plus, she's an active rebounder, grabbing 3.7 per game from the backcourt.
Naro is rarely the player to bury opposing teams with big plays, but she's absolutely critical for Boise State's success, especially as the Broncos break in a new point guard on the fly amidst the stretch run of conference season.
Anna Ostlie: Okay, to call Ostlie a "new" starter is technically correct (the best kind of correct), but not entirely representative of her experience. This is not some completely green underclassman just learning the ropes for the first time as Boise State continues to jostle for positioning in the upper half of the Mountain West.
Ostlie has started only eight games in 27 appearances this year, moving into the top rotation after Hansen's injury (along with logging a pair of starts in November), but she started every game for the Broncos last season, leading the team in three-pointers while averaging 7.4 points, 2.8 rebounds and 1.8 assists per game. Her departure from the top group was a reflection of Hansen's talent, not of any major shortcomings for the now-junior guard.
As she's returned to the Boise State starting five, Ostlie has looked much like she did a season ago. She's averaging 5.3 points, 2.2 rebounds and 1.4 assists per game on the season, but those numbers have jumped in the last six games, as have her shooting percentages. Since taking over for Hansen, Ostlie is pitching in 10.0 points, 3.3 rebounds and 3.0 assists per game while shooting 36.0 percent from the field (33.8 percent for the season) and 34.5 percent from deep.
She isn't as efficient as Hansen, but she's a better defender and the drop in shooting percentages isn't that significant – Hansen was shooting 41.0 percent from the field on 21.4 percent usage, Ostlie's usage has been 18.9 percent in conference play and isn't significantly up in her starts. Under difficult circumstances, she's responded about as well as Boise State could hope for.
Stats To Know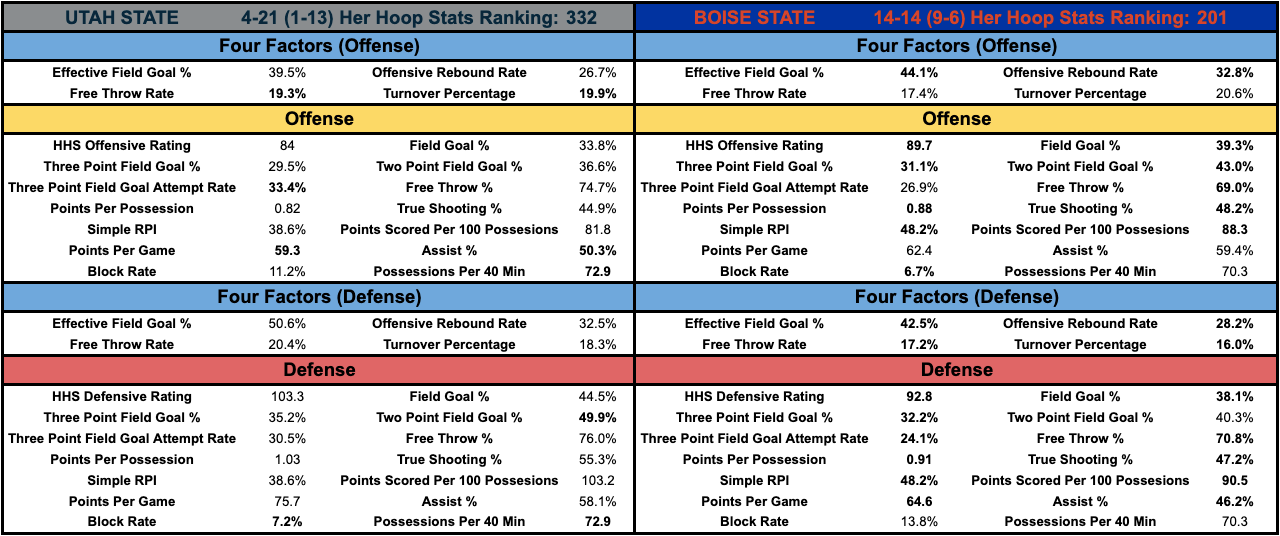 Block Rate: I mentioned it earlier and alluded to it in my first preview of the Broncos, but this team is just phenomenal at protecting the rim. With a 13.8 percent block rate, Boise State swats away more shots than all but four teams in college basketball (13.8 percent).
Muse is comfortably the biggest contributor those numbers with her 82 blocks on the year and absurd 10.1 percent block rate, but she isn't the only member of this defense capable of challenging shots. Naro's block rate is a solid 2.4 percent, slightly ahead of forward Elodie Lalotte (2.1 percent) but behind backup center Trista Hull (4.3 percent) and Thompson (4.3 percent). For a Utah State offense facing rejection on 11.2 percent of its two-point tries (350th nationally), this isn't an especially favorable matchup.
The Aggies were swatted six times when they last faced Boise State, and would probably be fairly happy with a repeat of that performance here. It's hard to hope for much better.
Three Point Field Goal Attempt Rate: What do you do when you can't attack the basket without fear of landing on a highlight reel for all the wrong reasons? Well, traditionally you would probably line up some shots from beyond the arc. But, as Utah State learned with its 2-for-16 outing from deep against the Broncos last time, three-pointers are hard to come by against this defense unless you're willing to take bad ones; Boise State allows the 39th-lowest three-point rate in college basketball (24.1 percent).
Now, if you can get the Broncos moving enough to create some open looks from deep, this defense becomes a lot easier to deal with. Boise State is just 2-5 when allowing a three-point rate above 25.0 percent and has won only once in six games allowing eight or more makes from deep. Can Utah State get them moving? Well, no. But I have to preview something, and this stat would be important to note if the Aggies were – for lack of a nicer word – better.
Turnover Percentage: Boise State is largely capable of covering for Hansen's absence with other players stepping into the various roles she once filled, but you will be able to notice her absence in the ball handling department for this team, on both ends of the floor. The Broncos were a poor turnover percentage (offensively and defensively) bunch before her injury, and they've only gotten worse without her (somewhat) steady hand in the backcourt.
If there's any real opportunity for the Aggies, it would be here. Boise State is 241st in offensive turnover percentage (20.6 percent) and 337th in defensive turnover percentage (16.0 percent). The Broncos are rock solid defensively, but they're only able to play that way because they don't really try to jump passes or strip the ball. If Utah State can play into that and hold onto the basketball while pairing it with a nice press defense capable of creating mistakes, it could create a large enough field goal attempt advantage to make a real game of this.
Prediction
As for paths to victory, that's just about the only one I can see for the Aggies. If they have a defensive performance like they did Nevada (26 forced turnovers), rebound the ball reasonably well, make open shots and stay focused for 40 minutes, they could pull out a shocking upset on the road.
But, I could say that for a lot of league games this team has played, and it hasn't happened yet in 14 tries. I'll lean toward attempt No. 15 looking a lot like its predecessors.
Boise State