WBB Preview: Aggies Seek Second Win Over Fresno State
After toppling Fresno State on the road last month, Utah State WBB will try for a repeat performance as it hosts the Bulldogs tonight. Preview: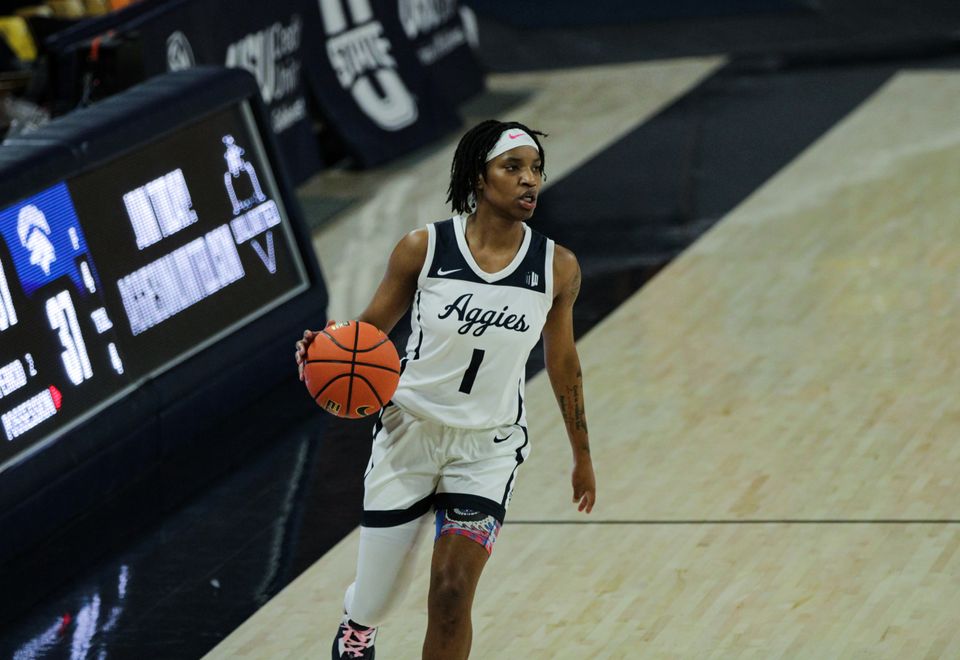 Utah State's road win over Fresno State looked, at the time, like a revelation for the Aggies. It snapped an eight-game losing streak and gave Utah State its first Mountain West win while also serving as something of a roadmap for success moving forward.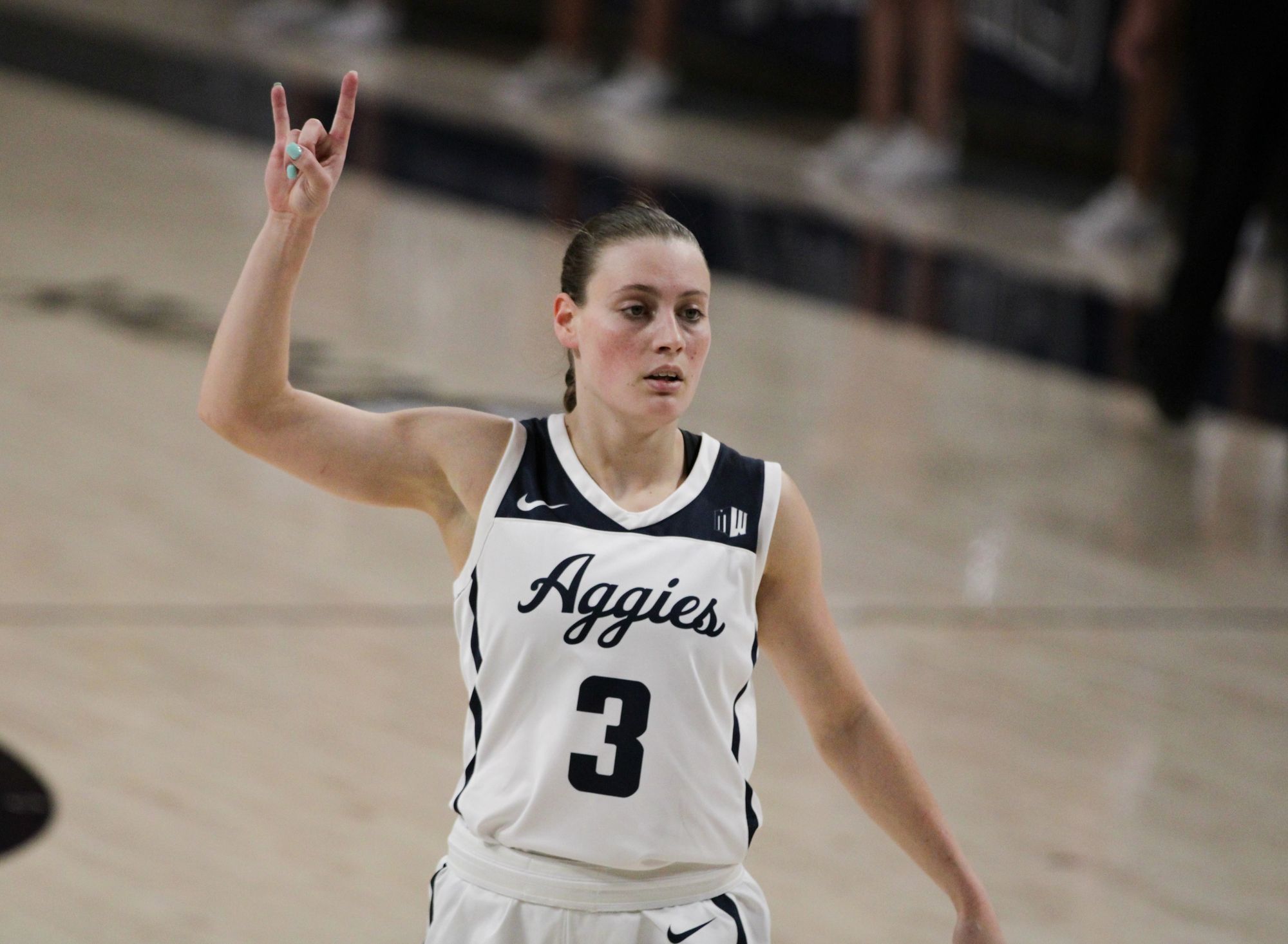 Guards Maria Carvalho and Tamiah Robinson led the way for the Aggies with 31 combined points, but they did it without monopolizing Utah State's shot attempts – combining to shoot 9 of 20 from the field and 10 of 11 from the free-throw stripe. Prima Chellis found her way to the free-throw line for nine attempts, canning eight of them and matching Robinson's 15 points despite logging only three field goal attempts, while Olivia Wikstrom rounded out the top four with 12 points (5-of-10 shooting, 2 of 6 from deep).
The Aggies got only 10 points from six other contributors, but still saw solid and impactful efforts from Mayson Kimball (five points, five rebounds, two steals and a block) and Ashya Klopfenstein (three points, five rebounds, two blocks and a steal).
It was far from a perfect game – Utah State still shot just 42.9 percent from the field (well below the national average), and assisted on only six of 21 makes – but it was the ideal gameplan for this roster. The Aggies played well on the inside, winning the rebounding battle (38-30) and earning 23 free throws, stayed connected on defense to hold Fresno State to a 33.3 percent shooting night with 17 turnovers, and left Fresno with a win that looked entirely repeatable entering the middle and later stages of conference play.
A month later, as Utah State prepares to host Fresno State, the Aggies have yet to record another complete performance like the one they delivered in toppling the Bulldogs.
They've shown flashes of that ability, building large leads against Air Force and Wyoming and surging from behind to nearly knock off Nevada, but that's all they've managed. Those big leads evaporated, yielding a pair of gutting losses. The comeback effort came up short. The Aggies have as many conference wins entering Thursday evening's game as they did exactly one month prior when the final buzzer rang out in Save Mart Center.
Of course, the same is true for Fresno State, which hasn't tasted victory since Jan. 7 despite very close encounters against Boise State (60-53; 66-61), Colorado State (61-54), Nevada (75-69) and UNLV (64-63). In a battle for positioning at the bottom of the Mountain West, something has to give.
Projected Lineups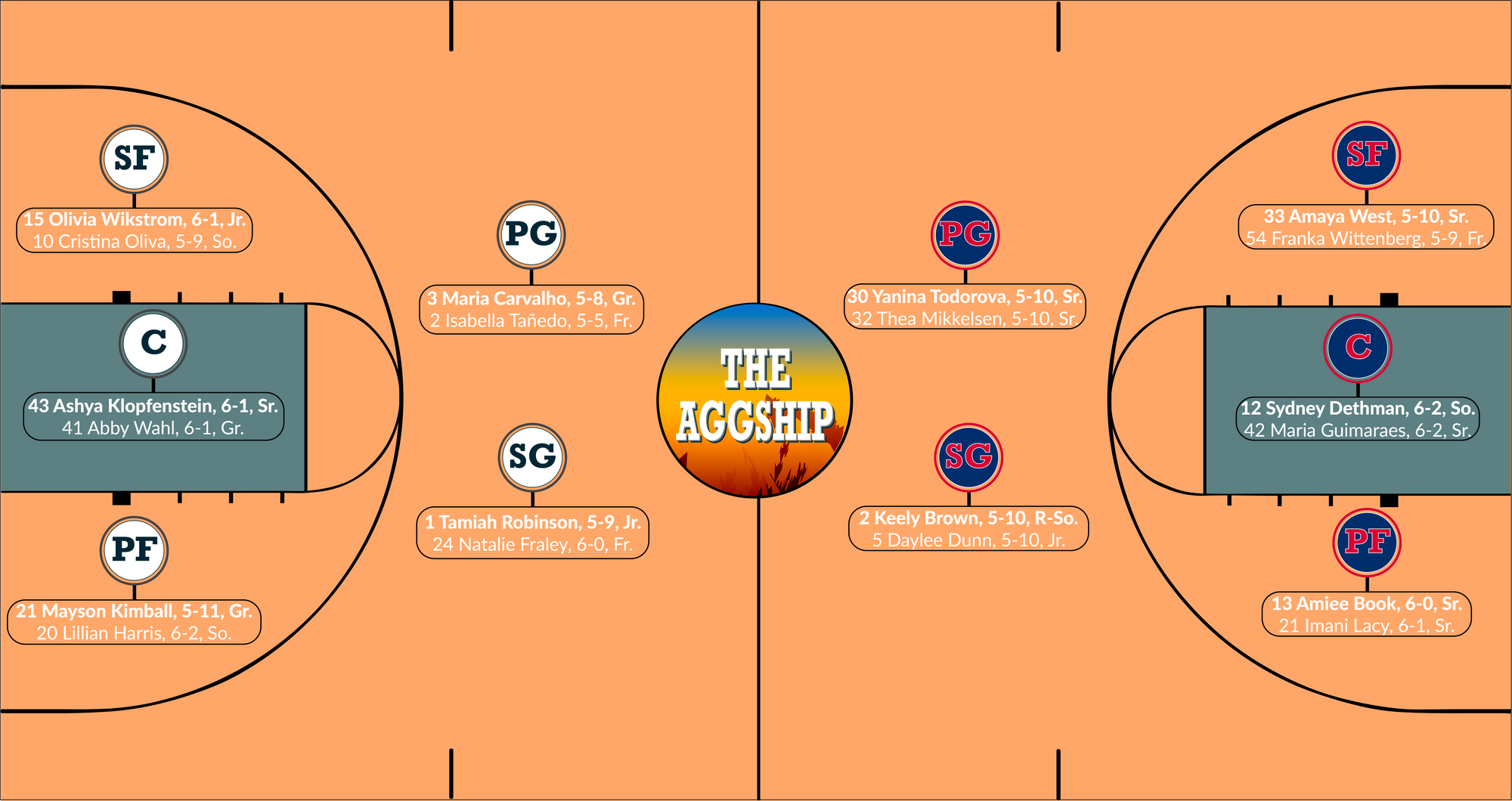 Players To Know
Keely Brown: Brown's place in Fresno State's rotation is, to this point, still unsettled. After an injury held her out of Fresno State's first five games of the season, the redshirt sophomore guard made her season debut on Dec. 1 against Portland State, found her way into the starting lineup by the end of the month, and landed back right back onto the injury report shortly after Fresno State's loss to Utah State. She returned against San Diego State after missing two games, again relegated to the second unit behind Thea Mikkelsen.
Now, in her sixth game back in the rotation, the Bulldogs have still yet to make a definitive decision on their starting shooting guard spot. Brown earned starts against Air Force on Feb. 2, went scoreless in 13 minutes, and was again relegated to the second unit for matchups with Boise State and UNLV. When she rattled off 19 points on 7-of-10 shooting against the Runnin' Rebels, her best performance of the season, Fresno State slotted her in with the top five in its last game – a 61-54 loss to Colorado State.
Was her eight-point (3-of-10 shooting), five-rebound effort against the Rams enough to keep her in the starting group for Thursday's matchup? Well, it depends on what Fresno State is looking for.
Brown is a better scorer than Mikkelsen, averaging 5.0 points per game to Mikkelsen's 2.3 PPG, and she's a marginally better rebounder (2.3 RPG to 1.4 RPG). But, her shooting percentages (35.6 percent from the field, 29.3 percent from deep, 53.8 percent from the free-throw line) aren't elite, and Mikkelsen is the better of the two defenders.
If the Bulldogs want a scoring threat to stress a frequently discombobulated Utah State defense, Brown is probably the better option. If they want to instead focus their offensive efforts around top scorers Amaya West (12.8 PPG) and Yanina Todorova (10.5 PPG), it may be best to rely on Mikkelsen, who averages only 2.9 field goal attempts per game and is content to take a backseat on offense while adding more value defensively.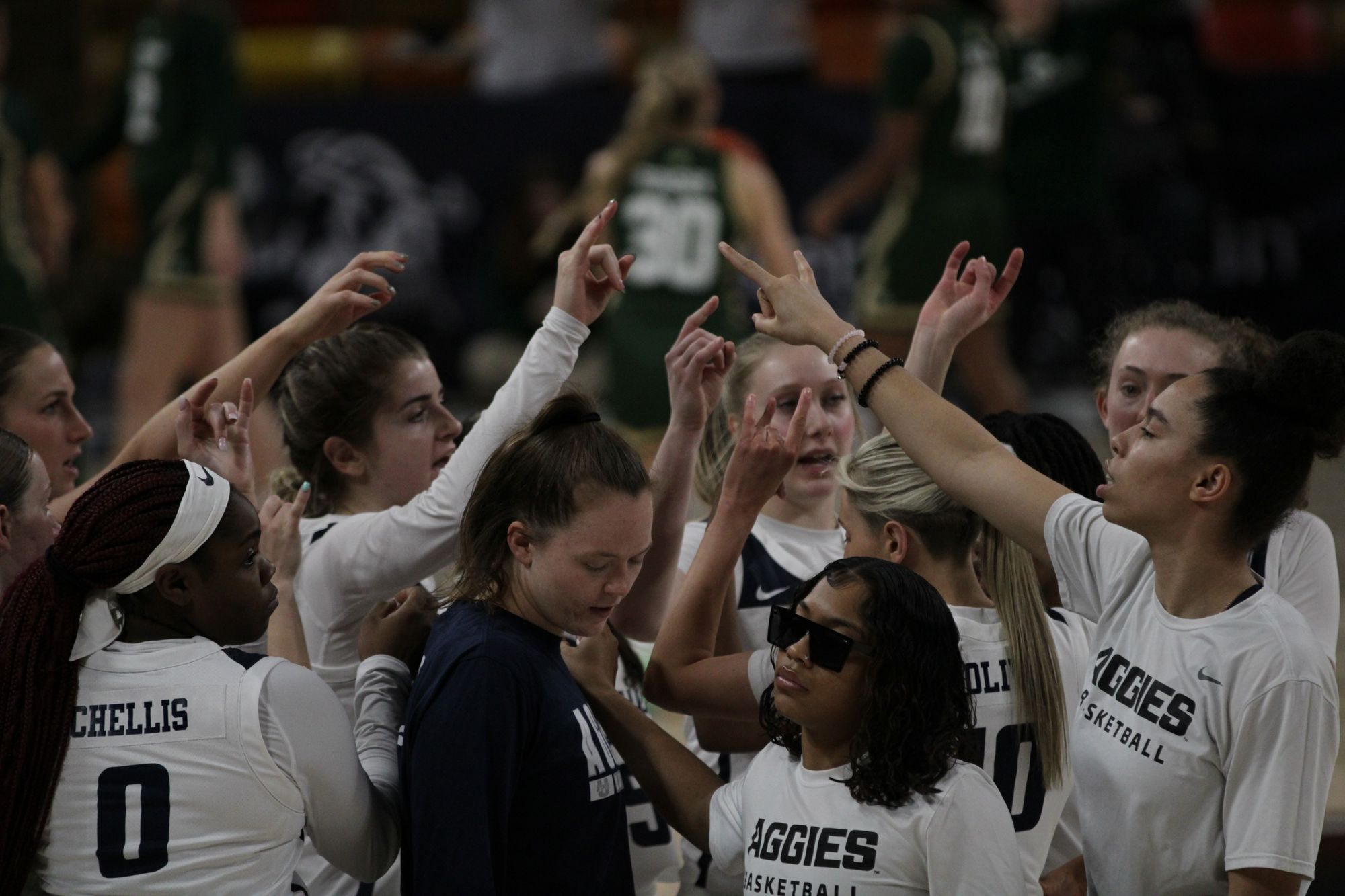 Sydney Dethman: Another Bulldog with experience in the starting lineup and off the bench this season, Dethman's role is a bit more settled on this team – though that isn't saying much. The sophomore center has logged 19 starts in 26 appearances, including 15 in her last 18 games, and will likely do the same in Logan after notching a team-leading 15 points on 6-of-8 shooting in 35 minutes against Colorado State.
However, that game has not been the norm through Dethman's second season with the Bulldogs. Dethman has been a capable, albeit unspectacular contributor for the vast majority of this campaign, averaging 5.2 points (51.0 percent from the field) and 4.0 rebounds per game while pitching in a team-high 15 blocks. She's a very low-usage (13.1 percent) center who can score, but who is more frequently relied on for rebounding (10.9 percent rebound rate) and defense (94.4 defensive rating).
It's when she moves beyond that and into a more prominently featured role within the offense that she can cause problems. Dethman's spot on this team is more a result of the offensive players around, not a reflection of her ability. She can score, and she will hurt opposing defenses if they let her. Utah State doesn't need to focus its defensive efforts on her, but it can't afford to help off her, either.
Imani Lacy: Lacy is the wildcard for this matchup, as she's been all season for the Bulldogs.
A transfer from Long Beach State ahead of the 2021-22 season, Lacy was expected to serve as the center in a formidable frontcourt with Amiee Book (9.0 PPG, 3.4 RPG, 1.1 APG) and West (12.8 PPG, 4.9 RPG, 1.6 APG) flanking her, while Todorova (10.5 PPG, 4.3 RPG, 1.8 APG) led a young but talented backcourt.
She came on strong down the stretch of her first season in town, averaging 10.8 points, 5.2 rebounds and 1.3 blocks in the last six games of Fresno State's 2021-22 season. She's the most gifted interior scorer on the roster, a natural rebounder and a high-impact defender – all of which would pair perfectly with three-level scorers in Todorova and West and the sharpshooting of Book.
When Lacy has been on the floor this season, she's done just that. With a team-leading 26.3 percent free-throw rate and a sky-high 31.4 percent usage rate, Lacy is averaging 10.4 points and 6.0 rebounds per game. Her play on the inside drags opposing defenses in, making more room for her counterparts to fire away from beyond the arc, but she also makes for an excellent pick-and-roll partner and dump-off option on drives. She's the interior shot creator and glass cleaner this team needs to operate as intended.
That's the good news. The bad news? Lacy has started five games this season, making only 13 appearances. She missed the first 10 bouts of the year, debuting on Dec. 20 against UCLA and briefly exiting the lineup again after four games, only to return for a stretch of nine consecutive appearances (including four-straight starts against Air Force, Boise State, San Diego State and UNLV from Jan. 26 to Feb. 9). Her presence hasn't yielded more team success for the Bulldogs, but she's a very good, very impactful player when she's on the court.
Which brings us now to a looming question: Will Lacy play on Thursday night? She's been a part of this team for most of its conference slate, but she was in a walking boot when the Bulldogs took on Colorado State after a collision with Desi-Rae Young in the final seconds of the loss to UNLV. It wouldn't be unprecedented for a player to return shortly after appearing in a boot (Carvalho did it earlier this season for the Aggies), but it would be a bit of a surprise to see the senior in action for the Bulldogs in the Spectrum.
Stats To Know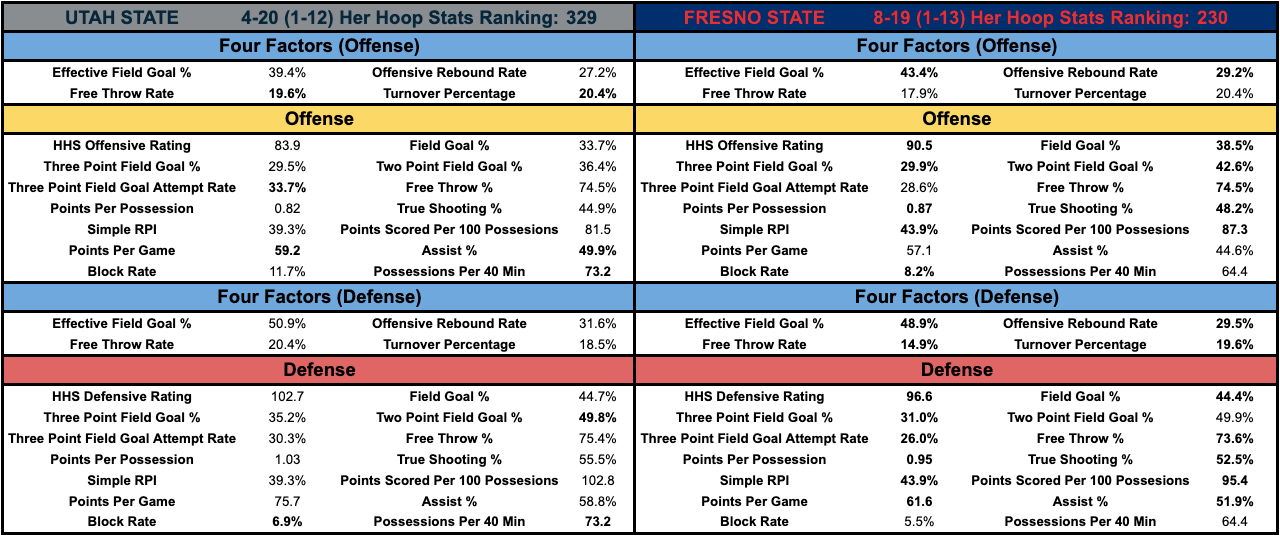 Three Point Field Goal Attempt Rate: With or without Lacy, Fresno State is going to make a point of limiting Utah State's attempts from beyond the arc, as it has to opposing offenses all season. The Bulldogs like to lock out and run shooters off the line, allowing the No. 89 three-point attempt rate in college basketball (26.0 percent) and the third-lowest percentage in the MWC through league competition (24.2 percent).
Utah State likes to shoot threes (72nd in attempt rate), but that may not be the worst news for the Aggies. Their offense has been at its best when focusing more on scoring in the paint, and they haven't shot above 30 percent from deep in any of their last five games.
On the other end, don't expect to see a ton of fireworks from the Fresno State offense. Book is a strong three-point shooter (34.1 percent on 4.7 attempts per game) and other members of the rotation are capable from beyond the arc, but the Bulldogs have the No. 8 attempt rate in league play. They prefer to get the ball closer to the basket, either finishing in the paint or heading to the line (No. 2 free-throw rate in the MWC).
Effective Field Goal %: Though Fresno State prefers shots closer to the basket, this should not be confused for an offense generating an abundance of good shots. The Bulldogs have struggled all season with shooting inefficiency, logging a 43.4 percent effective field goal percentage that's dropped further to 42.9 percent in conference play – No. 10 among the league's membership.
There are, of course, 11 trams in the Mountain West. If you've watched Utah State play, I probably don't need to tell you who trails the Bulldogs in this category, by more than three percentage points. If it's efficiency you seek, you should probably look elsewhere on Thursday night.
Offensive Rebound Rate: Without Lacy, Fresno State's rebounding unit dips from "bad" into "very bad" territory. She's the team's leading rebounder on a per-game basis, and easily atop the rebound rate list (18.5 percent). Backup center Maria Guimaraes is the only player even close (17.6 percent), but she plays just over 11 minutes per game.
That sounds like an emerging weakness for the Aggies to exploit. Fresno State is 226th in offensive rebound rate (29.2 percent) and 124th in offensive rebound rate allowed (29.5 percent). Expect both of those percentages to dip if Lacy can't go, even against a Utah State side that doesn't fare any better on the glass.
Prediction
Utah State has had a week to recover from some of the injuries that have plagued this team over the last month of the season, and while it isn't going to return to full strength again this year (given that Chellis is no longer listed on the roster), it should benefit from the extra rest. On the other end, Fresno State suffered three brutal losses in its last three games, coming up just short against the best teams in the Mountain West in the latter two.
That sounds like a significant gap in energy and motivation. In a battle at the bottom of the conference, where margins are very slim, that's enough for me to give the nod to Utah State.
Utah State 66, Fresno State 63