WBB Preview: Aggies Hope Third Time Is The Charm Against Boise State
Utah State WBB will look to keep its season alive tonight as it faces off with sixth-seeded Boise State in the opening round of the MWC tournament. Preview: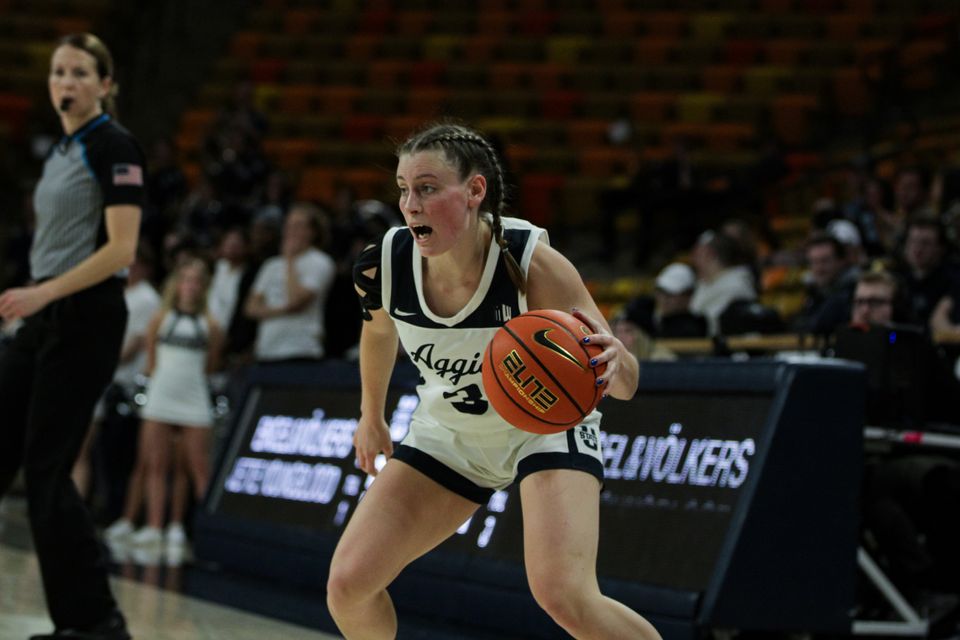 Utah State was never competitive with Boise State when these two sides last met in Boise on Feb. 18. In the first and least destructive of three straight monumental Aggie losses in a week, Boise State rode a hot start from beyond the arc to a 25-7 lead after one quarter and relied on both its stable of shooters and a dominant effort on the glass to crush the Aggies over the next three on its way to an 89-41 victory.
A day more than two weeks later, Utah State will again face off with the Broncos, this time in need of a victory to extend its season as the two square off for the third time this year in the first round of the MWC tournament.
If the Aggies have any reasons for optimism heading into this game, they would probably need to come from that first meeting in Logan back on Jan. 7. Boise State took the victory, 73-56, but the game was close entering the final frame even with starting Utah State point guard Maria Carvalho on the bench.
Boise State is better now than it was then, winning seven of its final nine games to move into the No. 6 seed, and Utah State is now without forward Prima Chellis (no longer on the team), but it will have Carvalho on Sunday and will get the added motivation of playing for the chance to play more games.
With a win, Utah State would move into a second-round battle with the third-seeded Colorado State Rams. With a loss, the 2022-23 campaign would go down as one of the worst in program history – a 4-26 record standing as Utah State's worst since a 3-24 season in 2005-06.
Projected Lineups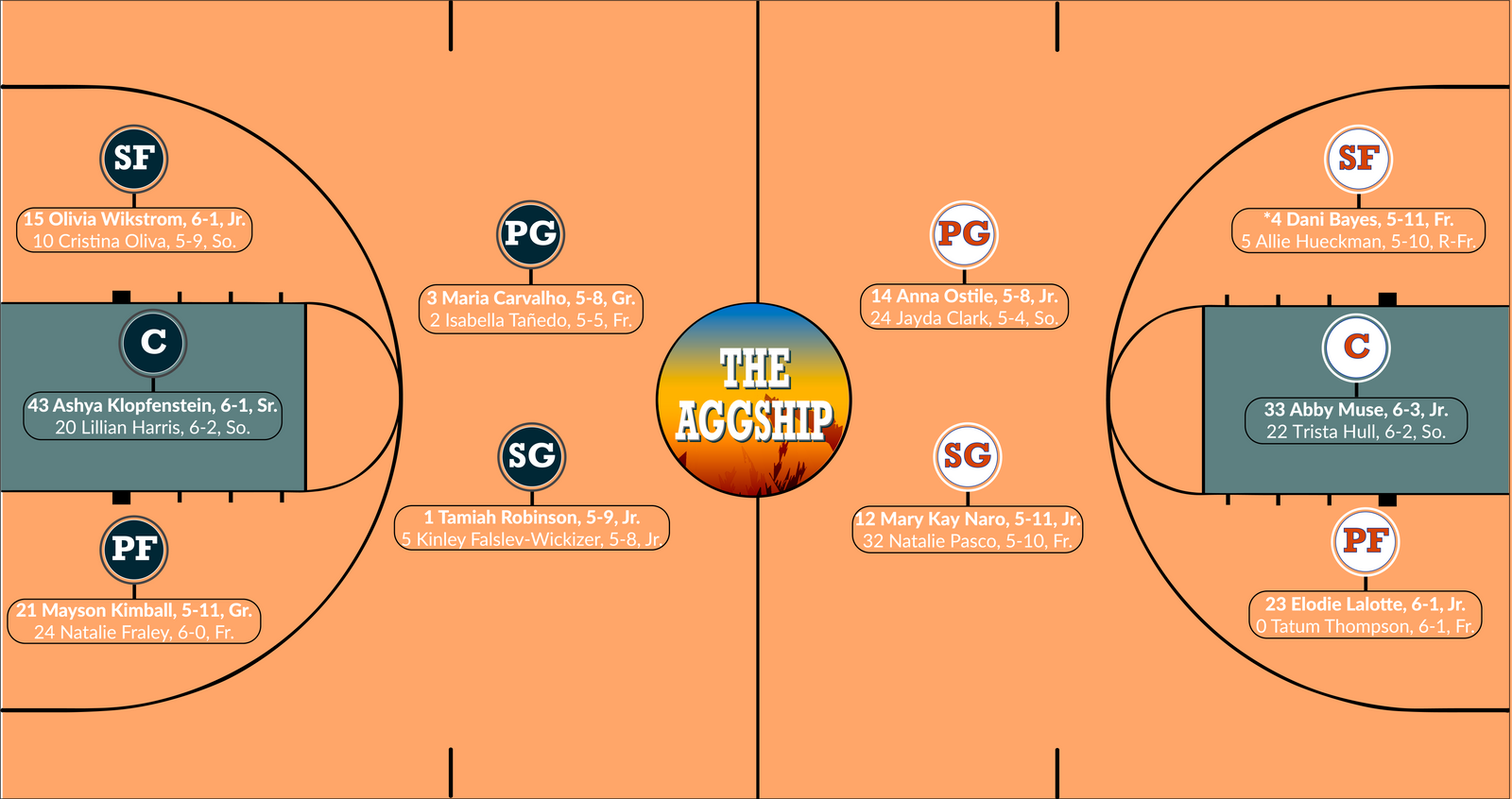 Players To Know
Elodie Lalotte: The first half of Boise State's lethal pairing in the post, Lalotte is best described as a problem-solver for the Broncos.
When they need scoring, an entry pass to Lalotte in the paint has been as reliable an option as any this season. The 6-1 junior leads the team with 10.2 points per game on 51.5 percent shooting from the field. She's not exactly a diverse scorer, shooting exclusively from two-point range (and within that category, almost entirely at the rim) and knocking down only 57.5 percent of her free throws, but Boise State doesn't really need her to be.
This team gets scoring contributions from so many players – they have eight players averaging at least 5.0 PPG – and has plenty of capable shooters. A reliable post presence to complement those shooters and draw attention away from the three-point arc has been just what the doctor ordered, especially down this successful stretch run of play.
If it's rebounding that Boise State needs, Lalotte can step right into that role too. She's averaging 6.6 rebounds per game, second on the team, including a very valuable 2.3 offensive boards a night (11.4 percent offensive rebound rate), and has grabbed 10 boards in four consecutive games entering this first-round bout.
Defensively, though she doesn't do it with a ton of big plays, Lalotte is versatile and always solid. She has 22 steals and 16 blocks on the season, with 1.2 defensive win shares (second on the team) and the ability to guard positions 3-5 comfortably, taking on the former when Boise State runs its bigger lineups and moving into the latter spot when the Broncos want to play small ball.
Lalotte's role is ever-changing. When the Broncos and Aggies last met, Boise State caught fire from beyond the arc early, and really didn't need her scoring efforts inside the paint. So, she stepped into more of a complementary role, snaring 10 rebounds (four offensive) and dishing out three assists while picking up just nine points. In the next game, against San Jose State, Boise State needed her to score and she obliged with 16 points on 8-of-10 shooting (plus 10 more rebounds). She's a Swiss Army Knife and a tremendously important part of this Broncos side.
Abby Muse: And here's the other half of that frontcourt battery, the Mountain West Defensive Player of the Year and the center of everything Boise State does on that end of the floor. A 6-3 junior from California and a former top-100 recruit, Muse has established herself as the most feared defender in the conference thanks to a 10.0 percent block rate that places her among the best rim protectors that the sport has to offer.
In the counting stats, her defensive prowess shines through with an obscene 2.9 blocks per contest – nearly a full block per game more than the next leading defender in the conference (Shaiquel McGruder, 2.0) and more than enough to launch Boise State into fifth-best team block rate (13.8 percent) in college basketball.
Though her role on this team is primarily as a defender, Muse has shown a lot of growth elsewhere in her game, even as she continues to dominate in the paint. She leads the Broncos in rebounding (8.6 RPG) and is only a point per game behind Lalotte for the top scoring spot on the roster, averaging 9.2 points a contest while shooting 50.7 percent from the field.
Like her counterpart, Muse is not a competent shooter (from beyond the arc or at the stripe), but she gets to the free-throw line often enough that her 56.0 percent hit rate is still somewhat valuable (one point is better than no points) and presents a major challenge to opposing defenders down low. She's not as technically sound as Lalotte, but she's every bit of her listed height and has consistently proven a major hassle, especially when she involves herself on the offensive glass (2.2 per game).
Natalie Pasco: Pasco's 29-point outing against Utah State was an anomaly. It was her highest-scoring game of the season by six points, only her third 20-point performance of the year (and her first since November), and it came during one of just two starts amid 29 appearances for the 5-10 freshman. She was filling in for the dinged-up Dani Bayes, and Bayes has since returned to starting lineup – where she'll almost certainly stay for this game. Stranger things have happened, but Utah State probably doesn't need to be terribly concerned about another outburst like that from the backup wing.
However, her performance in that game is reflective of a very real concern for the Aggies heading into this matchup, even if she may not be the player to deliver on it again tonight: Utah State leaves shooters open way too much. Pasco was there to take advantage in Boise, cashing in 5 of 9 tries from deep and 10 of 20 overall shots to get to 29 points (she hit four free throws as well) and certainly can gash the Aggies if they leave her that open again.
It doesn't have to be her, though. Anna Ostlie hit 3 of 4 threes in that meeting, Mary Kay Naro was 2 for 3 and the Broncos finished with 12 made threes on 26 tries. Bayes is a very capable shooter in her own right, too – maybe the best on the team (49 of 136 for the season).
Whoever it is knocking down open triples, Utah State has to have an answer. Boise State has had just six games with at least eight three-pointers this season, and two of them came against Utah State. The Aggies cannot compete with this Boise State team – with as strong as it is in the paint – if it's knocking on the door of double-digit makes from deep.
Stats To Know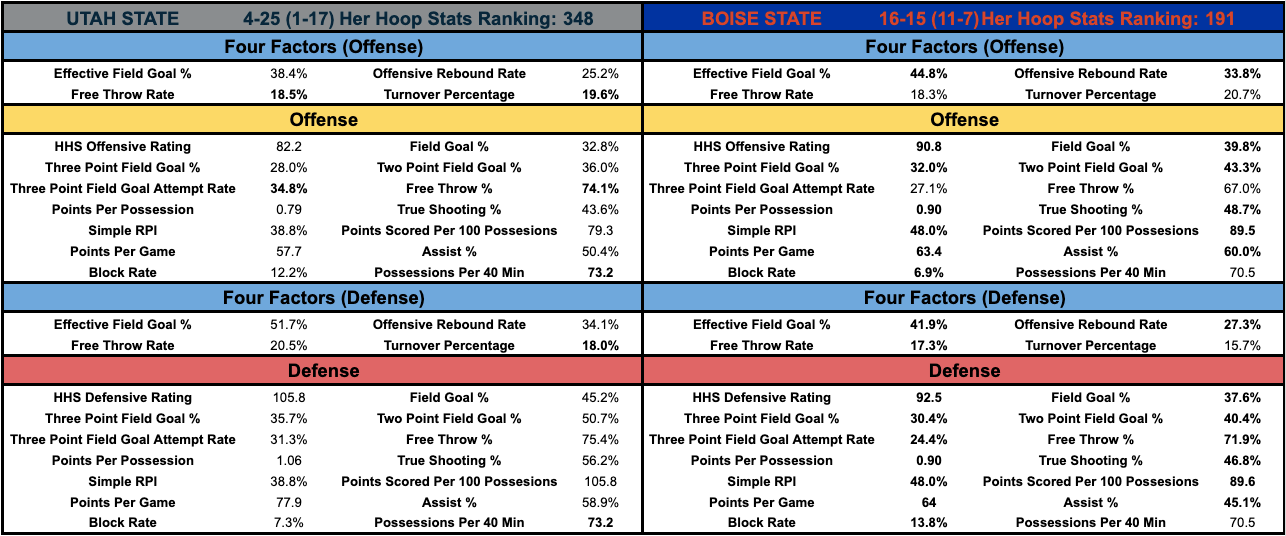 Offensive Rebound Rate: This one needs very little context or explanation. Boise State had 64 rebounds to Utah State's 26 in that last meeting. The Broncos snared 20 offensive boards. I don't care what any of the other stats say, no one is winning a game while losing the battle on the glass that badly. Boise State is a very good rebounding team (top 100 units on both ends of the floor), and Utah State is... not.
It would take a miracle for Utah State to win the battle, but the Aggies lost the first matchup just 44-40 on the boards. Granted, that was a different (read: better in the post) Utah State team than the one currently constructed, but it doesn't make finding a similar outcome any less important here. This USU team is nowhere near good enough from the field to take that kind of beating on the glass. Any serious upset efforts will need to start here.
Turnover Percentage: Step No. 2? Well, Utah State actually did a pretty good job with this one last time, taking advantage of Boise State's 20.7 percent turnover rate (255th) to the tune of 22 forced turnovers while itself suffering just 13 against a defense that greatly prefers to sit back and let its opponents operate (339th in forced turnover percentage), stepping up to contest shots rather than looking to jump passes.
That latter number could afford to be even lower, but the former has to stay right around that pace for the Aggies to have a shot on Sunday night. Utah State's defense hasn't been good at much this season, but it has forced turnovers when it needs them, and it really needs them here. The more opportunities Utah State has offensively (and the fewer Boise State's offense has), the better a chance it'll have.
Prediction
I think there is a world where Utah State makes a game of this, because the Aggies have nothing to lose, and are playing only for the opportunity to play one more game. They are not especially well equipped to handle a team with as much power in the post as Boise State has, but they could manage to make things a little trickier on the Broncos if they can force some turnovers, speed the game up, and get Muse into some foul trouble early, as they did in Boise (she played just 14 minutes and had four fouls).
That, by itself, would not be enough. If Utah State wants to have a chance at this one, it needs to cause all that havoc, rebound with endless energy, and hit shots at a rate that it hasn't been able to muster in weeks (above 40.0 percent at a minimum). Maybe the do-or-die nature of the game unlocks a new Utah State team.
My guess, having watched this group play 29 games, is that it doesn't. The energy may very well be there for Utah State to compete, but at the end of the day, you have to score to win. And, frankly, the Aggies have not shown any ability to do that consistently enough to beat a defense of this caliber. I don't know that any amount of March magic is changing that.
Boise State