Cover Story: Aggies Overpower Boise State For Senior Night Statement Win
In its biggest game of the season, Utah State made right on the wrongs of its ugly January loss to Boise State, delivering a physical, decisive win. Cover story, free for all to read:
ICYMI: You can enjoy The Aggship's men's basketball coverage free of charge until the end of the season with the March Madness free trial. Learn more here, and use the button below to take advantage of this one-time offer.
LOGAN – Ryan Odom's message to his Utah State Aggies ahead of their biggest game of the season – a senior rivalry romp against Boise State with serious postseason implications – was, at least in what he shared with gathered media after the Aggies finished off an 86-73 victory, about perspective.
"How do you feel right now? Is your heart beating pretty fast? Do you have some nerves? That's good, because that means you care. If you didn't care about this, you wouldn't be feeling any kind of way. You would just be walking out there.
"No matter what happens from here on out, you five seniors have left the Aggie jersey in a better place than you found it. Don't get distracted by what's happening right now. We want to honor you, but at the same time, you've got a job to do."
For those Aggies, perspective has often been a source of great strength. This is an old college basketball team.
Dan Akin, who began his college basketball career in 2017 at UMBC under Odom, has two degrees and is pursuing a third. Sean Bairstow has played in 113 college basketball games – more than his sister Stephanie (62), a former Aggie herself but fewer than brother Cameron (134). Trevin Dorius is married and into the latter half of his 20s. RJ Eytle-Rock started on the UMBC team that beat Virginia in 2018, claiming the only victory for a 16-seed in the history of the NCAA tournament. Taylor Funk could have been a freshman on that team, but chose instead to stay home and play for St. Joseph's, where he started 21 games in 2017-18 and played in 120 before transferring to Utah State.
And that's just the senior class, not including point guard Rylan Jones, who has either made his decision to return to Utah State next season or just really doesn't like ceremonies. It's a group that has experienced a lot of college basketball, for all the good and bad that it entails.
Steven Ashworth and Max Shulga, now the best guard pairing in the Mountain West, have done their time suffering through growing pains. Jones, though he's been forced to share his wisdom from the bench after what looks increasingly like a season-ending injury, has learned plenty about the interworkings of a college basketball game through 89 appearances over four years, two spent an hour and a half down the road at Utah.
They have perspective on what it means to play in games like the one they drew on Saturday night. Odom's job, as he saw it, was to remind them of that. They've been here, they've done this, and while this night features the pomp and circumstance of senior day, it's not really all that different from any other game. The job is the same.
Utah State entered Saturday's meeting with plenty of perspective on its opponent, too – very little of it positive, as is true of any rivalry worth its salt.
Boise State under Leon Rice is antithetical to these Aggies. The Broncos win with physicality and defense; Utah State has made its name with finesse and one of the nation's best offenses. Where Utah State is methodical, Boise State is bombastic. Where Odom is stoic, Rice is... well, Rice is having his "tantrums" tracked by fastidious members of the student section (final count: 23). Boise State sees these same things as virtues and Utah State's as vices – again, as is true of any rivalry worth its salt.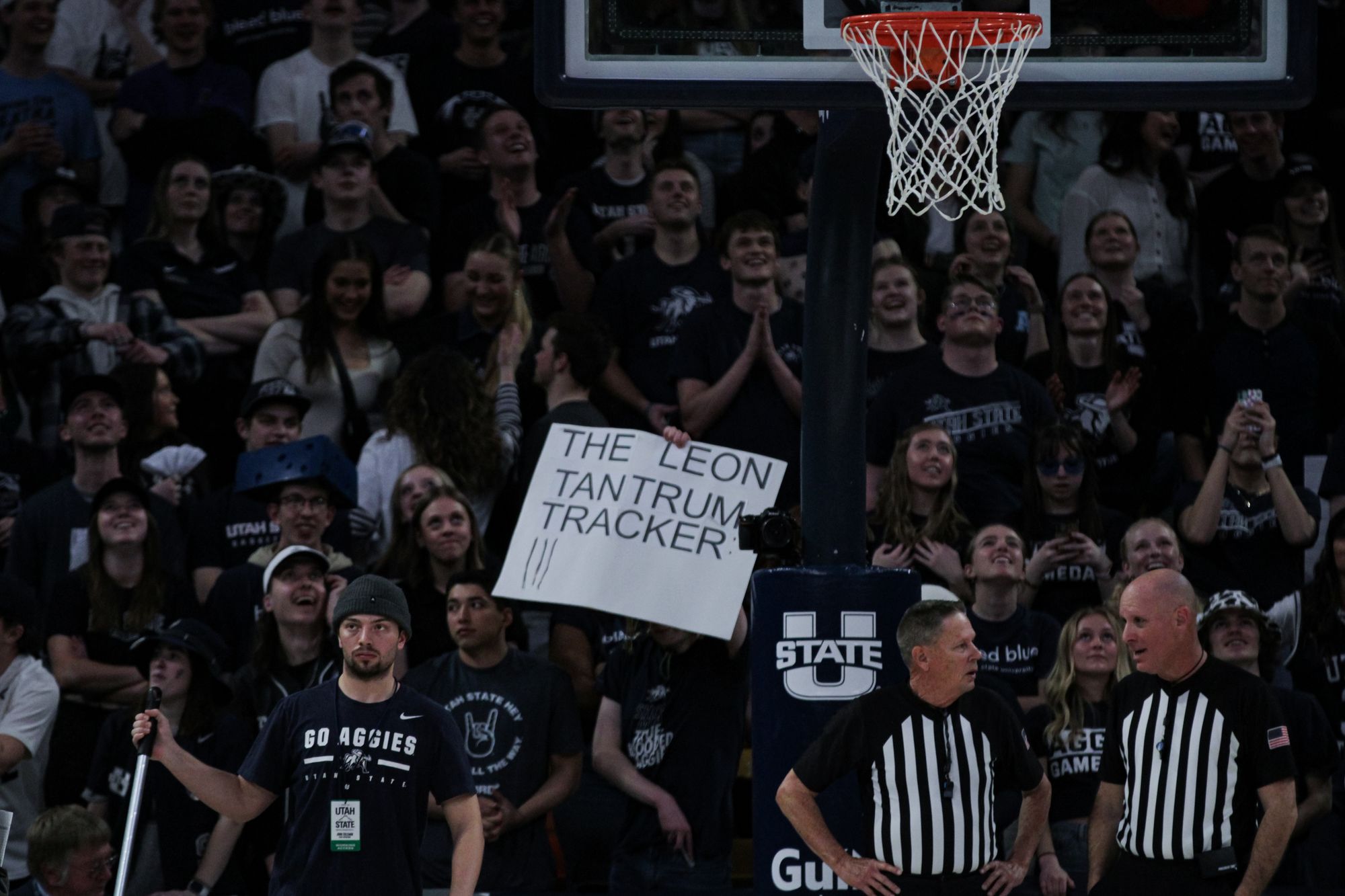 When they first met on Boise State's home court back in early January, those traits proved decisive in determining the victor, much to Utah State's dismay. The Broncos were brutal and swift, knocking the Aggies down early and often, issuing challenges of toughness that went unanswered in an 82-59 beatdown. Utah State looked like a fun story; Boise State looked like a Mountain West team. That kind of thing sticks with a team, and it certainly did in the days and weeks that followed.
"It's about never thinking less of yourself," Odom said. "We've won some games too. Going into this game was about being confident and having an understanding of why we lost the game. It wasn't just the physicality. We lost our composure... We were definitely playing well at that point, but they were ready for us.
"That was a big game for them, just like this was a big game for us. You have to give them all the credit, the physicality in that game caught us off guard. We hadn't played a team that was that physical, tough and determined. They were making shots, they went 11 for 19 from three. We didn't do a good job of rebounding the ball, we didn't do a good job of getting high hands on their shooters. You're playing with fire when you do that."
So too, though, did a desire to never let it happen again. Through wins and losses, Utah State spent the better part of the last two months building a group that could win the kind of games a team must win to be successful in this conference.
Boise State pushed the Aggies around in the paint, so the Aggies developed Akin into the Mountain West Sixth Man of the Year (on my ballot, at least) and Dorius into a towering center deserving of the "Wasatch Front" moniker. The Broncos dominated Utah State's pick-and-roll, correctly identifying that the Aggie guards couldn't create shots in the lane. Utah State agreed with the assessment, went to work, and came to the March meeting with three ball handlers in Ashworth, Bairstow and Shulga who were more than happy to take Tyson Degenhart to the rim – which they did to the tune of 13 two-pointers.
Utah State wasn't ready for the pressure in that first game. It showed in everything the Aggies did – and even more in what they didn't, or couldn't do. The 14 conference games between that one and senior night offered Utah State every lesson it needed, from the thrilling wins over Nevada and New Mexico to the gutting defeats against San Diego State and San Jose State, with all the Air Force, Colorado State, Fresno State, UNLV and Wyoming in between. This time, with the benefit of that added perspective, Utah State knew what it meant to be ready for this kind of game; what it means to be fearless in the face of a tournament team.
"We didn't really worry," Odom said. "We showed the guys some film of that game, but we didn't really worry much about that result. It was more about focusing on how we're playing right now and how they're playing right now, and finding the best way for us to try to beat them. The guys locked into it and they didn't have any fear."
Dorius won the tip and finished off an alley-oop 15 seconds later, executing the play that everyone in the arena knew was coming – as it has in so many games this season. There's a time and a place for misdirection in college basketball, and this was not it. If Utah State could have, it would have sent a representative to Rice before the game with a complete diagram of the play, just to make it hurt that much more when his team still couldn't defend it. Boise State knew exactly what was coming, and that's why Utah State did it.
A Marcus Shaver Jr. miss on the other end turned into two more Aggie points as Shulga drove right past Max Rice, stopped under the hoop, and found Bairstow for an essentially uncontested layup. Utah State tried its luck from deep on its next trip down the floor, Funk corraled the rebound when the shot went long and gave the Aggies two more points with another easy layup. He did the same thing after a Shulga mid-range jumper couldn't find the target a few possessions later, this time finishing through contact from bruiser Lukas Milner without any issue.
Funk helped push the Aggies to their next basket on his next trip down the floor, driving past Milner from the corner and getting the ball inside to Akin, who wrested it away from Shaver's prying hands and popped it into the basket. Shulga sent Rice to the floor when he tried to answer with a drive, and found Funk in transition for Utah State's first three-pointer of the game, enough to claim an early 15-9 lead. Funk, who of late had been in a shooting slump, turned, blew a kiss, and let out two months' worth of anticipation for the chance to do this. Utah State's message was as clear as day.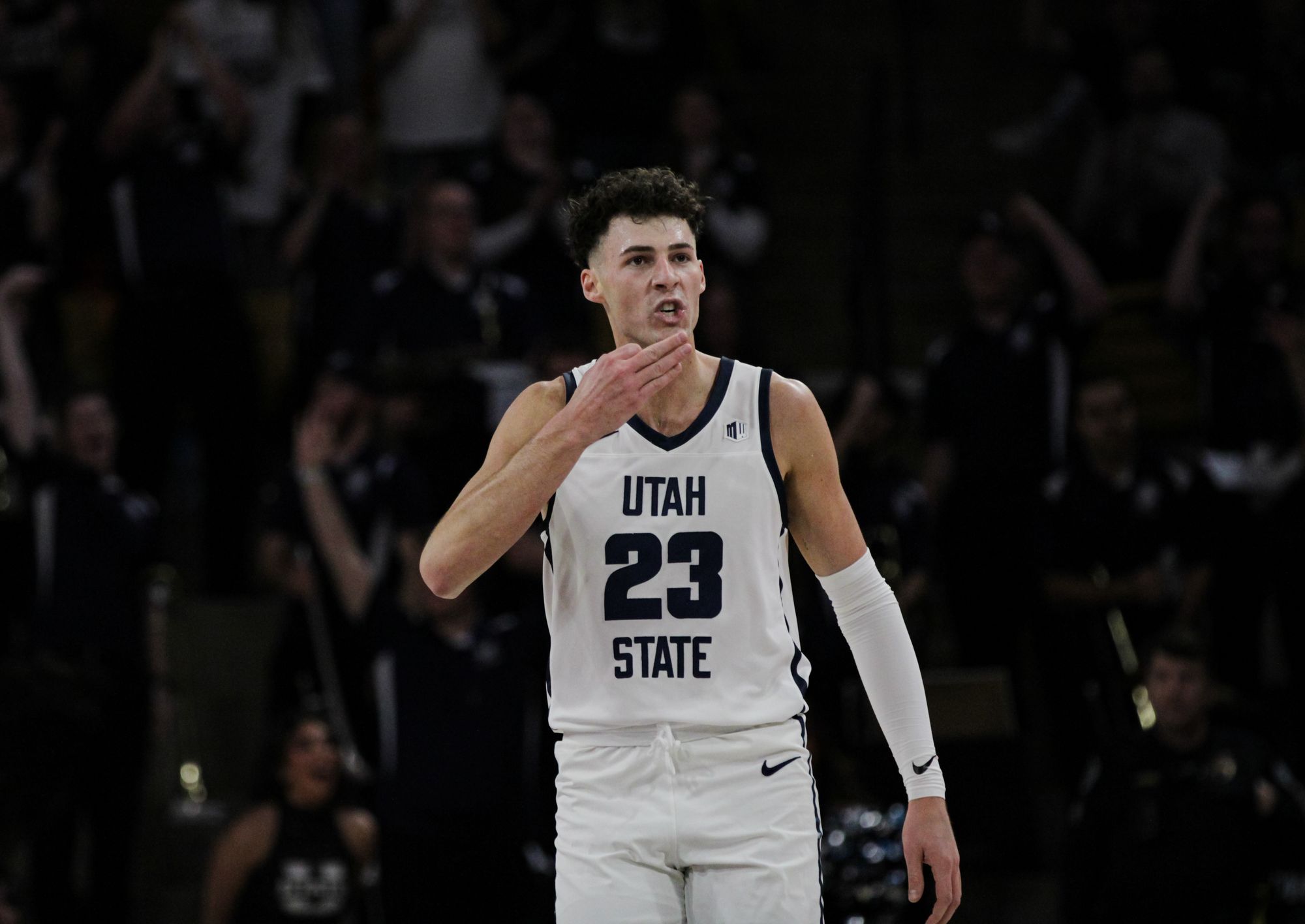 "Our guys responded immediately, at the beginning of the game, against a really good Boise State team," Odom said. "They're an excellent program, extremely well coached, and they really challenge you. They have the 10th-ranked defense in the country, it's really hard to score on them, and it's really hard to keep them from scoring.
"We focused on attacking the paint and taking the right shots when you get in there. We had a couple where we didn't stop, but it started on the first play with getting behind the defense and Trevin gets the dunk. It was important for us to get down the lane, get in there, make the right decisions and make the shots. Our guys did, throughout the night."
That's the most diplomatic version of "we had to punch them in the mouth" that you'll ever hear, but it still rings true. Utah State wasn't winning anything until it proved that it could play with the same nastiness that Boise State had used to so thoroughly dominate the first meeting. A hot start from beyond the arc wouldn't have been sustainable. This was the only way.
The Aggie lead grew to nine points a few possessions later after an Ashworth three-pointer, shrunk to four on a 5-0 Chibuzo Agbo run, and expanded to 13 with another Funk three-pointer, a fading hookshot from the power forward, three Ashworth free throws and a gorgeous reverse layup from Shulga, through enough contact to earn one more point at the stripe.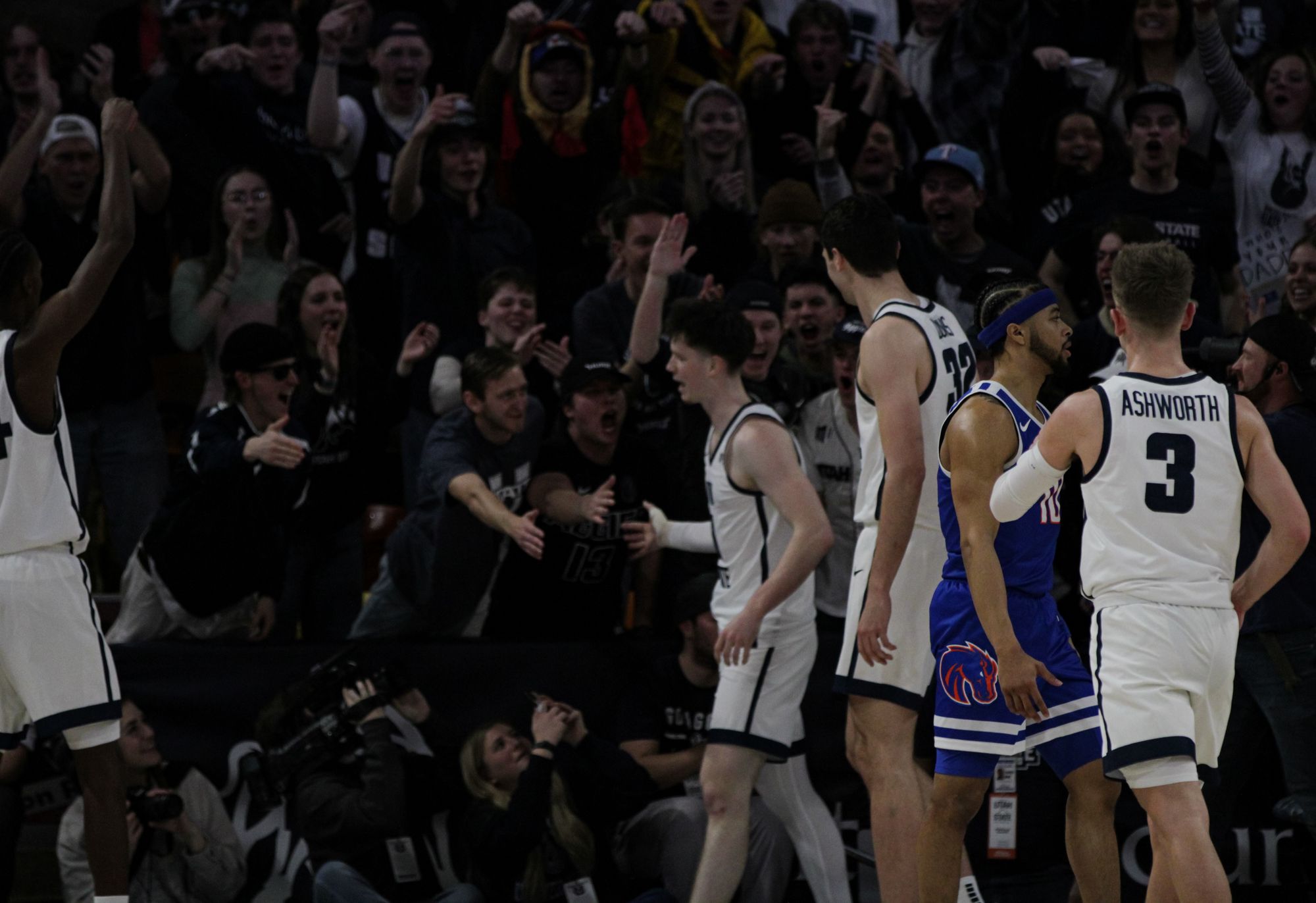 Two of the baskets came off turnovers, while a third came only seconds after a BSU miss on the other end. The transition game killed Utah State when it played at ExtraMile Arena, and as with their physicality, the Aggies knew they had to turn it into a strength this time. They'll be very pleased with the final tally for points off turnover (18-11, USU) and for points on the fast break (12-2, USU).
"It starts with the transition game," Odom said. "We were able to get some stops and get out and transition, we got some kick-ahead three and other buckets. The transition offense was very good, and that was the key to the game. They're really good at it, and that's one of the reasons they beat us up there, we would miss a shot, and then all of a sudden they're throwing it ahead, shooting a three or getting a layup. It was a problem. Our guys understood that they have to get back and set our defense and that it was going to take a lot of effort to stop them, or at least make them go to something else. I thought our guys did a nice job there."
The definitive sequence of the first half – and maybe of the entire game – arrived with just under four minutes to play, as Boise State looked poised to cut into the Aggie edge. Rice had already pulled the Broncos to a 12-point deficit with a pair of free throws, and a Funk miss from beyond the arc returned possession to Boise State. Shaver looked to find Rice in the corner as Boise State ran in transition, but Ashworth had different ideas, jumping the pass on the sidelines like a veteran safety, keeping his footing long enough to get the ball to Shulga, and drilling a contested three-pointer about 15 seconds later.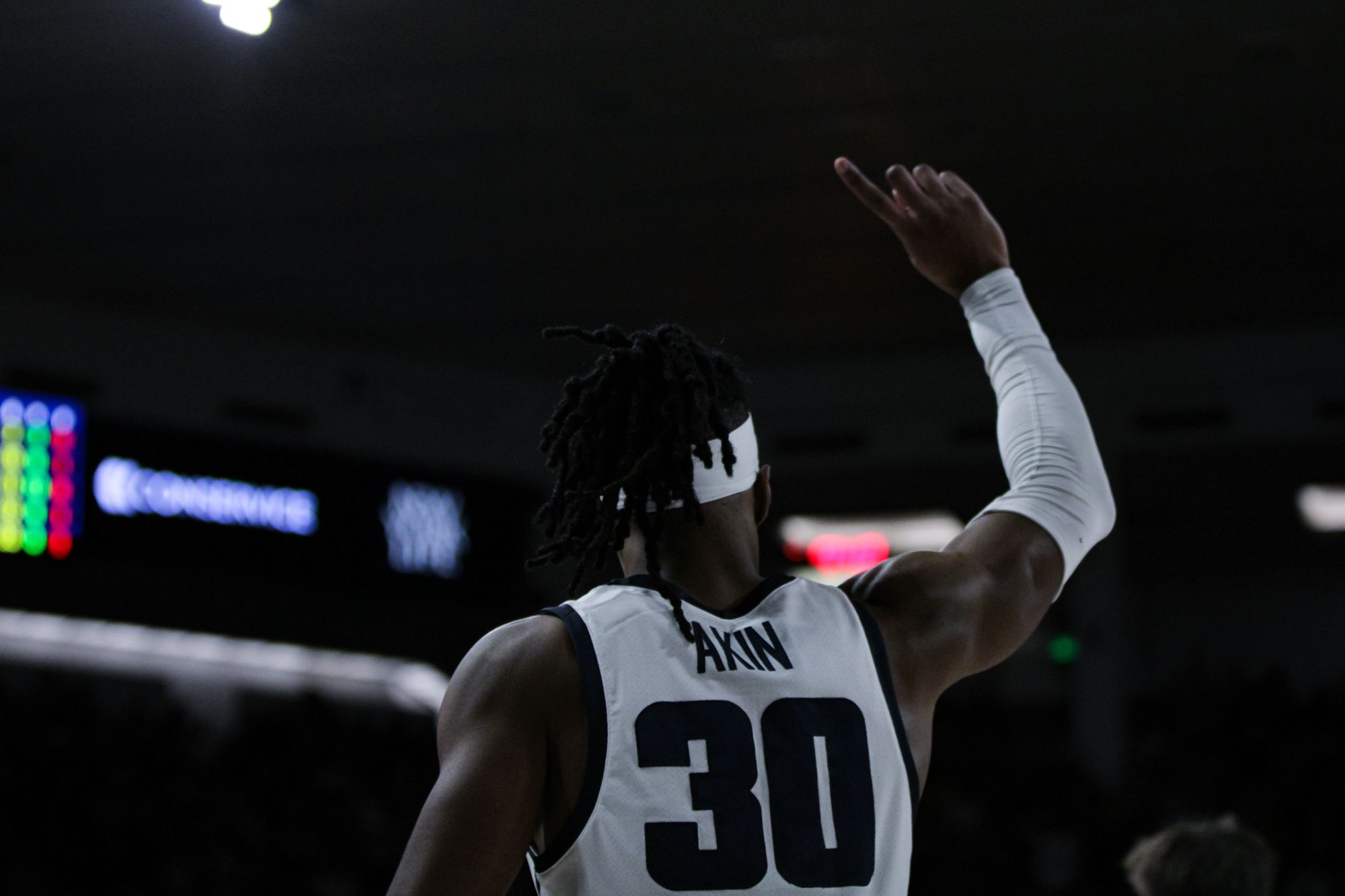 Boise State couldn't manage a shot in twice the time on the other end, falling victim to a shot clock violation, and Funk twisted the knife after a timeout, nailing his third triple of the half with Degenhart's hand in his face.
"Confidence is key," Funk said. "You're a different player when you play with confidence, and that's all this coaching staff gives you. They encourage you every single day and they never get on you for missing shots, especially when they're great shots. The open man is the best man, the best shot is the open shot – we live by that. We have really good shooters, and it could have been anyone. It just happened to be me."
Utah State's lead grew to as large as 20 points, shrunk to as small as six, and hovered somewhere between the two for all but about four minutes of the second half. That matters for how it impacted the final margin, but it matters a lot more for what didn't happen: Boise State never drew closer than six. It never rattled off a game-changing run, punching the Aggies back and forcing them to respond.
Degenhart and Shaver cut it to 12 after two minutes in the second half, so Utah State ran its pick-and-roll with Akin and Shulga – the same pick-and-roll that Boise State snuffed out in January. Then, Rice's constant pressure on Shulga might have forced a turnover. If it didn't, Naje Smith would have snared Shulga's pocket pass, Agbo would have stripped it from Akin as he drove, or Smith's contest at the rim would have sent the shot awry.
Now? Shulga ran Rice into a screen, darted to his other hand to pull Smith out of the lane and sent his pass to Akin without issue. The big man powered through Agbo's hands with a hard gather step, rammed into Smith and powered through him for a perfect floater, bounding in the other direction with his left hand lowered to let the Bronco forward know that he wasn't quite tall enough for the ride.
Boise State brought it back down to 12; Shulga grabbed an offensive board and Akin threw down a vicious dunk on a Bairstow lob. Agbo hit a layup; Ashworth surged through traffic and hit a floater. When Boise State blinked, Ashworth took the ball and whipped a pass to Shulga from halfcourt, which Shulga deflected effortlessly into the basket. The Aggie sharpshooter, who made another very strong case for MWC POY, answered again a few minutes later when Boise State drew within 11, hitting the exact kind of three-pointer that he's used to bury opponents all season.
"Steven is a great leader," Odom said. "He's committed to the team, to being the best that he can be, and to our team being the best that it can be. As soon as that UNLV game ended, we didn't talk much about it. It was all about winning this next one. He gave a great speech to the guys, after the UNLV game, and I think our guys were ready to compete the right way. They did that tonight. Composure, competitiveness, confidence – all those words rang true for our team."
It was a performance defined by everything that Utah State hadn't had when it went north to Boise. When the Broncos bucked, Utah State put its head down and made tough shots. The Aggies got stops when they needed them, ran in transition and beat Boise State to the basket. Every moment of optimism for the visiting sideline was answered with a swift reminder of Utah State's prowess.
"We've just improved a lot since then," Funk said. "They're a really good team, well-coached, great players, and I'll say it again – our defense really kicked it up and that's why we won tonight. You win games on the defensive end, and we're fortunate enough to have a really good offense too. When the defense is going and the offense is going, it's hard to stop.
"We were just doing our thing out there, the shots were going down for us all. We've found something really special in these last couple of games on the defensive end, and that's where it all started. It carried on over to the offense like it normally does."
Boise State used a quick 7-2 run to pull within six points, 77-71, as the clock ticked just above the two-minute mark, taking a timeout after Shaver hit the layup that cut Utah State's lead down to two possessions. Two months ago, a moment like this probably spirals on the Aggies. Three weeks ago, a moment like this did spiral on them in their loss to San Jose State.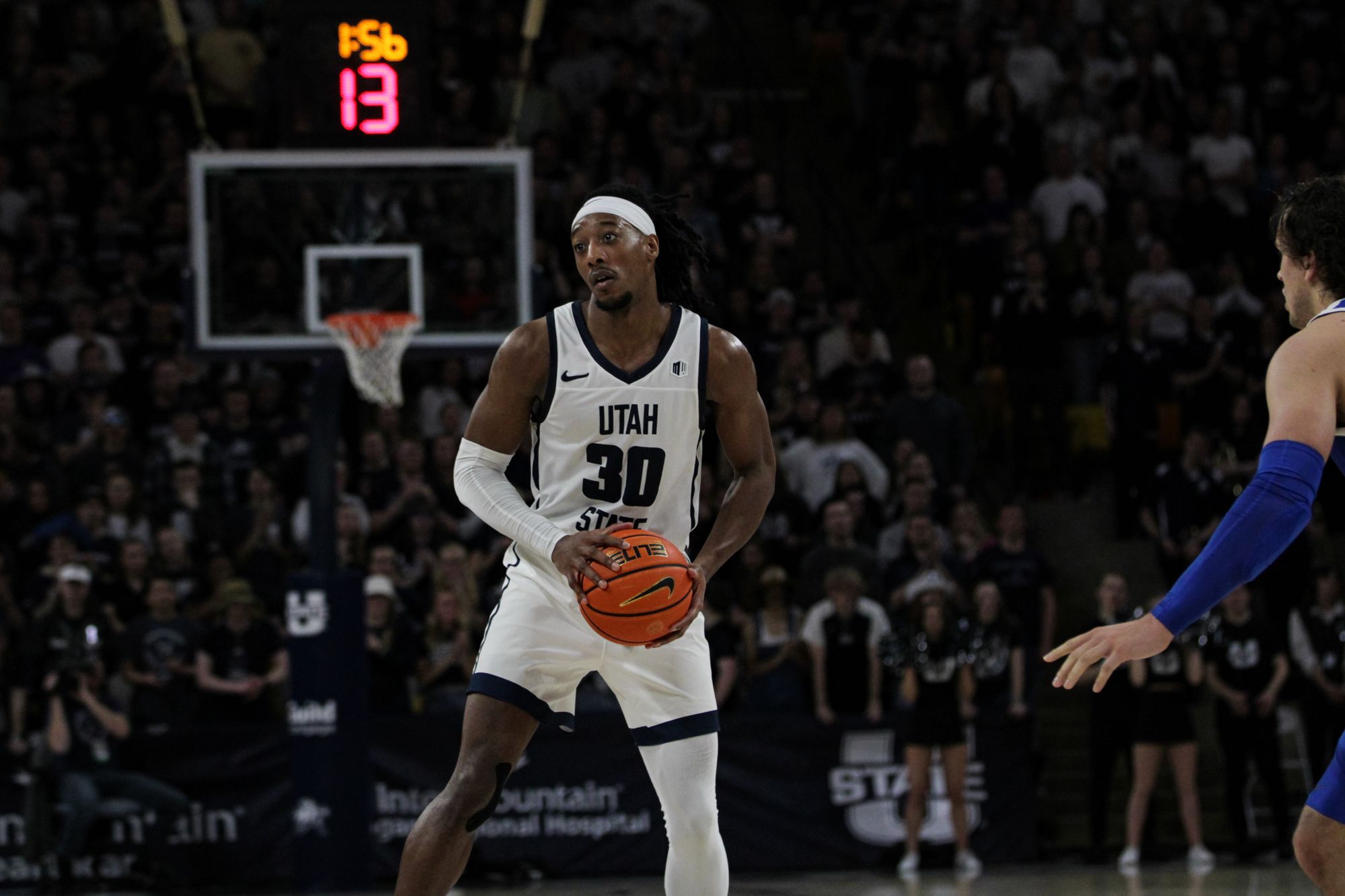 This time, Utah State exited the break, couldn't find what it wanted on its first look, reset, and did exactly what good teams – tournament teams – do: It found a way. Akin found Funk, and Funk buried a dagger nearly two months in the making right between Boise State's shoulder blades. He didn't even need to celebrate this one, because there was never any doubt that he would knock it down.
"The play kind of broke down," Funk said. "Dan and I made eye contact and he gave me a little head nod like, 'Alright, come behind me and I'll pitch it back to you.' I think it was against Degenhart, I can't remember who was guarding me, but he went under and that's a shot we work on a lot. Credit to Dan for reading that defense."
Everything left over the 1:52 on the clock was a formality. Funk ended the game, ended a burgeoning losing streak against Boise State before it could really begin, and may very well have punched Utah State's ticket to the NCAA Tournament – though the Aggies insist that they won't think about that until their job in the MWC tournament (which will begin for them on Thursday night) is over.
"Make us go dancing, man," Funk said. "This team deserves it, we really do. We have a couple of bad losses, but it's college basketball. Anyone could beat anyone on any given night. We're ready. We can't worry about that, though. We have a big game coming up in the tournament, we're not exactly sure who we have, but we need to prepare for that game because that's the next big game before we can even talk about that."
And as he had before the game, Odom took on the charge of lending some perspective to the moment, grabbing the mic shortly after the final buzzer sounded.
"How about them Aggies?"