WBB Preview: Balanced Nevada Side Plays Host To Shorthanded Aggies
Utah State WBB continues its search for a conference win against the 5-10 Nevada Wolf Pack in Reno, where tip-off is moments away. Preview: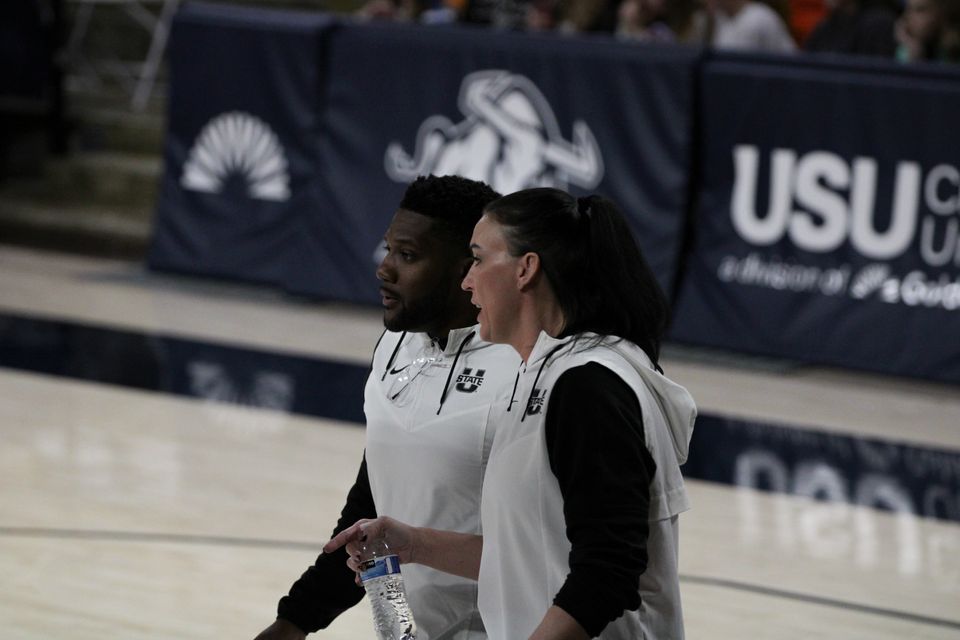 There are quite a few parallels to draw between Utah State and Nevada ahead of their matchup in Reno on Saturday at 2 p.m. (MT). The Wolf Pack will enter the matchup holding the better record, sitting at 5-10 with a pair of conference wins after knocking off Air Force and San Jose State, but they've faced many of the same struggles that have pestered Utah State on its way to a 3-12 (0-4) start to the season.
Offensively, both teams have struggled to find a standout scorer. The Aggies have just one player averaging double figures – Maria Carvalho, who was in a walking boot when Utah State last played but will return for this game – while Nevada is without a single player averaging at least 10 points per game.
Plus, the Wolf Pack are ranked in the 200s nationally in all shooting categories outside of their perimeter percentage; Utah State is in the 300s for field goal and two-point shooting percentage and the 200s for effective field goal percentage, but checks in within the top half for three-point shooting and free throw percentage.
On the other end, Saturday afternoon is slated to be a meeting of two of the worst defensive teams in college basketball – especially against shots in the paint.
As Utah State seeks its first conference win, it could certainly draw a worse matchup. Nevada has separated itself from the true bottom-end of the conference with its wins over the Falcons and Spartans, but won both games at home while suffering losses at New Mexico and San Diego State, along with non-conference losses to less-than-stellar foes like Long Beach State, Montana State, North Dakota State, Pacific, San Diego and Santa Clara.
Of course, it's difficult to win on the road, especially as shorthanded as Utah State has been in recent weeks. Her Hoop Stats gives the Aggies a 12.3 percent chance of breaking into the conference win column in Reno – not great odds, though the odds have rarely been in Utah State's favor this season.
Projected Lineups
Players To Know
Victoria Davis: Nevada knew it wouldn't be easy to fill the void left at point guard by the departures of Da'Ja Hamilton and Kylie Jimenez. The senior pair combined for 189 assists and 720 points (nearly 22 points and six assists a game) last season and obvious replacements among the list of returners were few and far between. Alyssa, Kylie's younger sister, could pick up some of the slack, as could capable passers like Lexie Givens and Audrey Roden, but the Wolf Pack needed a true point guard.
They asked, and the transfer portal provided Davis, a two-year contributor at Hampton and a natural fit for the needs of this roster for three primary reasons.
Firstly, and most importantly, Davis doesn't need the ball. She's an on-ball guard by trade, yes, but her usage was at or under 19 percent in both of her seasons at Hampton and hasn't been much higher this season. Nevada entered the season comfortable with its stable of scorers and needed a guard who could operate around them rather than pulling shots away from them. Averaging just seven shots a game while still contributing 9.1 points per night because of her strong 20.5 percent free throw rate, Davis has checked that box off.
Secondly, Davis notched an assist rate above 25 percent in both of her seasons at Hampton. That number has dipped to 13.8 percent this season as the junior guard averages just 1.4 assists per game, but volume was never the question for Nevada. It wanted a guard who can hold onto the ball and keep the offense in gear. With well under two turnovers per game and four teammates logging upwards of 20 assists on the season, that's another checked box for Davis.
Lastly, as Utah State will learn on Saturday afternoon, the 5-4 guard defends much bigger than she looks. She had a sub-90 defensive rating at Hampton and has carried those efforts over to Nevada well, logging 25 steals – the second most on the team trailing only Jimenez.
Nevada head coach Amanda Levens prefers to have two (or even more) on-ball guards in her starting lineup. With Jimenez in place, the Wolf Pack needed a point guard who could contribute without needing to make too much noise. Davis has filled the role as well as they could have hoped for.
Lexie Givens: Givens' progression into one of Nevada's most important players was pretty easy to see coming.
As a sophomore, a season ago, the 6-0 winger averaged 7.6 points with 5.2 assists per game. That may not look like much, but the underlying advanced statistics told the story of a player ready to jump into a leadership role. Givens' 47.9 percent hit rate from the field, 13.1 percent rebound rate, 0.91 points per play, 18.5 percent free throw rate and 91.6 defensive rating were all blatant indicators that, when the team was built more around her, Givens would shine.
And, through 15 games, shone she has. Givens leads the Wolf Pack in scoring with 9.9. points per game, converting 45.0 percent of her shots from the field while getting to the stripe at a team-best 26.1 percent clip. With 6.5 rebounds per game, the forward is also Nevada's leading rebounder, while her ability as a passer (1.9 APG) has emerged from nowhere, placing her second among Wolf Pack passers.
She's fallen into a bit of a dry spell of late, scoring in single figures in four consecutive games after logging eight double-figure games in her first 11 appearances this season, but it seems more a quick slump than a reversion to her sophomore form. Givens' defense has dipped slightly from last season, but she's one of the most dangerous offensive players on this roster – no matter what the recent stat sheets say.
Alyssa Jimenez: Their stories aren't identical, but Jimenez and Givens share a lot of similarities in their development from last season to this season. Like Givens, Jimenez was a starter for the Wolf Pack last season, but a starter rarely asked to contribute more than her All-MWC defense and the occasional basket. She averaged 5.6 points and 2.8 rebounds per game, knocking down 36.1 percent of her tries from the field.
And, like Givens, she's stepped comfortably into a larger role this season with Nevada turning over the top end of its 2021-22 lineup. Jimenez is second in scoring (9.6 PPG), first in assists (2.3 APG), second in rebounds (6.4 RPG) and first in steals (2.1 SPG). She's hitting 39.4 percent of her shots, 30.8 percent from three and helping to lead the Wolf Pack on both ends of the floor from her spot as a hybrid guard/forward.
It hasn't been a perfect transition – Jimenez has also seen some defensive regression as she's taken on a larger offensive load – but she's Nevada's minutes leader for a reason. This team goes where the redshirt junior leads it, and with seven games in double figures over her last 11 starts (averaging 9.8 PPG, 7.0 RPG, 2.2 APG and 1.8 SPG while shooting 39.8 percent from the field and 36.0 percent from deep), Jimenez seems to be finding more comfort with that responsibility.
Stats To Know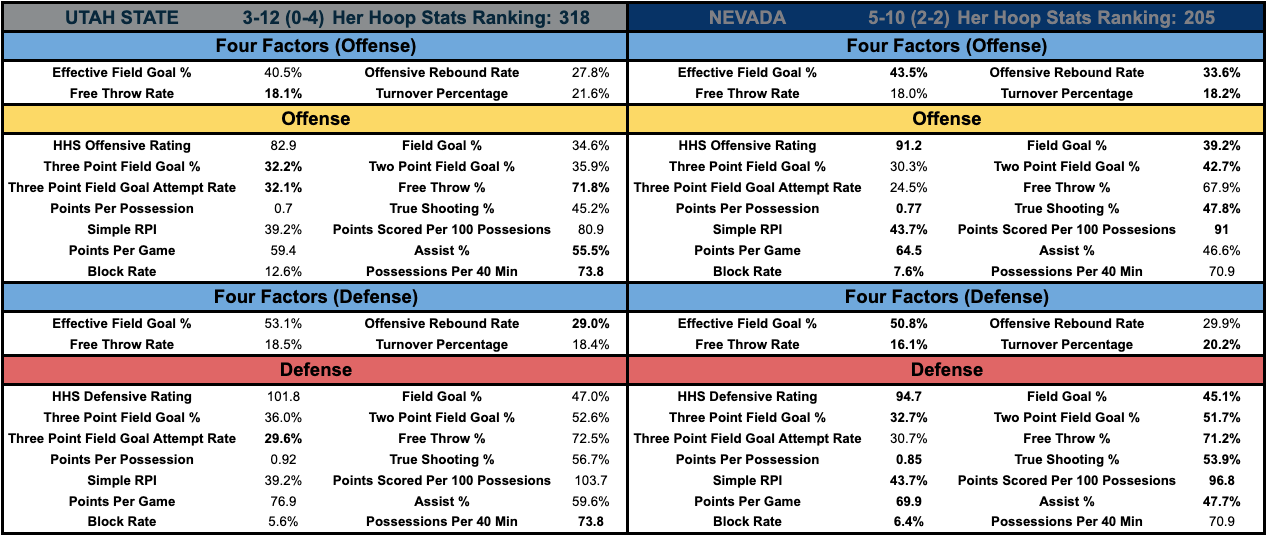 Effective Field Goal %: If you're looking for masterful marksmanship, you won't find it here. Nevada's 43.5 percent effective field goal rate is 226th in college basketball, while Utah State's 40.5 percent rate puts it at 296th. Now, the nation's 343rd (50.8 percent) and 355th (53.1 percent) effective field goal percentage defenses might help with that, but shooting has been hard for both of these teams to find all season.
The best bet for either side is to fire from beyond the arc, where both can at least claim an average unit. Nevada's 30.3 percent conversion rate from deep – led by Roden (13 for 57), Davis (12 for 23), Jimenez (12 for 39) and Gabby Rones (11 for 30) – is good for 195th nationally. Utah State leans heavily on the efforts of Mayson Kimball (21 for 53), Carvalho (19 for 44) and Olivia Wikstrom (17 for 51) to help guide the 132nd-best three-point shooting offense (32.2 percent).
Turnover Percentage: Here's where Nevada's propensity for accumulating capable ballhandlers makes its mark. The Wolf Pack are right on the bubble of the top 100 in offensive turnover percentage (18.2 percent) and sit inside the top 150 in creating turnovers on the other end (20.2 percent).
This group hasn't quite reached the heights of its predecessors, who were 53rd and 84th respectively, but it is still a strength of the team. Every contributor but backup point guard Tiffany Siu (30.6 percent) has an individual turnover percentage under 19 percent, while six players have a steal percentage on the other end at or above 2.0 percent. Utah State has done a better job with limiting turnovers of late, but this is a big ask for the Aggies – even with Carvalho in the lineup.
Offensive Rebound Rate: As has been the case in just about every league game Utah State has played, the Aggies need to win the battle on the boards to have a chance in this one. Nevada is an average rebounding team (123rd in offensive rebound rate, 127th in offensive rebound rate allowed), but a lot of those efforts come from the pairing of Givens and Jimenez.
Utah State has strong rebounders on the wings, chief among them Kimball (4.3 RPG) and Wikstrom (3.8 RPG), and will need them to hold their own while Prima Chellis (3.0 RPG), Ashya Klopfenstein (4.3 RPG) and Abby Wahl (4.1 RPG) take advantage of a lackluster Nevada center room.
Prediction
Carvalho's return to the lineup changes the dynamic of this game quite a bit. Nevada has been better to this point in the season, albeit marginally, but the Wolf Pack are heavily reliant on their guards – and Utah State may have the juice to match that with its backcourt intact (save for Kinley Falslev-Wickizer, who is out). If it can, this could get very, very interesting.
However, I need to see this team win a conference game before I go and predict it. The Aggies have folded in the final frame too often this season to be extended the benefit of the doubt. They can keep this close, but I'm yet to believe they can finish off a league opponent.
Nevada