WBB Preview: Aggies Wrap Regular Season Road Slate At New Mexico
Utah State WBB will complete its regular season road slate with today's game at New Mexico – which has its eyes on a top-five spot in the MWC. Preview: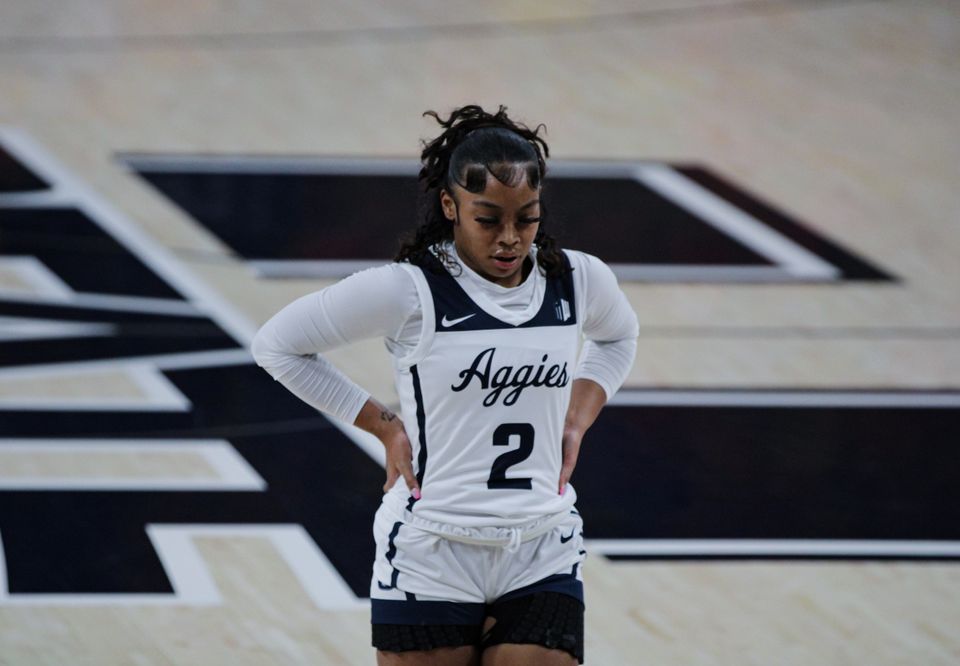 Utah State's first meeting with New Mexico was over almost as soon as it began. The Aggies played too friendly a host in Logan on Jan. 28, surrendering 12 unanswered points in just over two minutes of play and ending the first period trailing by nearly 20 points, 33-14, after a barrage of three-pointers from the visiting Lobos.
Though the Aggies stuck tighter to New Mexico in the second and third periods, the game was over well before the Lobos fired off a 20-9 fourth quarter to wrap up a dominant, wire-to-wire 98-60 victory.
At the time, a loss of that magnitude to a New Mexico team that sits firmly in the middle of the Mountain West table looked like rock bottom for the Aggies. It was their fourth loss in as many games and seemed to be a case of the dam breaking after a trio of frustrating defeats that had each seen Utah State within reach of victory, only to fall apart in critical moments. A team can only take so much heartbreak, and Utah State had more than hit its quota with gut-wrenching defeats to Air Force and Wyoming, bisected by a frustrating road loss to lowly San Jose State.
As the two prepare to meet again nearly a month later, this time in Albuquerque, Utah State is now facing a true bottoming-out. That four-game losing streak has grown to 10 games, surpassing the eight-game skid that marred the Aggies earlier in the year, and matters have only worsened in their most recent appearances.
In four games since they nearly pulled off a massive comeback effort against Nevada (only to come up five points short), the Aggies have suffered a 22-point loss to Wyoming, a 15-point defeat at Fresno State's hands and back-to-back thrashings against Boise State (89-41) and UNLV (86-32), each setting a new season-high for largest losing margin. If there's any fight left in the 4-23 Aggies, they didn't show it in Boise or Las Vegas.
On the other sideline, recent play has treated New Mexico very well. The Lobos (18-11, 10-6) have won eight of their last 10 games, moving into a three-game lead over Air Force for the No. 6 spot in the Mountain West and eyeing further moves up the standings with Boise State (11-6), Colorado State (11-5) and San Diego State (11-5) all within a game's reach. If they can take care of business against Utah State and Fresno State, there's a great chance that they'll move into the top five as marquee matchups remain with San Diego State-UNLV (16-0), Colorado State-Wyoming (12-5), and Boise State-Colorado State.
While they continue work on their conference positioning ahead of the fast-approaching MWC tournament, Utah State is left searching for any positives to take into what will be a very long offseason in Logan. A competitive showing after back-to-back blowouts would be a small victory, but the Aggies really aren't positioned to be picky right now.
Projected Lineups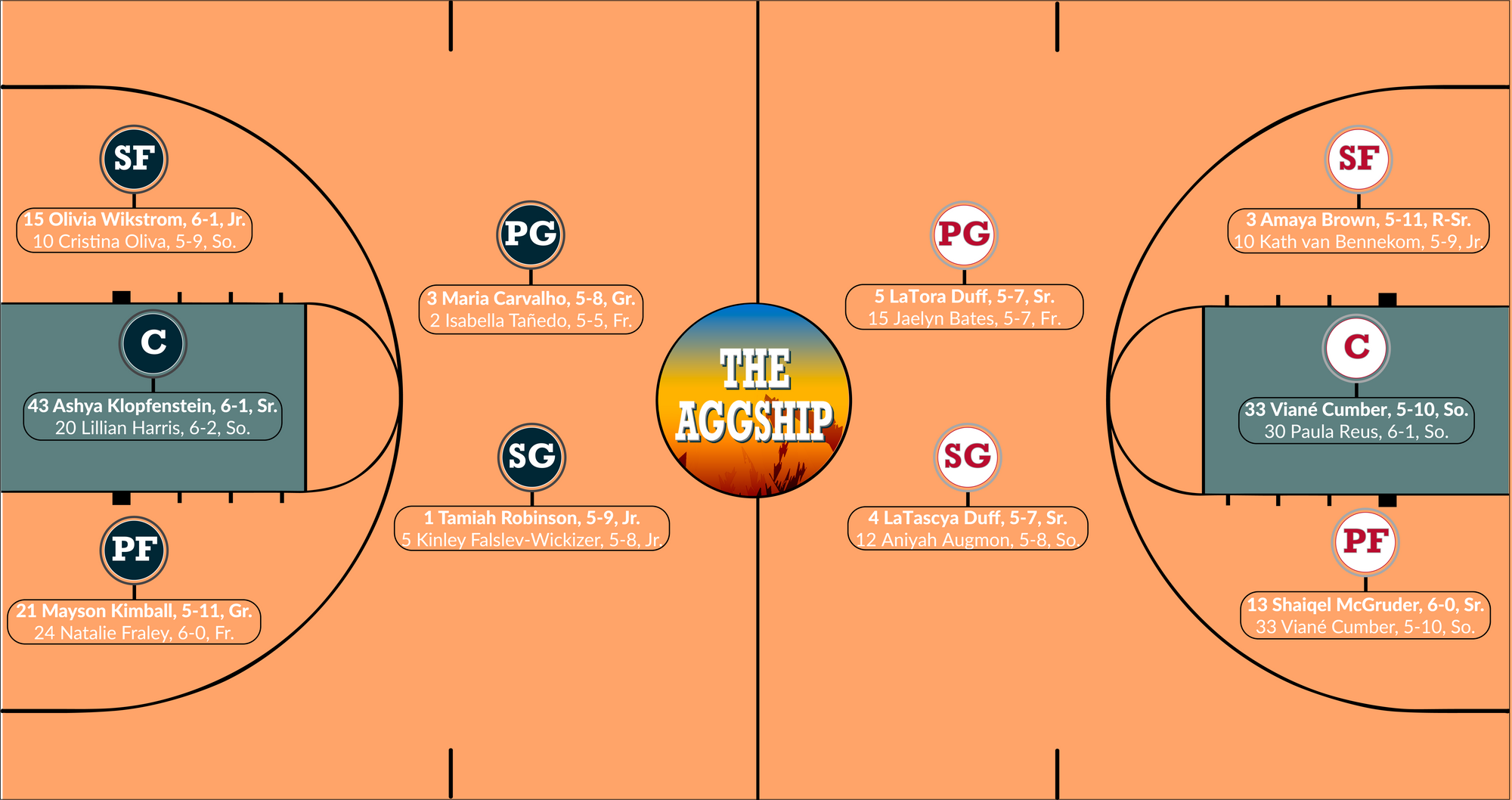 Players To Know
Aniyah Augmon: A sophomore set to play her 60th game as she takes the floor against the Aggies, Augmon has looked every bit the part of the future star in the backcourt that New Mexico badly needs her to be through this second season with the program. She's worked exclusively off the bench this season, making 26 appearances without a start to her name, but don't let those stats fool you – she's every bit as important to this team as a traditional starter would be.
But, with the Duff sisters entrenched in either starting guard spot, Augmon is much better serving as the first player off the bench for the Lobos, filling in at either guard spot as needed and averaging 20.8 minutes per game. In that role, Augmon has done nothing but back up the trust New Mexico has given her, averaging 7.5 points, 4.5 rebounds and 1.8 assists per game, shooting 48.6 percent from the field with a 22.0 percent free-throw rate that puts her among the best on the team, trailing only LaTascya Duff (26.6 percent) and Nia Johnson (23.3 percent).
She's yet to find a consistent shot from the perimeter, hitting only 10 of 30 tries from deep this season, but the rest of Augmon's offensive game is solid. She's a good ball handler and a capable playmaker when needed, but she's at her best when she's attacking the basket and generating contact. She's a strong finisher and a good enough free-throw shooter (71.6 percent) to make defenses pay for sending her to the line as often as they do. Add in her rebounding acumen at just 5-8 and some solid defense (usually against off-ball guards), and it's easy to understand why New Mexico has leaned on Augmon as much as it has this season.
In fact, the Lobos have trusted her even more as they've worked through league play, giving her 23.1 minutes per conference game – which she's used to average 10.0 points, 5.6 rebounds and 2.0 assists per game on 49.5 percent shooting. She's the future of this program at guard when the Duff sisters depart, but that shouldn't discount her impact now. She's a good player who seems to be improving every time she checks into the game.
Amaya Brown: New Mexico pulled Brown out of the transfer portal after three seasons with Florida State for two big reasons: Rebounding and interior scoring.
While she hasn't scored with quite the efficiency the Lobos were hoping for, shooting 39.8 percent from the field, Brown has settled in very nicely as a frontcourt complement opposite star forward Shaiquel McGruder, pitching in as a much-needed secondary rebounder and wing defender to help take some focus away from her counterpart at power forward, allowing McGruder to lead the Lobos in scoring (13.3 PPG) and rebounding (7.2 RPG).
That's not to say that Brown can't score, either. She's averaging 8.6 points per game and 9.3 PPG in conference play, she's just doing it with a bit higher usage rate (21.0 percent) than the Lobos would probably like.
It's hard to find much else in her game to take issue with as it fits into this squad, though. She's averaging 5.4 rebounds per game – second to only McGruder – and a little over an assist per game, adding in some nice defense with 1.2 steals a night and a 91.9 defensive rating that again puts her in the second, trailing only McGruder.
She has struggled with some foul trouble, averaging 2.5 personal fouls per game, but it's hard to call the Brown experiment anything but a success for the Lobos. They wanted a glue player to plug in at small forward who could take some responsibilities off McGruder's plate, freeing her up to score as a true No. 1 option, and Brown has delivered on it with extreme consistency – even if she does shoot a little too much.
Vianè Cumber: New Mexico has made only one major change to its starting lineup since its first meeting with the Aggies, pulling center Paula Reus from the top five and replacing her with Cumber, a 5-10 sophomore who has burst onto the scene for the Lobos in conference play.
Though Reus is a bigger body in the middle of the floor at 6-1 and a better rebounder than her replacement (4.6 RPG), the rebounding ability New Mexico knows it can bank on from Brown and McGruder can pretty well cover Cumber's relative lack of production on the boards (2.8 RPG). And, if that's not a factor, it's not much of a competition between the two elsewhere on the floor – Cumber is just too skilled and too versatile.
Firstly, as a scorer, the sophomore has quickly proven herself one of the best frontcourt shooters in the conference, knocking down 38.5 percent of her 148 three-point attempts and 41.2 percent of her overall tries from the field on the way to 8.4 points per game.
Reus is a capable shooter as well (30 of 84 from three), but this New Mexico offense badly needed a second sharpshooter in the starting lineup to pair with Duff (79 of 205) as the other Duff sister, LaTora, has seen her perimeter shooting plummet to just 24.8 percent this season. Cumber's presence adds that second threat while creating much more room on the inside for New Mexico's slashers to operate, not to mention the Duff sisters – who can both attack the rim as well as any guards in the league.
Stats To Know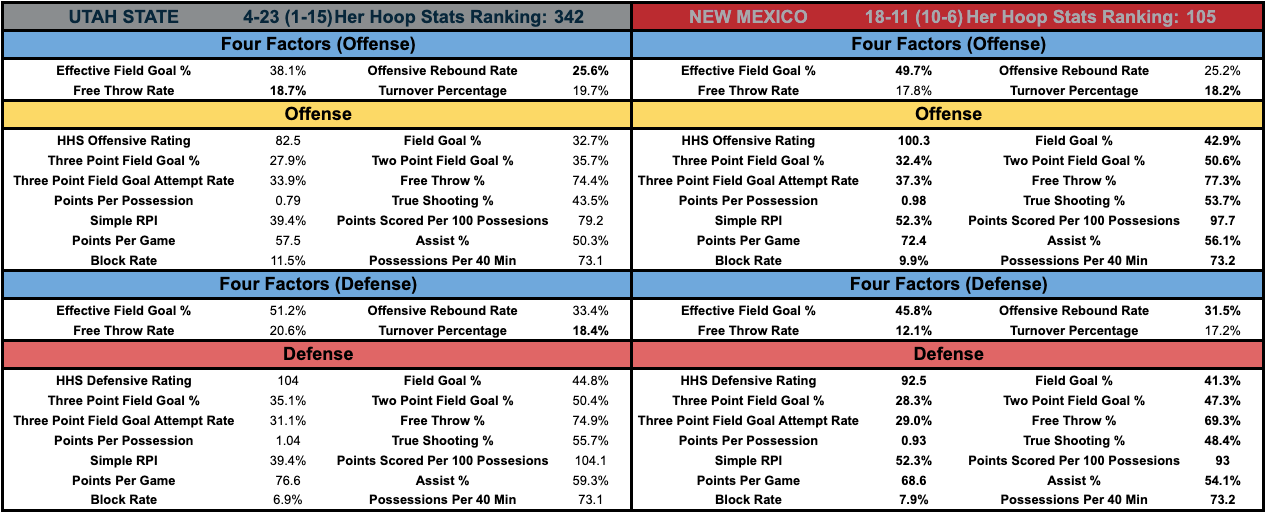 Two Point Field Goal %: This is one of the better three-point shooting teams in the Mountain West, averaging a 32.4 percent hit rate with a 37.3 percent attempt rate that ranks 29th in college basketball, but it's the play on the inside that truly guides this offense. The Lobos are shooting 50.6 percent from two-point range this season, good for 36th nationally.
McGruder is comfortably at the fore of those efforts, averaging more than five made two-pointers a game (5.3) on 60.5 percent shooting, but Augmon (52.7 percent), Reus (51.4 percent), Cumber (51.1 percent) and the Duff battery (47.8 percent, 46.8 percent) have all proven themselves capable inside the arc as well. New Mexico's perimeter shooting can be lethal, as Utah State learned in Logan last month, but it's those inside shots – paired with a solid 17.8 percent free throw rate – that can really chip away at a defense.
The same isn't true, though, of the New Mexico defense. With only one true rim protector on the roster (McGruder, 1.9 BPG), the Lobos have often struggled to defend against offenses capable of getting to the basket, allowing the nation's 270th two-point percentage (47.3 percent) – with "capable of getting to the basket" being the operative phrase. If an offense can beat this backcourt and get into the paint, it will have its share of easy shots. The former is far from a given.
Points Per Possession: There are no two ways about it – this is a really strong offense, if not one of the best the MWC has to offer. The Lobos are efficient, with top-100 rankings in essentially every shooting metric, and can get scoring from a lot of places as they tout seven contributors averaging at least 7.5 points per game. They've scored at least 70 points in eight of their last 10 games and would certainly expect that streak to continue against one of the worst defenses in both the MWC and in all of college basketball.
If Utah State wants to have any chance on Saturday, it needs to find a way to slow this offense down, and the path to doing that has been pretty well established this season. The defenses that had success against this offense did so by limiting easy points (low free-throw and assist rates) and forcing mistakes (high turnover percentage).
A high-intensity trapping defense that fades into a half-court zone look might be Utah State's best hope. It would leave the Lobos open from beyond the arc, but the Aggies may just have to live with that.
Prediction
Utah State looks just about done with this season, and it's hard to blame them. I can't imagine the energy level will be much higher on the third and final leg of what has been a brutal road swing in these waning days of the regular season after back-to-back decimations against two of the better teams in the MWC.
New Mexico has quite a bit to play for on Saturday as it jostles for league positioning, while Utah State really just needs to get to the conference tournament. There's nothing left in this regular season for the Aggies, and there's not much reason for optimism heading into this matchup against a quality opponent.
New Mexico 89, Utah State 59