WBB Preview: Utah State Travels To Face Top-Seeded UNLV
Utah State WBB will get a look at the regular season MWC champions tonight, as it takes on UNLV in Las Vegas. Preview: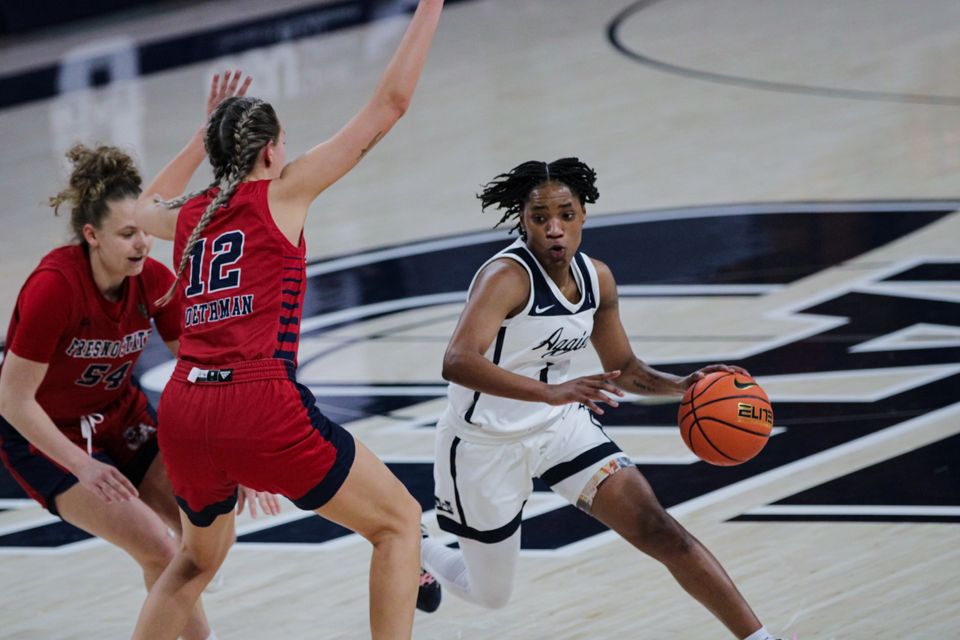 UNLV's ascent to power in the Mountain West came without warning. The Runnin' Rebels, who have already secured the No. 1 seed in the impending Mountain West tournament and locked up the regular season conference title, burst onto the scene last year, 20 years removed from their last NCAA tournament berth (2001-02) and more than 30 from their last sole regular season conference championship (1989-90).
Led by then-second-year head coach Lindy La Rocque – a product of the Tara VanDerveer coaching tree and a Las Vegas native – UNLV surged to power in the MWC behind the dynamic duo of Essence Booker and Desi-Rae Young, racking up a 15-3 conference mark and storming through the MWC tournament to earn a No. 13 seed in the NCAA tournament (where it fell to Arizona, 72-67).
Now in La Rocque's third year at the helm, with the same core as last season's breakthrough bunch, UNLV has hit a new high. The Runnin' Rebels cracked the AP top 25 earlier this month, their first such appearance in 29 years, and have yet to stumble through 15 conference games. Young is on pace to defend her MWC Player of the Year crown, and UNLV looks well-suited to earn a win in the NCAA tournament for the first time since 1990-91, projected currently as a No. 12 seed by ESPN but liable to rise as it looks to close out a perfect conference season.
It's not all rosy for the Runnin' Rebels, though. Despite a 25-2 overall record, UNLV's NET rankings are in the 50s, meaning that it could find itself on the outside of the bubble if it doesn't run the table and claim the MWC tournament title, as it did last season. Even with the regular season title secured and 16 consecutive victories to its name, UNLV still has plenty to play for during the final stretch of this season.
That's bad news for Utah State, which sits on the opposite end of the Mountain West table with only one conference victory in 15 tries and is tasked now with matching up against the league leaders in Las Vegas on Thursday evening – and only a few days removed from a 48-point loss to Boise State, their largest defeat of the season and the widest margin in a Mountain West game this season (four of the five largest margins of defeat in this league belong to the Aggies, the fifth came in a 41-point UNLV win over Air Force).
Projected Lineups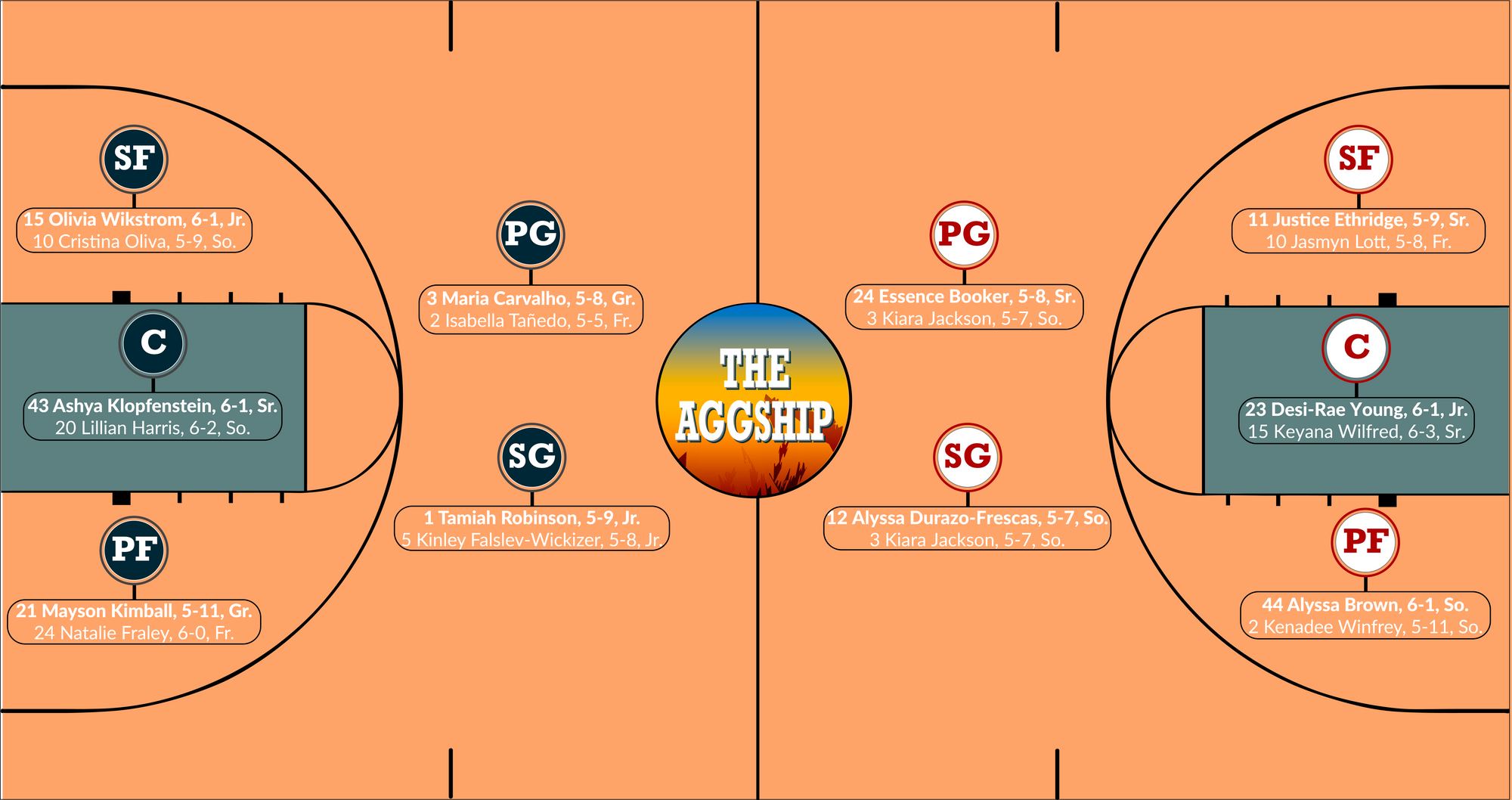 Players To Know
Essence Booker: Some early-season struggles are still factoring into Booker's per-game averages, which are down slightly from her phenomenal first season at UNLV – she's averaging 13.3 points, 4.0 assists and 3.3 rebounds per game, compared to 15.5 points, 3.8 assists and 3.6 rebounds per game last year – but you shouldn't let that fool you. Since making a brief departure from the starting lineup as the calendar flipped to 2023, Booker has been every bit as dominant as she was a season ago, if not even better.
The 5-8 senior guard returned to UNLV's starting five against San Jose State on Jan. 11 and hasn't surrendered that spot through the 11 games since, averaging 14.5 points, 4.3 assists and 3.2 rebounds per game in conference play.
Her shooting, which was similarly down through the opening weeks of the season, has also rebounded nicely in league play; Booker is shooting 43.1 percent from the field in the MWC, up from 35.1 percent against non-conference foes. She still isn't much for three-pointers (22.4 percent, down from 37.5 percent in 2021-22), but she's otherwise picked up right where she left off as one of the homegrown leaders of this team, alongside Justice Eldridge and Young.
"There's local talent here in Las Vegas, and I feel like it's slept on," said Booker. "I originally didn't get recruited from UNLV, so being able to play for Lindy La Rocque and this group and with Justice and Desi all being from Vegas, it's the best of both worlds."
Though much is made of her impact on offense – and for good reason, with a team-high 26.5 percent usage rate, up to 27.3 percent in conference play – Booker is just as important to UNLV's defensive efforts. She's second on the team in steals (1.3 SPG) and third in defensive win shares (1.1), serving as UNLV's point player for defending primary ball handlers in a conference packed with good guard play.
Young gets the majority of the plaudits on this team, again for good reason (more on her in a moment), but UNLV's surge over these last two seasons does not happen without Booker at the helm as a playmaker, secondary scoring option and defender.
Justice Ethridge: Any good trio needs its glue player, and Ethridge is as good a glue player as Utah State will see this season. A 5-9 senior who can play any of the three backcourt positions in this system, Ethridge does everything for this UNLV side.
Offensively, she helps to fill in as a perimeter threat to complement Booker and Young – who do the majority of their scoring inside of the arc – with the best three-point hit rate on the team (41.9 percent) on the second-highest volume (3.2 attempts per game) behind shooting guard and fellow marksman Alyssa Durazo-Frescas (4.7 tries per game, 34.4 percent).
Ethridge's per-game scoring average isn't eye-popping at just 8.9 points a night (fourth on the team), but it does not need to be. Her role is as a low-usage (14.9 percent, the lowest among all contributors), high-efficiency (60.9 percent effective field goal percentage) off-ball scorer, and she's extremely proficient in that job, adding 2.4 assists per game to help take some of the playmaking load off Booker.
She's even better, though, as a defender. Ethridge earned a nod on the Mountain West all-defensive team a season ago and is well on track to do the same this season, thanks to her immense athleticism and positional versatility. To top it all off, she's good for 3.9 rebounds per game, too. It's no wonder she's logged 60 starts over the last two seasons.
Desi-Rae Young: It isn't hard to imagine Young ending her career at UNLV as one of the greatest players in the history of Mountain West women's basketball. It's very high praise for a third-year player, yes, but it's hard to disagree with Young's list of accolades – which will grow even larger when postseason awards are doled out in a few weeks. Young was selected as the Mountain West's Freshman of the Year, an all-freshman pick and an all-MWC honorable mention in 2020-21, and followed her opening stanza with an utterly dominant sophomore campaign.
Averaging 15.2 points and 8.5 rebounds per game, Young became only the fifth underclassman in conference history to earn MWC Player of the Year honors last season. She's already 33rd on the league's all-time scoring leaderboards (1,293 points) and 19th for total rebounds (715), on pace to break both records next year if she maintains the averages she's notched this season.
Those averages, it bears mentioning, are absolutely outlandish. Shooting a league-leading 59.9 percent from the field, Young is second in the MWC in points per game (18.1 PPG) and first in rebounds (10.3 RPG), racking up 15 double-doubles in 27 games while also adding 2.3 assists and 1.8 steals per game.
There's really no descriptor that can do her justice beyond "dominant." She's as pure a post-scorer as you'll see in college basketball this season, there are no answers for her on the boards, and though she's not a top-flight rim protector (0.5 blocks per game), her defensive efforts are still strong enough to earn her serious consideration for an all-defensive team selection.
Colorado State's McKenna Hofschild is giving her a serious challenge for Player of the Year honors, but there's not a better all-around player in this conference than Young, and there hasn't been for quite some time now. She's every bit as good as advertised.
Stats To Know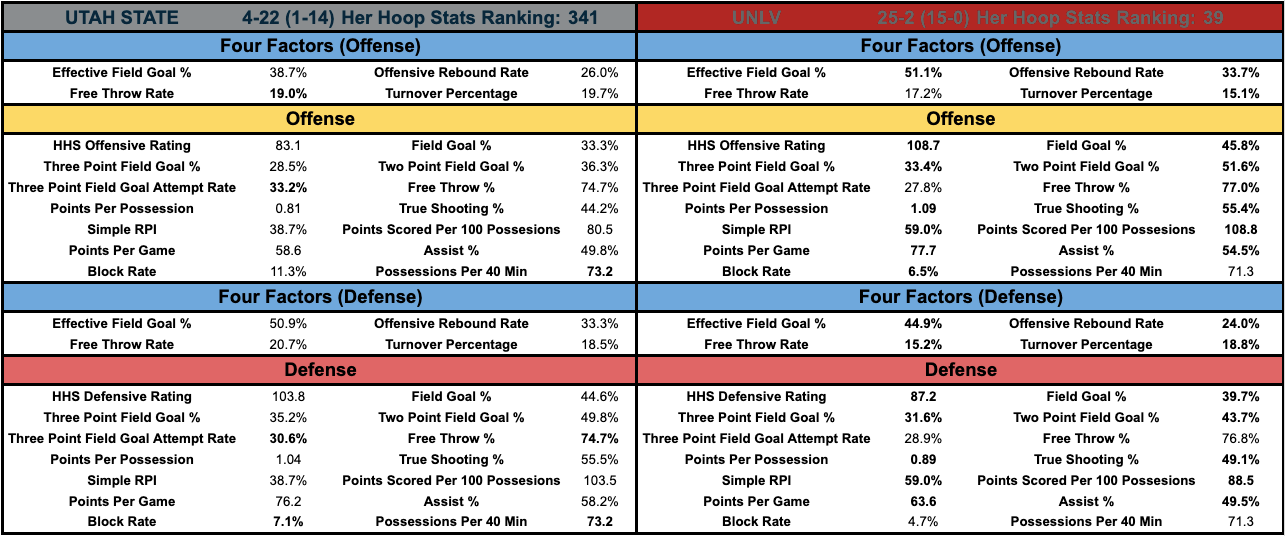 Three Point Field Goal Attempt Rate: UNLV has several capable perimeter shooters in its rotation, leaning on Durazo-Frescas, Ethridge and Kenadee Winfrey (36.2 percent from three) to lead that charge, but this offense is pretty far from relying on the three-pointer as anything but a supplemental option.
UNLV has the 82nd-best three-point shooting percentage in the sport, but touts only the No. 191 three-point attempt rate, firing shots from beyond the arc only 27.8 percent of their tries from the field. If the shots are there, the Runnin' Rebels aren't afraid to take them – they hit 23 on 51 tries across two meetings with New Mexico – but it's rarely the focus for this offense.
Effective Field Goal %: And with shooting splits like these from inside the arc, it's easy to understand why UNLV is happy to play its game closer to the rim. The Runnin' Rebels have the No. 32 effective field goal percentage in college basketball (51.1 percent), and they have a truly excellent two-point game to thank for it, knocking down 51.6 percent of their shots within the arc (21st nationally).
Young is comfortable as the top reason for that strength on the inside, but she isn't alone. Power forward Alyssa Brown shoots 68.4 percent from two-point range (averaging 9.0 points per game), Ethridge shoots 58.4 percent, Jasmyn Lott is good on 54.8 percent of her tries and Durazo-Frescas wraps up the group of players above 50 percent with a 51.4 percent hit rate.
This offense is good at just about everything it does – look no further than its 77.7 points per game and offensive rating (24th nationally) – but it all starts with the consistently strong shooting that UNLV gets from essentially every member of its nine-player rotation.
Offensive Rebound Rate: It certainly helps the offense to have an offensive rebound rate in the top 100 (33.7 percent), but UNLV's greatest rebounding strength is actually on the other end of the floor.
With top-end rebounders like Young, Keyana Wilfred (18.5 percent rebound rate, 2.0 RPG) and Brown (16.8 percent, 7.3 RPG) leading the charge, supported by good efforts from Winfrey (11.5 percent, 3.5 RPG) and Ethridge (7.9 percent, 3.9 RPG), UNLV allows the seventh-lowest offensive rebound rate in college basketball at just 24.0 percent. If Utah State wants to make a dent against this defense, it needs to hit shots the first time – because it probably isn't getting a second look very often.
Prediction
I pride myself on providing balanced coverage for these games, both in previewing matchups and in breaking down those matchups once they're through. I lean on stats to help drive a narrative, especially through previews, but I do watch upcoming Aggie opponents ahead of breaking them down. There are certain things that stats just can't tell you about a team, and I don't feel I could provide the appropriate balance for this coverage without that added context. It's especially helpful for a matchup like this because the stats are just not built to reflect the sheer magnitude of difference between these two teams.
UNLV is a legitimate tournament team with multiple all-conference-level players, including a superstar who could very well earn an All-America nod at the end of the season. Utah State just lost to a middle-of-the-road Boise State team by 48 points, and the film was worse than the stats. Utah State winning this basketball game would be one of the most shocking outcomes in the history of collegiate athletics, and personally, I don't like those odds.