WBB Preview: Utah State Hosts San Diego State Team With Title Aspirations
Utah State WBB is back home in the Spectrum today, set to host a very strong San Diego State team led by two excellent guards. Preview: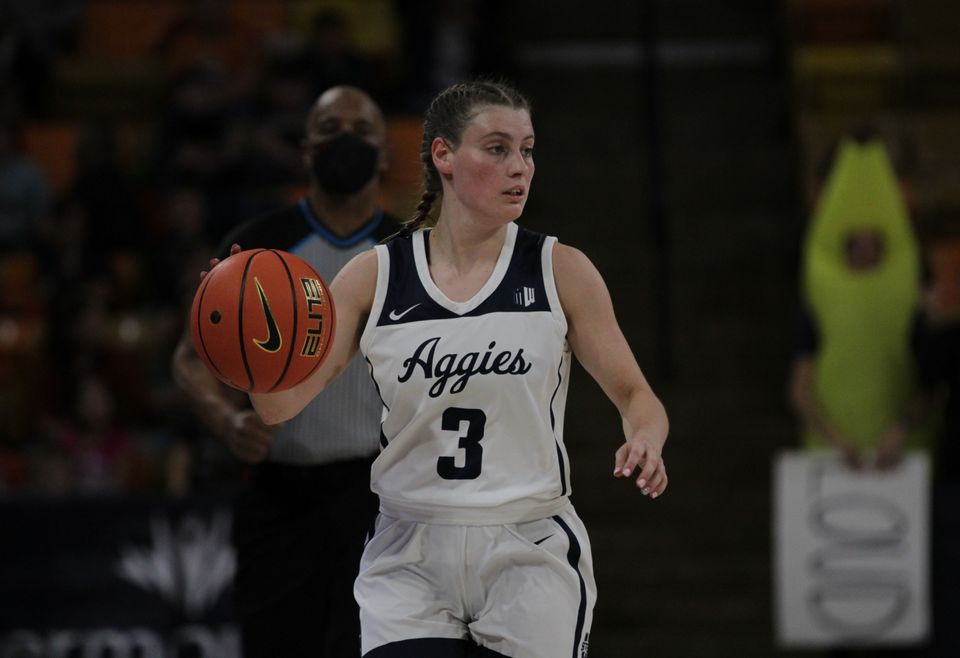 Utah State is improving. Save for a one-game cratering against Eastern Washington to close conference play, the Aggies have looked much better in their last six games than they did in their first six. They toppled Weber State and Utah Valley and played competitive games with BYU and Loyola Marymount before the blowout at Eastern Washington's hands, and a 77-63 loss to Air Force, while far from ideal, was competitive for all but maybe three minutes to close the game.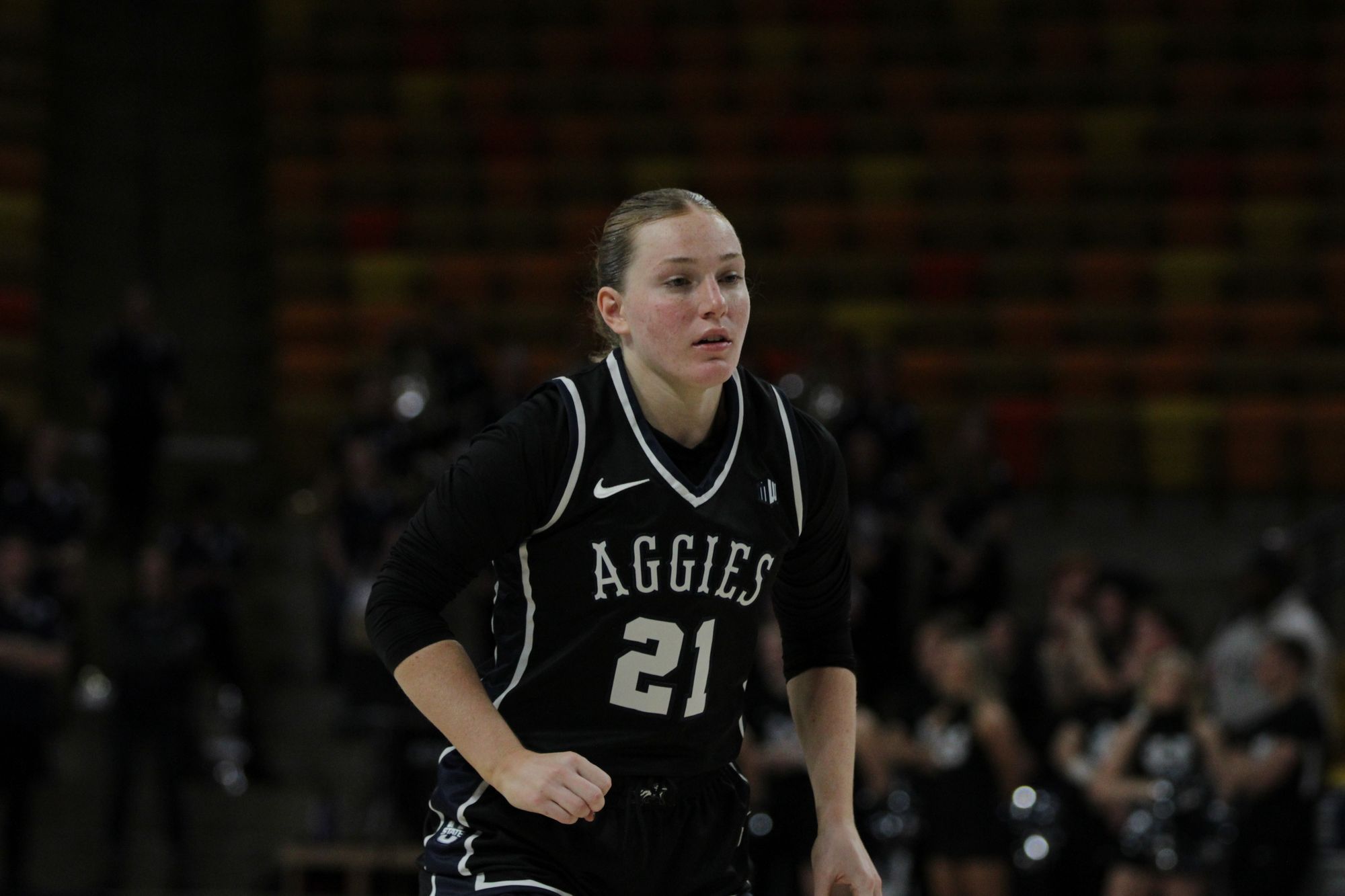 It might not sound like much, but progress is sometimes slow. Utah State is taking steps forward, slight as they may be.
The Aggies will need every bit of that improvement – and then some – to shine through in their New Year's Eve matchup with San Diego State. The Aztecs bring to Logan one of the best defenses in the Mountain West and hold a 10-3 record that includes blowout wins over Grambling, San Diego Seattle and Southeastern Louisiana.
Asia Avinger and Sophia Ramos make one of the best guard pairings Utah State has seen to this point, and they'll be tasked to lead the Aztecs. Star forward Mercedes Staples (11.8 PPG, 4.7 RPG) has missed two straight games and won't return against the Aggies, but San Diego State is still every bit the Mountain West contender that it has looked like – even without its top shooter. Utah State's recent progression, especially offensively, will be put to the test early and often.
Projected Lineups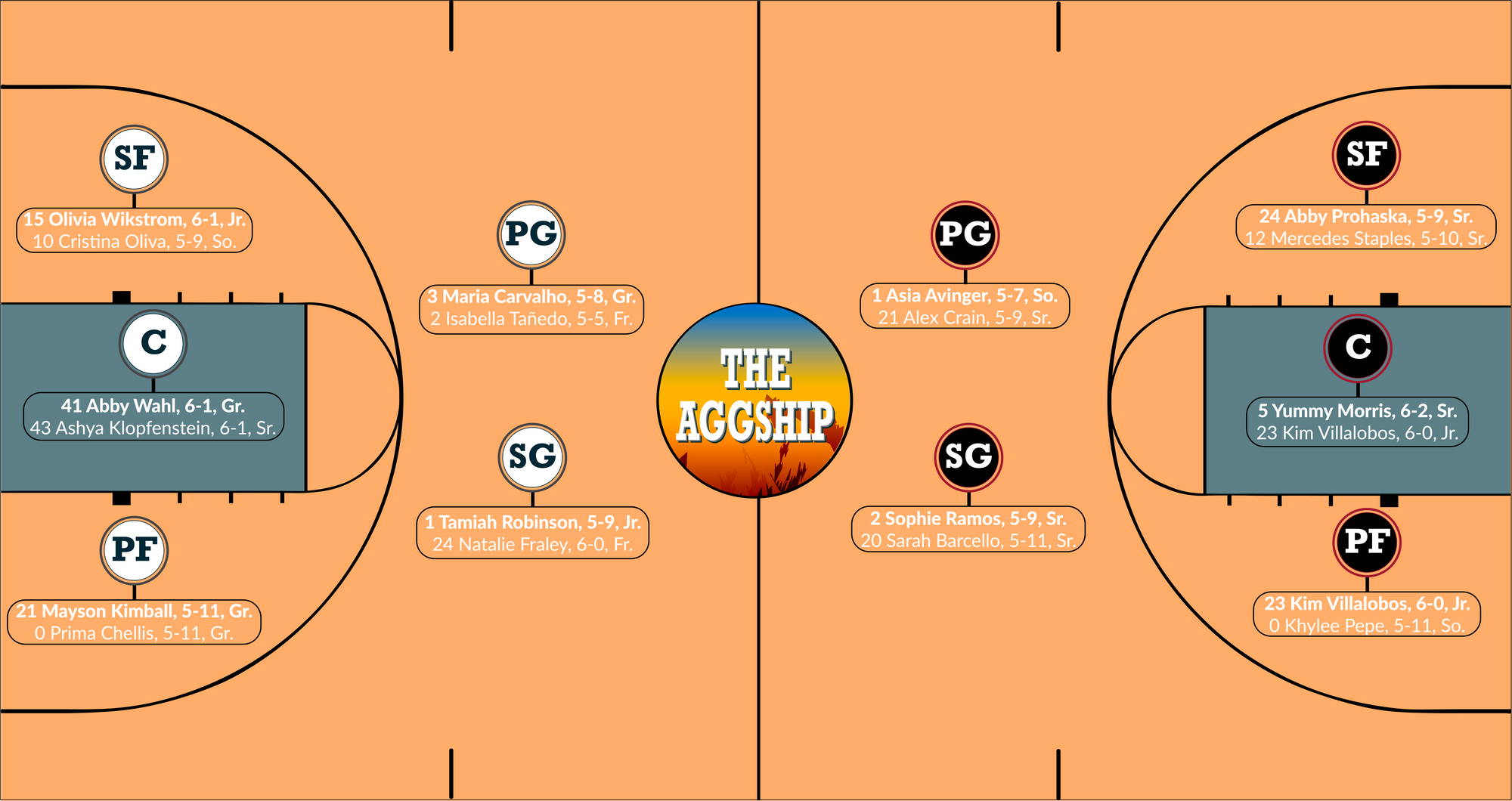 Players To Know
Asia Avinger: Avinger has been as good as advertised at San Diego State. A top recruit in the class of 2020, Avinger burst onto the scene as a redshirt freshman last season after an injury kept her off the floor as a true freshman. She led all MWC freshmen with 12.0 points and 3.9 assists per game, leading the Aztecs as a natural point guard and earning a spot on the Mountain West All-Freshman team.
Although injuries held her out of five games this year, she's back to full strength now and looks to be taking her game to another level. Her rebounding has dipped (3.1 RPG, down from 4.7 last year) and her scoring is down, but only by the smallest margin (11.9 PPG). Everything else is either improved or on par with the standards she set a year ago.
She leads the Aztecs with 3.9 assists per game and has been putting up the best shooting splits of her collegiate career. She's hit 50 percent of her tries from the field and 53.8 percent of her three-pointers (although that isn't a huge part of her offensive arsenal). And though she's the lesser of San Diego State's backcourt defenders, she's still averaging 2.0 steals per game, and she's one of the conference's toughest on-ball point guard defenders. It's a mighty task to beat her on the dribble.
Georgia did a great job limiting her when San Diego State last played, holding her to nine points with two assists and one rebound. Utah State must find a way to keep her closer to those figures than to the 25-point outburst she recorded against Miami (Ohio) before that loss to the Bulldogs.
Sophia Ramos: Avinger is San Diego State's lightning in the backcourt, and here's the thunder. Ramos is in year No. 5 of tormenting opposing guards with both her defense and elite shooting, and very little has changed from her time as an All-MWC pick in 2019-20, an All-Freshman pick in 2018-19 and an honorable mention last season.
And unlike with her battery mate, Utah State knows what to expect from Ramos. She averages 10.8 points per night, and you'll be hard-pressed to keep her from reaching that number as a bare minimum. She's finished in double-digits nine times this season, including each of San Diego State's last four games.
Her potential for huge games is lower than Avinger's, but No. 2 gets the ball when the Aztecs need a scorer they can trust. Ramos is shooting 40.7 percent from the field, 42.6 percent from deep and 92.9 percent at the stripe. Her scoring is a constant; the variable is how much she's able to get free. To make things just a little harder on everyone, she's also averaging 3.5 rebounds and 3.2 assists per game.
And of course, she's the best individual defender on a team packed to the gills with brilliant individual defenders. There are better players in the Mountain West, but few are as consistently great as Ramos has been across 120 games with the Aztecs.
Kim Villalobos: This is largely a guard-driven team, which makes Villalobos all the more important from her perch as the starting power forward. Center Yummy Morris is a slightly better scorer, shooting 48.3 percent from the field and averaging 7.8 points per game, but Villalobos is the engine that guides the frontcourt.
She's not an elite post scorer, but she's certainly no slouch. She's converting 46.4 percent of her tries for 7.2 points per game. And unlike Morris, who has been inconsistent on the boards and averages just 3.5 a night, Villalobos is a constant presence on the glass. She leads the team with 5.1 rebounds per game and plays a major role in keeping San Diego State away from the basement as a rebounding team. It's still far from great at crashing the glass, but Villalobos is good enough on her own to make the Aztecs competent.
You've surely already guessed that she's also an elite defender, but I'll come out and tell you formally: She's also an elite defender. Morris is a bit better as a shot blocker, but Villalobos is the post player who makes things very difficult for anyone trying to pass the ball into the paint, averaging well over one steal per game.
Stats To Know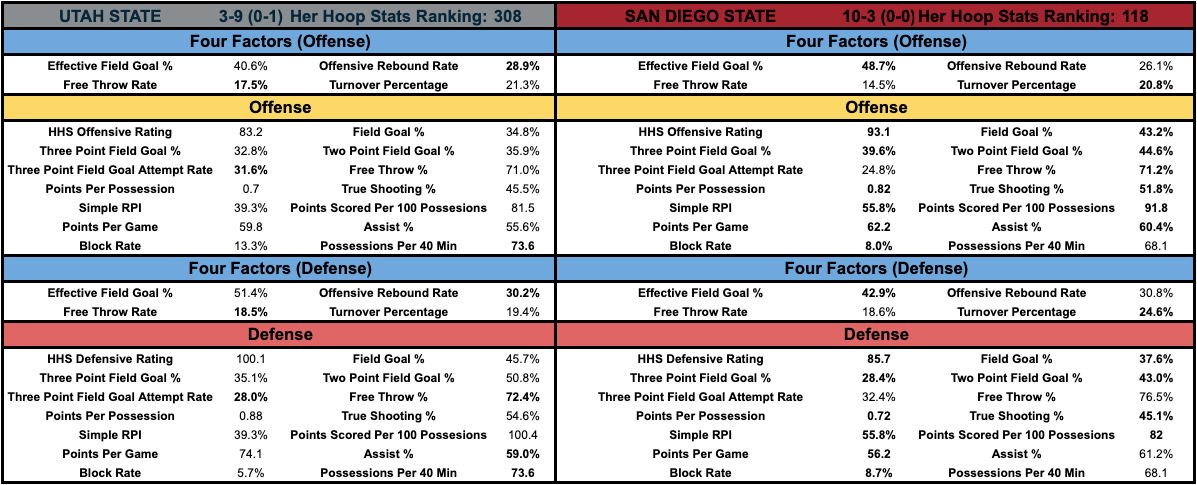 Three Point Field Goal %: San Diego State is in an interesting spot with its three-point shooting as it enters this game. The Aztecs are one of the best shooting teams in America when their entire season is accounted for, checking in at No. 6 in three-point shooting percentage, but much of the season was spent with Staples and her 47.2 percent hit rate on deep balls. Without their leading three-point shooters, the Aztecs have only one other truly excellent sharpshooter in Ramos.
Avinger can hit threes but rarely shoots them, while reserves Sarah Barcello and Alex Crain are both below average on their tries from deep. If Utah State can limit Ramos' open shots from beyond the arc, it may be able to turn a rare strength for this San Diego State offense into a weakness. The bigger concern for the Aggies is finding points of their own, but keeping the Aztecs under wraps would make sticking around in this game a much easier task.
Assist %: With or without their three-point shooting, the Aztecs are going to move the ball around at a very high level on offense – the issue has just been putting it in the basket. They assist on 60.4 percent of their baskets, good for the No. 73 spot in college basketball.
And on the other end, this defense will make its opponents work for every single shot they hit. A 61.2 percent assist rate may not sound favorable for a defense, but it's a sign of strength for this group. There's no beating San Diego State with isolation ball. If you want to score on this defense, you have to move the ball around.
Turnover Percentage: Speaking of making everything difficult, the Aztecs force turnovers at nearly the same rate as Air Force (24.6 percent). The Falcons turned Utah State over 25 times and won the game because of it. If Utah State is going to keep up on Saturday, it has to do better in this game. Everything else is a moot point without much better ball security.
Prediction
I predicted a blowout ahead of Utah State's matchup with Air Force, and the Aggies proved me wrong. They looked more connected on both ends of the floor and would have left Colorado Springs with a victory if not for their 25 turnovers. I'm going to take a lesson from that. I think Utah State can be competitive in this game if it cuts down on those turnovers, and I expect that it will cut down on them.
However, I don't see a path to victory. Even on its best day, Utah State's offense is going to have a hell of a time scoring against this San Diego State defense. A tight game for the majority of 40 minutes would be another step in the right direction for Utah State, and that's what I expect we'll see on Saturday.
San Diego State 58