WBB Preview: Utah State Draws Bounce Back Opportunity At San Jose State
Utah State WBB is back on the road for its fourth game in eight days, looking to get back on track as it takes on San Jose State. Preview: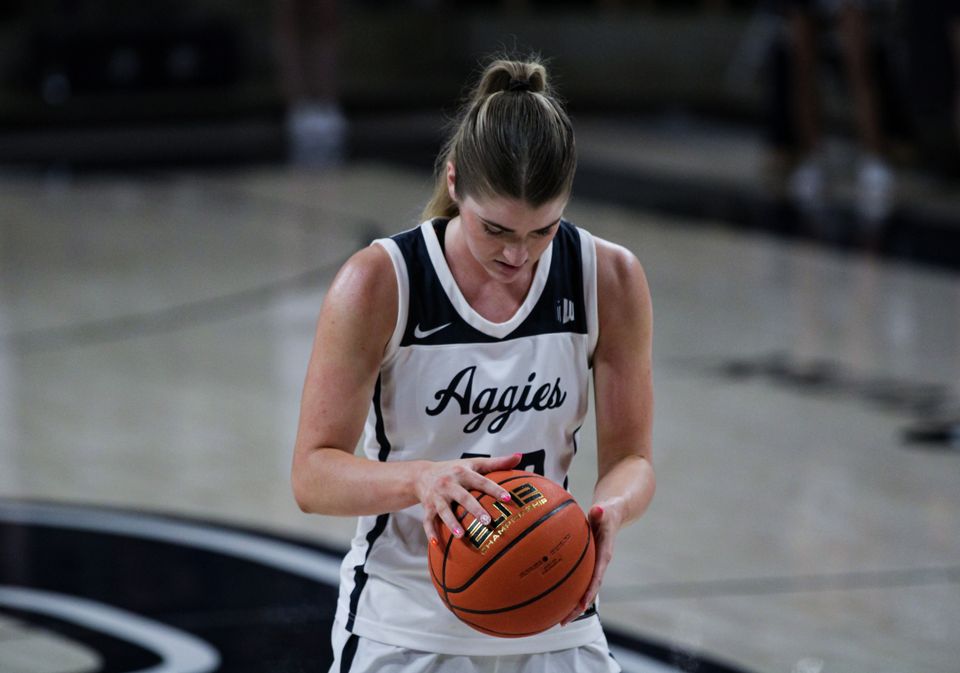 Even if Utah State manages to pull out a victory at San Jose State on Saturday afternoon, the Aggies may still be left with some of the bitter taste left by their crushing loss to Air Force on Thursday.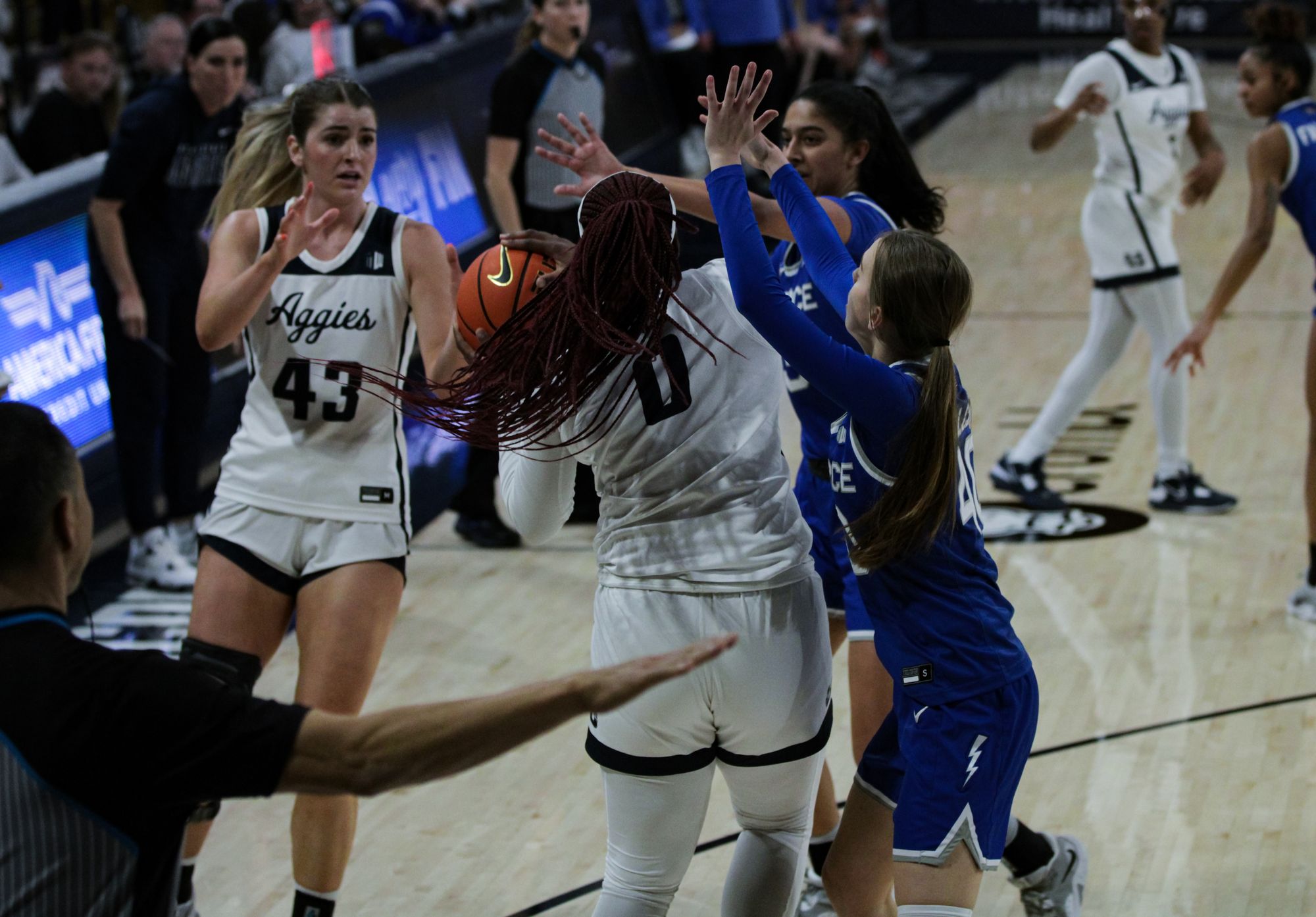 Now, a win is a win for a 4-14 team with only one conference victory in seven tries. Every league win the Aggies pick up will make their eventual Mountain West tournament path easier, and they have as clean a shot at racking up a second conference win at San Jose State on Saturday as they've had all season. The Spartans are comfortably the worst team in the league, touting a 2-16 overall record with seven conference losses, all by at least seven points and all but one by double figures.
Even for a Utah State team that played the Falcons without Kinley Falslev-Wickizer, Mayson Kimball or Olivia Mason and expects to be shorthanded again this weekend, this is an overwhelmingly winnable game.
But, that result against Air Force seems likely to loom – even if Utah State manages to grab more league wins as its season moves further into its second act. The Aggies led by 10 points with just over six minutes to play, only to surrender a 16-0 run on their way to a 66-59 loss.
When wins are as crucial for a team as they are for this team as it works to build confidence, any missed opportunity like that will sting well beyond its expiration date. As Utah State heads to San Jose State, it has to do the best it can to push that loss from its memory to close out a stretch of four games in eight days without several key rotational players.
"I can see it as a coach, we're getting better every game," Ard said. "I'm trying to get them to believe like, 'Hey, we did get better tonight even though we didn't win.' We need to have a short memory. That's my message, have a short memory.
"We have to get on the road and find a way to compete with San Jose. It'll be the same thing – banged up, short numbers and we have to figure out a way. That's our fourth game in eight days. We need to have a short memory, learn what we can from this, and if we get to play them in the tournament hopefully we'll learn from our mistakes twice now."
Projected Lineups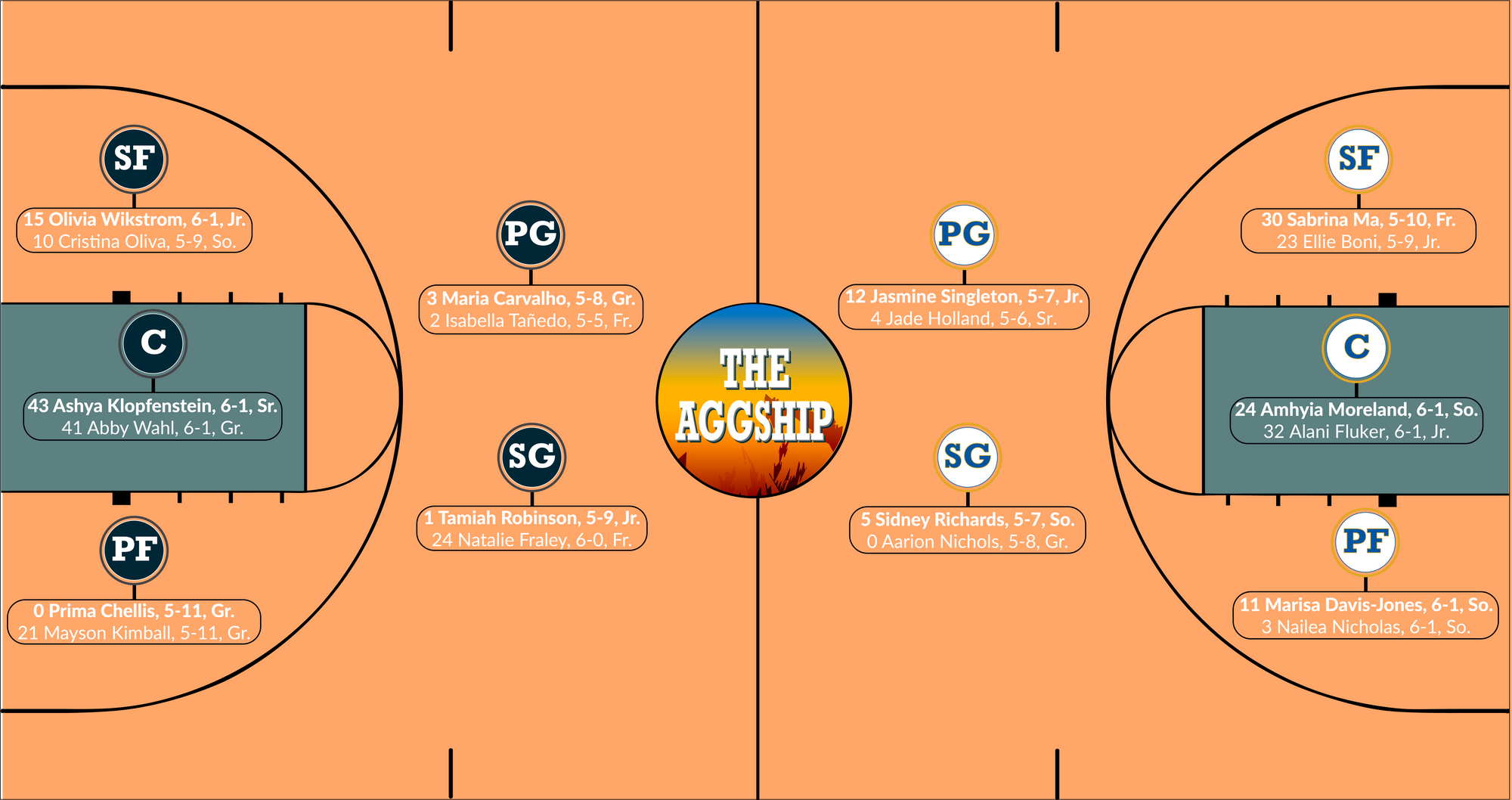 Players To Know
Marisa Davis-Jones: If San Jose State had to pick one of its players to designate as a star, Davis-Jones would get the nod. The 6-1 sophomore forward, a transfer from Washington this past offseason, has been an immediate infusion of both scoring and defensive acumen around whom San Jose State has built the rest of its lineup.
She leads the Spartans in scoring (11.3 points per game), though she has a sky-high 26.2 percent usage rate to thank for some of that volume because she hasn't shot especially well. Davis-Jones is hitting just 37.2 percent of her shots and 26.7 percent of her three-pointers. But, she fires 10 shots per game and pairs that with a solid 20.2 percent free throw rate to rack up team-leading scoring numbers. For a struggling team, volume scoring is much more valuable than no scoring at all.
Though she does guide the offense, Davis-Jones has been a better defender this season than she's been a playmaker and scorer on the other end. She's a big part of a fairly solid defensive frontcourt along with Alani Fluker, Amhyia Moreland and Nailea Nicholas and leads the Spartans in rebounding, grabbing 6.2 per game.
Fouls have been a consistent concern – Davis-Jones averages 3.2 per game and has been limited to 29.6 minutes per game for it – and she's far from the most efficient player the Aggies will have met this season, but she's doing about as well as you can ask of a non-guard star on a 2-16 team. There's only so much her talent can cover up within this group.
Sabrina Ma: It seemed an odd choice, at the time, to swap Ma for Jade Holland in the starting lineup. Holland was a first-team All-WAC pick at Grand Canyon in 2019-20 and an All-Big West honorable mention at UC Riverside in 2021-22 before making her way to San Jose State. She was a strong volume scorer and distributor for the Highlanders, averaging 11.8 points, 4.0 assists and 3.5 rebounds per game last season, and seemed an obvious pick to match Davis-Jones with a similar player in the backcourt.
For the first nine games of the season, San Jose State did just that. Holland got the offense started as its primary ballhandler, Davis-Jones kept it going in the frontcourt and the rest of the lineup was shaped around finding open looks away from the ball for those two to dish to as needed. In theory, it made a lot of sense.
In practice, it looked a lot like two volume scorers fighting for the right to chuck up as many shots as they pleased. Holland averaged 10.9 points and 3.2 assists per game while shooting 37.3 percent from the field; Davis-Jones notched 9.7 points per game on 29.8 percent shooting. They were combining to take 21.6 shots and making only 7.3 of those tries per game (34.0 percent). It just wasn't working.
So, the Spartans designated Holland as the engine of the second unit and replaced her in the starting lineup with Ma, a 5-10 freshman who is at her most comfortable as an off-ball guard, finding openings in the defense and attacking them with her outside shooting. She's filling her role well, averaging 7.3 points per game on 40.6 percent shooting from the field and 37.2 percent from deep with a team-best 29 made three-pointers.
Holland, meanwhile, has seen her averages drop slightly (9.0 PPG, 2.7 APG), but her percentages have jumped – she's hitting 39.7 percent of her shots since moving to the bench – and her usage has remained high (26.1 percent), even without logging starting minutes. Davis-Jones has benefitted too, averaging 12.9 points on 43.8 percent shooting since the change. Sometimes, two primary scorers simply can't co-exist. San Jose State has found an elegant solution, despite difficult circumstances.
Amhiya Moreland: Take all of that talk about San Jose State's offense and toss it onto the back burner because Moreland's involvement in the offense is, at the absolute most, sparse. A 6-1 sophomore who transferred over to San Jose State from Old Dominion, Moreland takes just 4.7 shots per game, seventh-most on the team behind all four of her starting lineup counterparts and a pair of reserves (Holland and Aarion Nichols). She does good work with those shots, hitting 44.7 percent of her field goals and 66.7 percent of her free throws, which she draws at a decent 17.6 percent clip.
That's not what she's asked to do within this lineup, though. Morehead's job is to grab rebounds and enforce in the paint on defense, both of which she does well. She's second on the team with 4.0 rebounds per game (and second in rebound percentage, 13.4 percent) and easily first in blocks, swatting away 14 shots for a team-best (among contributors) block rate of 5.5 percent.
However, similar to Davis-Jones, Moreland has a hard time doing that without fouling. She's averaging only 17.8 minutes per game not for stamina concerns, but because she's good for 3.6 personal fouls a night. She's fouled out three times this season and came within one foul of leaving the game another seven times. Moreland is an impactful player when she's on the floor, but keeping her on the floor has proven easier said than done.
Expect to see plenty of Fluker, the backup center averaging 17.3 minutes per game, and expect for those minutes to be a point of major concern for the Spartans – Fluker is averaging just 1.9 points and 2.4 rebounds per game, and she's not much of a factor on defense. The drop-off is steep.
Stats To Know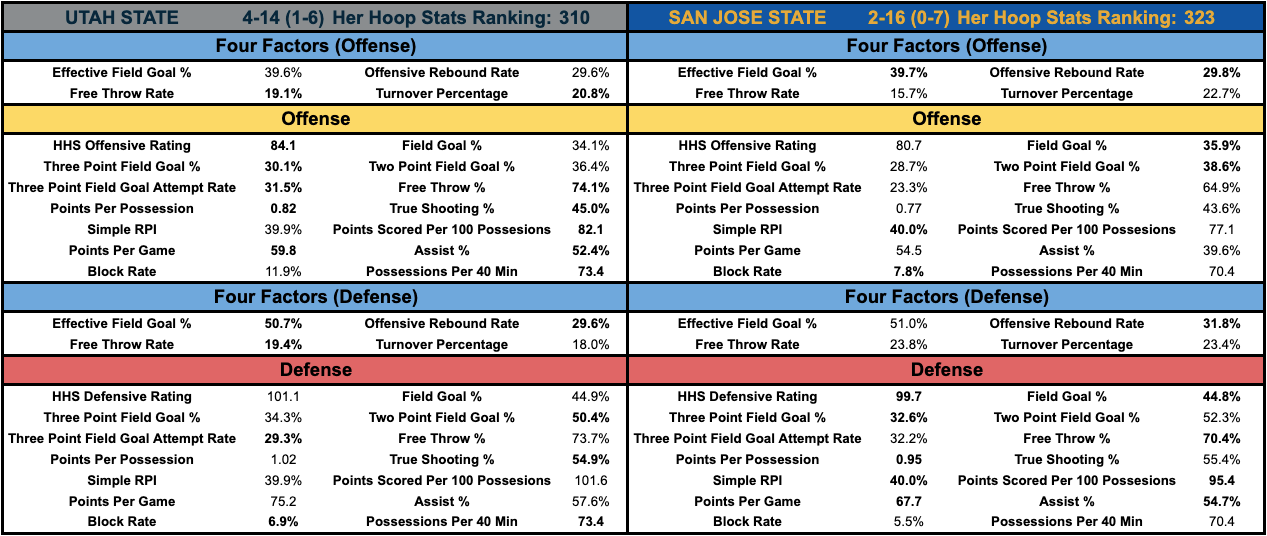 Free Throw Rate: With five players averaging more than 2.0 personal fouls per game and another three at or above 1.5 per game comes one of the worst defensive free throw rates in college basketball. The Spartans are allowing a 23.8 percent free throw rate, 353rd nationally, and have lost several games as a direct result of the easy points this defense tends to give away. They've allowed a free throw rate above 21 percent in 14 games – they're 1-13 in those matchups.
Utah State's free throw rate has been one of the few bright spots of this offense, and it only seems to be improving as the season continues. The Aggies are averaging a 19.1 percent free throw rate, 69th nationally, and have been especially strong recently with a league-best 22.0 percent free throw rate in Mountain West games.
Prima Chellis (35.9 percent in MWC play) and Ashya Klopfenstein (31.1 percent) should be salivating when they look at this defense, and could seriously alter the game's trajectory by drawing some early fouls on Davis-Jones and Moreland. Without those two, San Jose State can quickly find itself relying on reserves who have yet to prove themselves capable of competing in this league.
Three Point Field Goal Attempt Rate: Only three Spartans attempt more than 2.0 three-pointers per game, and just two of those players are doing it with any consistent success. Ma is the guiding perimeter threat in the offense with 4.3 attempts per game, Holland is next up in attempts but shoots a dreadful 13.2 percent, and Sidney Richards rounds out the group with 2.1 tries per game, of which she converts 35.1 percent.
Beyond that, San Jose State just doesn't shoot a lot of threes. Davis-Jones, Nichols and Jasmine Singleton may be good for a make or two, but the Spartans have the 308th-lowest three-point attempt rate (23.3 percent) for a good reason. Most of this offense comes in the paint or at the free throw line – and most of it comes from isolation scoring.
Assist %: Speaking of, San Jose State's 39.6 percent assist percentage is just about as low as you'll find in college basketball (359th, to be precise). Its best passer, Holland (28 percent assist rate), works with the second unit, as does the No. 2 passer (Nichols, 14.7 percent). Singleton is a capable distributor within the starting lineup, but she's far from a natural point guard and the offensive flow (or lack thereof) reflects that vacancy.
The Spartans are heavily reliant on the "make a play" offense, putting the ball in Davis-Jones' or Ma's hands and hoping one of them can find their way to a bucket. There are talented scorers on this team, but they're not playing within an especially advanced system.
Prediction
If Chellis and Klopfenstein are winning their battles inside and getting to the free throw line, Utah State will win this game comfortably. The Spartans are sorely lacking top-end guard play and depend quite a bit on their interior scorer, which will all but disappear if Davis-Jones spends any extended time on the bench.
If they aren't, it's probably because the turnover bug has again infected Utah State. The Aggies have been much better about holding onto the ball in recent weeks, but San Jose State's defensive turnover percentage (23.4 percent) is 41st nationally and will be the central focus of this defense. The Spartans may not be able to stop Utah State's slashers at the rim, but they could stop them before they can get to the rim.
To predict a Utah State win is still a risky thing, but this San Jose State team is markedly worse than the Aggies. Even though there are no gimmes in the Mountain West for a 4-14 team, Utah State should be able to pull out a win on the road.
Utah State