WBB Game Notebook: Aggies Drop A Heartbreaker Against Air Force
Fatigue and late-game execution cost Utah State WBB dearly in Thursday's painful loss to Air Force. Game notebook: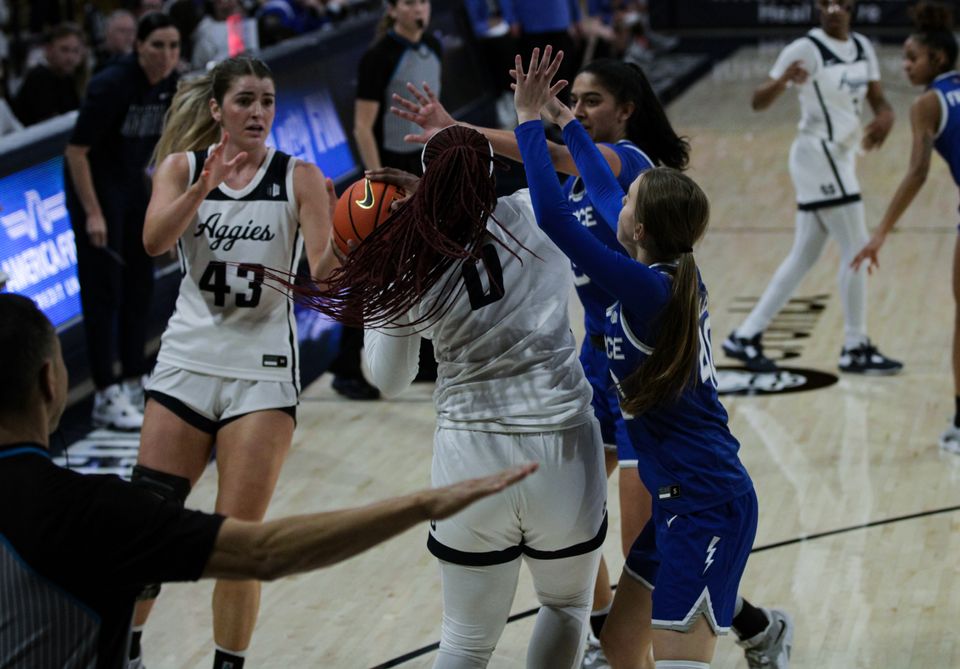 Notes, quotes, thoughts and other quick hitters from Utah State WBB's 66-59 loss to Air Force. Let's not waste any time.
Game-Changing Moment
It wouldn't be fair to say a single possession decided Utah State's fate against Air Force, but it's hard not to lock in on the offensive set immediately following Prima Chellis' coast-to-coast layup, which put the Aggies ahead 55-45 with 6:26 to play. Air Force was as much on its heels as it had been all game, calling a timeout when the Aggie lead grew to nine points a few minutes prior only for Utah State to inflict more damage out of the break.
The Falcons still had time, but they were 4-of-21 shooting in the second half to that point and needed to completely reverse course on the fly, all while contending with a Utah State side brimming with confidence on both ends of the court. It was too early to say the game was over when Chellis finished off the layup, but one or two more fruitless Air Force possessions might have been the dagger.
And it looked, twice, like Utah State had forced the stop it needed on the ensuing Air Force possession. Faith Shelton missed a jumper, but Kayla Pilson was there to grab the rebound. Emily Adams tried a go at a layup and missed, but Pilson was again in the right place for an offensive board.
She decided to take care of business herself, going right back up and finishing a layup through contact from Ashya Klopfenstein. With the extra free throw, Air Force successfully turned what should have been another defensive hold for the Aggies into three points, cutting the lead to seven.
Madison Smith took the ball off Tamiah Robinson on the next trip down the floor and found a layup on the other end, preempting a Utah State timeout. The game had gone from the precipice of over to a five-point deficit in 30 seconds, and bad turned to worse when Natalie Fraley turned the ball over and Olivia Wikstrom sent Smith to the free-throw line, cutting the Aggie lead down to three – and later to one with two more Smith free throws, thanks to another offensive rebound.
A shorthanded Utah State side – playing without Kinley Falslev-Wickizer, Mayson Kimball and Olivia Mason while relying on Maria Carvalho, Klopfenstein, Robinson and Wikstrom for upward of 31 minutes each – put everything it had into what would have been the knockout punch on that defensive possession with just over six minutes left on the clock. Air Force dodged it, and the Aggies never got back up.
"I thought our effort was really good, I didn't have any issue with our effort," head coach Kayla Ard said. "We missed some layups in the fourth quarter and some shots in the fourth quarter that we were making earlier in the game when we weren't as tired. I'm good with the effort. With such a short rotation, we have to figure out a way to play through fatigue and stick those shots and those layups in late in the fourth quarter.
"The same thing happened to us the last time we played Air Force. It was the fourth quarter and we got fatigued, while they don't get tired. We're short on bodies right now, third game in six days and we're just tired and beat up right now."
When It Was Over
Though Milahnie Perry pushed Air Force into the lead with five quick points, first on a three-pointer and then on a pair of free throws as the clock ticked under two minutes, Utah State was still in the game with more than a minute and a half left to play. A 59-55 lead may have felt insurmountable at the time, given a nearly five-minute long scoring drought looming over Utah State as it took over possession after Perry's free throws, but logically speaking, it wasn't.
The game wasn't over when Jo Huntimer stole the ball from Klopfenstein on the ensuing possession and drew a foul on Chellis (which easily could have been called more than a personal foul), thanks to a pair of misses from the Air Force guard at the stripe. It still wasn't over after Wikstrom missed a layup coming back down the floor because Shelton gave the ball right back with a bad pass, which Chellis jumped in front of.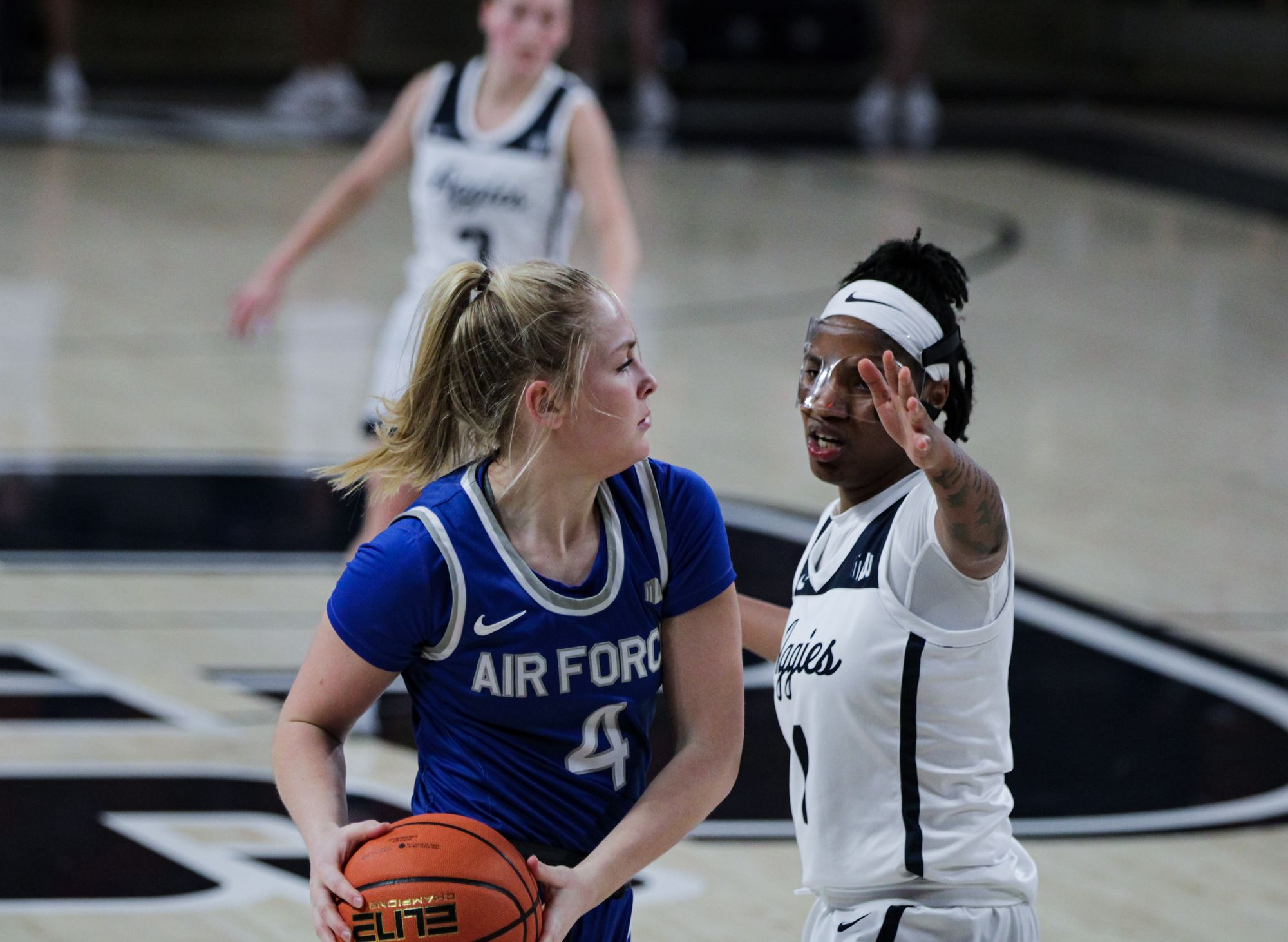 No, this game ended when Huntimer knocked the ball away from Chellis as she made her way on what should have been a fastbreak that ended with a layup. Smith recovered it, Robinson sent her to the line and she converted both of her tries. Klopfenstein hit a layup and Carvalho knocked down two free throws in the waning moments, but Huntimer and Smith matched those efforts with free throws and Shelton ended the game for good with one more free throw.
Whether or not this loss – easily the hardest Utah State has taken this season – sticks with the team in the long term is yet to be seen. It's not often a team bounces back without issue from squandering a 10-point fourth-quarter lead, especially not when a win would have offered the team a momentum and confidence boost unlike anything it has experienced this season.
The Aggies want to have a short memory about this and keep their eyes trained on getting it back at San Jose State on Saturday while staying positive about recent improvements, but that's a lot easier said than done.
"I can see it as a coach, we're getting better every game," Ard said. "I'm trying to get them to believe like, 'Hey, we did get better tonight even though we didn't win.' We need to have a short memory. That's my message, have a short memory.
"We have to get on the road and find a way to compete with San Jose. It'll be the same thing – banged up, short numbers and we have to figure out a way. That's our fourth game in eight days. We need to have a short memory, learn what we can from this, and if we get to play them in the tournament hopefully we'll learn from our mistakes twice now."
Aggie Of The Game
It's really a shame this game ended how it did for Chellis – who missed a three-pointer, turned the ball over and fouled out in the final 2:19 of play – because it will cloud what had been an otherwise superlative performance from the senior forward. She finished shooting 7 of 12 from the field (5 of 8 at the line) for 19 points, adding 10 rebounds and two steals. It was her second double-double in as many games.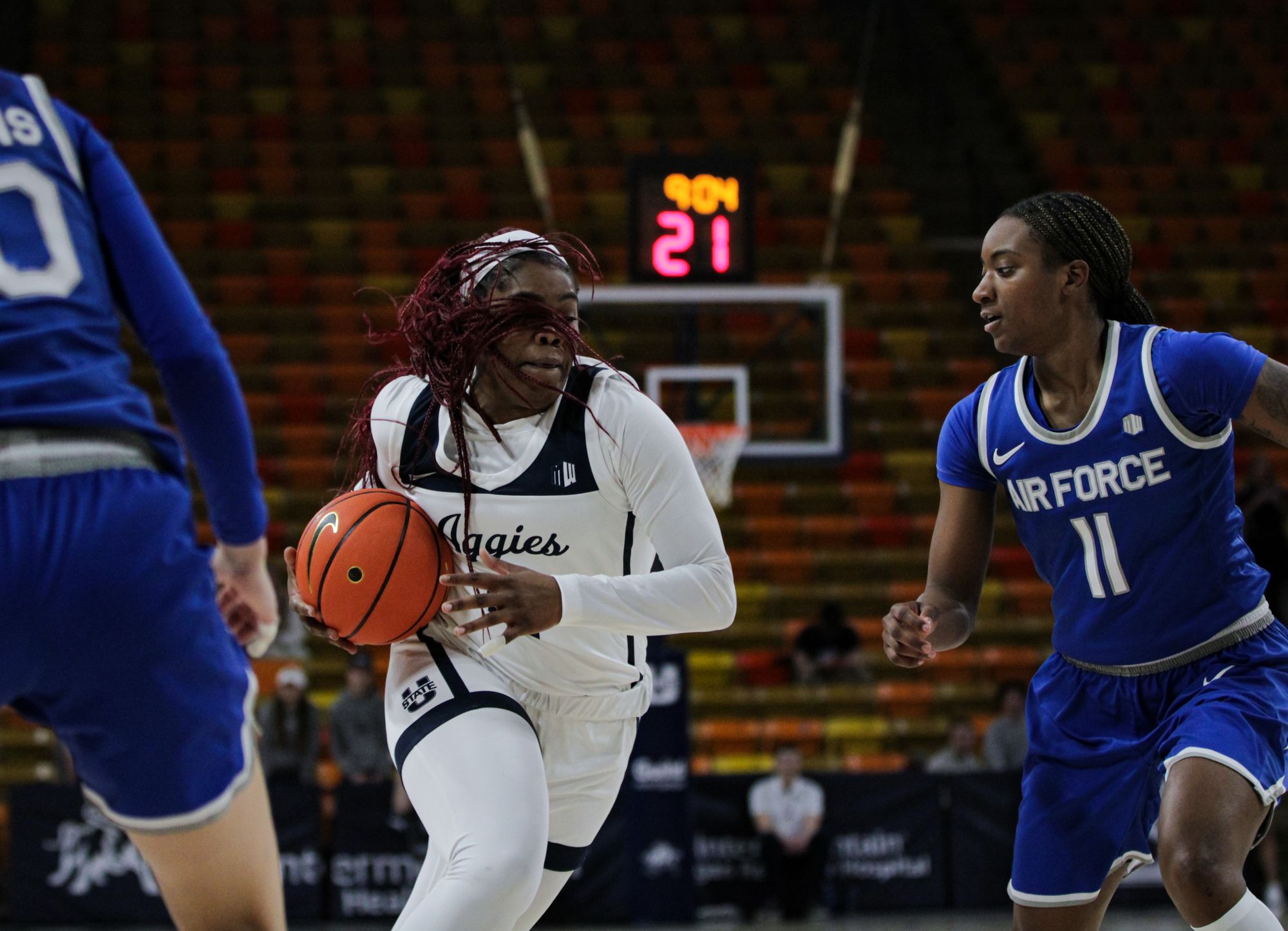 Her growth offensively has really been something to watch. She's attacking the basket with confidence and skill, finishing through contact when needed but also flashing the ability to work around defenders. No one on this team has a better grasp of layup angles than Chellis, and she's going to be a crucial piece for this offense as it continues through conference play, if not the outright star of the unit.
It's worth saying, too, that she only turned the ball over once. That growth has been mirrored by her teammates as the Aggies have invested a lot of focus into cutting down on turnovers. The fourth quarter was rough, populated with six turnovers and 11 personal fouls, but Utah State finished the game with just 14 turnovers – its fifth straight game with 16 or fewer turnovers. Utah State's improvement is slow, but it's there.
"I think we're getting better every game," Ard said. "After we played Colorado State and San Diego State, we sat down as a team and had a very honest conversation. We started doing different things in practice, changed some of the things we focus on and those changes have paid off for us. We only had 14 turnovers tonight. That number has dropped by like 10 per game since we started doing those different things.
"There are definitely some good things here. We're battling, we're fighting and I don't see the kids quitting. I'm really pleased with our growth. I feel bad for the girls when it doesn't pay off in the result that we want."
Other Standouts
Ashya Klopfenstein: In the moment, this felt like the best game Klopfenstein has played this season. Sorting through the stats as compared to her full-season game log, I think that's probably an accurate statement. Klopfenstein finished the evening with 13 points on 5-of-9 shooting, just missing her season high for points (16, set against Nevada) but delivering a far more balanced performance than when she set that mark with help from 14 free throw attempts.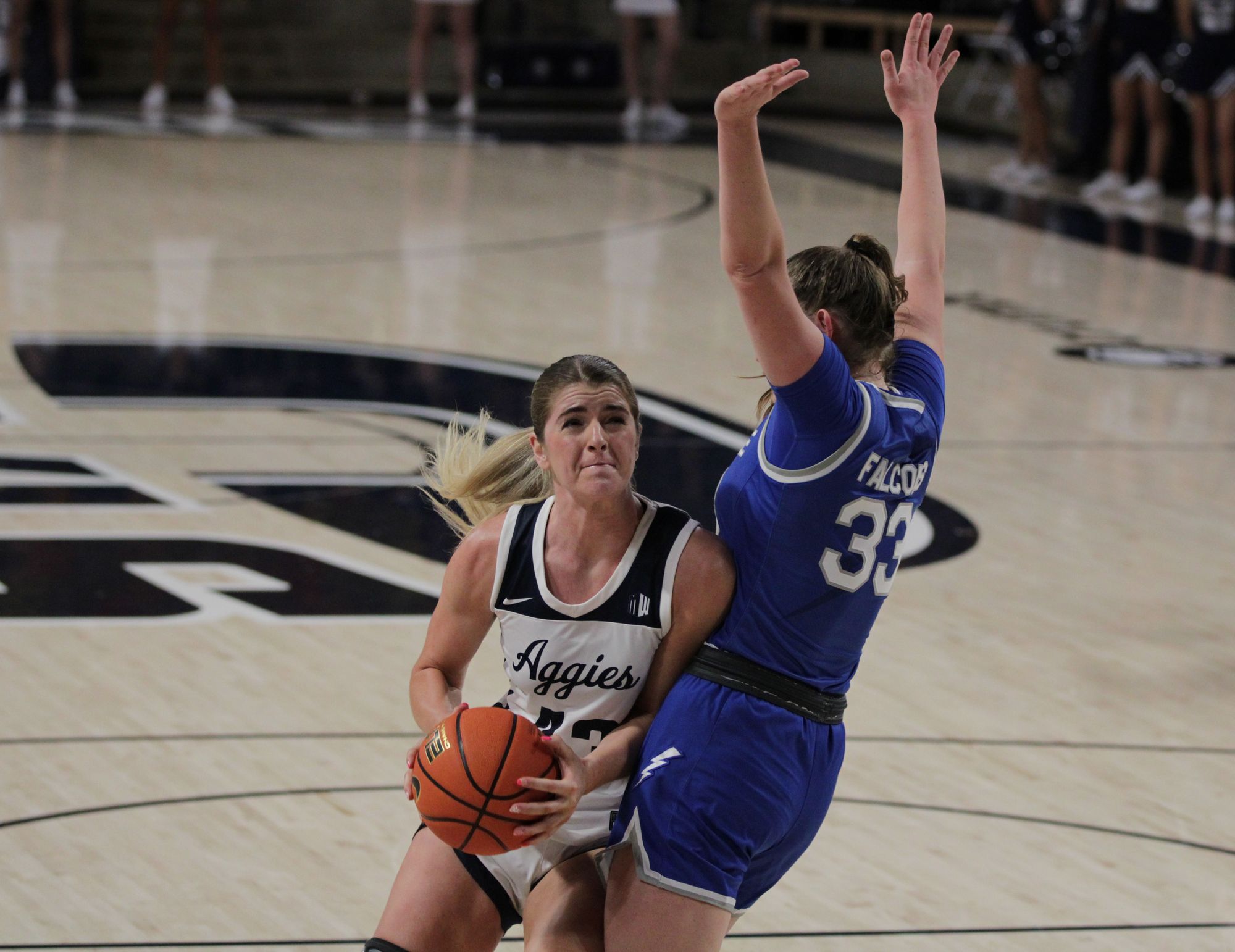 This was a more involved Klopfenstein, on both ends of the floor. She made plays in the post as a scorer and a passer, dishing out three assists while pulling down six rebounds. Defensively, she's still comfortably Utah State's best forward, blocking two shots and nabbing a pair of steals.
I'm not sure how far an offense running through Chellis and Klopfenstein can go, but Utah State was at its best when they were both involved offensively, and not just in attacking the basket. Some of the best passes of the game came from within the paint, and the offense stalled as soon as those passes stopped coming.
Quotable
"We got tired. We were exhausted. We're banged up, missing a lot of players, playing with a short lineup and we just got fatigued in the fourth quarter." – Utah State head coach Kayla Ard
Stats Of The Game
25: Air Force took 25 shots at the free-throw line in the second half and converted 18 of them. The Falcons were 14 of 17 in the fourth quarter, and Smith pitched in 14 points at the stripe by herself. Utah State didn't help its case with the stalled-out offense, but it's always going to be a tall task to overcome that many free throws on the other end – some deserved, some... questionable.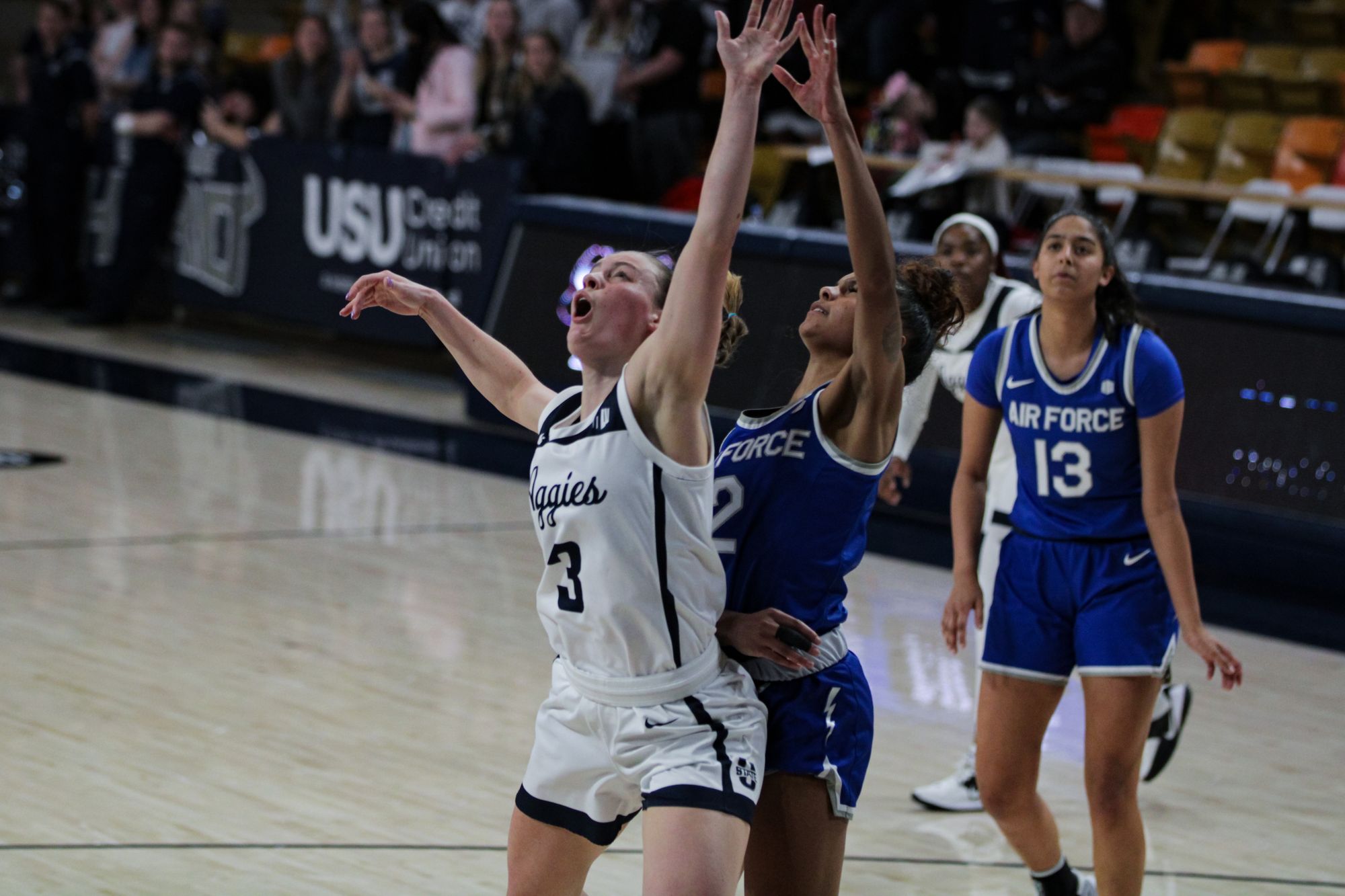 4-27: Utah State is also going to have a lot of trouble overcoming a 4-of-27 shooting performance (14.8 percent) from its guard pairing of Carvalho and Robinson. The offense starts with those two, so it's hard to complain too much about volume, but they turned the ball over twice as much as they put it in the basket. At some point, it's probably worth giving some other players a chance to put shots on the basket, because more shooting wasn't doing much good for anyone.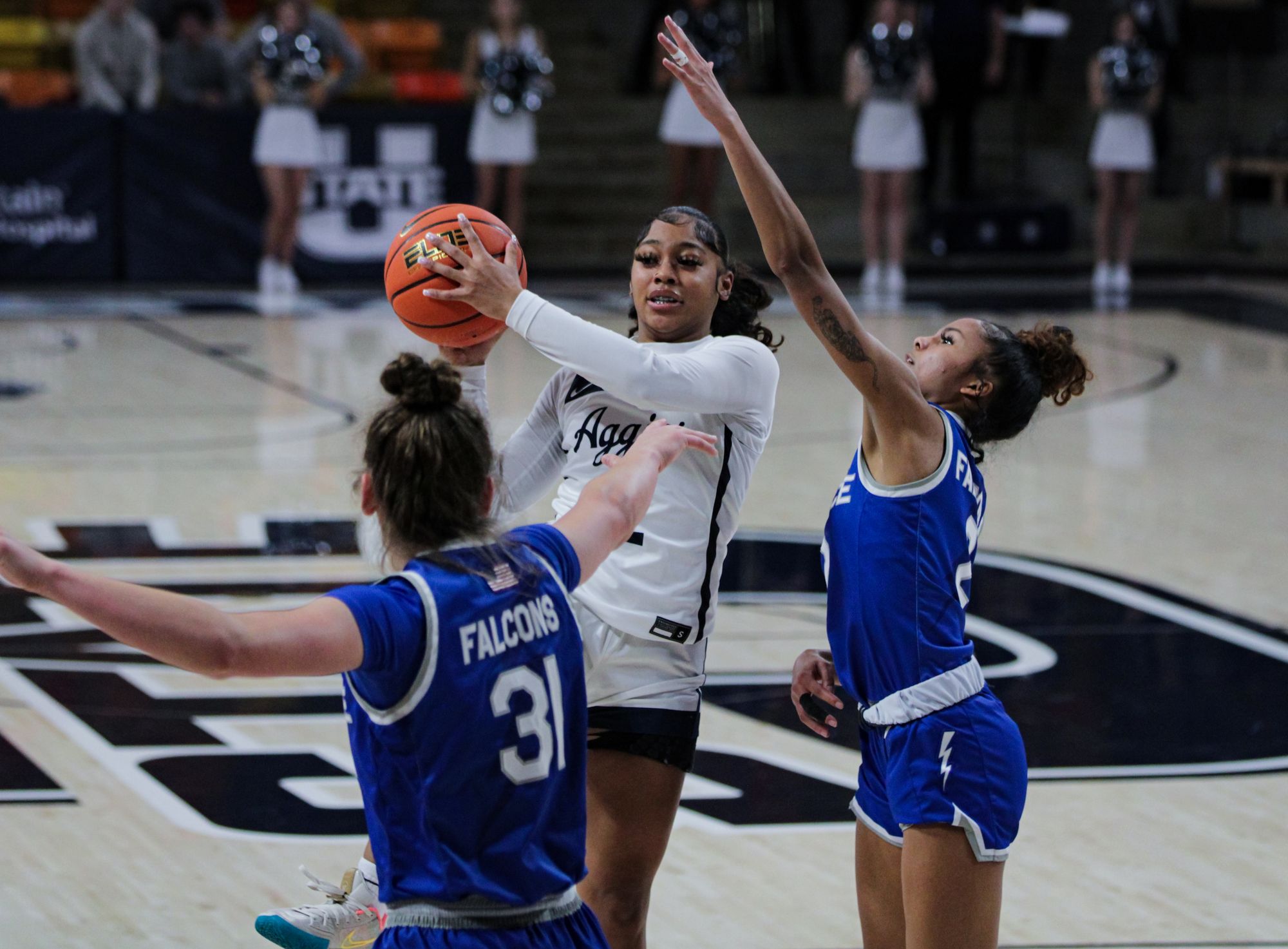 15.03%: Ard alluded to it, but Utah State was operating with a shorter bench than usual on Thursday evening, and there's no better reflection of that than the percentage of available minutes spent on non-starters. Fraley, Cristina Oliva, Isabella Tañedo and Abby Wahl combined to play only 30:03, about 15 percent of the game's minutes.
Carvalho, meanwhile, logged 38:22; Robinson added 36:31; Wikstorm played 33:36; Klopfenstein pitched in 31:39 and Chellis rounded out the starters with 29:49. That's just too much. The Aggies need more out of the reserves healthy enough to contribute.
Whatever has afflicted Kimball, Utah State better hope it clears up quickly. She's the multi-positional piece this team needs to keep those starters from playing as much as they had to against the Falcons. It didn't help that Fraley missed much of the first half after taking a hand to the face on a drive to the bucket, too.