Cover Story: Win At Fresno State A Hard-Earned Breakthrough For WBB Team
Utah State WBB earned its breakthrough win at Fresno State. Now, the Aggies want to prove they can build on their momentum and stack victories. Cover story: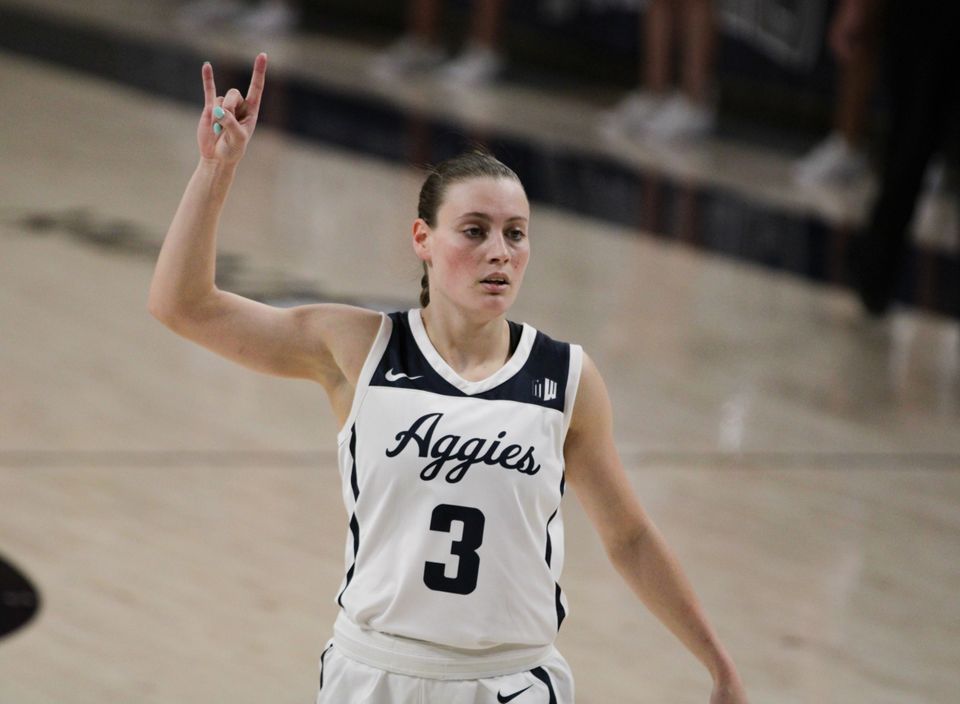 FRESNO – Utah State's 68-58 win over Fresno State on Jan. 16 brought an excess of firsts. It was Utah State's first conference win after an 0-5 start – populated with a pair of blowouts (Colorado State, San Diego State) and three losses (Air Force, Boise State, Nevada) that could have easily turned into wins, but for the same self-inflicted wounds that have ailed this team all season. That losing streak extended three games further into non-conference play, making the victory Utah State's first in 44 days and, naturally, its first of the new year.
But, there are more important firsts at play – ones the Aggies hope will carry over into seconds, thirds, fourths and perhaps even more as they move further into Mountain West play with winnable games against Air Force on Thursday evening, at San Jose State on Jan. 21 and back home against Wyoming on Jan. 26.
Monday night's game was the first time Utah State deployed a rotation it seemed fully confident in. Senior guard Maria Carvalho has seemingly settled back into a groove after missing the Boise State game on Jan. 7, logging 29 minutes against Nevada and 30 against the Bulldogs. She was also reunited with Tamiah Robinson, her battery mate in the backcourt to start the season before a month of experimentation separated them. Unlike the beginning of the season, though, Robinson has started taking on a lot more of Utah State's primary ballhandling responsibilities, leaving space for Carvalho to make plays off the ball.
Joining them in the frontcourt were Prima Chellis and Ashya Klopfenstein – an ideal basketball odd couple formed through Chellis' scoring and Klopfenstein's defense, while their rebounding efforts help to establish some common ground between two players who really could not be more different.
Mayson Kimball rounded out the group as the de facto small forward, though her role in the starting lineup is more about an opening statement than a prolonged performance. Foul trouble has plagued her all season (and did again against Fresno State), but the Aggies have found that they can mitigate it by sending her out with the starters and swapping her for essentially anyone on the bench, depending on the kind of lineup they want to run.
When Kimball picked up her second foul with just under two minutes to go in the first quarter, the Aggies sent Klopfenstein into the game to play with a traditional two-guard (Robinson, Fraley), two-big (Klopfenstein, Abby Wahl), one-wing (Olivia Wikstrom) lineup. In the first quarter alone, Utah State deployed nine unique lineups; for the entire game, the Aggies used 17 different groupings.
But, unlike in games past, almost all of these lineups had a strict requirement for two true guards. Utah State played Robinson without another guard for just over two minutes and Carvalho alone for about six minutes, pairing them with either each other, Fraley or Isabella Tañedo for the other 32 minutes of the game – and never without at least one of the starting guards on the floor. The Aggies have worked hard at limiting turnovers in recent weeks, and it seems the best way to do that is with at least two steady hands for as much time as possible. Robinson had six turnovers, but the four guards combined to lose the ball just eight times and the team followed with 14 total turnovers.
"We have spent a lot of time on reducing our turnovers per game after that San Diego State game," head coach Kayla Ard told The Aggship. "That's been a huge focus in practice and the players have really responded well and bought in – we're getting more possessions per game with fewer turnovers... The buy-in over the last few weeks is helping us become a better team."
The win was filled with similar situations of Utah State's work paying off. The Aggies have asked more and more of Chellis and Robinson as the season has worn off and they responded with the exact kind of offensive aggression Utah State needs, scoring 15 points apiece – Chellis adding 10 rebounds and two steals while Robinson pitched in six boards, four assists and two blocks.
"Tamiah and Prima have been really huge for us the past few games and are really starting to find their groove," Ard said. "It's really helped our offense to have multiple players who can score the ball on different nights."
Their confidence has extended to many of their teammates. Carvalho – finally not alone in her willingness to attack the basket – was able to knock down a pair of three-pointers and earn seven free throw attempts, while helping to lock down the guard-heavy Fresno State offense. Wikstrom scored 12 points and added three steals on the other end. Kimball and Klopfenstein each grabbed five boards while combining for three blocks and three steals.
"Our team chemistry is getting better," Robinson told The Aggship. "It seems like we're starting to come together more on the court, and every player is showing that they have that fight in them (to pull out these games).
"It feels good to get the win. I felt like in this game we finally played together as a team for the whole 40 minutes. We were down in the first quarter, but we didn't give up. In the past, it's been different. This time, we came together when we needed it the most."
Though this budding chemistry yielded just six assists for the game, the story of the win can be told through each one – along with a seventh non-pass that proved just as wise a decision. They were, for lack of a better phrase, the kind of plays that this team didn't make when it collapsed in the waning moments against Air Force or Boise State.
The first came with 6:32 to play in the third quarter. Utah State had cut a six-point deficit down to one with a Chellis three-pointer, a Kimball steal, two Robinson free throws and a Klopfenstein steal. The ball found its way to Robinson in transition, who moved it to Carvalho for a layup and the lead, Utah State's first since the game's opening basket.
A little less than six minutes later, Chellis grabbed the rebound of a missed Amiee Book three-pointer and the ball again found Robinson, who dished it over a defender to Kimball for a layup through contact. She finished off the three-point play and capped a 15-0 Aggie run to push their lead to nine, one possession removed from another three-point play by way of Carvalho.
Wikstrom can be credited for Utah State's four-point answer to start the final frame after the Bulldogs cut the lead to six, first for a made jumper and then for snaring the ball on the ensuing inbound before bouncing it across the paint to Robinson for a layup.
As the score tightened, so too did the Aggies. Utah State missed its next three shots and turned the ball over twice; Fresno State went to work, whittling a 10-point lead down to two with 6:29 to play.
Enter assist No. 4, maybe the biggest of the game. Amaya West had just drained a three-pointer on the other end, and Fresno State's zone was starting to cause problems for the Aggie offense. Wikstrom took the ball at the top of the key and looked to dribble inward, right into a high-zone trap. Before the Bulldogs could surround her for what would have almost certainly been another turnover, she kicked the ball out to Carvalho, who caught it in stride and drained a three-pointer. That pass doesn't happen three weeks ago.
Neither does Chellis' cross-court pass to Robinson with 12 seconds left on the clock, in the face of an impending double team, a few possessions later. Rather than firing from the elbow, Robinson kept with the spirit of giving and made the coveted extra pass to Wikstrom. It's a wonder Fraley didn't break a finger with how hard she clapped her hands together on the bench when Wikstrom's shot found the bottom of the net without so much as a glance at the rim – it would have been good even at a crooked carnival event.
Fresno State missed its attempt at answering the three, and Robinson broke another double team on the other end with a smart bounce pass to Klopfenstein, who moved it right along to Carvalho for another three-pointer, a nine-point lead, and assist No. 6.
As it is wont to do, basketball flashed a little grin and a wink when Robinson ended the game on Utah State's next trip down the floor with a pass fake to Chellis in the corner that completely fooled the defense, leaving her uncovered for a three that was good from the second she caught the ball. For all of those valuable assists, it only made sense for the Aggies to close out the win without one.
"I'm just excited for the girls," Ard said after the game. "We've been working for this. They've been doing everything I've asked them to do, they're bought in, playing hard and I'm just glad it paid off for them tonight."
The next step is always the hardest. Utah State finally got one, but with that comes the need for two, three, and so on. The Aggies proved they can do it once; now they need to do it again.
"I would like to see this team's confidence continue to grow and see them stack some wins to build some momentum as we make our way through Mountain West play," Ard said.
"We need to keep stacking good days together and keep getting more league wins," Robinson added. "We want to prove everybody wrong and prove ourselves right."