WBB Preview: Aggies Look To Build Momentum Against Visiting Air Force
Utah State and Air Force are set for their second meeting of the season tonight, as the Aggies look to build on their impressive win over Fresno State. Preview: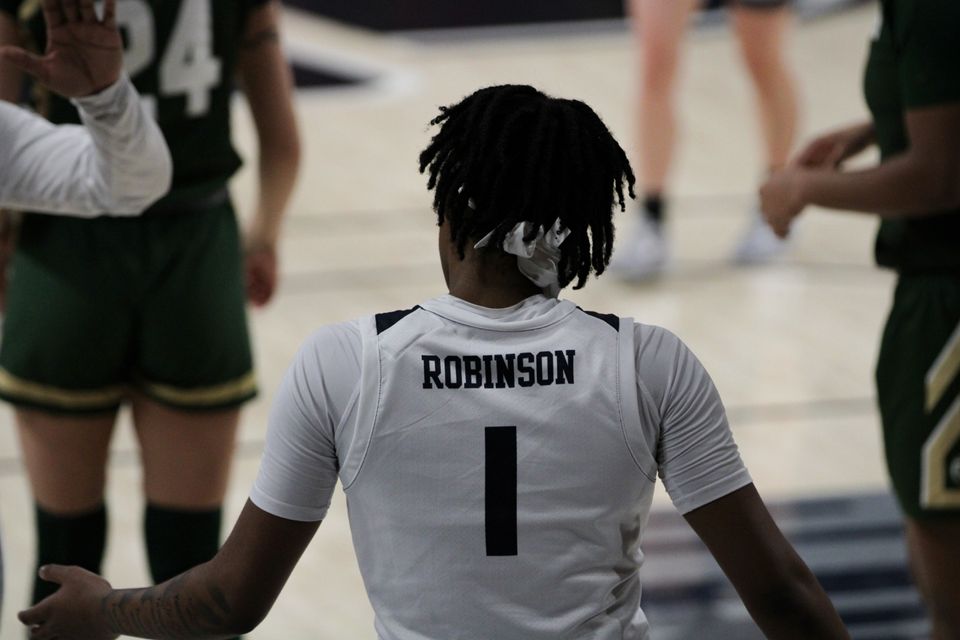 Utah State was a quarter away from beating Air Force in Clune Arena on Dec. 29. The Aggies clawed back into the game from 12 points behind in the first quarter and did the same when trailing by eight in the third, entering the final frame facing a 55-53 deficit – and if not for four quick Air Force points to end the quarter, it would have been a two-point Aggie lead.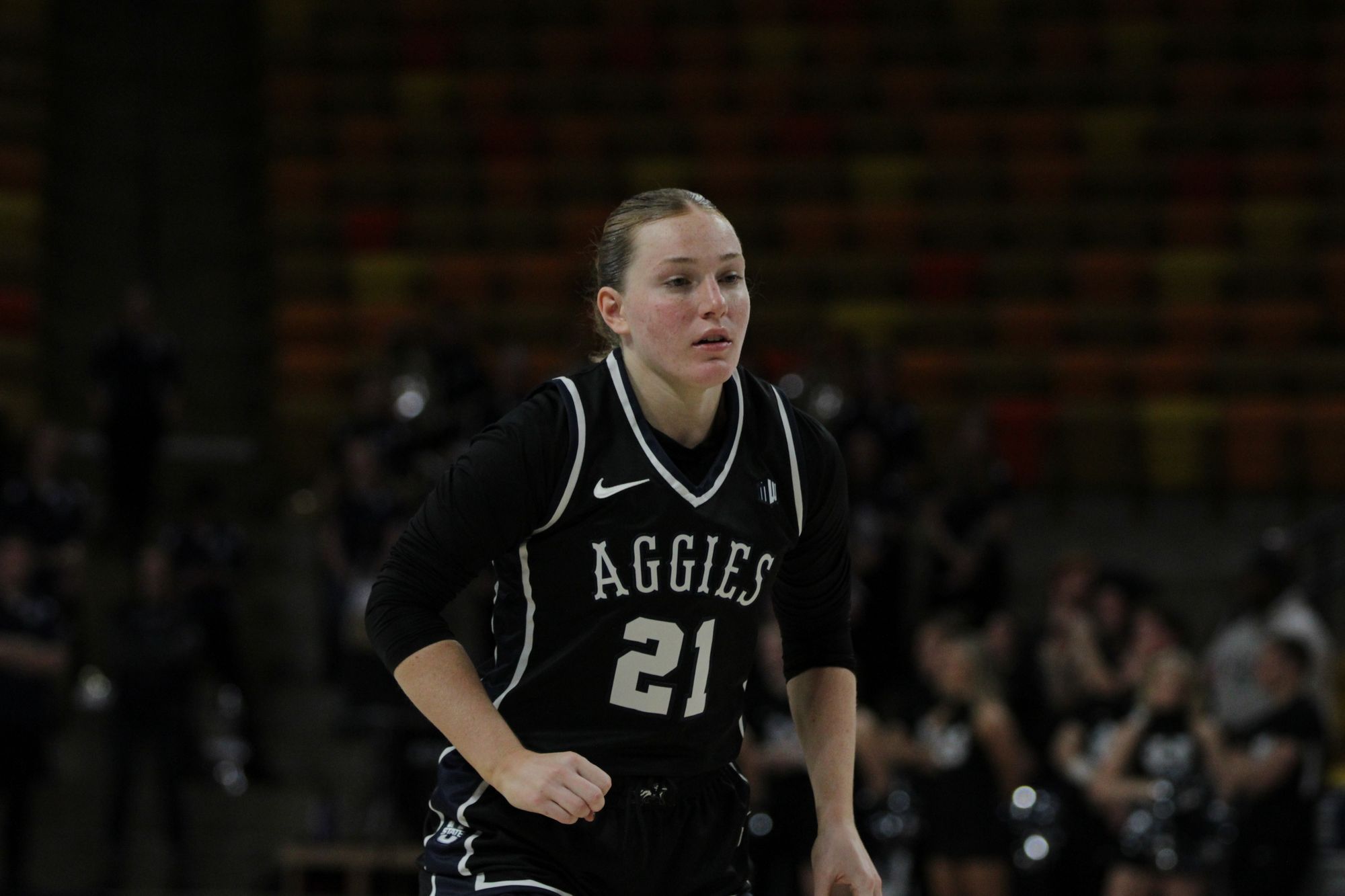 You know where this is headed. Utah State went ice cold from the field and Air Force broke into a 15-4 sprint through the first 7:24 of the fourth quarter, shutting down Utah State's bid for a road win to open Mountain West play. It was a result equally encouraging and frustrating for a Utah State team that, at the time, had lost just three games in a row.
About three weeks later as the Aggies and Falcons are set to meet again – this time in Logan – they'll do so with the experience of two very different Januarys.
Utah State tacked on another four losses to its record after falling to Air Force, extending its losing streak to eight games before finally snapping it at Fresno State to claim its first league win. There were other moments of potential encouragement – the Aggies were competitive against Boise State for three quarters and Nevada for a half – but more of frustration and tumult. The hope in Logan is that Utah State's win over Fresno State, which saw it perform with a level of confidence and offensive flow it hasn't shown all season, is a harbinger of more league success, possibly even carrying over into another win when these two take the floor on Thursday evening.
Air Force, meanwhile, has pulled itself into the upper half of the MWC standings. The advanced stats still aren't especially fond of the Falcons, but they're 4-3 with wins over Fresno State, San Jose State (twice) and Utah State, and that's enough to place them fifth – behind the top tier of UNLV (7-0), Colorado State, Wyoming (5-1) and San Diego State (4-2) but ahead of Nevada (3-3), New Mexico, Boise State (2-3) and their trio of defeated league foes.
It has rarely won pretty, but Air Force is winning games and would love to keep that rolling at Utah State and Boise State before the schedule turns out Colorado State (twice), Nevada, New Mexico, UNLV and Wyoming as part of the season's stretch run.
Projected Lineups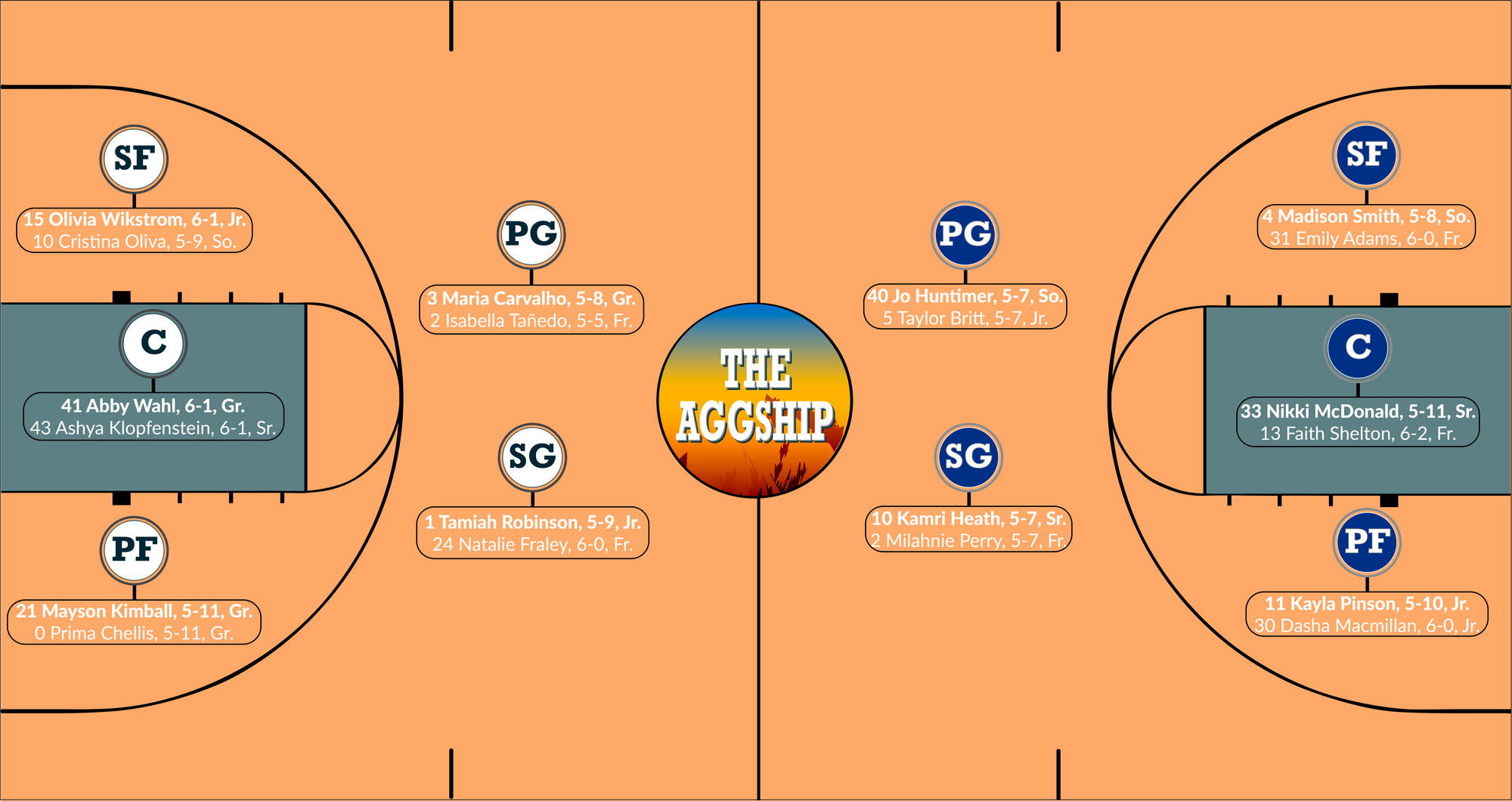 Players To Know
Nikki McDonald: Air Force's lineup hasn't changed since the last time it played Utah State, but its list of top contributors certainly has. The Falcons still carry with them an impressive group of guards, Kamri Heath and Jo Huntimer chief among them, though their recent success can be attributed more to the sustained emergence of three players – two starters and one young bench player.
Leading that group is McDonald, the closest player Air Force has to a true center despite her relative lack of size (5-11). She followed up a six-point, five-rebound outing against the Aggies with her best game of the season, notching 16 points and three boards at New Mexico.
Her standard play in the conference has still been closer to the game she put up when Utah State came to town, but she does seem to be growing her confidence within this offense. She took 12 shots against the Lobos and fired off nine apiece against Fresno State and Wyoming, while she's cashed in seven three-point tries in MWC play on 20 tries – more than half of her makes for the season, and a nice increase in attempts per game, from 1.8 in the non-conference to 2.9 against seven league foes.
She's still only competent as a rebounder (3.8 RPG), and her defense is still limited to steals rather than blocks, but McDonald looks very much like a senior becoming more comfortable in her first season as a full-time starter. Even though her perimeter shooting and overall offensive skillset are still far from a focus within the offense, she's more involved now than she was at the end of December.
Milahnie Perry: While McDonald's improvement has been gradual, Perry has burst onto the scene without any fanfare or advanced notice. The 5-7 freshman, capable of filling in at any of the three guard spots within this offense as its first player off the bench, had been largely quiet in her first season with the Academy.
She had 11 points, four steals and a pair of blocks against DII Adams State and 11 more points against Michigan back in November, but those looked more like freshman aberrations as she settled into a steady flow of only moderate contribution. In 10 games from Nov. 26 to Jan. 5, she looked like a lot of freshmen look at this level. She averaged 4.3 points (15-of-54 shooting, 27.8 percent) and 1.9 rebounds in 15.5 minutes per game.
After a six-day layoff between the San Jose State game on Jan. 5 and Air Force's Jan. 11 bout with Wyoming, something clicked for Perry. She exploded for 22 points on 6-10 shooting, getting to the free throw line nine times (converting all of those tries) while nabbing two steals and a pair of boards in 26 minutes.
A few days later, Perry hit 5 of 8 shots (3 of 4 from deep, 4 of 6 at the stripe) and grabbed three boards while registering 17 points. When Air Force last took the floor, Perry commanded a season-high 29 minutes and used them to rack up 21 points and three rebounds, shooting 8 of 14 from the field and 3 of 6 from deep.
While Heath has entered a bit of a slump, scoring in double figures just once in six games after checking that box in 12 of her first 13 games, Perry has taken over. She was the MWC Freshman of the Week for her performance against the former two sides and could very well repeat this week if she can stack another strong performance against the Aggies onto her most recent outing against San Jose State. Don't be surprised to see Air Force go to her early and often on Thursday – when she's on, she's the X-factor this offense has been seeking.
Madison Smith: With Heath struggling, the other Air Force offensive weapon to keep a close eye on is Smith – another youngster, playing just her second season with the Falcons. Her arrival isn't new, as she's been the team's starting small forward in 16 games this season, but she has been relied on quite a bit more in conference play without Heath's top-end scoring to keep the offense on pace.
Smith has seen her offensive volume steadily rise over the last month, culminating in 11.9 field goal attempts per conference game on which she's averaged 13.6 points while converting 42.2 percent of her shots from the field (39.3 percent from three) – both her shots per game and points per game have led the Falcons in league play, as has her 26.7 percent usage and her 2.6 steals per game.
That all makes sense. Smith is Air Force's best three-point shooter (24 of 65 for the year) and the Mountain West presents a bigger challenge in the paint than the Falcons saw through much of their non-conference play. This is a vastly undersized team, and they've responded to the new dynamic by firing off more three-pointers, specifically from Perry and Smith.
Of course, with this increase in production has come a similar rise in negative plays. Smith is averaging 2.4 turnovers and 3.0 personal fouls per conference game – both lead the team, and both can get her into some trouble against teams capable of attacking those weaknesses. San Jose State fouled her out in their first matchup, while Fresno State and Utah State both drew four fouls on her. The Aggies, along with San Jose State (the second time) and Nevada all managed to force at least three Smith turnovers, too.
She's a good player, and she's getting even better as the season develops. She's not unflappable, though.
Stats To Know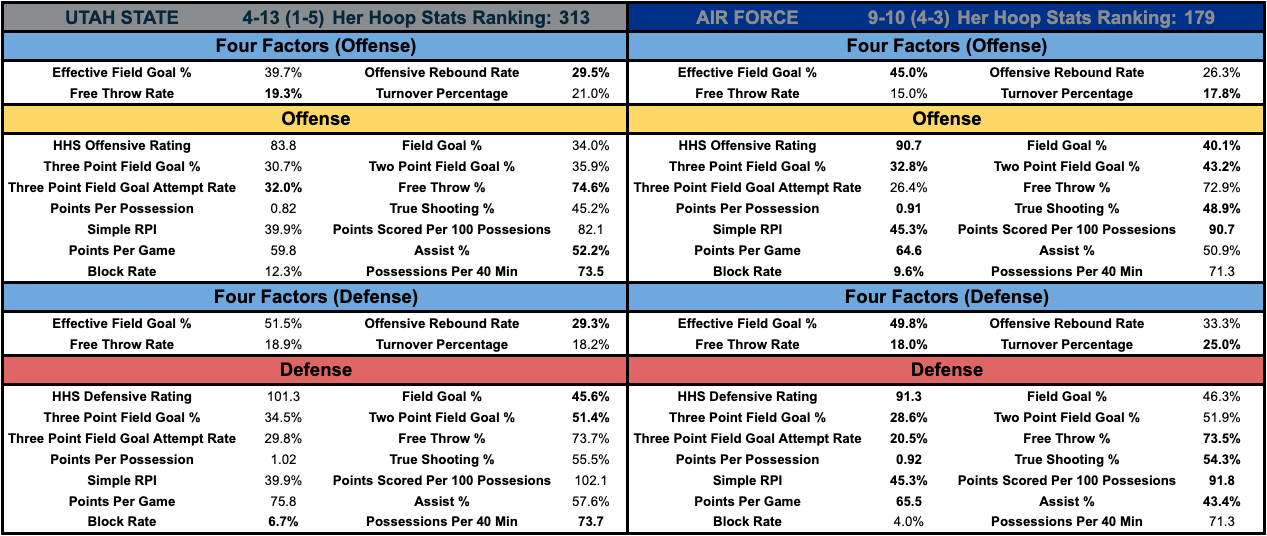 Free Throw Rate: Air Force has seen some improvement in its free throw rate, specifically thanks to development from Huntimer (37.5 percent FT rate in the MWC), Dasha Macmillan (25.0 percent) and Perry (22.5 percent), but the Falcons are still in the back-end of the league for offensive free throw rate – and they check in at 280th nationally.
They're still having issues with sending opponents to the line, too, ranking 246th with an 18.0 percent free throw rate allowed. That tendency and their general lack of size could be especially problematic with Prima Chellis (38.0 percent FT rate in the MWC) and Ashya Klopfenstein (34.3 percent) staring back at them.
Assist %: Conference play hasn't changed Air Force's commitment to causing problems in passing lanes defensively. The guard-driven Falcons are second in the league in assist percentage allowed (41.0 percent in league play) and first in forced turnover rate (25.4 percent), both of which are only continuations of what this defense has done well all season.
Kayla Pilson (4.5 percent steal rate), Smith (4.4 percent), Taylor Britt (2.9 percent), Heath (2.5 percent), Huntimer (2.4 percent) and Perry (2.3 percent) are all worth watching out for as the Aggies look to continue their recent run of strong form in limiting turnovers – they've held steady with 16 or fewer turnovers in each of their last four games.
Road Record: It's hard to win basketball games in unfamiliar territory. The pre-game routine is different, the travel can quickly wear on a team and road crowds – though not especially ferocious in MWC women's play, unfortunately – are more difficult to deal with than friendly home environments. The Falcons won at Denver back in November, and they knocked off San Jose State in The Event Center earlier this month.
Beyond that, though? Air Force is 5-2 in the Clune Arena and 2-8 away from it. That sounds like an opportunity for the Aggies.
Prediction
Utah State's 68-58 win over Fresno State offered enough proof of concept to convince me that, when the Aggies stay out of their own way, this team can win games (plural) in the Mountain West. The offense is limited by the lack of a truly dominant scorer, but it can work around that when Maria Carvalho, Chellis, Tamiah Robinson and Olivia Wikstrom are all aggressive.
Fresno State didn't have an answer on the inside for Chellis, and she turned nine free throws into eight points while snaring 10 boards. Carvalho and Robinson played off each other very well in the backcourt, combining for 31 points, and did so with Robinson as the primary distributor – a welcome departure from the norm for this offense.
Granted, they tried essentially the same approach against Nevada and lost by 20 while shooting 20.9 percent from the field. The quarter/half of ineptitude has been a concern all season and remains a concern here.
But, I don't like to pick games based on extremes. What Utah State did against Fresno State was not an extreme. I'll go out on a limb and say the Aggies replicate that game plan to do what they couldn't when they last met Air Force. Utah State plays into its size advantage, dominating the boards and the free throw line, and finishes off the Falcons down the stretch for a second league win in as many tries.
Utah State