WBB Preview: Utah State Returns Home To Host Wyoming
Utah State WBB is back in the Spectrum and hoping to get back on track against Wyoming, which is fighting to stay in the race near the top of the MWC after back-to-back losses. Preview: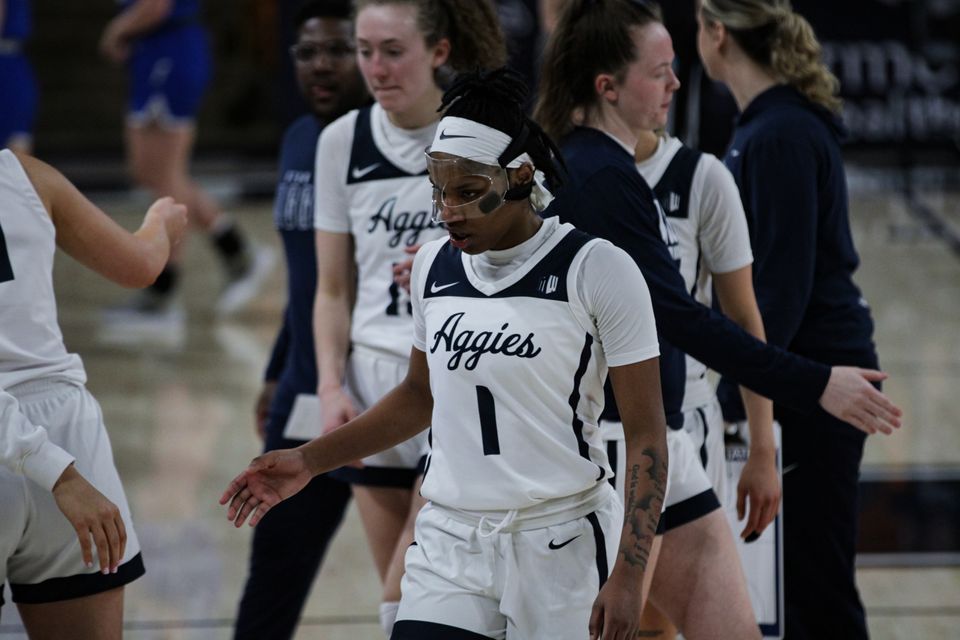 Thursday evening's matchup between Utah State and Wyoming in Logan is critical for both teams, and for two entirely different reasons.
On the home sideline, Utah State just needs something to go right. It seemed to be trending in the right direction when it toppled Fresno State and had Air Force on the ropes in consecutive games, but that's all fallen apart since Utah State squandered a 10-point fourth-quarter lead over the Falcons.
A challenging season got a whole lot worse on Jan. 21 in San Jose, when lowly San Jose State ran up a 77-59 blowout on the Aggies, leading by as many as 31 points late in the third quarter in a game Utah State expected to win. Now, with four days' worth of recovery time under its belt after a run of four games in eight days, Utah State is desperate to regain some momentum.
For Wyoming, the need to get back on track is equally significant, albeit under a very different context. The Pokes have dropped back-to-back league games, falling at home to MWC leaders UNLV (by 14 points) and San Diego State (by seven points) and dropping below the upper crust of the conference. Now sitting with a 5-3 conference record, the Pokes have ground to make up, trailing the 9-0 Runnin' Rebels, SDSU and Colorado State (both 6-2) while knotted with Air Force, which it beat on the road on Jan. 11.
They have two shots at Colorado State and remaining matchups with upper-half foes Air Force, Nevada and San Diego State. Wyoming's chances of catching UNLV for a league title are tremendously slim – which is true of everyone in the MWC because UNLV has already beaten Colorado State and Wyoming twice, and has just four games against upper-half teams left on the schedule (Nevada twice, Air Force on the road, San Diego State at home) – but it can still easily make a run for a top seed in the conference tournament by winning those high-leverage games.
However, none of that will matter if the Pokes don't take care of business against the other half of the league. Utah State is up first, but Wyoming has matchups left against Boise State, New Mexico and San Jose State, along with a return trip to Laramie for the Aggies on Feb 9. With the MWC projected as a one-bid league, the No. 2 and 3 seeds in the league tournament have a lot of value this season – they'll offer a title path that wouldn't include UNLV until the final.
Projected Lineups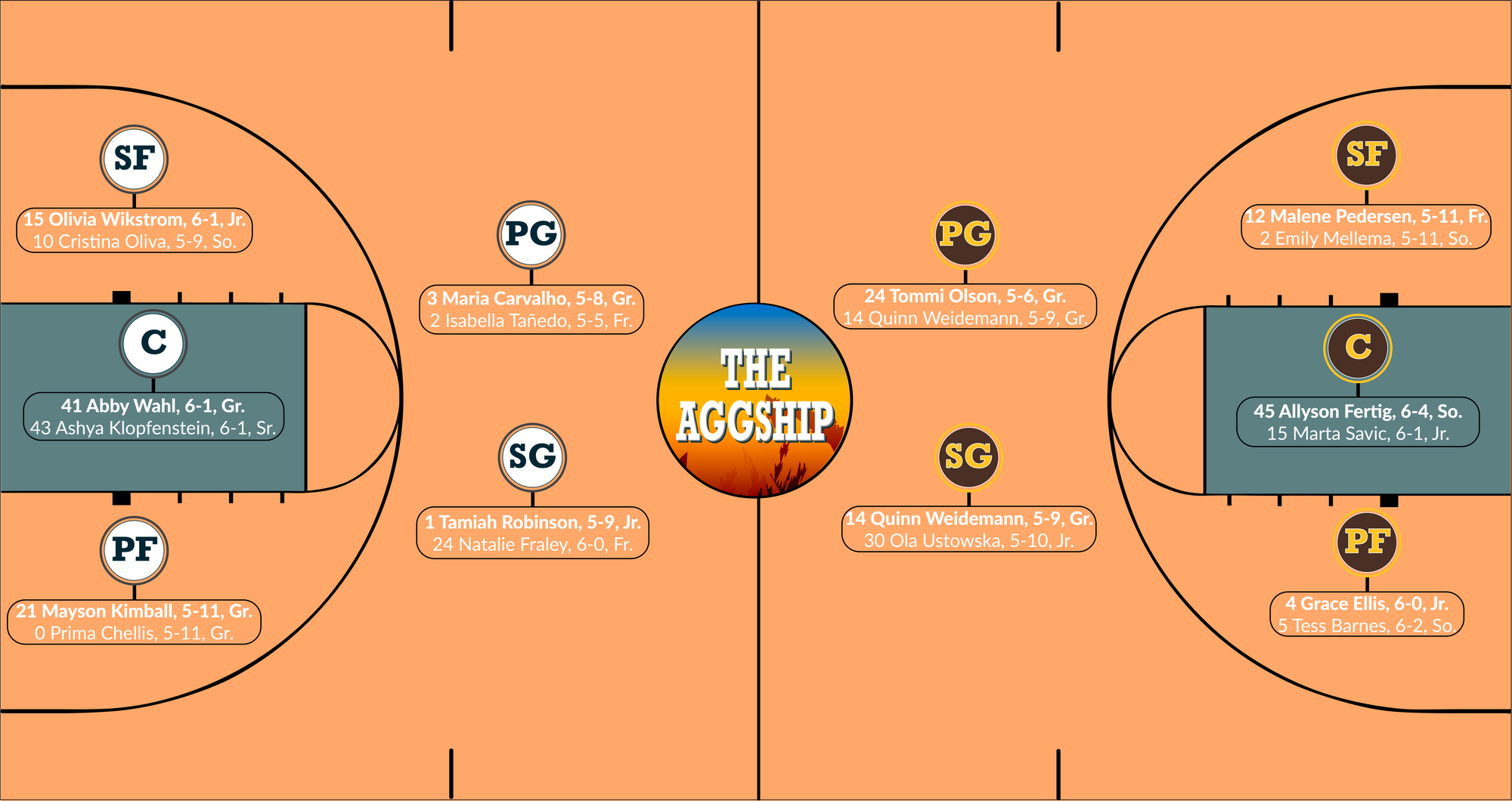 Players To Know
Allyson Fertig: Last season's MWC Freshman of the Year, averaging 10.5 points and 8.7 rebounds per game, Fertig has picked up where she left off in leading the Pokes as one of the best true centers in the conference. The 6-4 sophomore is pitching in 10.6 points per game (second on the team) despite a very slight dip in her usage rate (0.7 percent drop) while shooting 52.2 percent from the field and 76.6 percent from the free-throw stripe – both of which are improvements on her freshman season shooting splits (50.4 percent overall, 61.8 percent from the line).
Of course, that's not the part of her game that has caused so many Mountain West teams so many problems since she arrived in Laramie.
Fertig's rebounding remains excellent in year two, as she's pulling in 8.5 rebounds per game – second-most in the MWC behind only POTY favorite Desi-Rae Young (10.3 RPG) – with a 23.7 percent total rebound rate that leads the league by more than three percentage points and places her among college basketball's truly elite rebounders. Only five other players have a higher rate while logging at least 15 minutes of playing time per game, and only one (LSU's Angel Reese) is rebounding at this level with a higher usage rate on the offensive end.
Add in a 7.6 percent block rate that only Boise State's Abby Muse can top in the MWC, and the picture of Fertig as a second-year player becomes clear. She's one of the best (and most well-rounded) players in this conference, and if not for Young, she may very well be the most impressive center the league has to offer.
Tommi Olson: With such a dominant interior presence usually comes at least one guard comfortable serving purely as a distributor to initiate the offense and spread the ball around. For the third consecutive season, that job falls to Olson, a 5-6 graduate senior with more than 100 games (112) and almost as many starts (83) to her name through five seasons with the Pokes.
Olson's numbers have dipped slightly with the arrival of freshman Malene Pedersen, who slotted immediately into the starting small forward role and has taken some responsibilities (and nearly eight minutes per game) off Olson's plate, but she's still the player she's been for years now. She averages a team-best 2.6 assists per game while keeping turnovers to a minimum (1.3 per game), adding 3.4 rebounds a night from the backcourt and contributing some solid (albeit always unspectacular) defense.
And, as usual, she does not shoot. Olson has attempted just 67 shots this season (about 3.5 a game), knocking down 34.3 percent of them, with 36 coming from beyond the arc (33.3 percent success rate on those), good for 3.4 points per game. Her job is to keep this team moving without drawing any attention and with extreme consistency. She's very good at it – and if she performs as she normally does, you won't notice her at all on Thursday night.
Quinn Weidemann: As with her running mate in the backcourt, Weidemann has offered to Wyoming this season just about what she's always offered to Wyoming. This is her fifth year in the program and her fourth as a full-time starter (101 career starts), and just as in the last four seasons, she's a steady scorer at all three levels and one of the best guard defenders in the conference – twice earning  MWC all-defensive team honors and well on her way to a third nod.
The change from 2021-22 to this season, if there is any, is just a slight increase in her usage as the Pokes work to replace McKinley Bradshaw's 14.9 points per game after she decided to forgo her senior season to begin a mission trip. Weidemann has seen her usage jump by three percentage points to 20.1 percent, and with that comes a bump in her scoring average, up to 12.4 per game from 11.0 a season ago.
Surprisingly (and in good news for Wyoming), that bump has not hurt Weidemann's shooting efficiency, nor has it impacted her defense. She's shooting 44.4 percent from the field and 42.2 percent from three (both up from 2021-22) and leads the team with 17 steals.
Stats To Know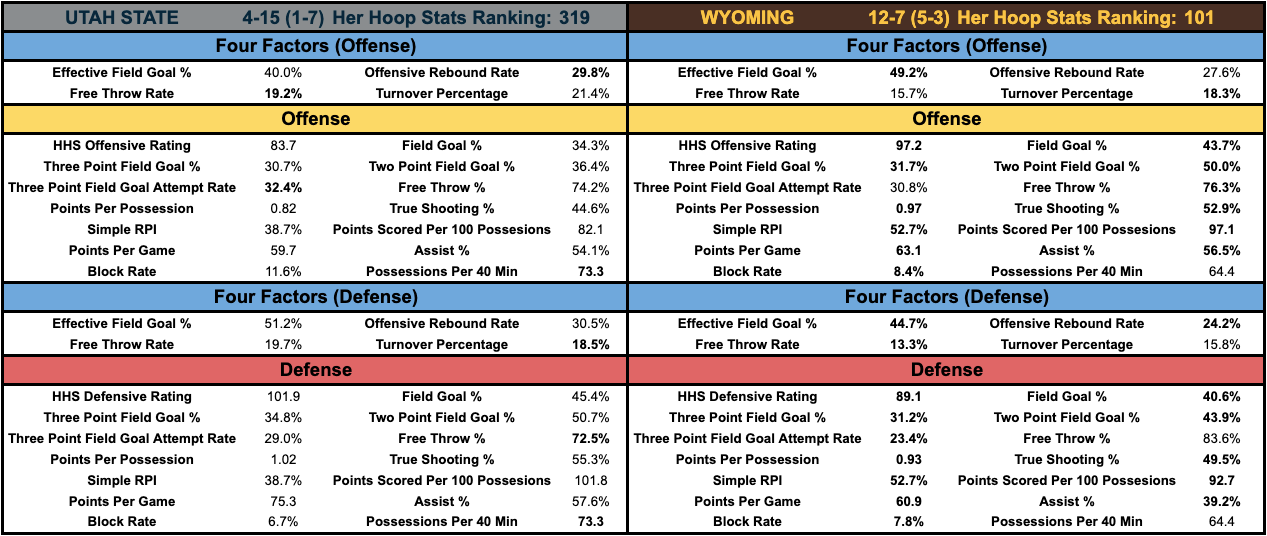 Effective Field Goal %: Though Wyoming isn't an especially impressive three-point shooting team (151st in three-point percentage), it is one of the best overall shooting groups the Aggies have faced to this point. The Pokes are 75th in effective field goal percentage and within the top 50 for both free throw percentage and two-point percentage.
The credit for that is due largely to this group's top six scorers, each of whom is shooting better than 41 percent from the field this season. Most of the offense comes from Grace Ellis (9.9 PPG, 50.3 percent shooting), Fertig, Pedersen (9.6 PPG, 48.6 percent) or Weidemann, but this is a good shooting team with a lot of weapons for Utah State to worry about, at all three levels of the floor. They're a lot to handle, but DI teams who successfully held them to an effective field goal percentage under 47.5 percent are 5-1 this season. If you can slow the offense down, you can beat this team.
Assist %: Opponents have an identical 5-1 record when they keep Wyoming under a 50 percent assist rate, but that's not why this stat is on here. The Pokes move the ball relatively well on offense (131st nationally), though not well enough to merit a mention.
No, this is a stat to know because of the Wyoming defense, which is the nation's leader in assist percentage allowed with an absurd 39.2 percent. The Pokes don't force turnovers (338th in forced turnover percentage), they don't block shots (163rd in block rate) and they don't even defend shots especially well (136th in effective field goal percentage allowed).
And yet, this is still one of the best defenses in the Mountain West, as it has been for the better part of two decades since hiring Joe Legerski in 2003. He's been retired since 2019, and his replacement Gerald Mattinson retired after last season, but Heather Ezell – the new leader of the program – has been around the team since 2015 and hasn't shown much interest in changing how the Pokes operate. They move as the ball moves, keeping it in front and disrupting passing lanes to force isolation offense.
Offensive Rebound Rate: And when a shot goes up, the offense better hope it falls – because they aren't getting another shot at it. Wyoming's offensive rebound rate is, like its assist percentage, not especially notable. Where the Pokes stand out on the glass is with their efforts on defense in keeping opponents away from second-chance opportunities.
Led by the outstanding efforts of Fertig, Marta Savic (4.4 RPG), Ellis (4.1 RPG) and Olson (3.4 RPG), each of whom has a defensive rebound rate above 14 percent, the Pokes allow the 12th-best offensive rebound rate in college basketball (24.2 percent).
They've allowed only six opponents to rack up an offensive rebound rate above 25 percent this season, and just two in conference play (Fresno State and Nevada). Otherwise, they've been lights out – and even better in conference play, dropping that percentage down to 21.1 percent. If extrapolated over the full season, that would put Wyoming atop the national leaderboards by a full percentage point (Iowa State is currently first with 22.2 percent).
Prediction
If Utah State is closer to full strength and plays this game as it did against Fresno State and for 35 minutes against Air Force, it can be competitive. Wyoming is a good team, but it isn't on the level of the groups at Colorado State, San Diego State or UNLV. The Pokes beat Air Force by one point, Nevada by four, Fresno State by five in double overtime and New Mexico by nine. The defense is very good at what it does and the offense is filled with viable scorers, but neither unit is perfect. A prepared opponent can force this team into mistakes.
I don't think Utah State is especially well-positioned to be a prepared opponent. Perhaps the loss at San Jose State was a fluky regression game that the Aggies can flush and move on from. Until I see that play out, I just don't believe it.
Wyoming