WBB Review: Stubbs Puts Aggies In The Win Column With Late Bucket
After a back-and-forth battle, Cheyenne Stubbs delivered the decisive layup to lift Utah State to its first victory of the year over Kansas City. WBB Review: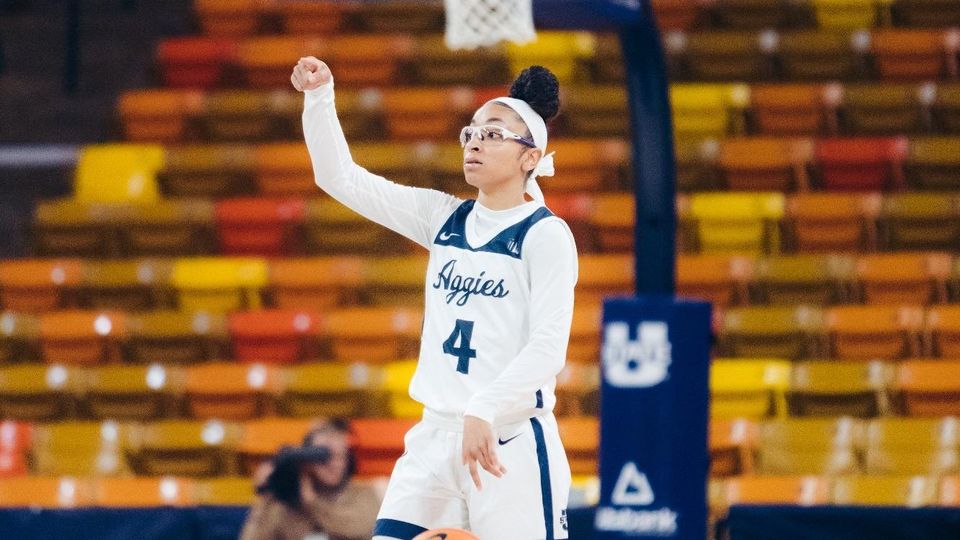 KANSAS CITY – After 11 ties and eight lead changes, Utah State earned a much-needed and hard-fought victory over the University of Kansas City Roos, snapping a 15-game losing streak extending to last season, and putting win No. 1 on the board for 2023-24.
In what was a competitive game from start to finish, Utah State continually put itself in a position to win, and ultimately found a way to close out a nail-biter. Crucially, unlike in losses to CSUN and Eastern Washington, well-timed buckets and timely defensive plays kept the Aggies from falling too far behind their hosts – the largest deficit they faced was just five points.
More than that, even, Utah State held the lead for 21:48 and looked at times like it would cruise to victory. With 1:48 left in the third quarter, Ivory Finley knocked down her second of back-to-back threes to give the Aggies a 10-point lead at 48-38. The Aggies were behind at the half, 33-30, but they had opened the third frame on an 18-5 tear, and the Roos looked to be running out of answers for a barrage of Utah State buckets.
But, the Roos fought back, and a Nariyah Simmons three-pointer tied the game back up at 55 with 3:24 to play in the fourth quarter. A bucket later, the Roos regained the lead, capping a 19-7 run that more than answered Utah State's surge. Cheyenne Stubbs hit a free throw to keep the Aggies within one, but Tamia Ugass hit a layup to extend the Kansas City lead to 59-56. From its position of strength, Utah State had fallen, and time was winding down.
As they had all night, the Aggies found their answer with a crucial make from the field, this one coming by way of a Skye Miller jump shot to keep the game within one possession and shift the pressure onto Kansas City at the 1:31 mark of the final frame.
The teams traded offensive fouls – two on Kansas City, one on Utah State – and set the stage for the Aggie offense to reclaim the lead, taking possession with only 44 seconds on the clock. A quick set put the ball in Stubbs' hands, and with 31 seconds remaining, she took advantage of the opportunity and knocked down a jumper, pushing Utah State ahead 60-59. Utah State was nearly able to ice the game when a Simmons pass went awry and turned the ball back over to the Aggies, but they suffered a turnover of their own to return it to Kansas City. Out of a timeout, Dominique Phillips drew a foul on Miller and tied the game at the stripe, missing her first free throw but converting try No. 2.
Utah State took a timeout. It had 22 seconds – one final play of regulation, at least in an ideal world. The Aggies still had a very good chance to go to overtime with the game tied, but after blowing a 10-point lead on the road, momentum was certainly not in their favor. Their second option was a good deal more attractive: Use that last possession and find a way to get the win in regulation. This is where Stubbs comes in.
Rather than put the game into the hands of fate, sending it to another five minutes of action, Stubbs decided that she would rather decide the game herself. With the ball just beyond the half-court line, Stubbs drove to her right and forced a defensive switch as Bridget Mullings set a screen that stopped Stubbs' defender in her tracks. The guard powered right into that switch defender as she continued her drive, forcing her way into the paint and lofting an underhanded layup that glanced off the backboard and dropped into the net with 0.2 seconds on the clock – not enough time for Kansas City to offer any rebuttal.
For Utah State, Stubbs' game-winner delivers to the program its first victory since Jan. 16. It also offers, at least as the Aggies hope, a critical step in the right direction for a program badly in need of momentum and signs of progress.
Three games into the season, Utah State has yet to produce any outings that look even remotely alike. The Aggies found two completely different ways to lose their first two games, then implemented yet another unique game plan for this win over Kansas City.
A few things worked for Utah State's new approach, but there are still some things that are not clicking. One thing that worked, definitively, was the offense. Although there are still some cracks, this was easily the best that unit has performed this season.
A big part of that shift was the breakout of Ivory Finley. The Aggies had yet to get Finley involved until this game, as she scored zero points in 36 minutes against Eastern Washington and eight in 29 minutes against CSUN. She was much more aggressive on Tuesday night, knocking down 7 of 12 shots and 3 of 6 tries from beyond the arc to finish with 17 points, adding three rebounds and two steals in just under 33 minutes.
The same could be said of Stubbs, who has put forth strong back-to-back efforts offensively, and led the charge for the Aggies in Kansas City. She finished 7 of 12 from the field (1 of 5 from three) and hit 4 of 6 free throws for a game-high 19 points, while pitching in three assists, three rebounds, two steals and a block in 34 minutes.
Finley and Stubbs getting more involved on offense also allowed Miller to do more of what she does. After scoring 11 in each of her first two games but doing so on a pair of inefficient shooting nights, she put up 10 points against the Roos on 5-of-8 shooting, while grabbing three rebounds and two steals to go with two assists and a block.
The defense was also looking better for the Aggies. Utah State managed to impose its will on that end of the floor, recording 12 steals and a season-high three blocks, while capitalizing on 23 Kansas City turnovers for 20 points, with 13 coming on the fast break. Each starter, plus Allyzee Verdan and Samiana Suguturaga off the bench, recorded a steal.
Results on the glass were less strong, though Kansas City is a very good rebounding team. The Aggies were outrebounded on all fronts and were unable to get more than a few second-chance points, earning only seven on the night. They grabbed 13 offensive and 15 defensive boards to Kansas City's 19 and 18. Despite that, the Aggies held the edge for points in the paint with 34 to Kansas City's 26, while holding star forward Ifunanya Nwachukwu to just six rebounds, her season low, and nine points.
Turnovers are still a major concern for this team, committing 22 in this outing, but the Aggies did log a season-high 11 assists, which could be a step in the right direction as the offense begins to work some things out. That's not a passive effort, either – Utah State made significant changes to its starting lineup this time out, rolling with a top five of Stubbs, Miller, Finley, Mullings and Tiairra Hill-Brown while bringing Suguturaga and Verdan off the bench for significant minutes. Livia Knapp, Macy Smith and Isabella Tañedo all contributed as well, though none logged more than 8:36 of playing time (Knapp).
Parker Ballantyne covers Utah State women's basketball for The Aggship. You can follow him on Twitter at @PShark14 for updates on the Aggies.