Cover Story: Aggies Make A Statement Against Santa Clara
Six teams have put at least 96 points on Santa Clara since 2016. Four of them finished in the AP top 10 and one of them is a Utah State team on a mission right now. (Free) cover story: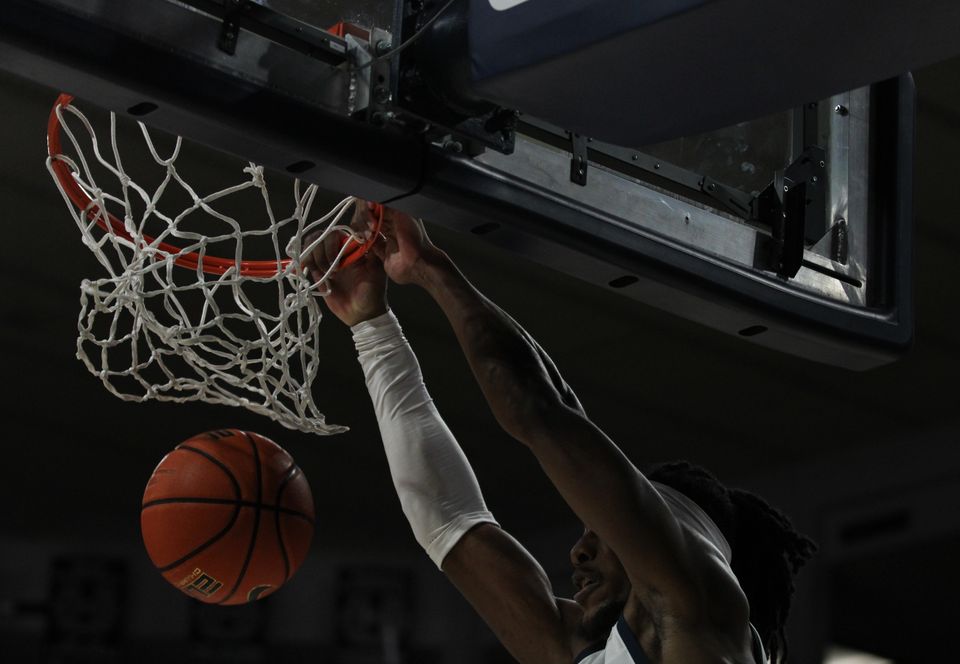 Some performances are deserving of praise. Others, of heightened expectations. Utah State's 96-74 victory over Santa Clara, its third of the season, is deserving a new moniker. These Aggies are the Big Blues Brothers because right now, they're on a mission.
"We're confident," power forward Taylor Funk said. "This is a mature team and we're on a mission right now. Home or away, I don't think it's going to change how we play."
The final score does not tell the full story of Utah State's showing in front of 6,549 fans in the Spectrum on Monday evening. It lead by as much as 27 points late into the second half, held a double-digit advantage for the last 21:18 of the game and hit the 90-point mark with more than five minutes left on the clock. Santa Clara, the preseason No. 2 team in the WCC, had 65 points to its name when Steven Ashworth drained a three-pointer to push the Aggies to 90.
Their final tally could have easily surpassed 100. Even without accelerating through the final buzzer, Utah State set a new tenure-high in points under head coach Ryan Odom. Only five teams have scored more on a Herb Sendek Santa Clara team since he took over the job in 2016. Four of them were Gonzaga teams (2021-22, 19-20, 18-19, 17-18) which combined for 124 wins to 15 losses, four top-10 finishes and nine postseason wins (which would have been higher if not for the COVID season).
Utah State has been about as impressive as possible through three blowout wins over teams set to contend in their respective conferences, but it isn't Gonzaga quite yet. It is, however, operating at an incredibly high level right now.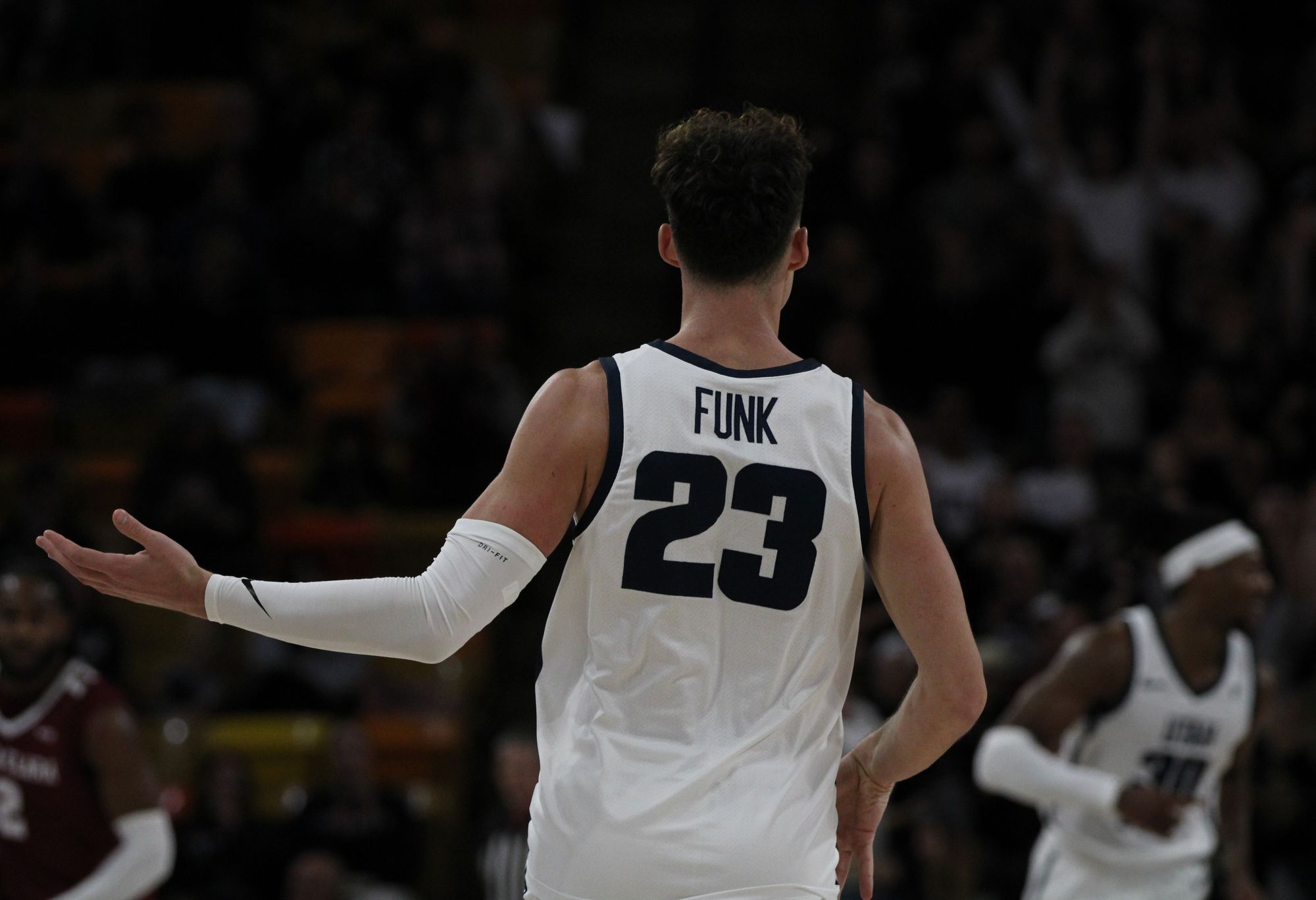 The Aggies shot 51.4 percent from the field against Santa Clara, knocking down 12 three-pointers and winning in just about every statistical category on the sheet. They had an outstanding 25 assists to just nine turnovers, forced 12 steals, blocked four shots and outrebounded a team that looks a whole lot like those Utah State will see come MWC play.
"I don't know what it's like in any other conferences, but I know that the Mountain West Conference has so many big guys who know how to use their size to take up space," center Trevin Dorius said. "And I feel like tonight was the best showing of that we've seen so far. I mean those guys, every single one of them was trying to duck you in as soon as they got down the floor – within the first three seconds of the possession.
"It was something unique to them but also something we were aware of, and I think it comes down to being aware of it and scouting it... It's all about finding their weaknesses or finding where they slip up and then we can capitalize on that."
They're winning in very different ways, too. Against Utah Valley, Sean Bairstow led the team in scoring but much of the work was done on the glass (47 rebounds to 34) and defensively, holding the Wolverines to just 32.8 percent from the field. In their 84-62 win over Bradley on Nov. 11, the Aggies turned the reins over to Ashworth and Zee Hamoda, winning behind elite individual performances (while again dominating with defense and rebounding).
On Monday night, Utah State beat Santa Clara by playing like Santa Clara. It played with pace, speeding the Broncos up with aggressive on-ball defense, jumping the passing lanes and converting turnovers into points. The Aggies had 17 points off turnovers and 22 points in transition to just five from Santa Clara, which entered the game as one of the fastest teams in America.
"I thought it was better today than it has been, and that's something we've been talking to the team about because we feel like we are good in transition and that this team has a chance to be really good in transition," Odom said. "But there are times when we're a little bit apprehensive about it and I think tonight was a good night for us."
They won on the boards again, but that wasn't the story of the game. A five-rebound margin can only mean so much. Santa Clara wasn't without capable shooting either, it finished 40 percent from the field with seven three-pointers and three players in double figures.
Utah State just took the run-and-gun style from the Broncos and ran it better. Every Santa Clara run was answered with an even larger surge from Utah State. When the Broncos went on a 10-2 run to take a 15-13 lead with 14:42 to play in the first half, Utah State absorbed the blow, locked in, and rattled off a 12-4 run over the next five minutes.
A little more than three minutes later, that run had ballooned to 23-10, capped off with a frantic sequence of one Funk transition three-pointer, one Ashworth transition three-pointer and another triple, this time in response to Santa Clara daring to score while Utah State was putting on its show.
"There was a stretch there where they went on a little run, and our key this year is always being able to answer," Funk said. "This summer we had a slogan, 'Champions Always Answer.' We want to be champions here and answer those runs."
The Broncos cut the deficit back down to six; Utah State answered with an 8-2 run. Santa Clara brought it to nine with 2:35 left in the half; Utah State went into the break ahead by 14.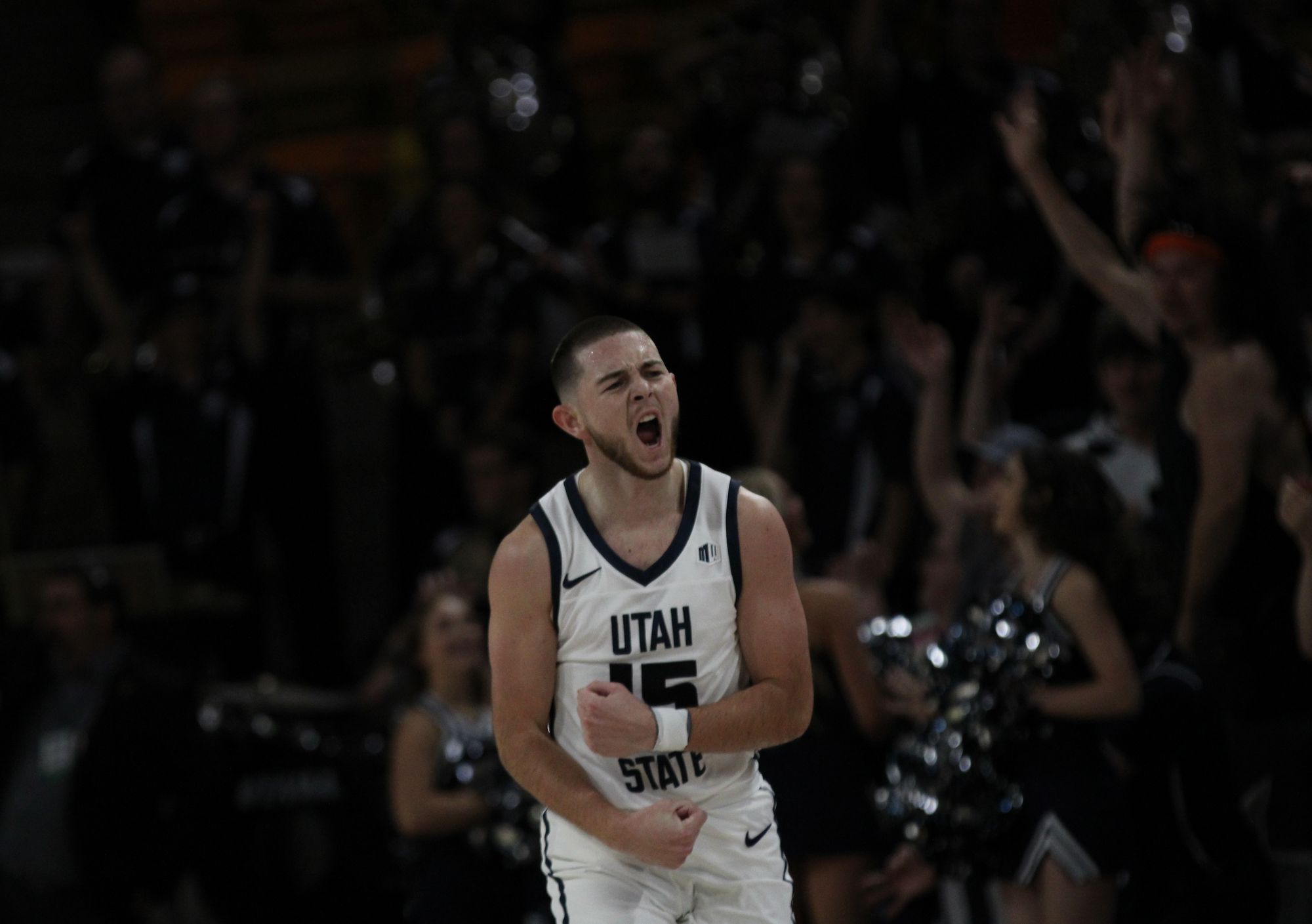 There is almost something spiteful about how this Utah State team is winning these games. It seems to take a little extra joy in not just beating an opponent, but demoralizing it. Taking its best players out of the game with lockdown defense, falling into lulls and allowing for brief comeback bids that it immediately and forcefully snuffs out.
Santa Clara rattled off what could have been a promising run right around halfway through the second half. Utah State's lead had been hovering around 20 and topped out at 72-51 with a Dan Akin breakaway dunk at the 11:15 mark. The Broncos notched a few defensive victories in a row. They found their way back to the free-throw line.
Jacob Holt hit a triple to cut the deficit to 16, Bairstow lost the ball and Keshawn Justice made his only shot of the night with a layup through contact. Utah State called a timeout before Justice's free throw to bring the Broncos within 13 points and Odom loudly reminded the Aggies where they were and what they were supposed to be doing. Something of a party had broken out when there was still work to be done yet.
"There was a moment there when we relaxed a little bit," Funk said. "We had some lazy decisions in the paint. Our guys did really well at getting where we needed to be and then just didn't really do what we were supposed to do. We threw up a couple of shots at the rim where there were better shots to take. We try to get the best shot each trip down the court, and I think we kind of shied away from that because we had that lead – which is something that we will clean up. I'm very confident in that."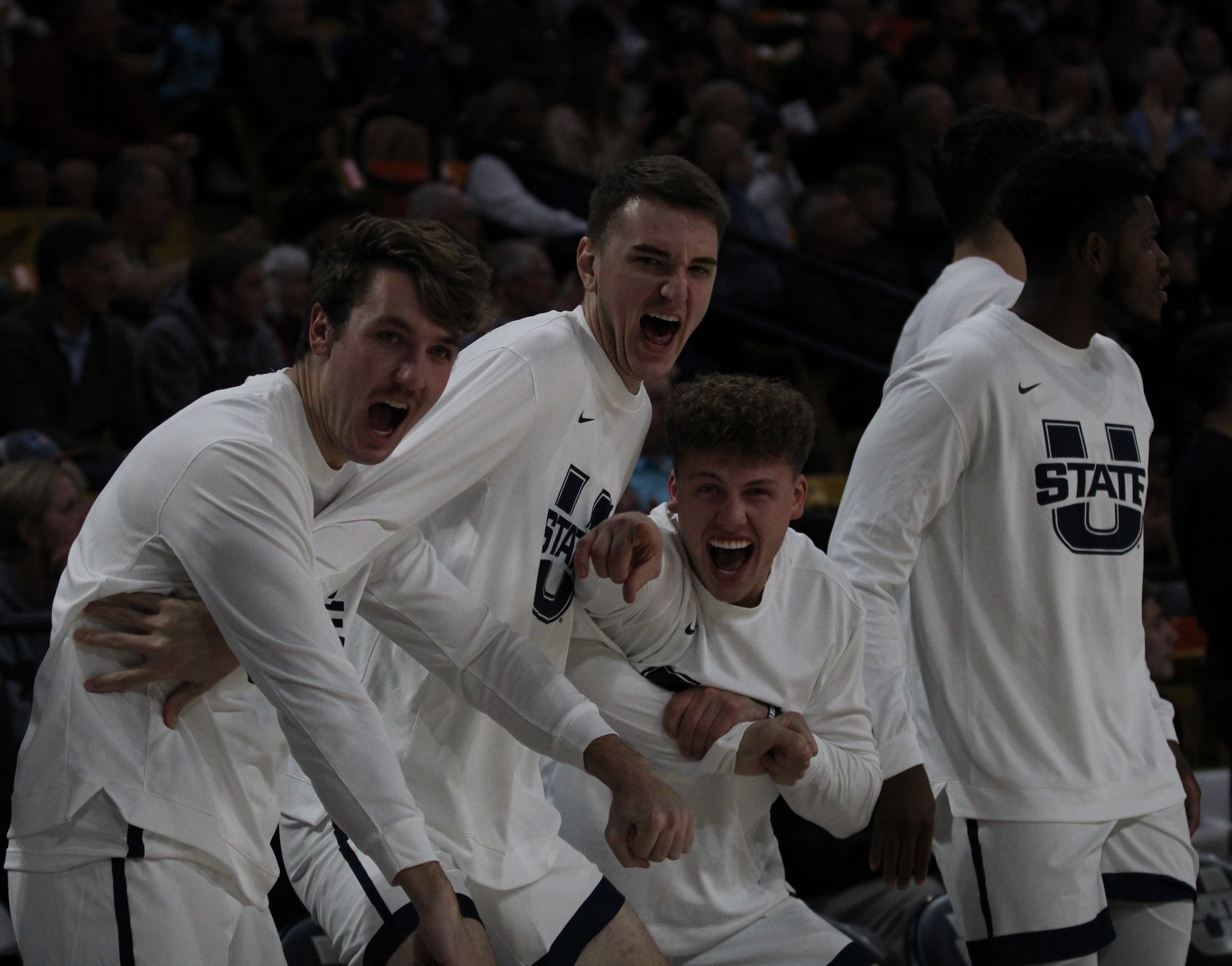 Utah State took the advice, locked back in and led by 21 again less than two minutes later. Three minutes after that, the Aggies were ahead by 27, 92-65. This is the second-best team in the WCC and Utah State spent 40 minutes naming its score against them.
This knack for flourishing answers to runs is never out of control, though. It's much more calculated than that, and much easier for the Aggies to turn right back on when they need it. They'll rattle off flurries of points (nine in just over a minute, six in 40 seconds, etc...), but they aren't throwing just for the sake of it.
By the time Utah State launches into another crowd-rousing eruption of offense, its opponents are already hopeless. The runs are predicated on weaknesses the Aggies already spent however long picking at. They put on an impromptu dunk contest on several occasions against Santa Clara not because of some supernatural offensive prowess, but because Santa Clara spent the entire game cheating off the baseline defensively to provide more support for its guards against the dribble drive.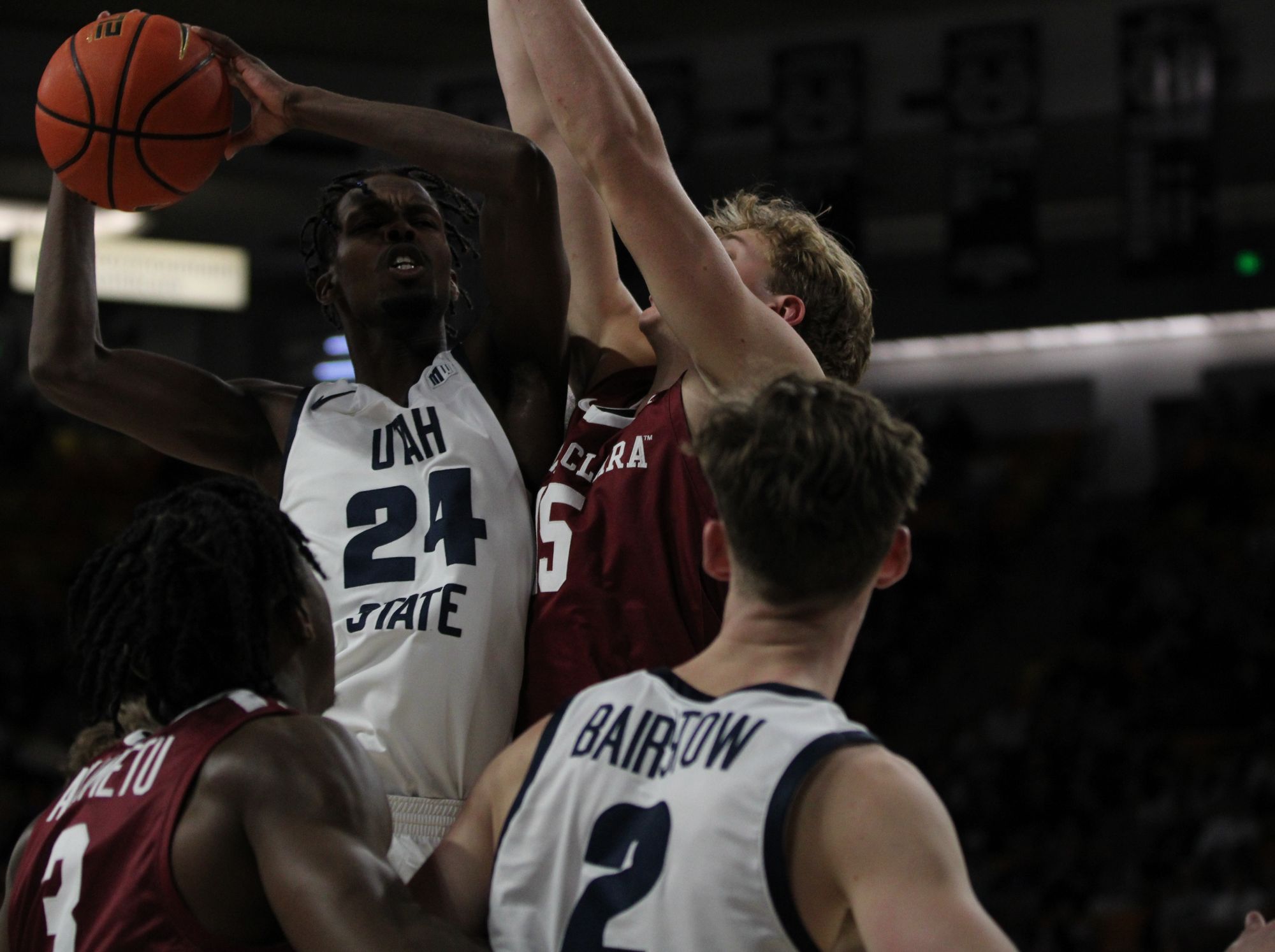 The frontcourt players felt the need to do that because Hamoda and Rylan Jones spent much of the first half attacking the rim far more than they have at any other point this season. Utah State is so successful on offense because its reconnaissance plays are still yielding points. The Aggies are shimmying open ways to attack the defense for when they need them but they're putting up points as they do it.
They're connecting offense with defense, too. And not just in the steals turned immediately into fast-break buckets. Santa Clara guard Brandin Podziemski entered this matchup having scored 30-plus points in each of his first two games with the Broncos. He's a fabulous shooter and an extremely dangerous offensive weapon when he's playing with confidence.
Utah State was confident in Ashworth, Hamoda and Max Shulga being able to handle him defensively, but it made the job easier on them by harassing the young guard on the other end of the floor. Odom slipped my question about this like a pro, but there's no real point in sugarcoating it: Utah State ran its offense through whoever Podziemski was guarding.
It wore him down physically and crushed his confidence by turning him into a liability on the other end. When the second half rolled around, he was exhausted and had no faith in his shot. He missed all five of his second-half attempts and was essentially unplayable down the stretch. He finished with 12 points and was minus-26 in 26 minutes on the floor.
"I thought Max did a great job," Odom said. "The discipline it takes to guard a guy like that who can really score, it's not easy. Max was great on him, did a great job of staying down and getting there. He gave up one three where he didn't get a high hand and make him dribble, but for the most part, I thought the guys did a great job."
For those of you who remember watching a young Mike Tyson dismantle his opponents within minutes of the opening bell, this probably all sounds pretty familiar.
Utah State plays basketball like a peek-a-boo fighter in his prime. It may take a shot or two, but it won't sustain any major damage. It's all being done with a purpose in mind. And once the Aggies have seen enough? They throw a left hand and knock your teeth out.