Cover Story: Utah State Embarrassed By Weber State
(UNLOCKED) Cover: It is moments like these – when a team needs to come together to get itself up off the mat – for which Blake Anderson hopes to have built his program. Can these Aggies do it?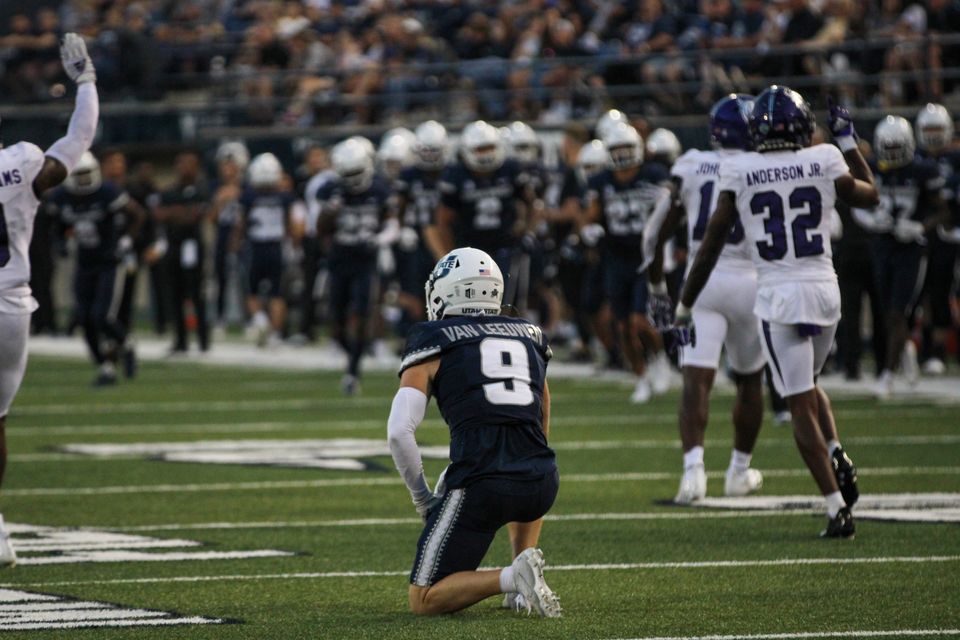 These stories are traditionally behind the $6 paywall, but I felt, given the circumstances, that this one should be available for all Aggie fans to read. If you want to support more Utah State coverage like this, please consider a subscription to The Aggship.
LOGAN – About 20 minutes out from Logan on the drive in from Ogden, the freeway morphs into a four-lane road – two in either direction – as the road is forced to accommodate the surrounding terrain. The road twists and turns as it morphs, but more importantly, it becomes very steep. The speed limit is 65 miles per hour, but on these hills, it's easy to lose track of exactly how fast you're going. A car going 65 can very quickly become a car going 80 or even 90, and if you aren't cognizant of it, you'll just keep cruising above the limit.
Traffic officers love to hang out in the crevices of this track. If you're not carefully monitoring your speed, they will pull you over. I'm not sure I've ever driven on this road without seeing someone pulled to the side by the flashing red and blue lights.
Those officers, through the sheer threat of a speeding violation, did infinitely more to slow down the Weber State football outfit during their trip to Logan than anything their opponents, Utah State, had to offer.
The Aggies were embarrassed on their home turf in front of a crowd of nearly 18,000 fans on Sept. 10, falling 35-7 against the FCS powerhouse and failing to score an offensive touchdown – extending the streak without an offensive score to eight full quarters of football. Two games. They've scored once in the 10 quarters since that explosion in the second quarter against UConn.
It was not a matter of bad luck on turnovers, red zone issues or any other easily explainable flaw. Utah State ran 75 plays and gained 283 yards, roughly 3.8 yards per play. It converted on only two of 15 third-down conversion attempts.
Logan Bonner and Cooper Legas combined to complete 16 of their 40 passes for 157 yards while throwing four interceptions – each of the first three more crippling than the previous. Interception No. 1 came in the first quarter and led only to a Weber State field goal despite excellent starting field position; No. 2 came at the end of the half in the end zone as Bonner rolled to his left and fired a pass behind Kyle Van Leeuwen, which was deflected and intercepted; No. 3 was the true dagger, a pass directly to senior safety Desmond Williams, which he promptly returned to the end zone, giving Weber State a 28-7 lead.
Bonner's struggles – he completed only 12 of 31 passes for 120 yards with the trio of interceptions, easily his worst showing in a Utah State uniform – boiled over in the third quarter with that third interception.
The decision to send him back out with the offense, trailing 28-7 and with only a few minutes to play in the third frame, elicited boos from the crowd, which took issue with Utah State's offensive play calling and coaching throughout the game. Patches of the stands belted out calls for Legas, chanting, 'We want Cooper' in waves through the second half. Legas was met with cheers when he entered the game two possessions later, though his first trip onto the field ended with a sack and an interception in two plays. He would finish the game 4-of-9 passing for 37 yards (though he did rush five times for 21 yards).
When asked by The Aggship about the chants, Anderson held nothing back, reasserting his commitment to Bonner – with whom he has spent more than half of the last decade between Arkansas State and Utah State.
"I don't know if people are going to want to hear this, but that's the same quarterback who won a Mountain West Championship last year – the first one ever at this university," Anderson said. "He's coming off a knee injury in less than nine months. And he's not the only person making mistakes.
"It's (really) easy to sit in the stands and boo. I want nothing more than for Cooper Legas to have a great career here when his time has come, but he had an opportunity to win that job in the offseason and he did not. He's a great No. 2 QB and he's going to be a really good No. 1. But right now, Logan Bonner is the starting quarterback. He deserves that opportunity and he also deserves respect.
"I don't know how to say it any nicer. A lot of our fanbase showed true colors today, and it was embarrassing. They can be mad at me. We didn't get it done, we didn't win. But there's plenty of blame on that sideline to go around. Not just one guy. He did help us win a conference title last year, and it ain't been that long ago. I wish people would remember that. Pull for him, not against him.
"Cooper is going to get his opportunity, he's going to be a great football player. I love him to death. But, I'm not going to be swayed by people in the crowd. We're going to pull tighter together on the sideline because apparently, that's what we've got."
The Wildcats would have won with their first quarter output of 13 points alone, but they spent the final three quarters rounding out a dominant performance. No gimmicks, no masterful tricks, no fluke. Weber State blitzed the Aggies and played man coverage against their stable of receivers while running the ball 55 times for 199 yards and picking up another 202 yards on 11 completions.
"I thought Weber State won the line of scrimmage," Utah State head coach Blake Anderson said. "They played man coverage – which I said all week they were going to do – physical man coverage, grab, pull and we struggled to get open. We got a call or two along the way but they let them play. They played better in one-on-one situations than we did. They threw and caught in one-on-one situations, we did not. They just out-preformed us, it's that simple.
"It's going to reflect when you play an aggressive defense that's going to blitz and play man coverage. You have to protect – it'll take your halfback and the online – and then you have to win in one-on-one situations and we did not do that enough. I don't think we ran the ball very well, and that did put us behind the chains a lot, too."
After the game, Anderson alluded to struggles in finding leadership among the Aggie roster – which receiver Terrell Vaughn, the owner of Utah State's lone touchdown on a brilliant kickoff return echoed.
"We have to learn from it, be critical in the open week and find where we can get better because right now we're not a very good football team," Anderson said. "We're searching for ourselves, searching for consistency and for leadership. You name it. In every phase of the game, we have not played a good football game yet. It shows. We're fortunate to have one win under our belts because we could have easily lost in week zero. We're struggling to find our team. Hopefully, that's something we can do over the course of the next week.
"I'm hoping we can figure out who we are and have some guys step up before we start playing conference games, and that we can start playing like the team I think we are capable of being. But, we're going to have to make some adjustments in many areas this week to get that done."
"A lot of leaders left," Vaughn said. "That's what I've heard. We have to find new leaders."
As the Aggies turn the page now and move into an early off week – one of two this season because they participated in a week zero game – they do so as a program suddenly cast into turmoil.
A 1-2 start does not a season make. Utah State has yet to play a conference game, logging their first against UNLV on Sept. 24. It will enter into a Mountain West that appears to be down relative to its performance a season ago, and which beyond Air Force and Fresno State is without any obvious favorites.
But, the record is not a fair reflection of a team's status. Utah State is a bad 1-2. It's 1-2 with two blowout losses, one of which came to an in-state FCS program that one once more than it lost last fall. The lone win over UConn was far closer than it ever should have been. And if the Aggies have any hope of building on the momentum they created a season ago, they will need this to be an off week filled with reflection, adjustments and accountability.
"It comes at a good time, we have to find who we are," Anderson said. "The kids will tell you, every single day this week I prepared them for what was coming up. We've been talking about finding consistency when we don't have any yet. We're our own worst enemies, and we all have to self-reflect. I had the same conversation in the locker room with them. I love them, I hurt for them, I didn't want to be in this situation.
"I've been here before and I've seen teams respond in the right way – galvanize, pull together and start winning games and doing the little things that get you over the hump. I've had a team in a loss like this that went on to win a conference title. I've had teams in this type of game that fracture and just fall further apart."
They were caught flush on Saturday night. Though there are cases to be made that the Alabama loss or last year's defeats to Boise State or Wyoming were similarly impactful haymakers, they simply do not compare to this. For the first time in Anderson's tenure, he, his staff, his team and his program took a hook straight to the chin.
It is moments like these – when a team needs to come together to get itself up off the mat – for which Anderson hopes to have built his program.
"True character shows when things get bad... When adversity hits, you're going to find out exactly who you are," Anderson said. "We found out some of that from some of our fans tonight. We're going to find out about our staff, about our players. This is not where anybody wanted to be, and we're going to find out what we're made of."