Defensive Focus Makes Darius Brown II, Aggies A Perfect Match
(Free profile) Utah State needed a leader it could rely on at point guard, and with Darius Brown II (@dariusbrownii) set for one more year of college basketball, the Aggies didn't need to look far: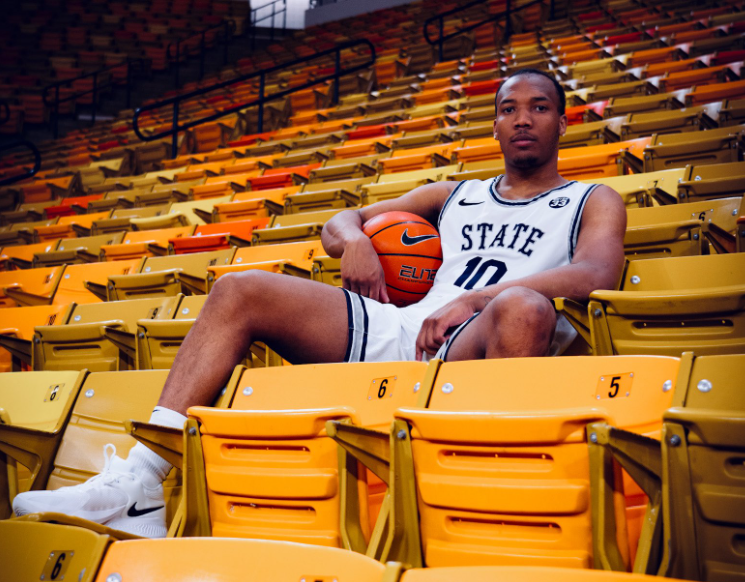 LOGAN – Darius Brown II wasn't the first player to announce his commitment to Utah State after Danny Sprinkle's hiring in early April – that honor went instead to Idaho transfer forward Nigel Burris, who caught Sprinkle's eye amid his 2022-23 Big Sky Freshman of the Year campaign – but he may very well have been the most obvious addition of Utah State's offseason.
Why? Well, firstly, Sprinkle and his staff (which wasn't yet completed at the time, but which now features every full-time assistant on the 2022-23 Montana State staff) didn't have to do their homework on the graduate senior point guard. They'd already done that a year ago when they hit the transfer portal in need of a point guard they could trust to replace departing senior and multi-year starter Xavier Bishop.
Himself a portal addition ahead of Sprinkle's first season with the Bobcats, Bishop proved a tough man to replicate in his two years at the helm of Montana State's offensive and defensive systems. He led the team in scoring (13.9 PPG) and assists (4.2 APG) during their Big Sky title run in 2021-22, and provided quite a bit more that the stat sheets don't reflect with his defensive prowess and non-stop leadership. Montana State didn't necessarily need a guard who could match Bishop's scoring, but the playmaking, defending and leadership qualities were non-negotiable – and those can be a lot harder to identify in the portal.
Looking to Sprinkle's old stomping grounds at Cal State Northridge, Montana State found a perfect fit for the job. Brown only appeared in eight games during the 2021-22 season, but he had three full seasons of starting experience under his belt before that limited senior campaign and had shown off exactly the skill set the Bobcats needed, averaging 10.5 points, 5.3 assists and 2.0 steals per game on his way to an All-Big West nod as a junior.
Even tracking back to his prep days, when he led Pasadena (California) High School to a berth in the CIF Southern Section Division I-AA Finals while adding 15 points, 11 assists, five steals and five rebounds per game, he played exactly how Montana State wanted its point guard to play. He was a ruthlessly energetic defender and leader who had earned rave reviews from his coaches, and Montana State wanted him badly, reaching out on the same day he entered the portal. In late March of 2022, he announced his commitment to Montana State.
"Really the idea was to go off fit, situational fit," Brown told Parker Cotton of the Daily Chronicle at the time. "(MSU's coaches were) letting me know I was wanted and needed at the program and had some big shoes to fill.
"I wanted to go to a place that was going to allow me to be me and wanted me to be me. Throughout the process, I was looking for a place that wasn't expecting me to step out of character. To me, that's being a well-balanced point guard. That's how I like to describe myself, just well-balanced. I can score when needed, I pass the ball extremely well and I can run the team extremely well."
Montana State's scouting was spot-on. Brown filled the vacancy at point guard immediately, starting in all but one of his 34 appearances, and the Bobcats didn't miss a beat on either end of the court – in fact, with the 6-2 senior leading their defensive efforts, they found major improvement and finished 77th in KenPom's adjusted defensive efficiency, up from 143rd in 2021-22. Brown averaged 10.6 points, 5.0 assists, 4.4 rebounds and 2.2 steals over the last three months of the season, earned Big Sky Defensive Player of the Year honors, and played a huge role in leading the Bobcats to another Big Sky title and NCAA tournament berth.
And a few weeks after Montana State's season came to a close with a valiant effort against Kansas State, an Elite Eight team, it became apparent that Sprinkle and his staff would again need Brown to take over a vacancy at point guard, this time in Logan. Sprinkle had just accepted the head coaching position at Utah State, and it wasn't exactly a secret that Utah State's incumbent options at point guard, Steven Ashworth and Max Shulga, weren't likely to stick around for a new tenure.
The Aggies would need a system fit to help lead an almost entirely new-look team, and they didn't need to look very far for an answer they knew they could trust – and who knew he could trust them.
"It was the relationship with the coaches," Brown told The Aggship. "I really made a jump under Sprinkle and the whole staff last year, and it seemed like the correct move to stay with this coaching staff and try to get a Mountain West championship.
"I trust coach Sprinkle and he trusts me. When the coach and the point guard have a great relationship, good things usually happen. That trust between coach and player isn't everywhere."
On the court, that system is about defense before all else. Sprinkle's Bobcats always won with smart, relentless effort on defense, and in 2022-23 those efforts were rewarded with outstanding finishes in both turnover percentage (73rd nationally) and assist rate allowed (ninth nationally) – staples of both the Sprinkle system and those of one of its chief architects, Andy Hill, now an assistant at Utah State. With active hands and a knack for directing his teammates as plays unfold, Brown found himself a perfect fit within the defense.
"The focus for the team will be defense," Brown said. "Sprinkle's teams are all defensively-minded, Sprinkle is the defensive-minded coach, and that'll be the identity of the team. We have to play defense to win games."
But, the Pasadena product meant more to Montana State than just his on-court production, and he'll be tasked with a similar responsibility in Logan. As Utah State reshapes its program to an approach very different from the one Ryan Odom deployed over his two seasons at the helm, Brown can serve as both a coach on the floor and a liaison for the tenets of the program. Ubuntu, a guiding term for Sprinkle's Bobcats, is still chief among those ideals.  
"Ubuntu means my success is your success; I can't be all I can be if you can't be all you can be," Brown said. "For me, it's about holding everybody accountable. If I'm not at my best, I expect someone to call me out on it and tell me I need to be better. If someone's not doing their best, it's my job to hold them accountable and make sure that they're pushing themselves. If they are not going their hardest, then nobody is getting better."
And already, Brown has seen the new-look Aggies take to their new directives. It's a bunch from quite a few backgrounds – Brown and center Great Osobor arrived from Montana State, six transferred in from other programs, Mason Falslev and Isaac Johnson stuck around at Utah State, two players arrived as freshmen straight from high school, one returned from a mission and one came from the JUCO ranks – but one that has already started to jell during their time together over the summer. It certainly doesn't hurt to have a sixth-year senior point guard leading the way.
"It's been seamless," Brown said. "I love the guys I came with, the new guys and the guys from last year. They're great, we have a great team, and it's been a seamless transition for everybody."