Position Preview: Vaughn Stands Out Among Slot Receivers
Next up in the Utah State position preview series is the slot receiver room, which has a case for consideration as one of the best groups on the Aggie roster: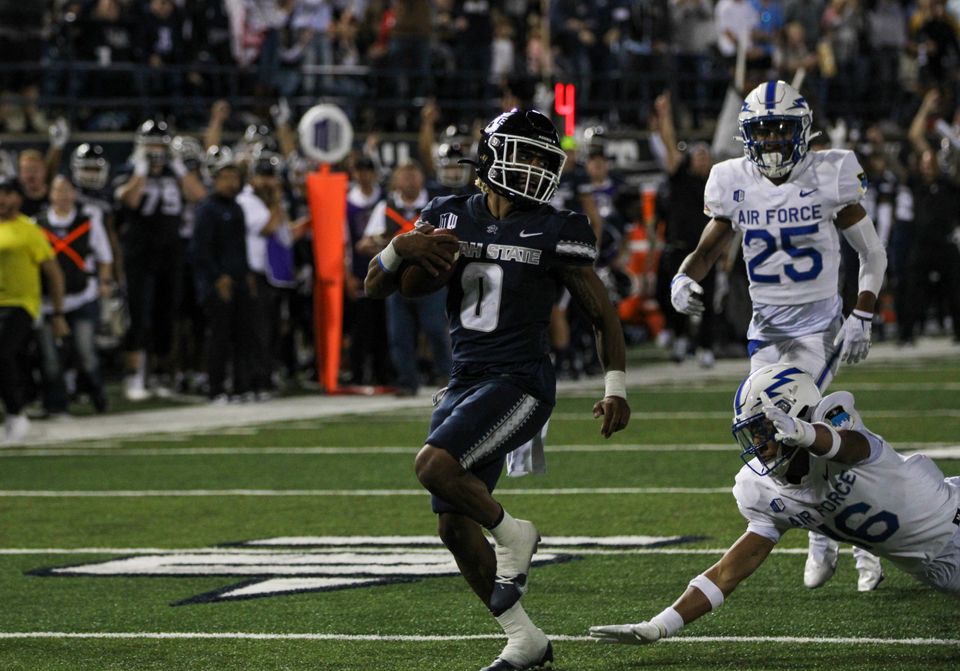 In 2021, the slot receiver played a huge role in Utah State's passing attack. It's no wonder why. With a starting pair like Brandon Bowling and Deven Thompkins, who took 818 combined snaps in the slot and teamed up to accumulate 158 receptions for 2,539 yards and 20 touchdowns, both easily pacing the Aggies in the former two categories. The Mountain West didn't produce a defense capable of stopping them, so Utah State just kept going to the well – that's what good offenses do.
Even without a pair of stars like that, though, slot receivers have just about always featured in head coach Blake Anderson's offense. In 2020 at Arkansas State, Bowling took on the primary duties and finished second on the team in receptions (39) and touchdowns (seven) and third in receiving yards (507). Bowling and Kirk Merritt shared time in the slot in 2019, combining for 98 receptions, 1,069 yards and 14 scores. With more responsibilities in 2018, Merritt led the Red Wolves with 83 receptions, 1,005 yards and seven touchdowns.
The list goes on, with Christian Booker and Chris Murray in 2017 (76 combined receptions for 1,064 yards, 15 touchdowns); Booker and Cam Echols-Luper in 2016 (45 combined receptions, 601 yards, one touchdown); J.D. McKissic in 2015 (52 receptions, 525 yards, two touchdowns) and 2014 (52 receptions, 629 yards). This is fundamental to how Anderson's offense functions. The 2021 Aggies were a peak, but they certainly weren't an exception.
In that sense, the 2022 Aggies weren't really an exception either. They didn't produce anywhere near as much out of the slot receiver room as they did in 2021, with Terrell Vaughn taking on 395 of the slot reps and essentially owning the position, racking up 56 receptions, 624 yards and five scores. Anderson would rather have a second strong slot receiver – and he may have in the early weeks of the season before an injury to Kyle Van Leeuwen forced a not-yet-ready NyNy Davis into action – but it isn't unheard of for one slot receiver to run the show in this offense.
But, as Vaughn returns for his senior season with what Utah State expects will be a deeper and better supporting cast around him, the Aggies are hoping to help him out by spreading the ball around to a few more potential targets.
"I think we're going to be more balanced across the board, not just at wideout but just generally," Anderson said. "One of my goals was to use all of our weapons and try to take the focus off of just one or two guys. I think it will help a guy like Terrell if we can balance the field out and make it a little bit bigger.
"We have other weapons on the field that'll help take some pressure off of him. We really didn't have a really balanced field a year ago with injuries and everything that went on. We got a little bit narrow-focused, and I think he'll benefit from that (balance)."
That extends to the outside receivers, running backs and tight ends as well, but Utah State needs more from the slot receivers not named Vaughn this offseason. There's a room of players who look to be up to the task, but it's always easier on paper than it is on the field.
This post is for paying subscribers only