Position Preview: Aggies Hopeful About Revamped Outside Receiving Corps
Next up in the position preview series is the outside wide receiver spots, where a pair of incumbents who impressed in spring ball will try to hold off a trio of transfers: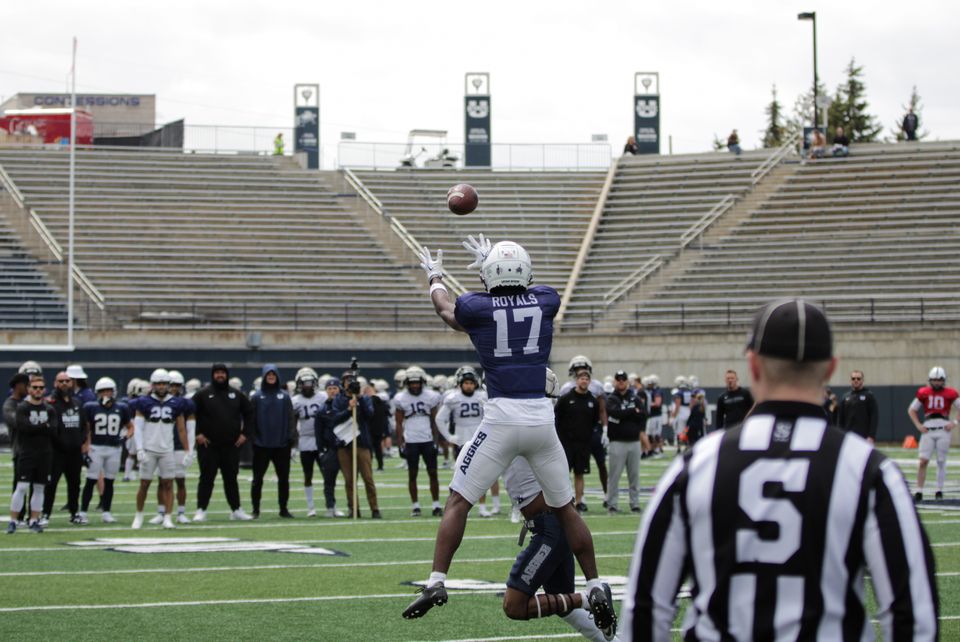 Note: This preview focuses only on Utah State's outside receiver spots. The slot receivers will get their own preview story, for the sake of brevity (ha!).
The metrics, both standard and advanced, did not paint a pretty picture of the Utah State passing attack a season ago. The Aggies placed inside of the top 100 nationally in just two major categories (80th in touchdowns with 18 and 97th in marginal passing explosiveness) while stumbling to brutal finishes elsewhere, from a 107th-place finish in both passing yards per game (195.2) and passing success rate (37.2 percent) all the way down to dead-last in interceptions (21). No matter the stat – yards per attempt (6.4, 111th); passer rating (115.7, 114th); passing play PPA (0.094, 118th) – Utah State found itself on the wrong end of the national leaderboards.
All involved with the program, be it from within or without, don't need all those numbers to know that something (or several somethings, to be more accurate) broke very bad for an aerial attack that had played a huge role in Utah State's run to a Mountain West title the year prior. No facet of the passing game was left blameless.
It was enough to cast Blake Anderson back into a role he has plenty of familiarity with, as the Aggie head coach will pick up where departed OC Anthony Tucker (Indiana) left off and assume play-calling duties this fall. While it is a major change in how Utah State's offense will operate, it isn't new territory for Anderson, who served as an offensive coordinator for nine seasons across several jobs before taking over as Arkansas State's head coach in 2014. It won't be his first time handling those reins as a head coach, either.
"I ran the offense as the head coach and coached the quarterbacks at Arkansas State in 2017 and 2018, and I've been heavily involved with both for my whole career," Anderson said. "It'll be about trusting the guys I'm working with, and having Kyle Cefalo as my co-OC in the box upstairs (is great). We've been together basically 10 years now, we're finishing each other's sentences. We've been together in every aspect of adjusting and tweaking this offense and recruiting basically every piece."
As he commandeers his offense, Anderson is looking to return the Aggies to the kind of wide-open system they used so well in 2021, and away from the 2022 unit that so often seemed to suffer from tunnel vision, locking in on one player or concept and allowing defenses to tee off on it.
"We want to use all of our weapons, use all of the grass, play faster, and we have to change the turnover ratio," Anderson said. "We cannot turn the ball over at the pace that we have and be successful. Not with our roster. The best way for me to impact that was to step in and physically put my hands on it. Hopefully, it'll pay off for us."
That shift will start, of course, behind center with presumed starter Cooper Legas. Where he goes, the offense will follow.
But, Utah State has learned first-hand the importance of receivers within this offense, experiencing both sides of that coin in Anderson's first two seasons at the helm. If the Aggies are going to return to form (or anything close to it), they need a new generation of standout pass catchers to emerge – and in the outside receiver spots, there are a whole lot of candidates to choose from.
This post is for paying subscribers only