Position Preview: At HB, Briggs Seeks Sophomore Breakout
The Utah State football preseason position previews roll on, staying in the offensive backfield and breaking down a talented and wide-open running back room: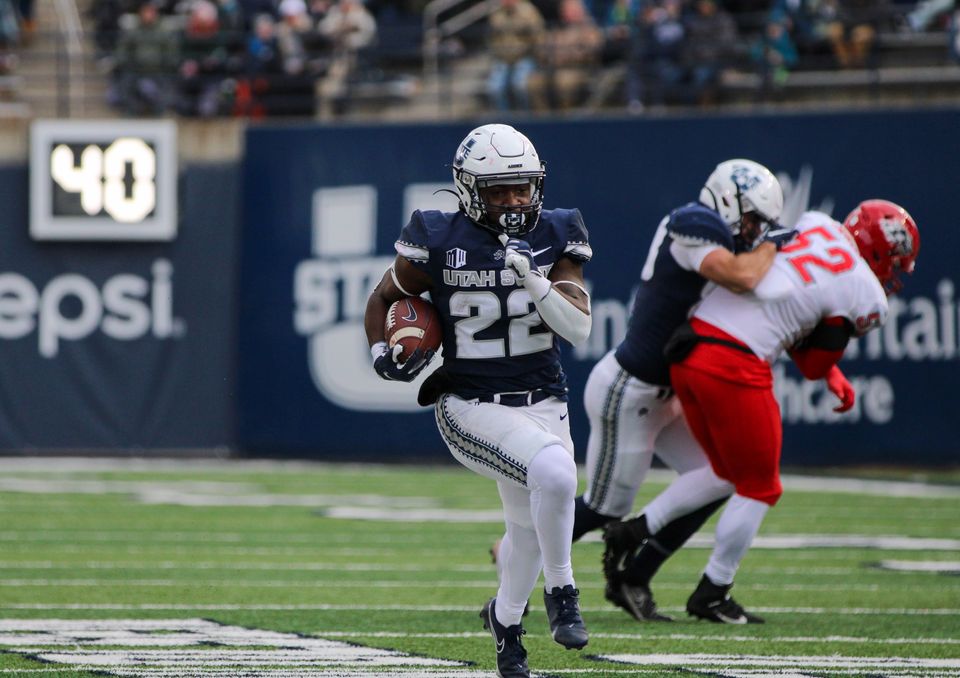 Calvin Tyler Jr. snapped a pair of dry spells in his final season at Utah State, picking up 1,122 yards and seven touchdowns on 253 carries. For the Aggies, Tyler's was the first 1,000-yard rushing season by a tailback since Darwin Thompson racked up 1,044 yards on the ground in 2018 – and the most in a single season since Joey Demartino's huge 2013 campaign (1,221 yards).
For head coach Blake Anderson, Tyler's millennium-mark season was the first his offense had produced in quite some time, back to Michael Gordon (1,068 yards) in 2015 at Arkansas State. Anderson's offense has long focused on spreading the field and involving as many playmakers as possible, marking Tyler's career year as a significant departure. His 253 carries were the most an Anderson tailback has ever received, even going back to his days as a young offensive coordinator at Middle Tennessee State in the early 2000s.
Tyler is surely owed credit for meriting those carries – the rushing attack was often Utah State's best offensive weapon in 2022, and Tyler was terrific across the last two months of the season after a slow start, averaging 92.2 yards on a tick under 20 carries per his last nine games, surpassing 100 yards in five games. But, through no fault of his own, Tyler was not the sole cause of his heavy workload.
With 2021 No. 2 back Elelyon Noa off to Boise State, No. 3 rusher John Gentry sidelined all season with an injury, and No. 4 rusher Pailate Makakona gone to the transfer portal only a few games into the year, Utah State was left with little choice but to feed the Texas native. Quarterback Cooper Legas did some damage with his legs and racked up 108 total carries, while breakout freshman Robert Briggs handled 74 carries to round out the top three, but the former could only sustain so much wear-and-tear while also leading the passing attack, and the latter had his season cut short by a shoulder injury in November. By year's end, Tyler was just about the only tailback the Aggies had left who they felt they could trust.
Though Tyler's skill set and production will be sorely missed after his departure following that graduate senior campaign, the Aggies enter the 2023 season with plenty of confidence in their halfbacks room, thanks in large part to a deeper pool of talent much more reminiscent of Anderson's typical preferences within his system.
"Davon Booth had a great spring, Rahsul Faison came in from Snow (College), and (Briggs and) Cooper Jones are back for another year. It's a much deeper room than it was a year ago," Anderson said. "And, we got two freshmen who just came in, and one of them may do the same thing Briggs did a year ago."
Legas, who will provide plenty of stability alongside the halfback rotation, sees eye-to-eye with his coach on the matter.
"I think this is the best (skill corps) we've had since I've been here," quarterback Legas said. "We have a solid two-deep out wide, a solid three or four in the slot, four really good tight ends and three or four good running backs. Levi and I can both run the offense really well."
The next step for the Aggies, as they prepare for fall camp, is to sort out exactly what they have in their running corps. There's plenty of talent to be excited about, but the head coach isn't ready to name a pecking order, and probably won't be ready until the final days of this fall session.
"I feel good about it," Anderson said. "We need to stay healthy, and I don't know who the first guy is or how it's going to go – that's what will be fun about fall camp."
This post is for paying subscribers only