Trust In Aggie Staff Brought Max Agbonkpolo To Utah State
(Free profile) Trust and honesty brought Max Agbonkpolo (@maxpolo15) to Utah State, where he'll look to make good on the potential that once earned him top billing as a recruit: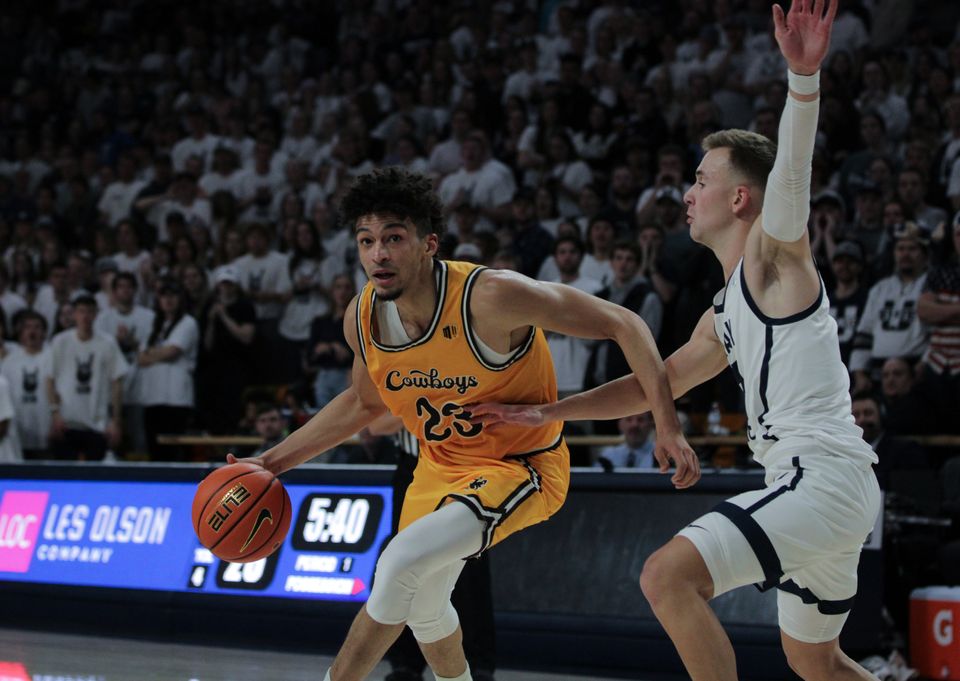 LOGAN – Utah State saw the potential in Max Agbonkpolo before just about anyone else.
It was 2017, just ahead of Agbonkpolo's junior season of high school basketball at Santa Margarita Catholic, and then-Utah State head coach Tim Duryea was doing what he had helped to do for years as an assistant under Stew Morrill – tracking down talented prospects before anyone else knew they were there.
The youngster from southern California caught Utah State's eye over that summer, his slick passing and footwork suggestive more of a guard than a forward who had recently tacked another inch onto his already impressive frame, checking in ahead of the season at 6-8, 180 pounds. He had trained for much of his basketball career as a point guard, but an early high school growth spurt changed those plans – although the skills he had developed as a younger player came in handy for emergency guard play.
When Utah State found him and extended a scholarship offer – his first, as he recounts – he had yet to have any real chance to showcase what he could do. A foot injury had cut short his freshman season, and he hardly played during his sophomore year. Columbia followed Utah State's offer, and then Agbonkpolo took to the court for his junior season, ending the hopes for Duryea's Aggies, Columbia, and just about every other mid-major school.
Michigan, USC and Virginia expressed interest less than a month into the year, with offers not far behind. Arizona, Arizona State, Gonzaga and San Diego State entered the fray shortly after. Utah State's scouting had certainly earned its keep, but Agbonkpolo leaped from No. 203 in 247Sports' national composite rankings to No. 50 in about a year. A diamond in the rough no more, Agbonkpolo signed with the hometown USC Trojans and began his career in the 2019-20 season, appearing in 24 games with one start, averaging 2.5 points and 1.1 rebounds per game.
By his third season with the Trojans, he had established himself within the lineup, appearing in 33 games with 18 starts, averaging 7.7 points and 3.5 rebounds per game. He'd grown another inch and added some much-needed heft, too, standing out as a valuable spark plug and providing lots of defensive versatility.
But, with eyes for the next level, Agbonkpolo entered the transfer portal in search of a place he could shine and landed at Wyoming alongside long-time friends Ethan Anderson and Jake Kyman, joining a 2021-22 NCAA Tournament team that expected to make another trip to the postseason while again competing at the top of the Mountain West.
"I want to go to the NBA, I want to play basketball for a living," Agbonkpolo told the Casper Star-Tribune last season. "So I just felt that it wasn't the best idea for me to stay at USC. I felt that I needed to go to a place where maybe I could have a bigger role and not just be a guy on the side that you could put in sometimes as a Swiss Army Knife. I wanted consistent minutes and coaches that keep my confidence up, too."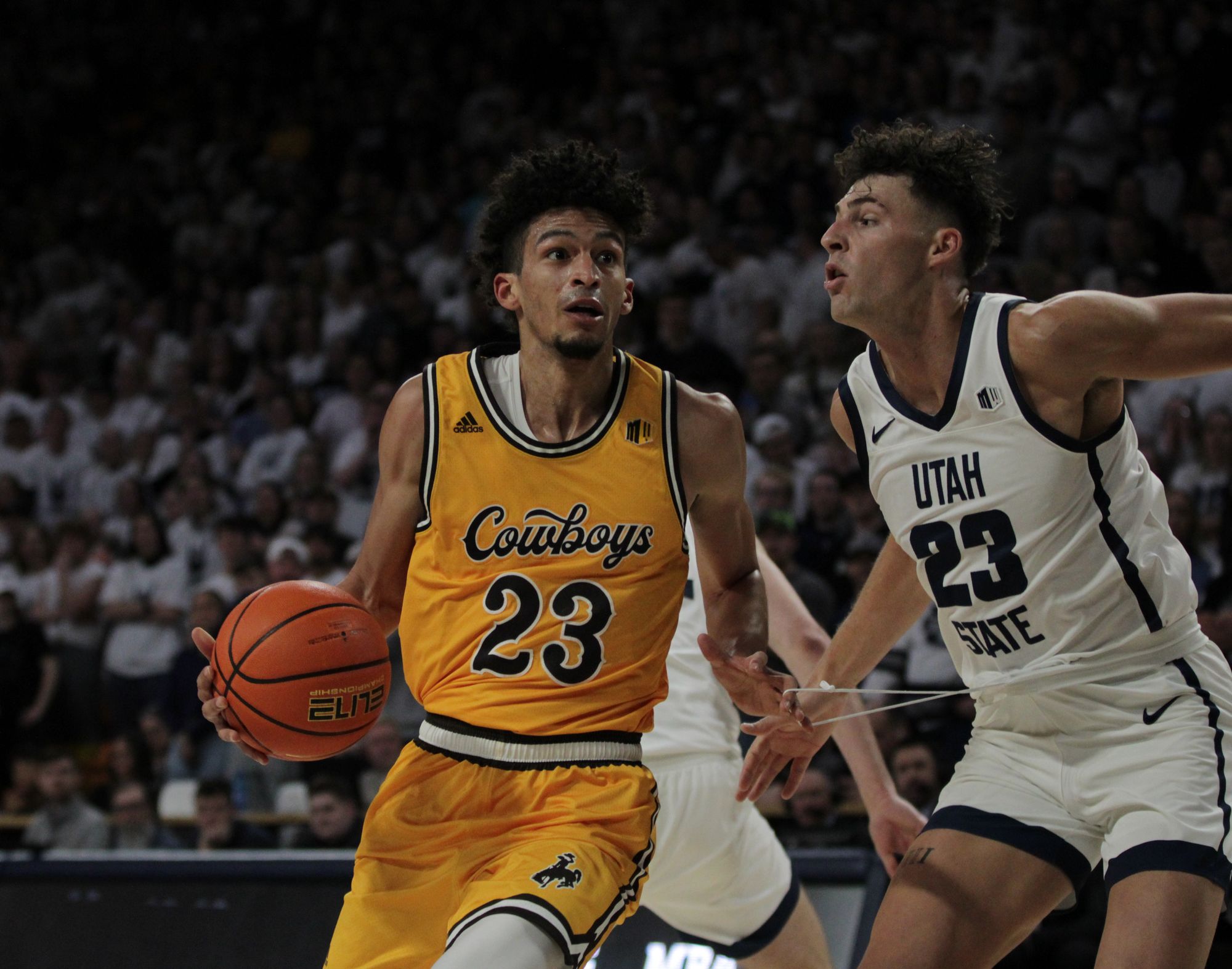 As is plainly apparent, the 2022-23 season did not follow the route anyone at Wyoming hoped for. Star center Graham Ike never suited up after suffering a preseason injury setback, the Pokes struggled from the start of the season, and amid an eight-game losing streak, all three of those transfers re-entered the portal. Agbonkpolo's season ended after 16 games, having seen just about all of his statistics dip from that encouraging junior season at USC.
Back in the portal for one last time ahead of his final season of college basketball, Agbonkpolo no longer had the luxury of time. He has a frame and skillset the NBA could be easily enamored with – recruiting ranks are a pretty good reflection of raw athletic potential, and Agbonkpolo still has it in spades – but his resume is sparse, and his short stint at Wyoming didn't exactly pad it out. The 6-9 graduate senior needed a coach he could trust, and more importantly, he needed a coach who trusts him.
When Danny Sprinkle and his staff first reached out to the former Cowboy, they were still operating out of Bozeman, fresh off a second-straight Big Sky championship and in need of a replacement for dynamic wing Caleb Fuller, a graduating senior who had played a major role in making Montana State's the fiercest defense in the league. Agbonkpolo fit the billing, and Sprinkle's pitch struck a nerve. Sprinkle's no-nonsense recruiting and switch-heavy defense was the match he had been looking for.
"Coming here out of Wyoming, it was definitely the coaching staff," Agbonkpolo told The Aggship. "They were recruiting me out of Bozeman when he was still there, and I just fell in love with the coaching staff. I really felt like they trusted me, and that it was a staff I could get better with and heighten my hopes for the NBA.
"I think it's (a) perfect (system) for me. I can switch one through four, and being able to switch multiple positions will help our defense tremendously. We have the ability to be a very, very good defensive team. I'm looking forward to it."
When Sprinkle took on the same role at Utah State, replacing Ryan Odom after his departure for VCU and bringing his entire Montana State coaching staff with him, they made it clear to Agbonkpolo that his offer was still on the table – and that now, he'd have the chance to extend his time in the Mountain West, making the trek from Laramie to Logan. On April 27, Agbonkpolo announced that he'd finish his collegiate career as an Aggie.
"For me, being around so many coaches in college, it's hard to find a truthful coach who is going to tell you what it is," Agbonkpolo said. "With coach Sprinkle, I felt like he told me everything I needed to hear. He told me the stuff I needed to work on and the stuff that I was good at. He wasn't just telling me the things I wanted to hear, he told me everything for truth. That's something I need at this point in my career to make the next level."
With summer workouts underway and Agbonkpolo settled in his new home, the focus now shifts to those hard truths that drew the forward to Sprinkle's program. His defensive prowess is strong, but he has the athleticism and the basketball intelligence to be even better – maybe even an all-conference defender, if the season breaks right. Offensively, Agbonkpolo has flashed his ability as both a ball-handler and a scorer, but he's yet to put it together into a complete and consistent package.
"I'm a pretty good defender, but I really want to be a real lockdown defender this year," Agbonkpolo said. "And then I'm working too on my ball handling and my shooting percentage – I want to get that up. If I get those three things, I think I have a really good chance of making it to the next level."
Before he can find himself vying for the attention of NBA scouts, though, Agbonkpolo will have to prove Sprinkle's optimism correct. And this time – much to his delight – he'll be doing it under a staff that believes in him, in front of a home crowd that already made quite the impression when he made his first trip to Logan, back when he was still suiting up for the Pokes.
"It was one of the top three crowds I've ever played against, up there with Arizona and UCLA," Agbonkpolo said. "All I've heard is great things about this crowd, that they show up every game and they're always going to be on your side, no matter the ups and downs. I remember when I played here, you could barely hear the person right next to you, even on the bench. The crowd is amazing here and I'm ready for them to be on my side this time."