Position Preview: Legas Leads The Signal-Callers
Preseason position previews have arrived, starting with a (free for all) look at incumbent starter Cooper Legas and the Utah State quarterbacks: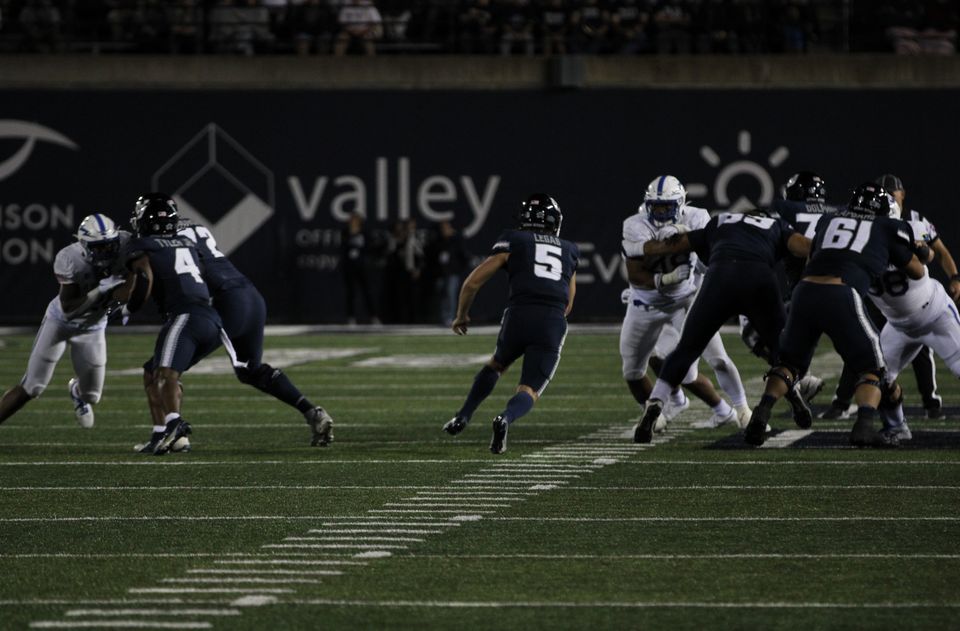 Logan Bonner's debut season at Utah State was always going to be a tough act to follow. The veteran quarterback followed head coach Blake Anderson from Arkansas State to Logan and put on a show over 14 games, racking up 3,628 yards and 36 touchdowns through the air and settling perfectly into a groove with star receivers Brandon Bowling, Deven Thompkins and Derek Wright in a wide-open offense. The Aggies won 11 games, the Mountain West and the LA Bowl, while Bonner set school records for passing yards and passing touchdowns in a single season.
That would have been difficult to replicate (or surpass) even under ideal circumstances, and very little about Utah State's 2022 season would fit those qualifications. Without that dominant receiving triumvirate, the Aggie passing attack crumbled. Replacements Brian Cobbs, Justin McGriff, Kyle Van Leeuwen and Terrell Vaughn all had their moments (Cobbs and Vaughn emerged as very strong contributors by season's end), but they weren't fits for a system so dependent on speed to win one-on-one matchups.
Plays took longer to develop, and with Bonner playing on a rehabbed knee he didn't totally trust behind a revamped offensive line, the huge vertical passing plays of 2021 ceded to sacks and turnovers in 2022. After a solid debut against UConn, Bonner and the Aggies were blanked by Alabama and dominated by FCS Weber State in consecutive weeks – the latter instigating calls for backup quarterback Cooper Legas among the Aggie faithful, as Bonner completed just 12 of 31 passes and threw three interceptions.
Those calls grew much louder when he tossed five more picks against UNLV a week later, but a late-game re-aggravation of that knee injury put an end to the discussion before Anderson had to make a call on either sticking with his limited veteran or experimenting with a new signal-caller. Bonner's sixth and final season in college football ended after just four games – a stunning fiasco that would successfully foreshadow a year filled with turmoil on and off the field for Anderson's Aggies.
As is typically the case with seasons like the one Utah State just endured, last fall launched a litany of changes within the program, from widespread change to the coaching staff to a huge exodus (and ensuing mass arrival) of players to the transfer portal.
Though the Aggies do have continuity behind center as they enter fall camp, the passing attack is expected to take on a very different form this season. Anderson is back at the helm as an offensive play caller, a role he's tremendously familiar with going back to his days as offensive coordinator for Middle Tennessee State (2002-04), Louisiana (2007), Southern Miss (2010-11) and North Carolina (2012-13). He's accompanied by long-time assistant Kyle Cefalo, who added co-offensive coordinating responsibilities onto his role as Utah State's wide receivers coach this offseason.
As Anderson looks to take his offense back to its roots, Utah State hopes to have built a personnel grouping suited for the system, adding a talented transfer class of receivers and halfbacks to flesh out the skill corps. But, every offense must start with a quarterback, and The Aggship's 2023 fall position preview series will adhere to those same rules, opening with a look at the five-man room at the helm of Utah State's offense.
---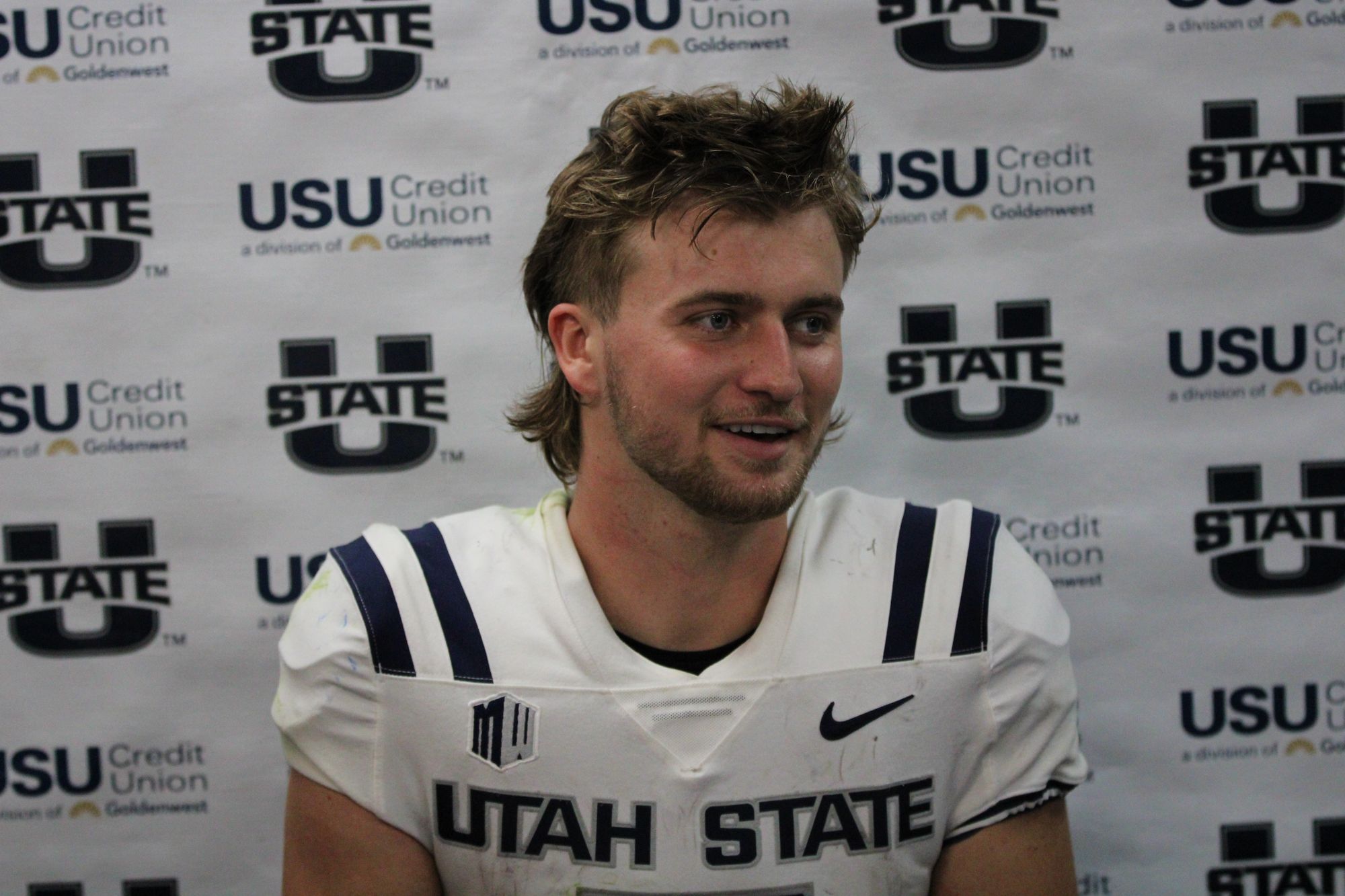 No. 5 Cooper Legas, 6-1, 215, Sr.
This was supposed to be the season for Cooper Legas' arrival as Utah State's starting quarterback and offensive leader. The Orem, UT native served as the No. 3 quarterback for the 2021 Aggies – famously stepping into the spotlight in the LA Bowl with both Bonner and backup Andrew Peasley sidelined, launching a 62-yard touchdown pass on his first collegiate throw – and moved into Peasley's vacated No. 2 spot ahead of the 2022 season after winning an offseason battle with Wyoming transfer Levi Williams.
Given Bonner's status as Utah State's most prolific single-season passer, it appeared overwhelmingly unlikely that Legas was due for anything but a season as the first man off the bench behind center in case of emergency. He logged garbage time reps against Alabama and Weber State, completing 7 of 17 passes for 40 yards with an interception and flashing his athleticism with 20 yards on seven carries, and while he started to draw buzz from fans as Bonner continued to struggle, Legas' entry to the starting lineup had to be seen before it could be fully believed.
And in week five, against his hometown BYU Cougars, Legas' debut came due. A storybook start it wasn't – the Aggies rushed out to a 17-14 lead but were outscored 24-3 over the next 34 minutes before finding a late consolation touchdown, falling 38-26 – but the junior signal-caller provided plenty of cause for optimism. Though he was twice intercepted, he completed 19 of 31 passes for 199 yards and two scores, rushing for another touchdown amid 20 carries for 52 yards.
"I thought Coop did a great job, he prepared all week exactly the way we asked him to," Anderson said at the time. "He's been ready for this opportunity and he did enough to help us win the game tonight."
That's right around the area Legas settled into over the final two months of the season. He completed 62.8 percent of his passes as a starter (128 of 204) for 1,459 yards (182.4 per game), 11 touchdowns and eight interceptions while racking up 382 rushing yards on 68 carries (47.8 yards per game) when removing sacks. Injuries ended his appearances against Colorado State and Memphis prematurely, but when healthy, Legas was generally a positive piece of the Aggie offense. That was enough to position him as the starter heading into spring practice, and he's done nothing since to slip from that spot.
"It's Coop's job to lose," Anderson said in an April interview with Scott Garrard and Hans Olsen. "It was going into the spring, and he didn't really do anything to lose it."
What the Aggies would really like to see from their incumbent starter (one of nine such QBs in the MWC) is a continuation of his last three regular-season games of the 2022 campaign. He still turned the ball over and took sacks too often (four INTs and eight sacks), both of which are focal points this offseason, but he also averaged 262.7 yards per game against Hawaii, San Jose State and Boise State and handled a higher volume of attempts (99) with relative comfort. In what should be a friendlier offense this fall, Utah State needs Legas to emerge as one of the Mountain West's best quarterbacks.
"I think I was starting to really pick it up at the end of the year," Legas told The Aggship. "Looking back after the season, I just need to protect the ball. I don't have to always make a big play. As long as we get positive plays and protect the ball, we'll win a lot of games.
"I think coach Anderson has done a really good job of getting everyone on the same page so that we can really move fast, like we tried to do last year. It allows us to move on from our progressions as quarterbacks so that we're not just hanging on one guy and forcing balls. I think that's what made us throw a lot of picks last year, just hanging on one guy too long. With this offense and coach Anderson calling it, we've been able to just breeze through the progressions and really hit the open guys."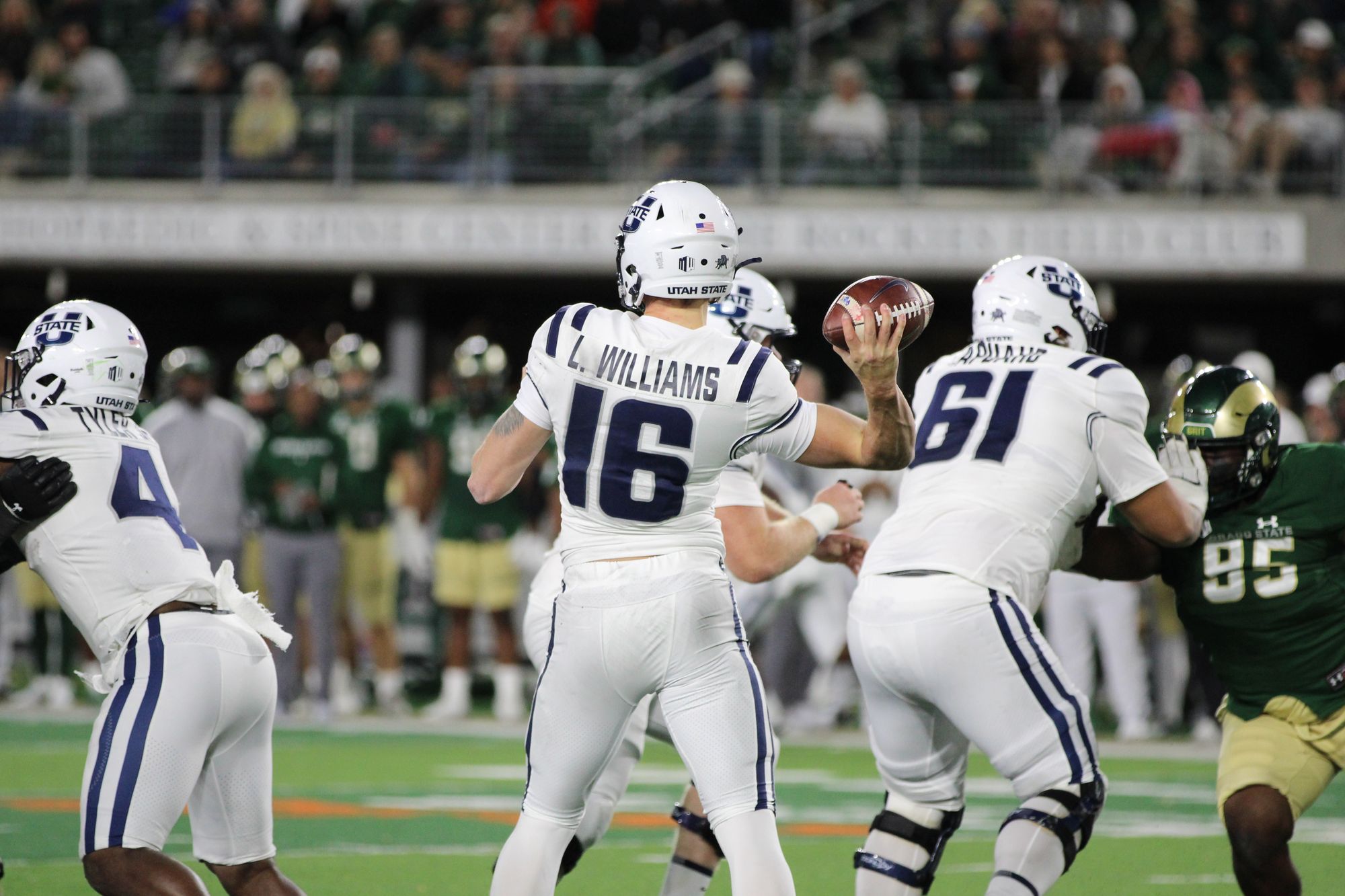 No. 16 Levi Williams, 6-5, 230, Jr.
Legas isn't likely to surrender his starting role, but Williams certainly won't make it easy on him. A former starter at Wyoming who transferred to Utah State last offseason, Williams is one of the most experienced backups in the conference – and one of the most physically gifted passers the league has to offer.
Standing 6-5 and touting tremendous athletic ability, Williams is a quarterback coach's dream. He has a huge arm, routinely ripping vertical shots without breaking a sweat and generating enough velocity on intermediate throws to all but burn a hole through his receiver's gloves.
Of course, that kind of raw ability must be controlled to bring value to a football team, and Williams has had trouble finding that control and consistency throughout his career. Plus, his health has not always agreed with him. A sprained ankle impacted much of his first season with the Aggies.
Things finally look to be coming together for the junior from Canyon Lake, Texas. After contributing only sparsely as a backup last fall, he impressed this spring with that outstanding arm strength, and showed off the kind of reliability that has held him back for much of his collegiate career, earning praise from his coach in the process.
"Levi did a great job of developing and getting better, but he did not overtake Coop by any means," Anderson added in that radio interview. "I think Levi is going to try to make (the battle) very uncomfortable and close that gap."
That may not be enough to wrest the job away from Legas this season, but it does give the Aggies quite the insurance policy – which is a big deal with a starter who likes to scramble as much as Legas does. There's no predicting injuries, but college football programs always prefer to be over-prepared, and Williams offers Utah State a tremendous option behind center if Legas is sidelined for any period this fall. He'd start for about half of the teams in this conference, and the Aggies are thrilled to have him in their No. 2 role.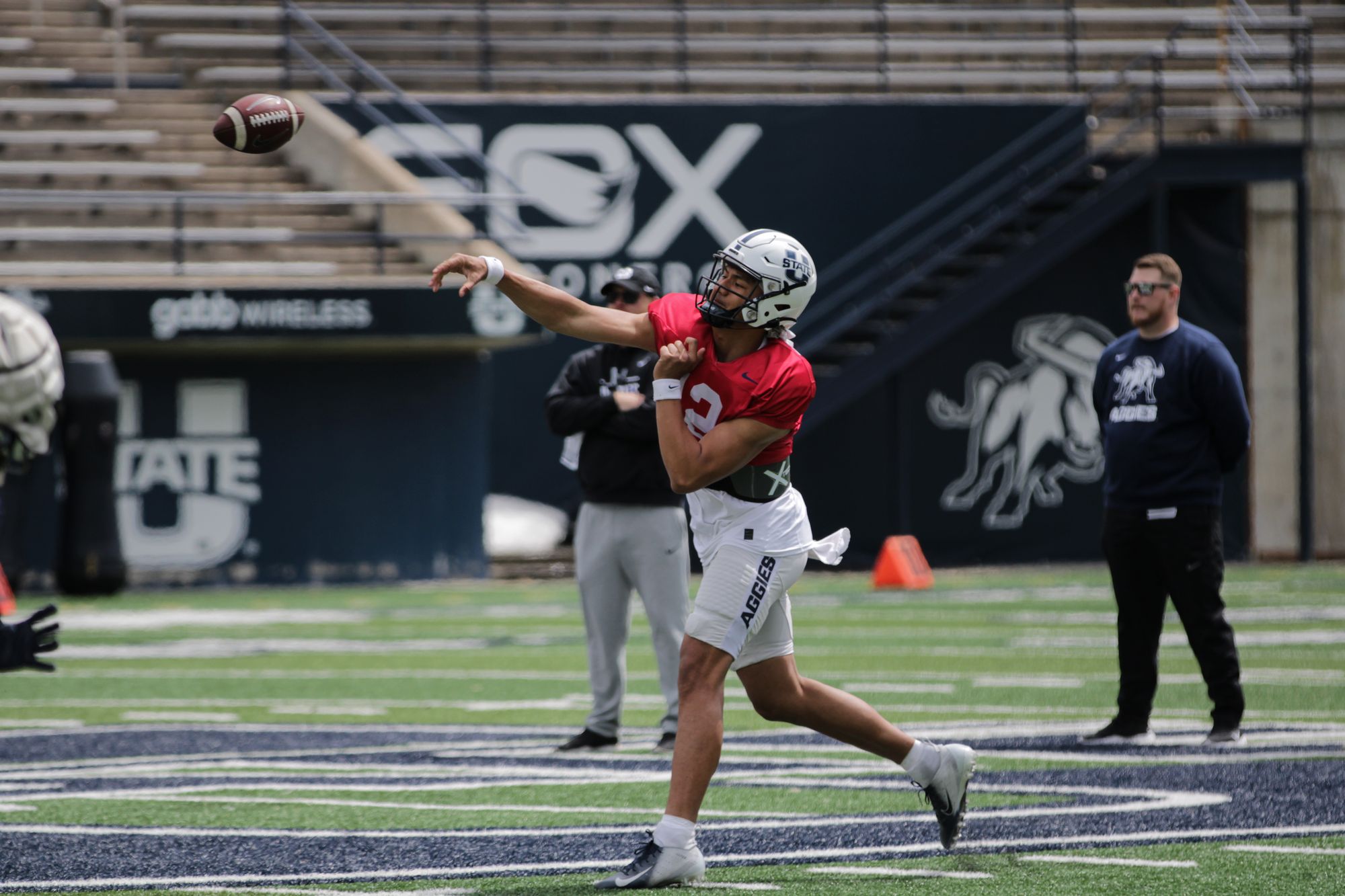 No. 12 Chase Tuatagaloa, 6-4, 215, R-Fr.
Another big-bodied signal-caller with arm talent to spare and work still to do in getting all that strength under control, Tuatagaloa was pushed into the No. 3 QB spot essentially by default this spring when classmate and 2022 contributor Bishop Davenport announced his entrance to the transfer portal. With Davenport now at South Alabama, Tuatagaloa is the natural pick as the next man up on the roster.
A product of Orem HS who eventually took over the quarterback spot vacated by Legas when he graduated after the 2018 season, Tuatagaloa earned a scholarship offer from the Aggies not just for his ability as a quarterback, but for his athleticism and versatility. Before earning the starting job behind center for the Tigers as a senior in 2021, Tuatagaloa was an intriguing tight end, biding his time behind Micah Fe'a in 2019 and 2020 and picking up his USU offer before breaking onto the scene as a senior.
Once he did take over, he justified Utah State's interest, completing 63.2 percent of his passes for 1,683 yards and 17 touchdowns with only six interceptions while rushing for another 222 yards on 45 carries, leading the Tigers to the state semifinals.
While Utah State is plenty excited about Tuatagaloa's long-term prospects, this season will be about development, just as his redshirt campaign was last fall. The Aggies never want to be relying on their third-string quarterback (although it sure does seem to happen a lot), and would prefer to spend this year building Tuatagaloa's knowledge of the offense and working on accuracy and timing to go with that big arm. He's a good enough athlete that he could probably handle himself on the field in an emergency scenario, and that's really all Utah State needs from its No. 3 quarterback.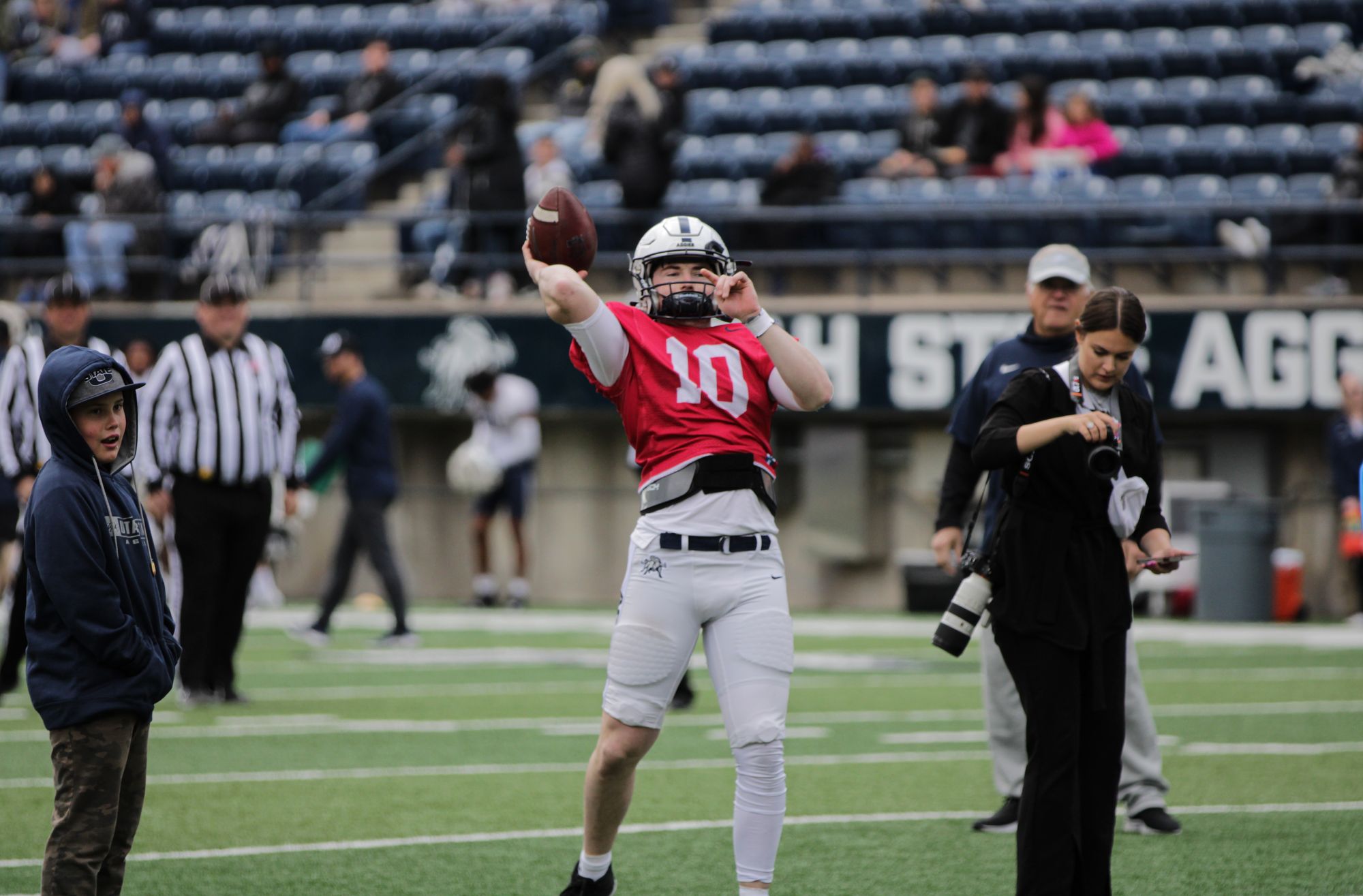 No. 10 McCae Hillstead, 5-10, 185, Fr.
The lone quarterback in Utah State's 2023 signing class when it originally came on board in February (the Aggies added a late transfer who we'll get to in a moment), McCae Hillstead arrived in Logan with plenty of experience behind center. A three-year starter at Skyridge HS in Lehi, UT, who led the Falcons to a state title as a senior, Hillstead already has more than 800 career passes under his belt, completing 491 of 816 attempts (60.2 percent) over his three seasons at the helm.
Though he missed six games of his final season at the high school level with an injury, he still ended his career as one of the state's most prolific passers, racking up 6,897 yards and 74 touchdowns with just 22 interceptions and rushing for another 35 scores and 1,807 yards on 325 carries.
That was more than enough to earn Utah State's attention and the attention of quite a few other schools (including Pac-12 stalwart Washington State) despite his slight frame (5-10, 185 pounds), and the Aggies were thrilled to hold onto his pledge down the stretch run of the 2023 signing class, bringing him into the program as an early signee in January.
It's hard to bet against all that experience and proven talent in the long run, especially when you pair it with a quarterbacks coach like Anderson and an offense that's so perfectly suited to Hillstead's skill set. He turned heads in spring camp and could position himself as Utah State's quarterback of the future if he develops correctly this season... but, he'll be doing that as a redshirt unless something truly disastrous happens ahead of him on the depth chart.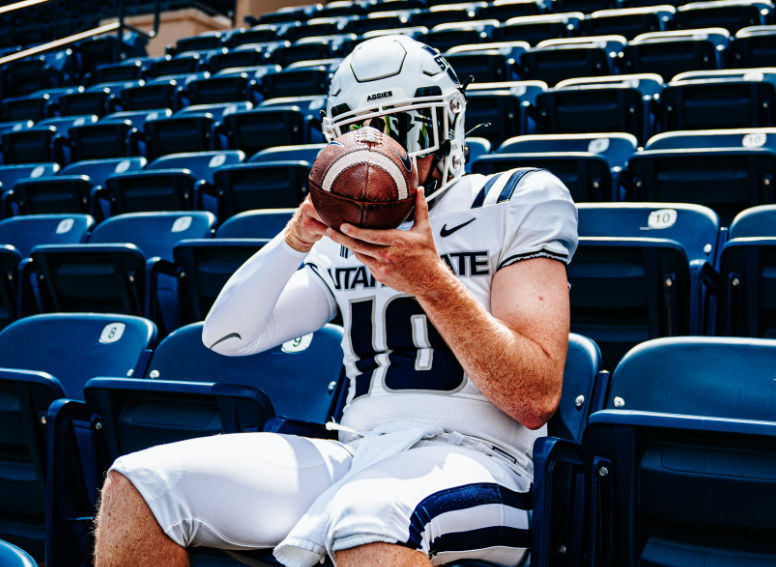 No. TBA Zeke Payne, 6-1, 195, R-So.
The Aggies wanted a backup with a bit of experience to plug into the scholarship spot vacated by Davenport, and it found a suitable fit late in the recruiting process, picking up a commitment from New Mexico Highlands quarterback Zeke Payne, a San Diego native who made three appearances for the DII Cowboys and entered the transfer portal back in February.
Though his 2022 season didn't offer much to look at, as he completed just 18 of 33 passes for 373 yards and two scores, the Aggies are probably a bit more interested in the 2021 campaign that ultimately landed Payne at New Mexico Highlands. He starred for JUCO Palomar College as a freshman in 2021, running up 2,795 yards and 26 touchdowns with just four interceptions while completing 56.7 percent of his passes. That offense has a lot in common with Utah State's, and the Aggies saw enough mastery of that system in Payne's tape to take a chance on him.
"I believe the offense we are running will fit extremely well into my skillset," Payne told The Herald Journal. "I love Logan as a place with all the nature and outdoor activities that are possible. The student population is one that I believed was perfect for me – not too big or too small. And the biggest thing was just the opportunity to get my four-year degree from a place like USU."
For right now, though, Payne is little more than a depth piece. If the Aggies want to protect Hillstead (or Tuatagaloa, depending on how far along his development is), they get a player in Payne who has taken collegiate snaps before and knows how to operate within their offense. He isn't an especially viable runner and his arm is merely decent, but he processes defenses well and he should be able to keep things moving in the right direction if he's forced into action. That's all the Aggies needed for that fifth and final scholarship spot, and that's exactly what they found with the DII transfer. If he can provide anything more than that (this year or moving forward), it'll be a very nice boost.