Position Preview: Motes Provides Crucial Experience At Tackle
Utah State returns a de facto starter in Cole Motes, but the Aggies are replacing both starting offensive tackles for the first time in a long time this fall. Which players are ready to step up?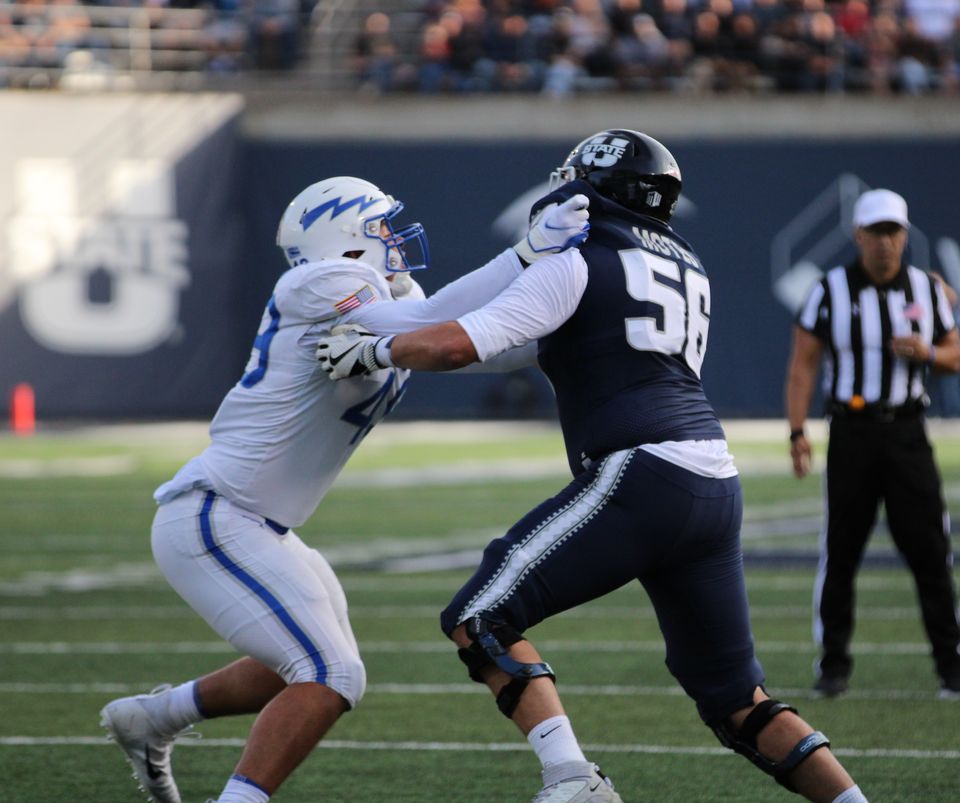 For the first time in well over a decade, Utah State has a pair of starting tackles to replace on its offensive line this fall. It's a major task for first-year offensive line coach Cooper Bassett, who arrived in Logan this spring by way of Sam Houston State, but it's also a mark of Utah State's incredible continuity at the anchor spots in the offensive trenches during the modern era of Aggie football – which, for the purposes of this sentiment, we'll say began when Gary Andersen came to town.
The list of incumbent starters at the tackle spots is long and storied. Spencer Johnson led the way in 2009 and 2010; Eric Schultz made himself known in 2010 and was a stalwart member of the line through the 2013 season; Oscar Molina-Sanchez took on starting duties in 2011 and returned in 2012, only to have that season cut well short, making room for Kevin Whimpey, kicking off his three-year starting tenure. Whimpey helped to bring along Jake Simonich in 2014, and Simonich returned the favor in 2015 with new starter Austin Albrecht. Both returned in 2016, but Simonich spent much of the season at guard, making room for Preston Brooksby in the starting rotation.
The 2017 season is really the closest the Aggies have come to lacking an incumbent starter since 2009, as Brooksby returned but struggled to stay on the field, ceding to a pair of new starters in Roman Andrus and Sean Taylor. The latter stayed in place at right tackle in 2018, but the Aggies again made room for a new starter by moving Andrus inside to guard, clearing a path for Alfred Edwards III – one of the most prolific ironman tackles in program history, who on his own provided Utah State with returning starting experience at left tackle in 2019, 2020, 2021 and 2022, ending his career with a program-best 53 starts in 55 appearances.
Edwards saw his share of co-starters, but his primary running mate for these last four seasons was Jacob South, who logged 1,816 snaps and made 25 starts from 2019-22. And, like Edwards, South's Utah State came to a close this past season, leaving Utah State with the pair of vacancies at tackle that it now must fill heading into 2023.
There are plenty of options to choose from – more, head coach Blake Anderson says, than the Aggies had a year ago – but the task at hand is still a big one for Bassett and the Utah State offensive coaching staff.
"We've added more depth there, there are more guys to pull from," Anderson said. "We brought in two transfers, big Ralph (Frias) and (Aloai'i) Maui both up front. As I look, there are more bodies to choose from, but there's less experience. The offensive line is deeper... but inexperienced. I'd like to think we can make it simple enough for them to get the best out of that group, and have eight or nine guys who could play in that rotation somewhere.
"We also have to find a starting five – or a starting six – at some point. That's important, and that's part of what Cooper is going to really have to focus on during fall camp. What's our starting lineup? Who is our first lineman off the bench? Who is our first tackle, first guard and next center? If you can get eight who you feel really good about, and I think that's possible, we'd be in a pretty good place."
The same can be said, and has been said, about much of this Utah State roster. After a 2022 season that saw the Aggies hit as hard by injuries as any other team in America, they've opted this season to bolster this team with more players who can hold up to the MWC physically, at the expense of playing experience – specifically at Utah State, but also in general at the collegiate level.
"I feel like we've impacted every position on the roster with more depth and more available bodies by going the JUCO route and the four-year school route," Anderson said. "We tried to make a premium of two and three years of eligibility (with JUCO signees and transfers), and we tried to stay away from the one-year guys – although there are a couple. There are more bodies that potentially could impact our team this fall than we had a year ago. They just haven't played for us, and they haven't played much.
"That is where all the uncertainty comes from. Is it going to take a year to get them all on the same page, and we'll be really good a year from now, or can we speed the learning curve up and be competitive immediately? That's what we saw in 2021, that team grew up so fast. Last year's team struggled through that process, and every team is different."
As Utah State continues to work its way through fall camp, the expectation internally is that the players who deserve to be part of that offensive line rotation will establish themselves accordingly. At tackle, where the Aggies bring back only last year's first-off-the-bench pick, the battle for the top three is still wide open.
This post is for paying subscribers only