Diamond Shines With A Brace In Debut
Behind a stellar debut from freshman Summer Diamond, Utah State soccer opened its season with a 5-1 victory over Weber State. From @ususzn: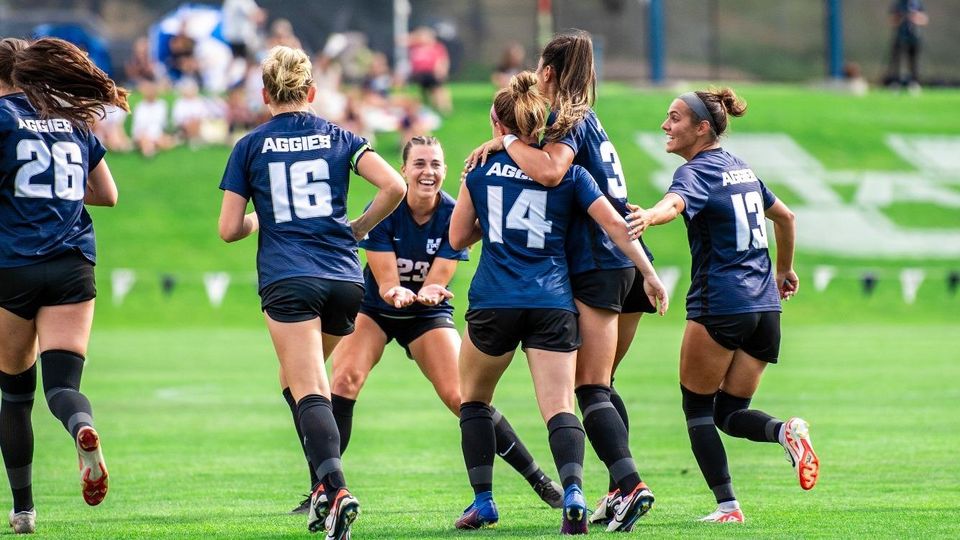 Note: This is a guest-written article from Zach Boyd, who covers Utah State Olympic sports for The Aggship.
LOGAN – The anticipation was building as Utah State took to the Bell for their season opener against Weber State, and with the stage set for an exciting matchup, the Aggies did not disappoint. Headlined by a standout performance from freshman midfielder Summer Diamond, Utah State clinched a resounding 5-1 victory.
Just 3:13 into the game, Diamond set the tone for the affair, striking a well-executed corner kick that, after a chaotic pinball bounce, found the bottom of the crossbar and inched over the goalline, giving Utah State an early 1-0 advantage over the Wildcats of Ogden – her hometown team, as a product of nearby Bonneville High School. Diamond's illustrious high school career was marked by her incredible goal-scoring ability and leadership, as she guided her team to three-consecutive regional championships.
The Aggies struck again not long after their quick start, this time with a beautiful penalty kick by senior London Miller at the 25:45 mark. A local standout from Ridgeline HS, Miller showed off her precision and finesse from the spot, putting the Aggies up 2-0 with a right-footed shot to the bottom-left corner.
Weber State would not leave the first half scoreless, as Mikayla Topaum scored an impressive header at the 31:40 mark – a goal that could breathe some life back into the Cats, though the Aggies were still up 2-1.
At least, until Diamond decided she wasn't done scoring, burying another goal off a long and precise pass from senior defender Kelsey Kaufusi in the 39th minute of the first half. A brace, for reference, is when a player scores exactly two goals in a single match. Any feat that has its own terminology is usually hard to come by, and according to Utah State Athletics, Diamond became the first Aggie ever to do so in a season opener – and, of course, she did it as a true freshman.
"It was awesome getting a win in our first game," Diamond said after the game. "We came out strong and were encouraging each other the whole game. There are obviously things we need to work on, but for our first game, this was not too bad, and we're super happy about the turnout.
"I can't get a brace without my team. They set me up in those positions… It's so technical in college, and the jump from (high school) is huge. I have great teammates and a great coaching staff. They helped me so much getting ready for this fall."
The Aggies took their 3-1 lead into the break and never looked back. It was more of the same in the first minute of the second half, as junior forward Tenzi Knowles got right to work off a touch pass from sophomore midfielder Kaylie Chambers. Knowles was surrounded by four Wildcat defenders but found the space she needed to crush the ball into the back right of the net from just outside of the box, growing Utah State's lead to three goals, 4-1.
Utah State would all but seal the fate of its in-state rivals in the 66th minute, as sophomore midfielder Kaitlyn Richins slashed through the Wildcat defense and sent a beautiful ball across the box to another talented freshman, Abby Schofield, who only had to tap her shot into a now-empty net. They closed out the game with a clean stanza defensively, surrendering only two shots in the final 23 minutes of play and securing the comfortable victory.
"It's a good start to the season – we haven't won an opener in five or six years, so it was good to start on the right foot," head coach Manny Martins said. "It shows a little bit of our identity. It's great whenever you score five goals, especially with three of those goals coming from freshmen.
"It's been a thing with us for a couple of years that we've been really strong defensively, but couldn't always put away our chances. Today, to score five goals – and we conceded one, so we'll have to go back and clean that up, and there are some other things to clean up, but overall it's a great start."
For the Aggies, it's a much-needed statement win after an offseason of change, led by the departure of longtime assistant Jessica Evanson, who stepped away from coaching earlier this year. Martins added two new coaches to the locker room in his place, bringing in Ashley Cardozo – a former Aggie standout and program record-holder who added a layer of continuity and experience to the coaching staff – and Michele Dalton, who touts some prestigious coaching experience. A former goaltender at Wisconsin, Dalton spent the 2022 season at Kentucky, where she specialized in goalkeeping, as she had during a two-year stint at Western Kentucky.
Utah State is hopeful that its new-look staff will translate to on-the-pitch success, entering this season fifth in the Mountain West preseason coaches poll with sights set on higher aspirations. If game one is any indication, those hopes are plenty reasonable. Next up, the Aggies look to carry over their momentum and confidence into another home bout, this time against No. 21 Saint Louis on Aug. 20, at 1 p.m. local time.