USU Soccer: Finding Reasons For Optimism Amid A Rough Patch
Even amid a three-game losing streak, there's cause for optimism around Utah State soccer, bolstered by a defense that looks ready for big moments. From @ZachB0yd: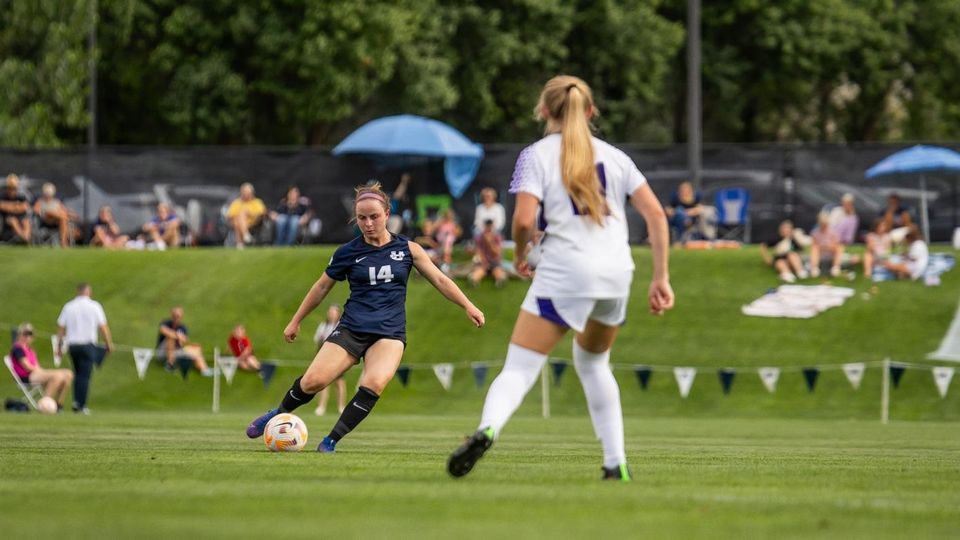 Note: This is a guest-written article from Zach Boyd, who covers Utah State Olympic sports for The Aggship.
LOGAN – Do me a favor, and don't look at USU soccer's record. I guarantee it's not as bad as it may seem.
In fact, judging by the play thus far despite a 1-3 start, this Aggie squad looks as well-positioned as it has in several years, especially as it gets to conference play. Albeit, four games is hardly a suitable sample size, but it's important to look at some stats to put this early season slump into perspective.
After their 5-1 season-opening win over Weber State, the Aggies have been on a bit of a slide, racking up three consecutive losses to No. 23 Saint Louis, Utah and most recently Texas Tech – all of which have gotten the better of USU by holding it scoreless.
Consider the context. Utah State has faced a Utah team ranked in the top 25 nationally for save percentage (t-23rd, 92.3 percent); a Saint Louis team that's top 25 in assists (t-21st, 3.0 per game), total points per game (t-10th, 11.0) and just outside the top 25 in shot accuracy (26th, 59.7 percent); and finally a Texas Tech team that also boasts a top 25 standing in assists (t-3rd, 4.5), total points per game (t-10th, 11.0), and the No. 1 goal scorer in America, Ashleigh Williams (seven goals in four games.
Utah State cares more about wins than any of those numbers, and wins have been hard to come by for an Aggie team that is rebuilding, but these games have not been without bright spots.
Chiefly, this Aggie defense looks to have what it takes to carry the team past this streak of losses, having managed to hold that trio of elite offenses well below their normal output. Saint Louis, averaging four goals per game, registered just a pair against the Aggies, and both came on beautifully executed corner kick set pieces, cracking the otherwise lockdown Utah State defense.
"This was a tough match. I thought we didn't play well in the first half, I thought we had some nervous energy," said Utah State head coach Manny Martins. "I thought we had a different attitude in the second half, we came out a lot stronger and showed more of our identity. We conceded two goals on set pieces, so that's disappointing, but this is a team that was 20-2 last year, returning everyone. They're probably again going to be one of the best teams in the country and I thought we held our own well and the future is promising."
The ensuing 1-0 home loss to the Utes (averaging 1.8 goals per game) was a heartbreaker as the Aggie offense struggled to find its rhythm, missing several missed cues and facing chemistry issues that have dogged this opening stanza of play. Even in the loss, Utah State's stout defensive leader Diera Walton became Utah State's all-time career saves leader with No. 274 in the 48th minute.
"I'm really proud of the performance of our girls, they created some good chances," said Martins. "Utah did a pretty good job of diffusing some of those chances, but our girls kept their heads up, they battled, and I couldn't be more proud of their performance. Their performance deserved more than what we got today."
The offense's struggles continued in the subsequent match against Williams and Texas Tech and ended with a season-high three goals conceded to the Red Raiders. Nevertheless, that was again below TTU's season average (3.3 goals per game) and once again portends well for forthcoming bouts against more evenly-matched opponents.
Of course, that can only mean so much without the offense on board. As they prepare to take on South Dakota State this Friday, the Aggies are in dire need of a breakthrough from this offensive slump, both as a means to keep in games and as a semblance of support for their defensive efforts.
These last three matches against physically imposing teams have exposed a notable weakness for the offense, and the key to winning against South Dakota State lies in the team's ability to transform those vulnerabilities into strengths. Utah State is not an especially big team, and the agility and grit of this scoring unit could prove the defining factor of the season. With a bit more cohesion during this week's practice, the Aggies are optimistic about their chance to deliver an impressive performance and kick off the new school year.
Ultimately, while recent losses have raised concerns among fans, Utah State's potential is, as it has been, great. The Aggies have a defense ready to compete at the top of the Mountain West, and an offense loaded still with raw talent. Unlocking that group is the key to finding success entering the back half of non-conference play and beyond.