Preview: Vaunted Iowa Defense, Home Crowd Awaits Aggies In Debut
Around this time tomorrow, Utah State will be finding its way onto the field, preparing to open the 2023 season at Iowa. Get to know the Hawkeyes with an ~extensive~ game preview: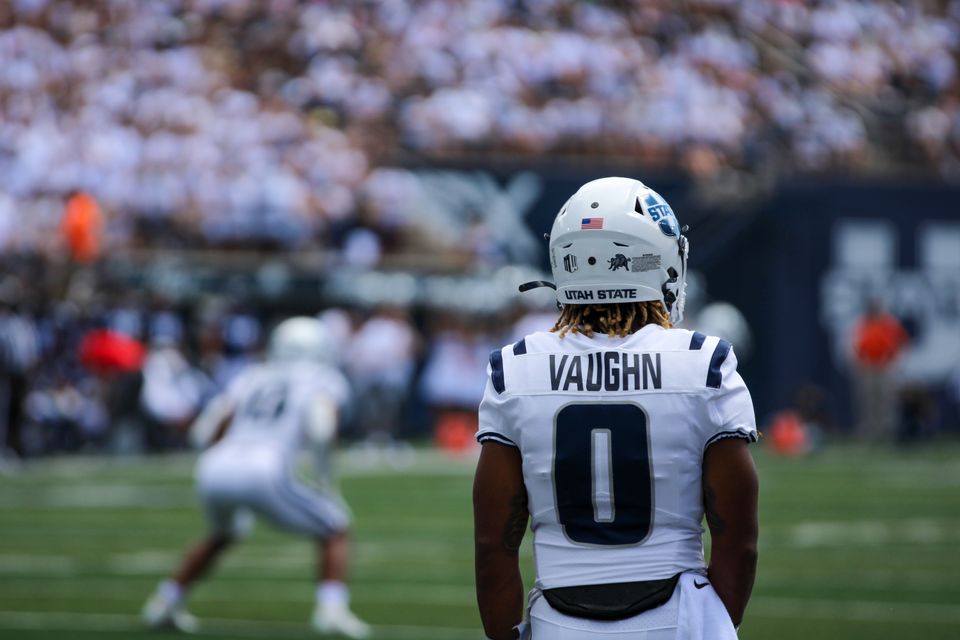 When he returned to Iowa City, 10 years removed from the end of his extended stint as Iowa's offensive line coach (1981-89), Kirk Ferentz made a decision that would define the Hawkeyes for more than two decades to come. As he had learned from Hayden Fry, once his boss and in 1999 the head coach he was tabbed to take over for, a college football program is nothing without an identity; a clear, outlined plan for winning football games that can be emphasized time and time again to every player who runs onto the field at Kinnick Stadium donning the black and gold. To paraphrase the immortal words of one Omar Little, a man has to have a code.
Ferentz's code, from Dec. 2, 1998, when he was officially announced as Iowa's 25th head coach, to the doorstep of Sept. 2, 2023 – when his Hawkeyes are slated to host Utah State in what will be his 25th season-opener at Iowa's helm – has not changed.
He learned the game first as a linebacker, then as a defensive coordinator, and finally as an offensive line coach – undergraduate, graduate and doctorate, each helping to shape one of the most distinctive and successful tenures in modern college football. The names of Ferentz's players and coaches have changed over the years (although not that much in the latter category), but his Hawkeyes win football games with a hard-nosed rushing attack, a vicious and wildly efficient defense, and a special teams unit that does not make mistakes, under any circumstances.
The stats are astonishing. In 24 seasons, Ferentz has earned 186 wins to 115 losses, making him comfortably the winningest coach in program history and giving him a winning percentage (61.8 percent) that only one other Iowa coach, Forest Evashevski (65.1 percent) can top since Calvin Coolidge succeeded Warren G. Harding in the White House (that was in 1923, for those of you not up on your U.S. history). Remove a pair of rebuilding years in 1999 and 2000, and Ferentz's 182-96 record (65.5 percent) places him 13th among all active coaches (minimum of 10 seasons coached) – a marvel for a man recruiting to Iowa City, Iowa, who can be realistically compared to Mack Brown (65.8 percent), James Franklin (66.7 percent), Gus Malzahn (66.9 percent) and Chip Kelly (67.0 percent).
Ferentz has led Iowa to 10 AP Top 25 finishes, four conference or division titles and four NY6 bowl appearances among 20 total postseason berths. He's coached 14 consensus All-Americans and sent 85 players to the NFL draft, including 13 first-round picks. Since 2002, the Hawkeyes have finished with a top-25 scoring defense 17 times (and a top-10 unit eight times). Every year, without fail, Iowa reloads.
"I don't think anybody who really pays attention to ball and the job (Kirk Ferentz) has done throughout his career, (would be surprised) that they have that many NFL players," Utah State head coach Blake Anderson said. "They coach really well, they have a great staff, and a lot of those guys have been in place for a while. They're in an area where they can get solid players and develop them. I would expect there's another handful of guys who are going to look just like that (on this team). They haven't played very much, they've just been waiting for their opportunity."
This time around, it's Utah State's turn to take a shot at the stalwart Hawkeyes, who lost plenty from a group that went 8-5 last fall, but returned plenty more – and enter the 2023 campaign with the same expectations as ever to win the Big Ten West and compete for a conference championship in one of the sport's toughest leagues.
The Aggies are proven in some spots, green in others, and have a huge task at hand this Saturday, no matter the experience level of any given player. They're headed straight into the crosshairs of roughly 70,000 fans who make Kinnick Stadium one of college football's most intimidating and formidable environments, where the Hawkeyes hold a 73.9 percent win rate since 2003.
"The environment is going to be crazy," Anderson said. "There's no way to prepare for that. We're going to have to try to ride that wave early and avoid the big mistakes. As guys settle in and we get an idea of exactly what we're up against, hopefully, we're in a position to make a game of it. You're not going to win the game in the first quarter, but you can definitely lose it, so we just need to stay calm, organized and simple as best we can so we can play our best. It sounds simple and easy, but it's much harder to do in practice because half this roster has not played a game here, or definitely has not played a game in this kind of environment, and we're going to see how we respond to it."
After a long, tumultuous offseason, Utah State football is back – and ready to test itself against one of college football's finest.
"It's time to find out what we're made of and what this team is going to look like," Anderson said. "We had a good fall camp, I think the guys have worked really hard. We're relatively healthy, still some bumps and bruises we're trying to get healed up and moving in the right direction. It's going to be a huge test for us to start with, the environment is going to be chaotic and the team is built really well. It's a big, physical football team and we're going to have to match what they do and how they do it.
"But also, we have to try our best to play to our strengths, which is speed, quickness and tempo play and hopefully find a way to make them uncomfortable. We're looking forward to it. We have a lot to find out about our group and we've done enough against each other to have an idea, but there are also still a ton of questions and there's really no way to know until you go play a good opponent. We're going to get that opportunity on Saturday. and it's going to get here really quickly. "
---
This post is for paying subscribers only