Strong Schedule Setting the Standard For Aggies In 2023
With much of last year's MWC title squad back this fall, @USUVolleyball is setting its sights high in 2023, starting with a strong non-conference slate. From Olympic correspondent @ususzn: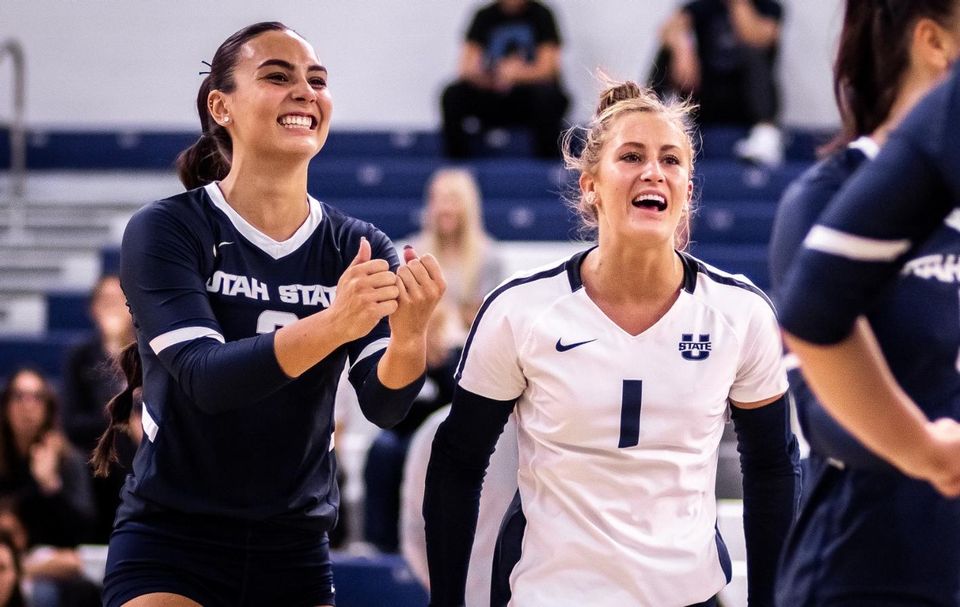 Note: This is a guest-written article from Zach Boyd, who covers Utah State Olympic sports for The Aggship.
LOGAN – How do you build on a conference championship (10th in school history) and a berth in the NCAA Tournament (also 10th in school history)? That's a question Utah State volleyball needs to be ready to address as it begins the 2023 season in a fiercely competitive conference, and staring down an even tougher non-conference slate.
Before the season starts, though, some celebration is in order to cap the success of the remarkable 2022 season. Club Estes has a fresh coat of paint, with new banners throughout the gym.
Souped-up digs or no, Utah State is public enemy No. 1 in the Mountain West. The Aggies have been designated the league's best team entering the season by the Mountain West coaches, putting a target on their backs as big as the "A" on Old Main. Building on the hype, outside hitter Tatum Stall and libero Jordi Holdaway also earned spots on the preseason all-MWC team.
While the preseason accolades are undoubtedly deserved, the Aggies must now look to match these elevated expectations. To kick off the season, they've accepted an invitation to participate in one of the nation's biggest volleyball tournaments, hosted by the No. 5 Nebraska Huskers on their home court in Lincoln. Following a bitter elimination in the regional semifinals of the 2022 NCAA Tournament, the Huskers are poised to give the Aggies all they can handle, alongside tournament opponents SMU and Lipscomb.
Despite its recent success, Utah State still has a lot to prove on the national stage, and this tournament serves as the perfect opportunity to capture the attention of the national poll voters. However, achieving success in Lincoln will demand peak performance in every facet. The team's ability to perform against top-ranked opponents was evident last season when they defeated a UCLA team ranked No. 12 nationally, albeit in the much friendlier confines of Logan. To succeed on the road, against a much better opponent, the Aggies will need to replicate the Club Estes magic (and then some).
With changes to the coaching staff and some key additions, Utah State's ceiling hinges on effectively integrating fresh talent with the largely intact core of last year's champions. The Aggies return four of their top five leaders in kills, as well as each of their top five leaders in assists, service aces and digs. Notably, however, only three of the five leading blockers from 2022 are set to return. Plus, assistant coach Mike Brunsting departed for a similar role at Washington.
Head coach Rob Neilson brought in Torre Glasker as an assistant to fill that vacancy, and to help close some of the gaps that may have been left with some departing players from last year's team. Neilson had high praise for the Utah native, who brings another perspective and plenty of experience to the Aggies.
"We can't wait to bring Torre back home to the state of Utah," Neilson said. "Everyone that has worked with Torre raves about her work ethic, her knowledge of the game, her love for the sport and her ability to connect with student-athletes. She will be a great support as we continue to build our program."
Glasker, originally from South Jordan, spent the last two seasons at San Francisco State, where she helped lead the team to a 36-16 record while coaching up the CCAA Setter of the Year (Kimberly DeBoer) and Freshman of the Year (Tamiya Wilson). Her resume also includes stints at UC Santa Barbara (her alma mater) and Ole Miss, as well as an illustrious playing career that started at Utah and ended at UCSB with the program's first NCAA tournament win in her senior season.
In addition to player development, coach Neilson has looked to reward the great success the team has found on the recruiting trail by promoting Chloe Hirst to associate head coach. Entering her fourth season with USU, Hirst has played a pivotal role in the team's successes, earning recognition as a 2022 American Volleyball Coaches Association (AVCA) Thirty Under 30 award recipient.
"Chloe has been invaluable to our program during our three years here," Neilson said. "As the recruiting coordinator, she has changed the narrative about Aggie volleyball throughout the country. As a mentor of young people, she has created rich relationships with our athletes. She is a great coach and a great friend. We are thrilled to keep her in Logan for the great things that are coming. We are still on the rise."
Hirst and the rest of the coaching staff aim to again leverage their recruiting success this season, introducing six newcomers into the fold, four of whom are freshmen – setter Kaylin Scott and liberos/defensive specialists Kendel Hone, Rachel Reed, and Kambree Rodriguez. Transferring in this season are graduate outside hitter Jill Schneggenburger (Colorado) and senior middle Kelsey Watson (Loyola Chicago).
With these new faces, the Aggies are looking to build chemistry before their trip to Nebraska, and took what they hope will be their first big step by hosting Idaho State in an exhibition match on Aug. 18. The Bengals weren't the only team the Aggies hosted that night, either, as the USU football team came out to show their support.
Led by several newcomers, the Aggies put forth a dominant and encouraging performance against ISU, toppling the Bengals in straight sets and showcasing an impressive overall hitting percentage of 39.8 percent – though even better was their ability to limit Idaho State to only 14.1 percent. The jump in competition will be steep and difficult to account for, but it was about as strong a start as Utah State could hope to see.
USU's graduate outside hitters, Shelby Capllonch and Schneggenburger, spearheaded the offense with 17 and 10 kills respectively, while Holdaway contributed a strong defensive effort, recording a team-high 10 digs. The Aggies clinched victories in the first two sets, 25-13 and 25-17, before closing the match on a 6-0 run to emerge from a tie at 19, capping the win with a pair of service aces from the Colorado transfer.
No matter what the future holds for this squad, there's no denying that this initial stretch may be the season's most difficult and important. In just under a month's time, the Aggies are slated to face No. 5 Nebraska, No. 37 Utah, No. 35 TCU and No. 17 BYU, all before entering conference play. The standard has been set, and the goal to make an impact in this year's NCAA tournament is clear. To get there, the Aggies feel it necessary to take on these extra challenges – and first up, on Aug. 25 (5 p.m. MT), is a chance to slay Goliath in Lincoln against the powerhouse Huskers.