Position Preview: Meacham And Motu'apuaka Leaving Little Doubt At Guard
With Wade Meacham back at left guard and RG Tavo Motu'apuaka emerging as one of the breakout players of the offseason, Utah State looks just about set at guard: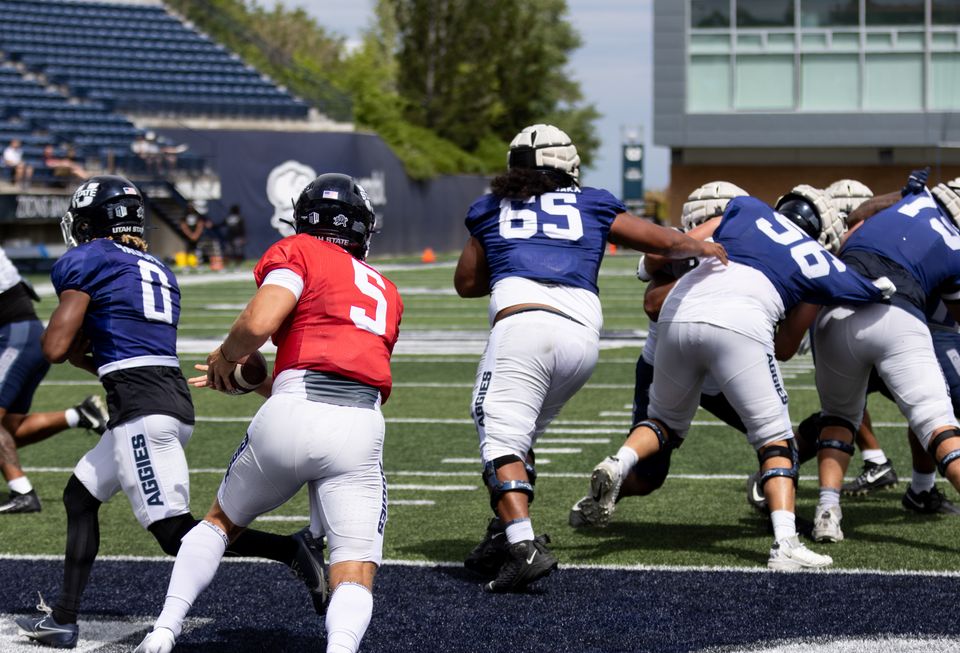 It didn't take Utah State very long in 2022 to recognize that a nearly even split between zone- and gap-scheme running plays wasn't going to work like it had in 2021. The Aggies had relied heavily on both in head coach Blake Anderson's first season at the helm, dialing up 228 runs with zone blocking (which means assigning areas to block rather than specific defenders, in the simplest terms) and 246 behind gap blocking (which is about creating leverage, accomplished primarily by pulling blockers).
Why? Well, because they could. That team touted three offensive tackles who had the size and mobility to handle both schemes (Alfred Edwards III, Cole Motes and Jacob South), a pair of good, stout guards (Demytrick Ali'ifua and Quazzel White) and two very smart centers (Falepule Alo and Chandler Dolphin) to coordinate the rest of the line. They had versatile, experienced blockers who could handle the requirements of both schemes. That's the ideal circumstance for just about any offense.
The 2022 offensive line had some of those qualities, but it also had two new starting guards (one a true freshman) and a seven-man rotation out of necessity in the face of lingering injury issues, which didn't lend itself to much continuity as the season wore on. Utah State called 59 zone runs  (53.6 percent) to 51 gap runs (46.4 percent) in the first three games of the season, averaged about 3.7 yards per carry, and completely shifted its approach in the off week between matchups with Weber State and UNLV.
Over the final 10 games of the year, Utah State called just 79 zone runs (24.2 percent) to 248 from gap schemes (75.8 percent). The change didn't turn the rushing attack into an elite unit or anything like that, but it did make things easier on the offensive line, which in turn created more room for halfbacks Calvin Tyler Jr. and Robert Briggs to work. After a brutal showing against the Rebels, Utah State finished the year with nine consecutive games over 100 yards on the ground. Baby steps.
Apparently sold on that approach to running the ball, Anderson went looking for an offensive line coach who could help the Aggies lean into the gap scheme this offseason and found young Cooper Bassett – a staunch proponent of up-tempo offenses that aren't afraid to pull their linemen.
"Where I would say I grew the most and really started down the path of an offensive line coach was at Maryland under Walt Bell," Bassett told The Aggship. "That's where I really learned O-line play and sunk my teeth into it, it was in that type of (up-tempo) system. (Last year at Sam Houston State), we were terrible offensively, and we went really slowly. Wherever I've had success as an O-line coach, tempo has always been a part of it.
"The way you sell it to an offensive lineman is, growing up as a lineman, it's all about, 'Everybody gets to the ball, all 22 hats get to the ball.' We don't preach that. (In this system), it's, 'Hey, you block your butt off and find the ball, or get to the hash.' If the ball is all the way on the sideline, don't go to the sideline, just go to the hash. While the defense is chasing the ball, my guys are on the line of scrimmage ready to go. Their amount of conditioning and running is cut in half compared to the defensive linemen, and it's a fraction of what the skill players are doing.
"Even though we're going really fast, my guys aren't having to cover as much ground, and they love it. And let's be honest, at Utah State we're not typically getting the blue-chip offensive linemen. Our guys are maybe a step slower and an inch shorter. They're developmental guys; blue-collar guys. When we can use tempo and conditioning to wear out the opponent, they love it. Whenever they're fresh and ready to roll, it doesn't matter that the guy across from them might squat 50 pounds more. We're going to bury him because he's bent over on the sidelines while we're just ready to go."
All of this will impact the entire Utah State offensive line, obviously, but nowhere is it more important than in the guard room. The Aggies return one starter, seem to have all but locked in another, and will enter this season with big expectations for a group that needs to step up this fall.
---
This post is for paying subscribers only