Preview: Utah State Welcomes MWC Favorites Air Force To Town
Preview: Air Force suffered a loss to Wyoming in Laramie, but still looks like the team to beat in the MWC Mountain entering October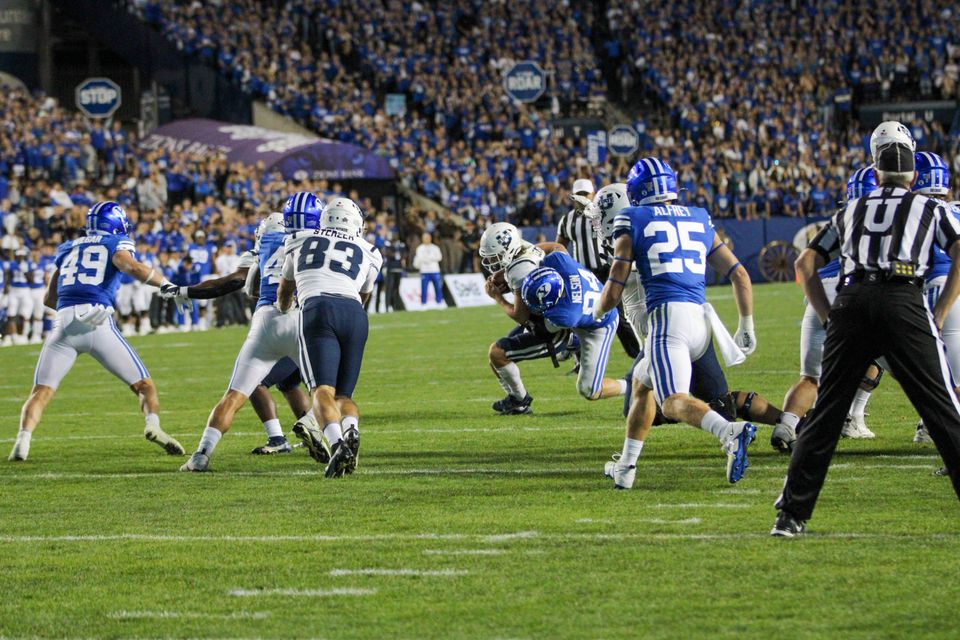 Utah State has a lot more in common with Air Force – which it will welcome to Maverik Stadium for a crucial MWC Mountain matchup on Oct. 8 – than you might think.
Yes, the stats are wildly different, as is the game tape. Air Force leads the nation in rushing yards per game with a whopping 369.8 on 58.8 carries per game, compared to only 153.2 from Utah State (good for 73rd nationally) on 41.4 carries. The Aggies are 53rd in passing attempts per game (33.4); the Falcons are dead last with 7.2. Last season, Utah State finished 15th in passing yards per game (303.4) while Air Force topped only Navy in the national rankings (94.5 yards per game).
The Falcons have held the football for 35:46 per game this season, while Utah State just set a new time of possession season-high of 33:21 against BYU – only its second game this season with more time spent on offense than its opponent – and sits at No. 98 on the TOP leaderboard. Utah State is 30th nationally in plays per game (75.5) and seconds per play (23.6); Air Force is 112th (64.5) and 131st (33.4) respectively in the same categories.
On the other side of the ball, Utah State is built around havoc. Aggie defensive coordinator Ephraim Banda has coached seven consecutive top 25 defenses in total TFL, and this group is no different – it has 40 through five games and is tied for No. 5 nationally. Air Force has 21, checks in at No. 111 and hasn't produced a top 60 finish since 2015 (23rd).
The Falcons are as bend-don't-break as a defense can be, focusing instead on ruthless efficiency and rock-solid fundamentals. They don't miss tackles, and they don't make mistakes. Look no further than the penalty yardage per game: Air Force is third (28.2), while Utah State is 129th (86.4).
Even the most baseline understanding of these programs would tell you that they're essentially playing different sports. Air Force runs the triple option, condenses the field on both sides of the ball and slows its games to a crawl. Utah State spreads out as wide as it can, sprints to the line and works to fire off as many plays as it possibly can while selling out to create big plays defensively.
This post is for paying subscribers only