Byron Vaughns Is College Football's Nicest Villain
Villain? Not exactly. Utah State defensive end Byron Vaughns may delight in the energy of the crowd, but he's really the engine of positivity helping to power the Aggie defense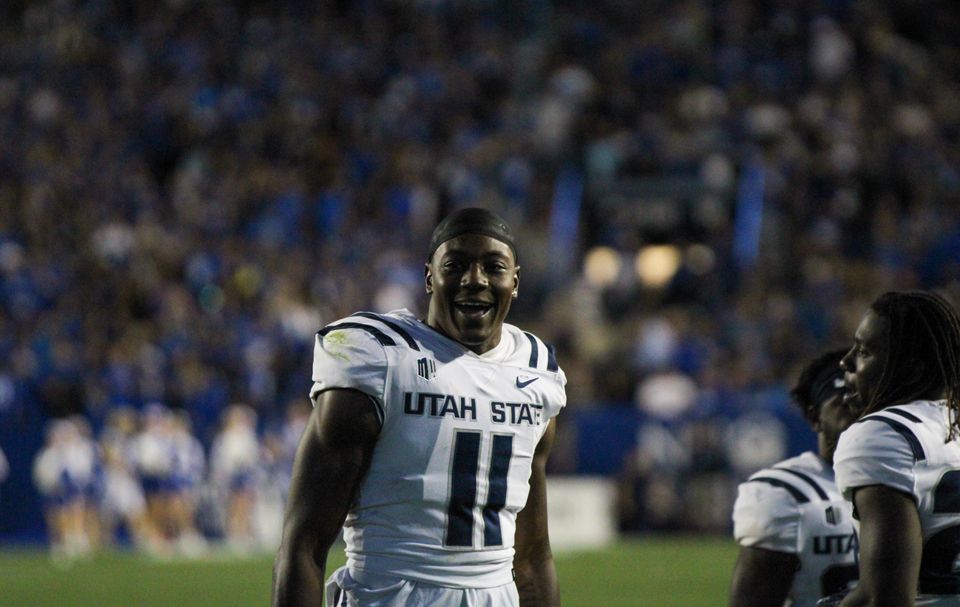 Byron Vaughns spent much of Utah State's Sept. 29 trip to BYU playing to the crowd, which retaliated with boos through the fourth quarter after he was flagged for hitting BYU quarterback Jaren Hall too low. He rollicked with teammates after big plays, called for the crowd to get louder and performed even better whenever it did.
Following the game, when asked about his eventful evening, the Utah State defensive end gave an answer that perfectly reflects his stance on the matter of villainy.
"I do enjoy being a villain," Vaughns said, immediately before a distinctly un-villain-like comment on the penalty. "When I hit the quarterback, I didn't think it was a dirty hit. I'm never trying to hurt anybody because I hope nobody would ever try to hurt me. This is a game, you still have a life to live.
"(When) I hit the quarterback, I heard the crowd. I like getting booed. I don't mind being the villain. I probably have about 10 DM's in my phone right now about hitting the quarterback."
Vaughns laughed when asked by The Aggship in the week that followed about his burgeoning rep, but this was no devious cackle. He delights in the energy – positive or negative – from the crowd, but he's not cut from the same cloth as some of the greatest villains in college football's lengthy history of heels.
"I do want to clarify this," Vaughns said. "It's not that I like being the villain. There are two things you can do in life (to respond). In this sport, you're going to have people who talk smack. When you have 30,000 people who don't like how you hit their quarterback, you can either get booed, go sit on the sidelines and cry about it. Or, you can get booed, take it on and add that aggression to your game. Being the villain, coming out getting booed, it's almost better than a round of applause to me."
The truth is, Vaughns is the positivity engine that helps to power the Utah State defensive line. His personality is far bigger than his 6-4, 225-pound frame, belting out jokes to teammates, leading celebrations on and off the field and offering the kind of natural leadership that Utah State has spent much of the season seeking.
"My role is being the positive energy," Vaughns said. "A lot of people say I have a smile that can brighten up the room. I try to keep the positive energy around, there can be a lot of negative energy when you're 1-4. I know my job is to come around, smile, tell people that they're doing well, and to keep working."
For some veterans on the team, like senior defensive tackle Hale Motu'apuaka, this kind of vocal leadership is a work in progress – their natural state being more of a subdued leadership by example.
"A lot of leaders have stepped up over the past few weeks," Motu'apuaka said. "It's all about keeping our brothers accountable and keeping ourselves accountable. That's what we've been harping on and doing a lot. We had a lot of great leaders last year who we lost, guys like Deven Thompkins and Nick Heninger. Losing great leaders like that happens every year for programs, but it's our job as the next people up to step up and fill those roles. Though it may be hard, we have to do it, grow up, mature and help lead our team to success.
"Personally, leading up to this I felt like it was okay for me just to keep my head down, work and lead by example. I feel like that doesn't work as much, so I've broken out of my shell a little bit more, gotten out of my comfort zone and tried to be more of a vocal leader. It helps my teammates, but it also helps me."
Utah State's culture of accountability will only grow as players like Motu'apuaka step further into those leadership roles, but Vaughns has helped to fill in some of the gaps as the season has developed. Despite Utah State's 1-4 start, head coach Blake Anderson said on Oct. 3 that he's seeing an identity emerge from his group and that the personality of the team does not match the record, which is very important news as the Aggies prepare to dive into seven-straight league games, separated only by an off week at the end of October.
"We're 1-4 record-wise, but I feel like the personality of the team right now and the morale of the team is that we're better than that," Anderson said. "We're starting to trend in the right way. We're starting to look better week by week. Guys are growing up one rep at a time – honestly, one good play and one mistake at a time.
"We earned those losses, it's our fault, but this team could very easily have a different record and really all that matters is what's in front of us anyway. At this point, they've not given up on the process of getting better and working hard and taking accountability for mistakes. That showed on Thursday night. If we weren't willing to continue to work, we wouldn't be getting better."
The same is true on a micro level within the defensive line. It has been effective in altering the rhythm of opposing quarterbacks and has cleared the way for players like M.J. Tafisi (6.5 TFL, one sack) and A.J. Vongphachanh (4.5 TFL, one sack) to make big plays of their own, but it's still very much in transition after the departure of star end Nick Heninger. It hasn't yet produced the stats that it wants. Through five games, Utah State's defensive front has produced 14 TFL and only three sacks, despite generating 41 pressures and 26 hurries.
"The biggest change has been the personnel," Vaughns said. "Losing Nick Heninger, he was more of a run-stopping defensive end. Last year I was just getting pressure off of my athletic ability, being able to run around bigger guys. This year we brought in Daniel from Nevada – you can quote this, I said he's a sucka, s-u-c-k-a – and he helps the defensive line with the pass rush. He understands how to rush the quarterback at different angles. Daniel, I'll give him big kudos for helping us transition from last season to this season."
Vaughns knows this as well as anyone. He has eight pressures, six hits and a pair of hurries across his first four games, but he has only one TFL and no sacks to his name. This isn't necessarily new territory for the Texas native. Last season, his first with the Aggies, he produced seven pressures and six hurries through the first half of the year but logged no sacks and only 2.5 TFL. In the last seven games, PFF credited him with 19 pressures and six sacks.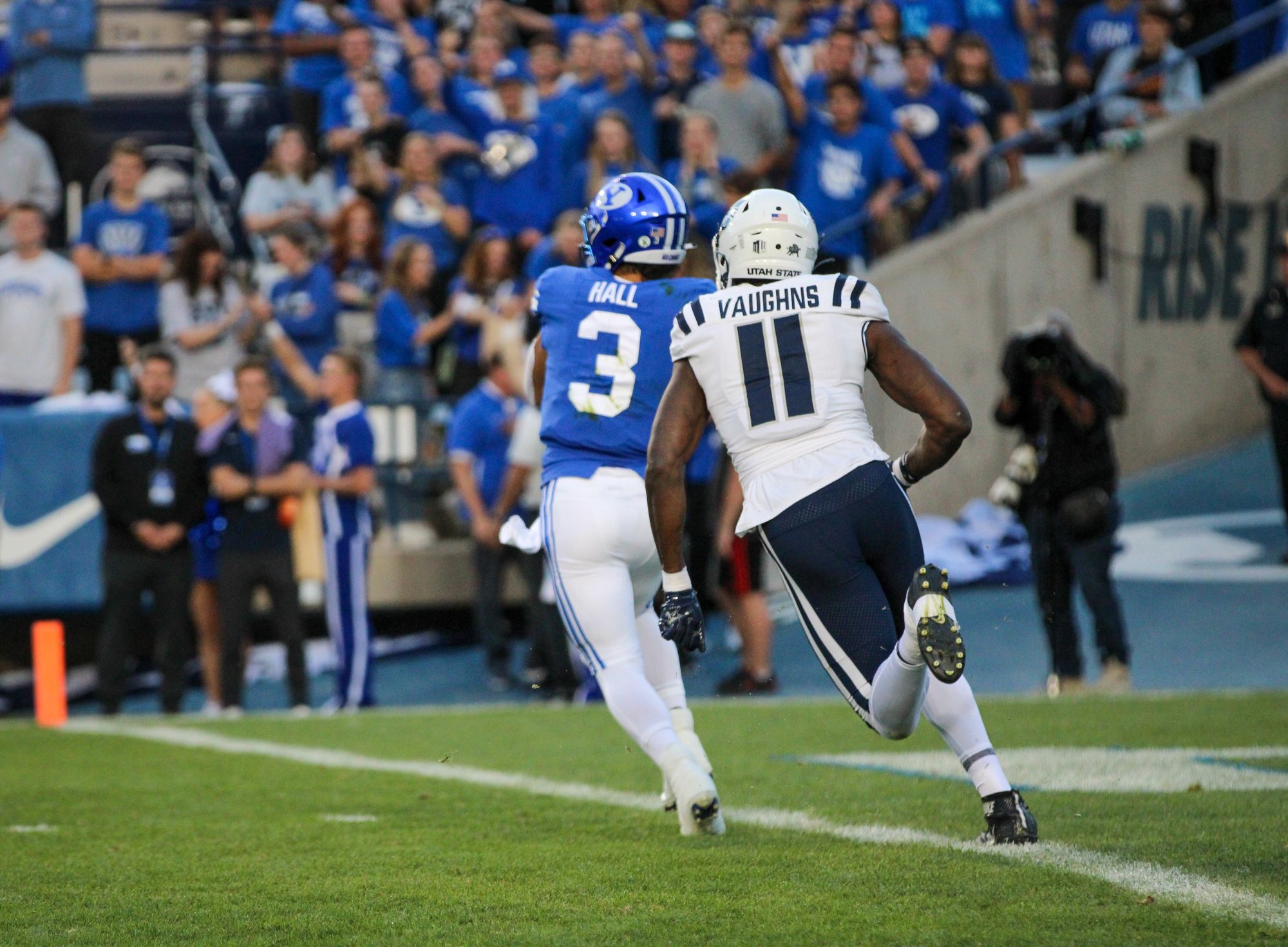 He's been close throughout the season, pressuring Hall consistently, dominating the Alabama offensive line and creating lanes for his teammates, but his stats don't yet match. On this, too, he stays positive – and if last year was any indication, for good reason.
"I know the job," Vaughns said. "The position I play, you're not going to have the stats. You just have to keep doing your job. As long as I have that quarterback scrambling or the cornerbacks have a little less time to have to cover the receivers, I'm happy with it."
Utah State's front has faced quite a few injury issues, too. Defensive tackles Phillip Paea and Seni Tuiaki have both had their seasons ended, while Motu'apuaka, Vaughns and Poukesi Vakauta have had their own issues with smaller, nagging injuries.
The Aggies are relying on younger players all over their two-deep, but the defense has been asked to dig deep in the early stages of the season and currently features several underclassmen as significant contributors along with several first-time starters. Always seeking the positive path forward, Vaughns spoke after the loss to BYU about the growth of the defense and the improvement of its younger members – while noting, too, that the results are not yet where Utah State wants them.
"The defense is definitely growing," Vaughns said. "We have young linebackers who are talking with the older linebackers so we all have an understanding of what's going on. The defense is still working, obviously. BYU put 31 points on the board.
"It doesn't matter the situation we're in, we're taught to make the other team kick a field though and we didn't do too much of that, we let those guys into the end zone. We still have a lot of work to do, but from week zero to now, we have definitely progressed."
For Utah State to keep itself on track as it prepares to run the MWC gauntlet – which it dominated a season ago on the way to the conference crown – it will need that positive force of will. That the Aggies are still fighting after four straight losses is a win, but the path doesn't get much easier as they head into their bout with Air Force, followed by a pair of road games and the off week before the final four-game stretch in November.
This team will find itself, just about regardless of how much it improves or how well it plays, in difficult situations. It will trail on the scoreboard, squander opportunities, make mistakes and suffer some of the same growing pains that came to define the opening stanza of the season.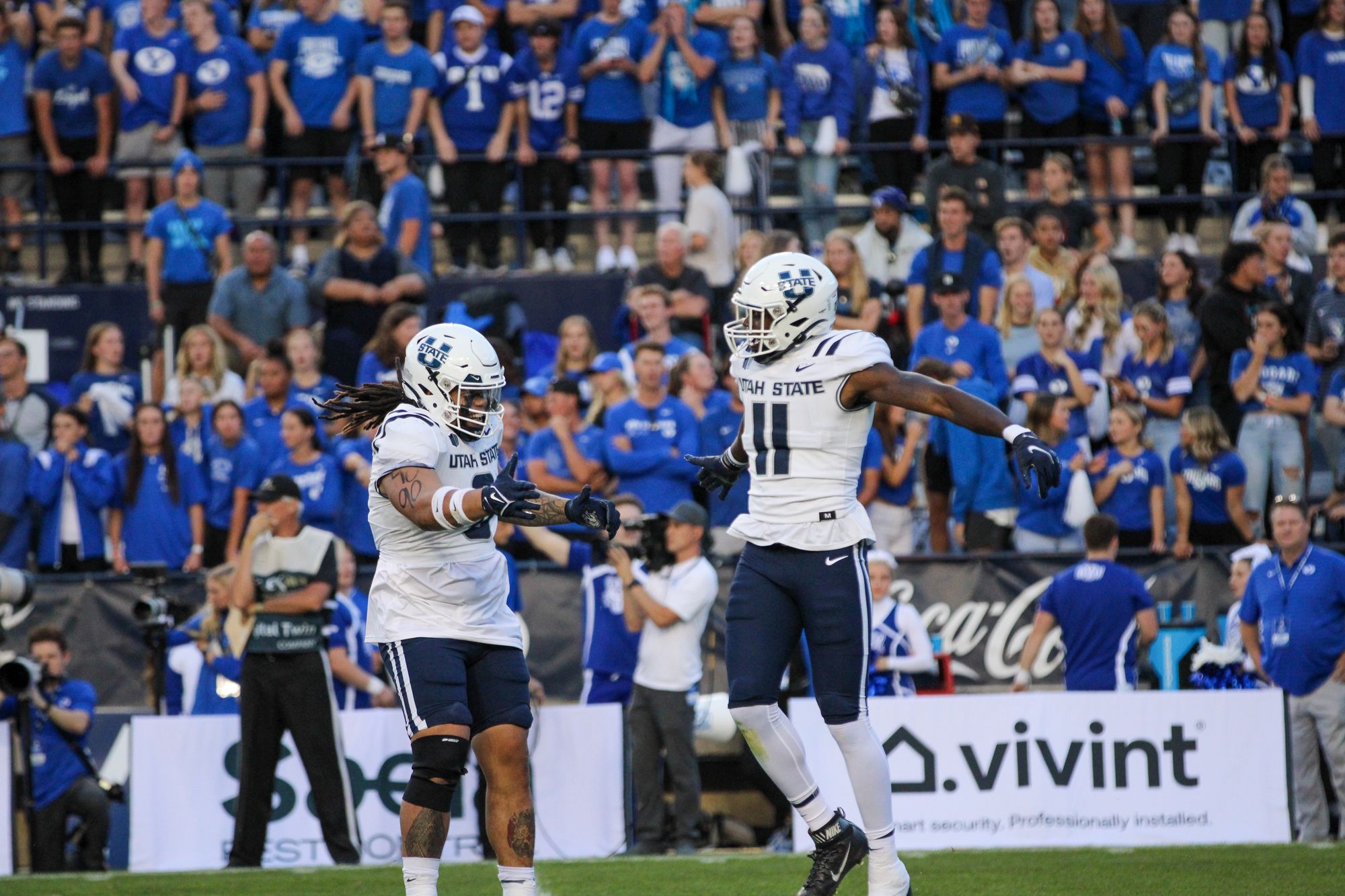 Utah State will face hostile crowds at Boise State, Colorado State, Hawaii and Wyoming just as it did in Provo. To rally in those moments, it needs to model the attitude of its not-so-villainous villain. Especially on defense, any kind of energy can be harnessed for good when the players on the field know how to do so while staying in control. That's the mark of defensive coordinator Ephraim Banda's best defenses, and for this group, Vaughns is helping to lead the way.
"Coach Banda definitely emphasizes the aggressiveness we need to have, the physicality, the toughness that we need to have as a defense," Vaughns said. "We came out the first week kind of slow, trying to figure out who we were as a team. As we're progressing, we're seeing from special teams, defense and offense who is really physical. It's something we take on as a team. We're already a smaller team, we might as well go punch somebody in the face first."