Utah State WBB Excited To Prove Itself After Preseason Snub
Utah State (@USUWBasketball) will enter this season as underdogs after being picked last in the preseason MWC poll. They wouldn't want it any other way: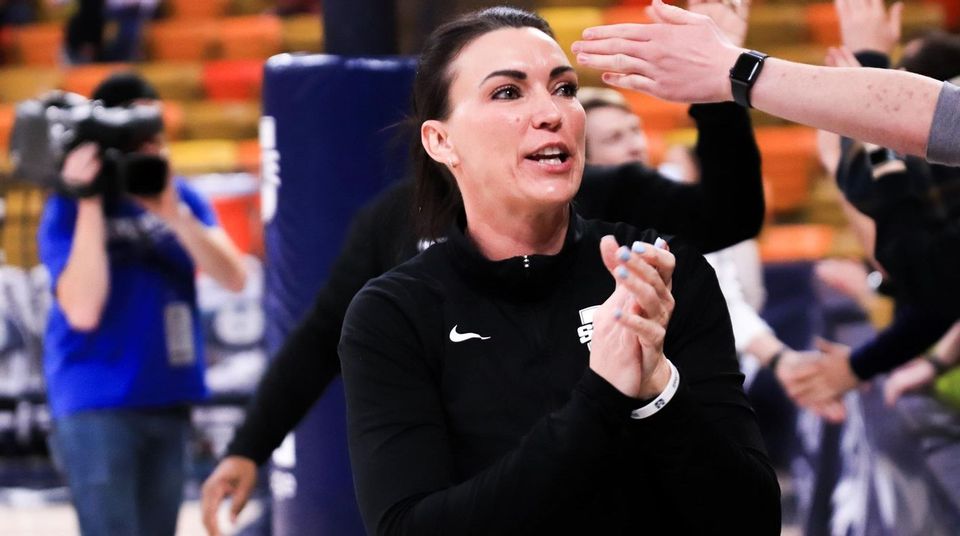 You aren't going to find many mentions of Utah State among the suite of preseason honors, teams and polls produced by the Mountain West ahead of the upcoming women's basketball season. Zero Aggies were represented on the preseason-All Mountain West team, nor were any recognized as the pick for preseason Player of the Year, Newcomer of the Year or Freshman of the Year.
In fact, very few representatives of head coach Kayla Ard's third team in Logan were listed at all for prospective voters. Better-known newcomers like Maria Carvalho (formerly of Utah Valley) were included – and Carvalho was the pick for Newcomer of the Year on The Aggship's ballot – but most of the team will enter this season in anonymity.
That they largely weren't included in the preseason circuit is by design. Utah State entered this offseason seeking players who had been overlooked and had something to prove as it worked to completely revamp its roster, ultimately signing 13 newcomers to pair with only two returners.
It only made sense, too, that the Aggies would round out the preseason poll, checking in as the final name in the 11-team rankings with only 61 points. San Jose State, which was 10th with 67, was the only other team without at least 100 points. The Spartans were 5-25 last season and don't return a single starter from that team, and yet, Utah State still checked in beneath them.
SJSU has revamped its roster as well, but it has done so with a brand new coaching staff under the direction of former Texas assistant April Phillips. The Spartans pulled in transfers from name-brand programs, like Washington forward Marissa Davis, one-time UNLV guard Jasmine Singleton or Arizona center Semaj Williams-Smith. Utah State added one high-major transfer in its 13-player class, Texas A&M guard Keslynn Oxendine, and she's no longer a member of the team.
Again, this was by design. When Ard spoke during her MWC media days session on Oct. 12, she did so with a level of optimism and excitement that had been largely absent these last two seasons because Utah State feels it has designed a roster that feeds off being doubted. These Aggies don't just want to be underdogs, it's inherent to the team's central identity – it's the guiding principle around which this roster was constructed.
"We all knew we were going to get picked 11th," Ard said. "We love it. We're excited about it. That's exactly where we wanted to be picked... We have a group of kids who are going to play hard, who love basketball, who want to be here and who have pride in what they're doing."
It's a feeling that resonates with a roster populated by six DI transfers, four junior college transfers, three freshman and two returners – neither of whom saw significant time on the floor last season.
"I couldn't be happier that we were placed 11th," Sierra College transfer guard Cristina Oliva said. "We're a brand new team. Anything that's happened in previous years, we don't really care about because we haven't been here. Bringing in 13 new girls – we have two girls from last year and I'm sure they have some revenge in them, for sure – we're just ready to prove people wrong.
"A lot of people have talked down on us, on our coach, our school, whatever it is. We have new players coming in and we don't care what's been said the last few years. We're on our toughness mentality right now, we're not backing down from anybody this year."
In looking for players to fill out the roster, Ard wanted that kind of fire and natural desire to beat the odds. A group of largely unknown transfers who played with energy and passion at the JUCO level and in the low-major ranks isn't going to merit a whole lot of hype, but Utah State is hoping that it can create a culture of pesky, hard-nosed basketball capable of competing with the ultra-talented teams on the other end of that preseason poll, like the reigning champions of the league at UNLV or the runner-up New Mexico, which rank first and second entering the season.
"It was really exciting and fun (to rebuild the roster) because I was going after players who had a chip on their shoulder, who other people had passed on or who didn't have the opportunities they wanted," Ard said. "I wanted to take a chance on them and they wanted to take a chance on me. We have a very unique bond, it's something I haven't had here quite like this. They want to be here, they want to play for me. I want them here, I want to coach them. I have that same opportunity with a new staff.
"That was the pitch. If you earn it, the playing time is there. No spots are guaranteed to anybody. If you want to come in, fight for it, play with that chip on your shoulder, and have that underdog mentality, that's what we sold. I was honest with these kids about the areas I've improved in as a coach and a person over the past two years. The honesty, the realness and the underdog opportunity (was the sell). We went out and found people who wanted that challenge... It's a group of people who all have something to prove, so we're just excited to get rolling and see what we can do."
After two seasons at the helm of Utah State, claiming a 4-20 record in 2020 and improving to 11-19 a year ago, some of these cultural points are still fairly new for Ard. This is her first gig as a head coach, and she was very open in speaking about obstacles she struggled to avoid in the early stages of her tenure.
The transition into a head coaching role from an assistant's job is always tricky, and she had issues with striking the balance between running her team and developing relationships with it. She's emerged from the opening act of her career with myriad lessons, but none are more important to her than a shift in how she sees her role for the team.
"(I learned) that it's okay to be close with your players, you don't have to put up that wall and have that super professional thing going on," Ard said. "There are obviously boundaries that you need to stick to, but letting my kids know that I love them, that I care about them, and having that good relationship with them (has been huge). These kids come to my office all the time. I can't get rid of them, they're in there all the time and we're just doing a ton of stuff together that I think shows them that I care about them, I love them, I'm here for them and I'm going to have their backs regardless.
"In return, I am getting that back from them. That was a big thing for me to learn, going from being an assistant coach, where you do have those kinds of relationships, and into a head coaching role. When I played, your head coach was very distant from the players. That was my biggest growth, understanding that you can be close with these players, it's okay to let them know how you feel about them and that you love them. You can cut up with them. And then, when you get on the court and you are pushing them, they know it's coming from a place of love and they respond much better."
Ultimately, that's as much the basis for Ard's framing of this season as something of a clean slate as the nearly all-new roster and staff. The team is different, but Ard is different too. It's an opportunity rarely afforded in college athletics, and one that the Aggies are not taking for granted.
"That's kind of what I mean when I say I got a redo," Ard explained. "These players know I've got them and I know they've got me. That goes for the whole staff and the whole team. It's been a really eye-opening experience for me to go from being an assistant coach to a head coach and feeling like I needed to put those walls up. I don't, and I learned that.
"I'm grateful to get to start over with that growth as a person and a coach, and I think that's a huge reason for why we have a shot to be really good this year – our culture first and the talent next. That's not to take away anything from these girls as players, but it's our culture that's going to get us wins. We care about each other, we love each other and it's going both ways. They know it and I know."