Utah State Women's Basketball 2023-24 Roster Rundown: Centers
Closing out the way-too-early Utah State women's basketball roster rundown is an all-new batch of centers, as the Aggies group a pair of freshmen with two veteran transfers: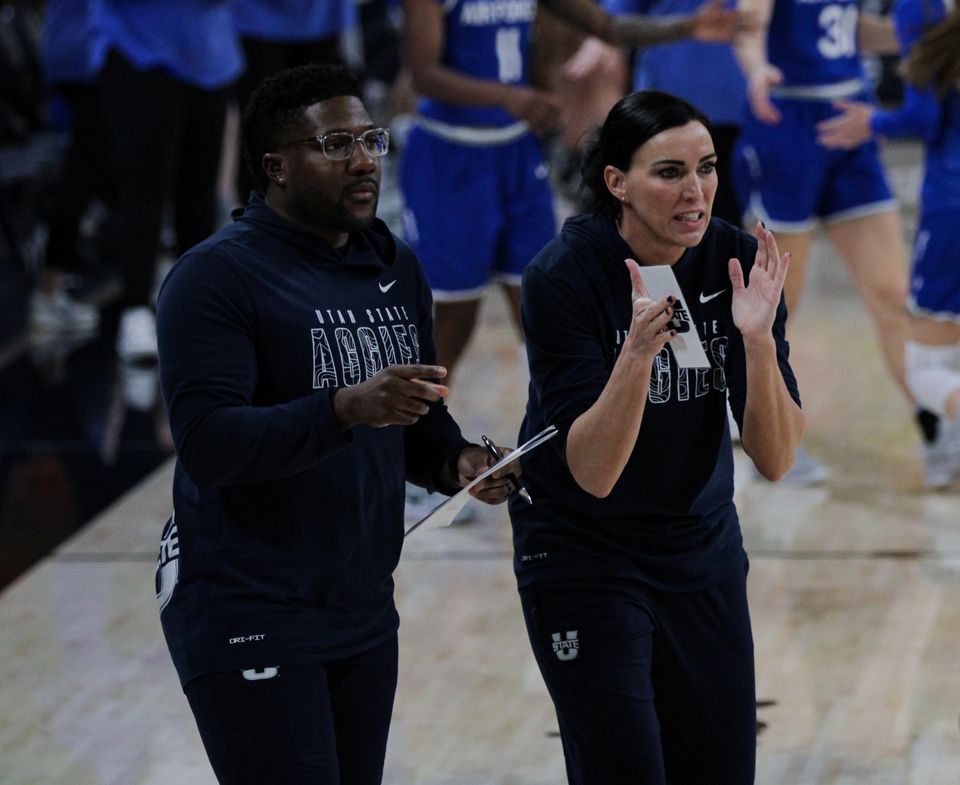 For the second time in as many years, Utah State women's basketball will take the floor with an almost entirely new group of players. The Aggies experienced a nearly unprecedented amount of turnover entering head coach Kayla Ard's third season at the program's helm last year, losing all but two players from the 2021-22 squad (Kinley Falslev-Wickizer and Olivia Wikstrom) to graduation or transfer. They responded accordingly with a huge class of transfers and junior college signees, piecing together a roster of players with something to prove – as Ard described it ahead of the season.
"It was really exciting and fun (to rebuild the roster) because I was going after players who had a chip on their shoulder, who other people had passed on or who didn't have the opportunities they wanted," Ard said at last year's MWC media days. "I wanted to take a chance on them and they wanted to take a chance on me. We have a very unique bond, it's something I haven't had here quite like this. They want to be here, they want to play for me. I want them here, I want to coach them. I have that same opportunity with a new staff.
"That was the pitch. If you earn it, the playing time is there. No spots are guaranteed to anybody. If you want to come in, fight for it, play with that chip on your shoulder, and have that underdog mentality, that's what we sold. I was honest with these kids about the areas I've improved in as a coach and a person over the past two years. The honesty, the realness and the underdog opportunity (was the sell). We went out and found people who wanted that challenge... It's a group of people who all have something to prove, so we're just excited to get rolling and see what we can do."
Though that new-look bunch didn't find the success it was hoping for, stumbling to a 4-26 record amid a season that saw Utah State constantly working to squash problems, only for new ones to arise elsewhere, it's hard to imagine the recruiting sell has seen a significant change this offseason. Utah State again needed to fill almost every spot on its roster – only Tiairra Hill-Brown, Lillian Harris and Isabella Tañedo return from last year's squad – and again has plenty of playing time to go around. Holding a 19-65 (8-46 in the MWC) record under Ard's direction, the Aggies know this is likely a make-or-break year and that the time is now to take risks, both in constructing a roster and in the management of that roster moving forward.
There will be plenty of time to delve deeper into the latter as the season draws nearer, but with the addition of three new signees on June 5, Utah State's 2023-24 roster is complete – and in need of an introduction, finishing now with the centers after looking at the forwards and guards.
---
No. 14 Lauren Crocker, 6-4, Fr.
2022 Stats (Perry HS): 9.0 PPG (41.1% FG/29.4% 3P/65.9% FT), 8.1 RPG, 1.8 APG, 1.4 BPG, 1.1 SPG
The first of two freshman centers to join the Aggies this offseason, Lauren Crocker comes to Utah State by way of Gilbert (Az.) Perry HS, a perennial power in the state of Arizona which she helped lead to a 26-3 record and a state semifinal berth in 2022-23. She did so not as an all-encompassing superstar, but as a do-it-all support player, pitching in wherever she was needed while four-star Vanderbilt signee Khamil Pierre led the way in scoring (24.3 points per game) and rebounding (9.6 RPG). That work may not draw the same attention, but a basketball team can't function without complementary skillsets.
In Crocker, the Aggies hope to have a plug-and-play center who can do exactly that, stepping into any lineup and taking on whatever role is required, be it as an interior scorer, a rebounder, defender, or even a distributor. She has experience with every responsibility on that board, touts college-ready height at 6-4, and comes to Utah State after several years playing in competitive leagues at both the high school and club levels.
Crocker is a high-floor youngster who should be ready to contribute from day one if needed – though the Aggies would probably prefer it not be needed too much. There's a learning curve for even the best freshmen centers.
No. 15 Gracie Johnson, 6-5, Fr.
2022 Stats (Nyssa HS): 20.0 PPG, 14.0 RPG, 3.0 BPG
Another freshman with plenty of height and a winning pedigree developed at the high school level, Gracie Johnson checks just about every box for a highly-touted newcomer. The 6-5 center comes to Utah State after an outstanding four-year career with Nyssa (Ore.) High School, leading it to a state championship in 2022 and closing out her tenure averaging a double-double in 2022-23 – adding three blocks per game, for good measure.
"We're thrilled to have Gracie joining the squad," Ard said. "She brings tremendous height to our roster. I loved my time with her and her family on their visit to Logan. She just fits here, on and off the court."
Johnson makes perfect sense for a Utah State program that needs high-ceiling post players – which the Ard era has for the most part lacked – but the fit goes both ways. Utah State gets a center with all-MWC potential, capable as a back-to-the-basket scorer, a rebounder and a defender, while Johnson lands with a program that can offer plenty of opportunity, even for a young player. It certainly doesn't hurt that her brother, Isaac, is a rising redshirt sophomore for the men's basketball team, either.
"I chose Utah State because I loved the environment and the team culture," Johnson said. "The coaches were excited about me, and it just felt right."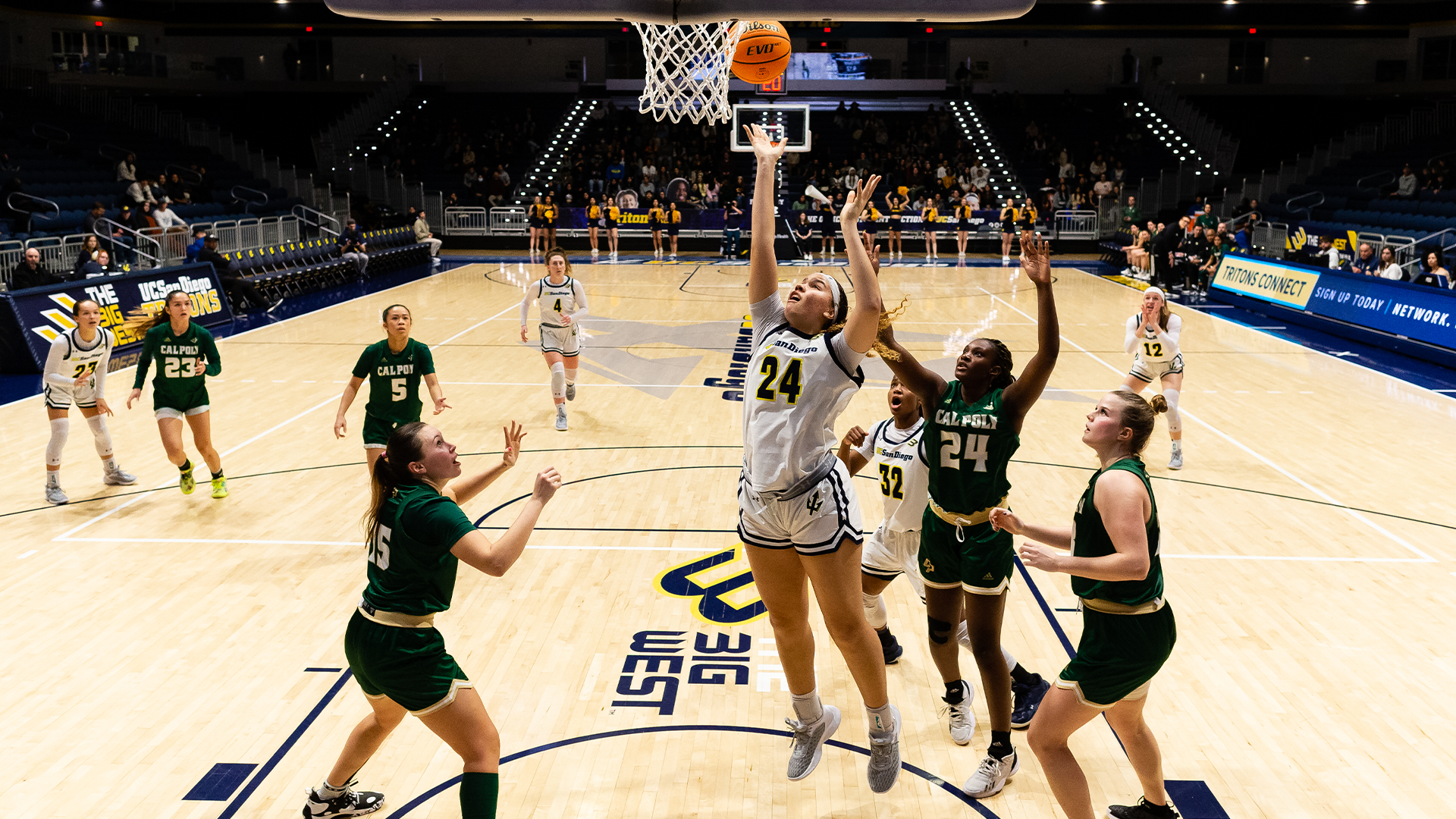 No. 25 Bridget Mullings, 6-3, Jr.
2022 Stats (UC San Diego): 5.8 PPG (46.9%/31.3%/71.9%), 3.4 RPG, 0.6 BPG, 0.5 APG
The lone DI transfer of the bunch at center, Bridget Mullings arrives at Utah State after two seasons with UC San Diego, where she made 53 total appearances with 12 starts. A native of Phoenix, Mullings took a step forward as a sophomore in 2022-23, more than doubling her per-game scoring numbers from the year prior (2.7 PPG) despite playing just a little over one extra minute per contest (13.7 MPG to 15.2 MPG).
"We are happy to welcome Bridget to the family," Ard said. "She is a powerful post player that can really help us compete in the paint on both ends of the floor in the Mountain West. Bringing her DI collegiate experience to the team will benefit us in multiple ways."
Mullings doesn't get to the stripe enough (11.2 percent free-throw rate), but she's an efficient scorer at the rim (51.4 percent on two-pointers) and quite a bit more comfortable from deep than most bigs (though she still took only 1.1 threes per game), while serving too as a strong rebounder on both ends of the floor (7.9 percent ORB rate, 17.3 percent DRB rate).
On the other end, she's a solid shot blocker, though her block rate did dip pretty significantly from year one (7.3 percent) to year two (4.3 percent), which USU would like to find a solution for. She'll need to cut down on the fouls, too, racking up 5.2 per 40 minutes a season ago. Those, plus some turnover issues (4.4 per 40 minutes) limited what could have been a breakout season in 2022-23.
If the Aggies can bring those numbers down a bit while keeping her aggressive, Mullings is a starting-caliber center. That's always a big if, though.
No. 31 Allyzee Verdan, 6-2, Sr.
2022 Stats (Salt Lake Community College): 8.7 PPG (55.7%/0.0%/60.9%), 5.9 RPG, 1.1 APG, 0.9 SPG
Last but not least in this three-part rundown of Utah State's 2023-24 roster is Allyzee Verdan, a native of French Guiana who played her last three seasons at Salt Lake Community College by way of Bloomington (Calif.) Christian HS. A 6-2 senior with 80 career collegiate appearances and honorable mention all-conference honors in 2022-23, Verdan gives Utah State a second senior leader (along with Taylia Stimpson) and stands to immediately contend for the vacant starting center role.
"Ally is a great addition to our team," Ard said. "She has played three successful seasons at SLCC against very good competition, which will help her transition to Utah State and the Mountain West. She is an incredibly athletic post player with a great defensive and rebounding presence. Aggie nation will love the energy she brings to the court."
Like Crocker, Verdan is more of a utility center than she is a potential stat sheet stuffer. Averaging a little over 19 minutes per game as a junior for the Bruins, Verdan contributed a bit of everything – she was second in rebounding and shot-blocking and third in scoring despite starting just 11 games – but excelled in no one role.
Offensively, she's a solid finisher who gets to the line at a great clip (49.7 percent) and holds her own as a ball-handler and passer (when needed), though she isn't exactly a consistent scorer, finishing in double-figures 12 times (14.3 PPG in those games) and averaging only 5.0 points in her other 18 games.
She's more reliable as a rebounder and a defender, which is probably where she'll most shine with the Aggies. Verdan is physical without being out of control, averaging just 2.6 fouls per 40 minutes – excellent for a center, especially on this Aggie roster. That Utah State can rely on her for extended minutes, knowing she won't likely foul her way onto the bench, is a huge plus for the Aggies as they work with her trio of positional counterparts to develop that same skill.
Whether Verdan finds herself in the starting lineup or in a role similar to the one she filled with the Bruins (first player off the bench, splitting minutes with a low-usage starter) will depend primarily on the development of those other players. She's probably not due for a ton of change after three years at the collegiate level, and that's fine.