WBB Game Notebook: Shorthanded Aggies Fall To Boise State
Utah State against Boise State in 32 minutes with Tamiah Robinson: 55-57 Utah State against Boise State in 8 minutes without Tamiah Robinson: 1-16. Let's talk about it in the game notebook: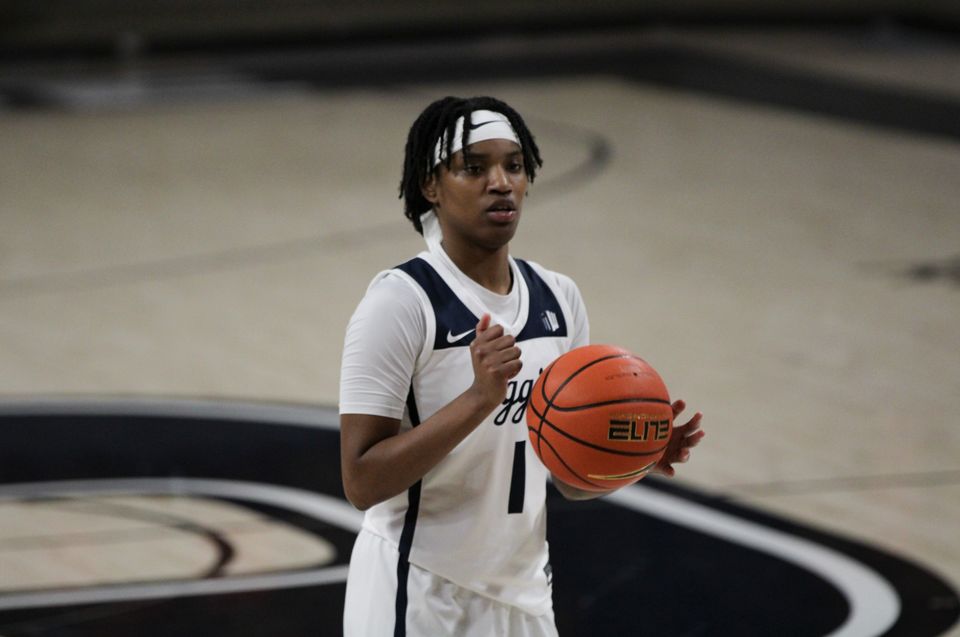 Notes, quotes, thoughts and other quick hitters from Utah State WBB's 73-56 loss to Boise State. Let's not waste any time.
Game-Changing Moment
Boise State's 8-2 run in the first three minutes of the second half shifted the dynamic of this game and set the foundation for what would become a runaway final frame for the Broncos. Utah State had seen a 10-point first-quarter lead evaporate on an 11-2 BSU run earlier in the game, and Boise State had managed to draw even on three occasions – including the final seconds of the first half with an Anna Ostlie three-pointer to send the game to halftime knotted at 29 – but the Aggies had yet to outright surrender the lead.
With a Mya Hansen three-pointer, a Mandy Simpson layup and another triple from Ostlie in the opening stanza of the third quarter, Boise State changed that. The Broncos pushed ahead by three points on the latter basket and, save for a pair of Mayson Kimball free throws about a minute later that brought the Aggies within one, never really looked back.
Boise State met Kimball's free throws with a pair of three-point possessions, first by Mary Kay Naro (layup and a foul) and then by Ostlie to push ahead by seven. Utah State closed the game to four points to end the quarter with a Tamiah Robinson jumper and a Prima Chellis layup, but it was apparent early in the final frame that the Aggies were out of gas. Boise State found two quick baskets to claim a nine-point edge that grew to 12, then 15, and eventually rounded out at 17 points, 73-56.
When It Was Over
For as poorly as Utah State shot in the second, it's a bit surprising that the Aggies did still have a chance in the early stages of the fourth quarter to mount a comeback. They narrowed the nine-point BSU lead to six with another Chellis free throw and an Ashya Klopfenstein layup on consecutive possessions. With a stop and a score, the Aggies would have been right back in the game.
Even when that stop didn't come – Elodie Lalotte found Hansen open beyond the arc for a back-breaking three-pointer – Utah State still wasn't completely out of the game. It forced a pair of Boise State misses and got Olivia Wikstrom to the free-throw stripe, where she cashed in a pair to cut the deficit back down to seven. Once again, a stop and a score would have the Aggies right back in contention.
And again, Boise State answered with an immediate, easy bucket. Hansen found Simpson for a layup, Chellis missed a jumper on the other end and Lalotte hit the second of two free throws to give Boise State a 10-point lead – its largest of the game to that point. A Cristina Oliva three-pointer went begging on the other end and Lalotte found two more free throws. Boise State's lead was 12 with 4:38 to play, and Utah State simply was not going to score enough to surmount it.
From the 6:14 mark when Wikstrom knocked down her free throws to the 38-second mark, Utah State shot 1 for 7 and scored three points. Boise State made its free throws and rattled off 14 points in that same span. When Kinley Falslev-Wickizer finally broke the Aggie offense through with a three-pointer, the game was dead and buried.
Aggie Of The Game
Playing as Utah State's primary ball handler for the first time this season as star point guard Maria Carvalho watched from the bench with a boot on her foot, Robinson handled her responsibilities about as well as the Aggies could have hoped for. She struggled down the stretch after suffering a knee injury in the third quarter (though it didn't end her afternoon), but the junior guard was largely very good on Saturday.
She shot a team-best 6 of 12 from the field with a pair of free throws to rack up 14 points, adding five rebounds, four steals, two blocks and two assists with just one turnover.
Utah State is certainly better with Carvalho on the floor than without, but this was an encouraging sign that the Aggies can still compete when Robinson has to take over that role. It's good news for this season as Carvalho's timeline for a return is unknown, and it's great news for next season when Utah State will need to find a permanent replacement for her.
Other Standouts
Prima Chellis: She had a team-best seven rebounds and was the only non-Robinson player in double-figures, scoring 11 points on 4-of-11 shooting. This was not the best game Chellis has played of late, and Utah State really needs to work on her free throws (3 of 6), but she added two steals and a block while running up just a pair of personal fouls. She's playing with a lot of well-earned confidence right now, and she only seems to be getting better as she fills larger roles within this team.
Ashya Klopfenstein: Foul trouble proved an issue for Klopfenstein, who ended the game with four personal fouls in 16 minutes and most of the second and third quarters for it, but her time on the floor was productive. She scored six points and grabbed four rebounds while helping to produce a legitimately excellent 73.3 defensive points per 100 possessions. Chellis is a more developed offensive player and Abby Wahl is a better rebounder, but Klopfenstein is emerging as a really solid interior defender.
Stats Of The Game
26.2: If it feels like you're watching the same game on repeat with this team, there's a good reason for it. For the fourth time during this seven-game losing streak, Utah State entered the final period within reach of a victory, and for the fourth time, a disastrous fourth quarter ended those hopes.
The Aggies entered the fourth quarter on Saturday trailing 47-43, shot 4 of 15 in the final frame and lost by 17. They went to the fourth quarter at Air Force down by two, 55-53, shot 5 of 18 in the last 10 minutes and lost by 14. A last-second jumper gave Loyola Marymount a one-point edge after three quarters against the Aggies, who converted 5 of 13 fourth-quarter shots and lost by eight. Utah State managed to hold BYU to just 11 points in the final quarter, but couldn't do much of anything to erase a 12-point deficit as it shot only 3 of 19 from the field.
Over these four games, Utah State has shot 17 of 65 (26.2 percent) and averaged just 12.3 points in the fourth quarter. With the game on the line, Utah State just does not have an offense it can rely on.
2: Against one of the worst three-point defenses in college basketball, Utah State knocked down two triples – both from Wickizer-Falslev. Oliva was 0 for 4, Wikstrom went 0 for 3, Kimball finished 0 for 2 and Chellis and Robinson both missed their only tries. The Aggies were without their best three-point shooter in Carvalho, and that does bear mentioning, but it's still not enough to justify two makes from beyond the arc on 16 tries. Utah State built this roster around shooting, and right now, it doesn't have any.
14: Positives are few and far between for this program right now, but the wins are still worth celebrating and to finish this game with 14 turnovers is a win. It's a second-straight outing below the season average (17.9) after the Aggies logged 16 in their loss to Colorado State, and a sharp improvement from the 51 combined turnovers this team suffered in its first two conference games.
Of course, it only matters so much with paired with six assists and 27 personal fouls, but improvement is improvement. Without its starting point guard, this was a step in the right direction for Utah State.
Emptying The Notebook
This seven-game losing streak is the longest Utah State has suffered since... this time last year, when it dropped a nine-game losing streak over its final two non-conference games and first seven MWC matchups. The Aggies finally broke the dry spell last season with a 76-66 win over Wyoming at home on Jan. 22 and finished the season with a 6-7 mark in their final 13 games.
Just in case you're wondering, Utah State has never been held winless in Mountain West play, though it has twice finished 2-16 (2019-20 and 2020-21). The Aggies went 0-for in conference play only twice in program history, back-to-back in 1985-86 and 1986-87. No matter how this season in Logan ends, it cannot be worse than that stretch, which concluded with Utah State shuttering the program for 15 years – citing budgetary issues during a statewide budget crunch.
There isn't a ton of lineup data worth talking about from this game, but I do have a few notes:
With an eight-point advantage in just over six minutes of action, Utah State's best lineup was Robinson, Falslev-Wickizer, Wikstrom, Chellis and Klopfenstein. This was the first time all season that the Aggies have deployed that lineup, and they used it to start each half. They also used it once before this season with Carvalho in for Robinson, losing by three points in three minutes.
Utah State's worst lineup – Robinson, Oliva, Fraley, Kimball, Chellis – was outscored 15-7 in 3:57 of game time.
The Aggies deployed 10 lineups with two bigs (Chellis, Klopfenstein, Wahl) and nine with one big. Two-big lineups lost 24-23 in 18:40, producing 1.23 points per minute while allowing 1.28 per minute. One-big lineups, meanwhile, lost 49-33 in 21:20 minutes of action; good for 1.55 points per minute, but also allowing 2.30 on the other end. Notably within that data is the usage of Chellis. When she was involved in two-big lineups, Utah State won 21-20. When she was the only big, the Aggies lost 29-15. Chellis is a good player, but she's not a four-out center.
If Utah State wants that, the best bet is probably Wahl. She's the best rebounder of the three, and lineups built around her as the lone big finished this game with an 18-15 advantage.
It's really hard to fully describe how good Robinson was in this game, so I'll let the stats do it. In 32 minutes with her on the floor, Utah State trailed Boise State 57-55. It scored one point in eight minutes without her and lost those 14 possessions 16-1. When Robinson was on the floor, Utah State was competitive. When she wasn't, it could hardly be described as a basketball team. She's good, and Utah State will lean on her hard for as long as it doesn't have Carvalho.
As you would assume, Robinson was the on/off leader for Utah State with a per 100 possessions rating net positive of 103.4. She was easily the most impactful offensive player, with a 100.4 offensive rating when she was on and a 7.13 rating when off. Kimball (6.02) was the next most important player for the offense. On the other end, Utah State's best player was Klopfenstein, with whom it had a 73.29 defensive rating. When she wasn't in the game, that number plummeted to 124.3. Wikstrom wasn't far behind (88.8 on, 130.8 off).
Natalie Fraley had a rough afternoon. Her net rating of -93.6 was the worst on the team. Kimball followed her defensively (43.3), while Falslev-Wickizer (-15.1) had the next toughest day on offense.
Utah State has a week to recover before returning to the court at Nevada (5-9. 2-1). The Aggies and Wolfpack have met 36 times, with Utah State holding a slim 20-16 series advantage and claiming victory when they last met, 82-80 (2OT), on Feb. 26, 2022. That win snapped a four-game losing streak for the Aggies – all four of which were played on the road. Utah State last won in Reno back in 2019, 71-59, and is 6-11 all-time when playing at Nevada.