WBB Preview: Utah State Draws Second Bout With Nevada
After suffering through a historically poor shooting performance when the two last met, Utah State WBB looks to put its best foot forward against Nevada today in the Spectrum. Preview: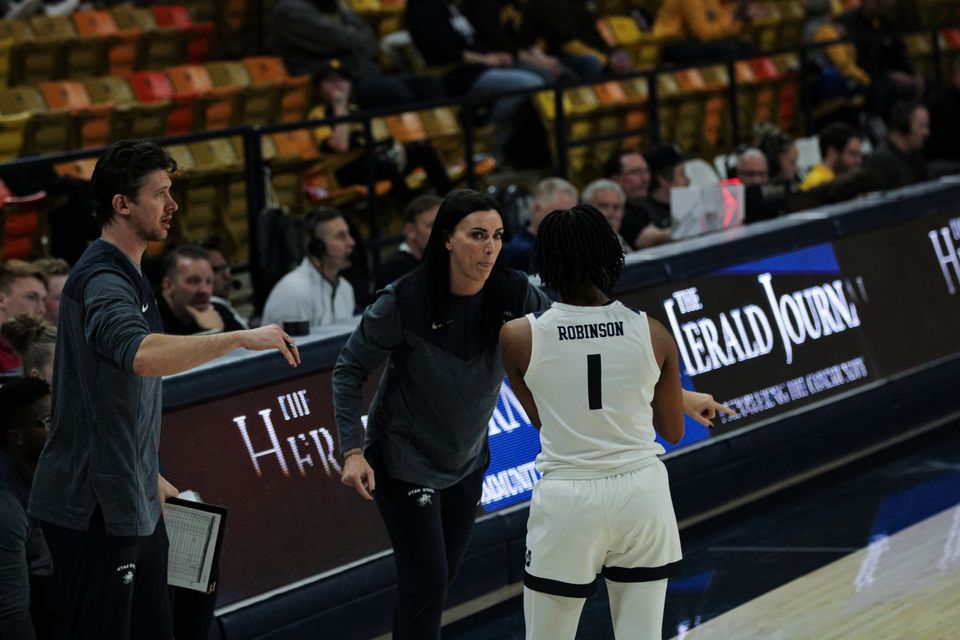 Utah State's first meeting of the season with Nevada went about as poorly as the Aggies could have possibly feared. Played in Reno on Jan. 14, the matchup saw Utah State beaten by 20 points, 78-58, which is bad in itself but isn't the reason behind the game's infamy for the Aggies. No, that game will sit with Utah State because of its shooting performance.
The Aggies shot 2 of 30 from the field in the first half, allowing the Wolf Pack to build a 37-22 lead that would've been significantly worse if not for Utah State's 18-of-20 shooting line at the free throw stripe. The third quarter was friendlier to the Aggies (8-of-15 shooting), but a 4-for-22 shooting output in the fourth quarter was enough to stamp that game as Utah State's worst from the field all season, supplanting a 26.9 percent shooting performance against Eastern Washington with a truly disastrous final mark of just 20.9 percent shooting.
Going back to 2009 (which is as far as the Her Hoop Stats archive extends), it is without rival in single-game Utah State shooting outputs. It may very well have been the worst shooting game in program history.
And for as much negative as can be said about setting a record like that, there is a positive to take from the ordeal: As Utah State enters its second matchup of the season against Nevada on Saturday afternoon, this time in the Spectrum, it's hard to imagine a performance poorer than that one. The Aggies have no choice but to fare better in this bout with the Wolf Pack, because it would take a historic effort to do any worse than they did last time.
With an average shooting performance (which for Utah State this season is 34.4 percent) on slightly lower volume because of fewer offensive rebound opportunities, the Aggies would have lost to Nevada by about two possessions, rather than the 20-point defeat they suffered. Perhaps with an above-average outing on Saturday, Utah State could aspire for even more than that.
Projected Lineups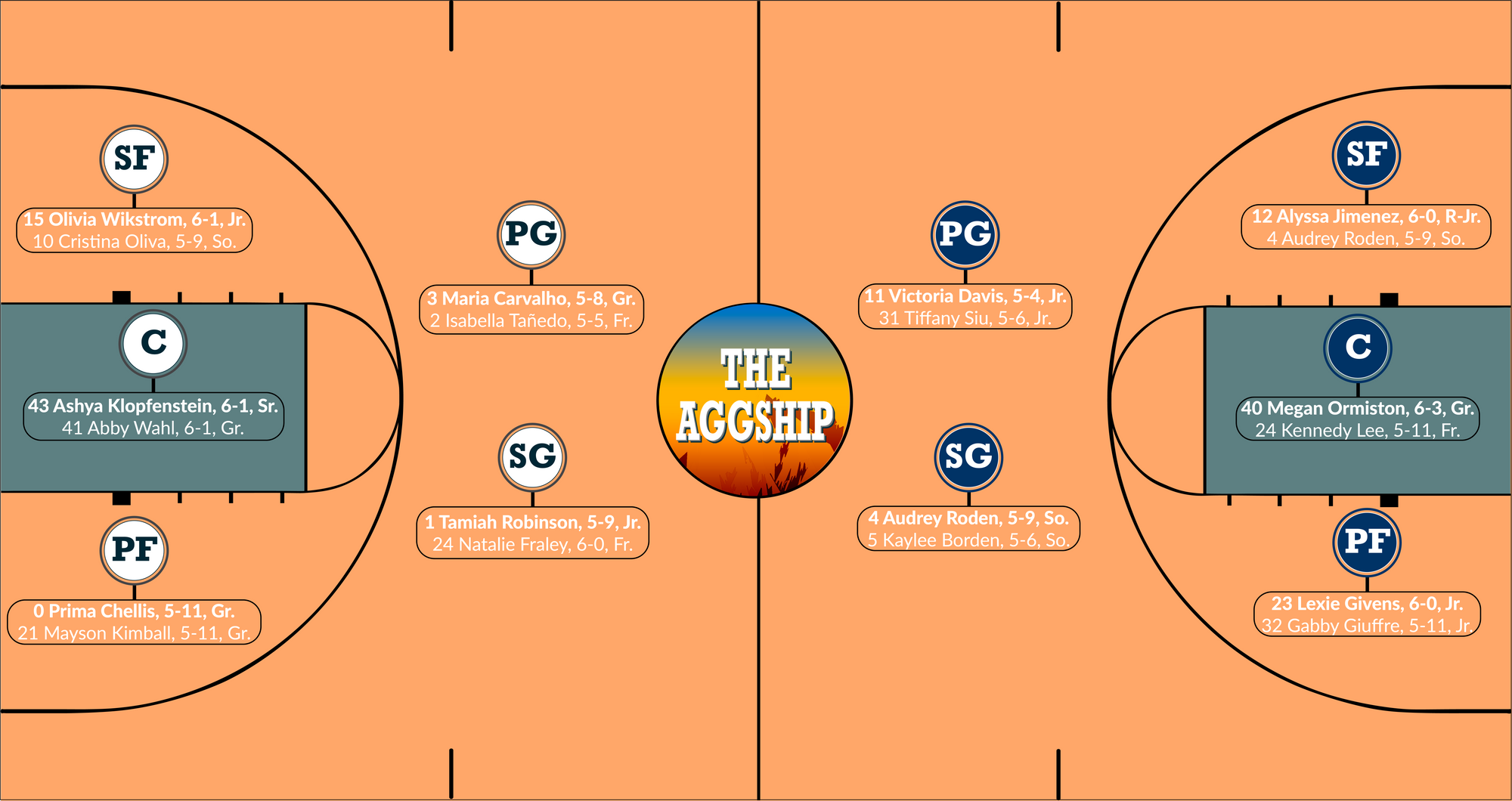 Players To Know
Kaylee Borden: Borden, a 5-6 sophomore with appearances in every game for the Wolf Pack this season, still seems to be in the process of finding her role on this team. She's spent much of the season as one of the first players off the bench after starting seven games early on in the year, substituting in usually to either relieve shooting guard Audrey Roden or to bump her down to small forward, making for a three-guard lineup.
With her nearly 19 minutes of playing time per game, though, Borden's contributions have been inconsistent and difficult to pin down. Sometimes, like in her 13-point outing against San Jose State, she's an offensive sparkplug who can badly hurt a defense from beyond the arc. But, shooting just 28.6 percent from deep this season and 29.8 percent from the field overall, those games haven't been the norm for Borden.
In other moments, she's a viable defensive stopper and rebounder in the backcourt. She scored only five points in 26 minutes against UNLV, but she also nicked a steal and four rebounds while assisting on two makes – though she was far from perfect, drawing four personal fouls. Averaging 2.6 rebounds and just under a steal per game, though, those games are also difficult to bank on.
Sometimes, Borden doesn't do much of anything. She logged 24 minutes against Utah State but used them to score one point, grab two rebounds, notch one assist and one turnover while thrice meriting a foul call.
She's not the impact player that any of her counterparts in the starting lineup are – three of whom I covered in the last preview and don't want to repeat – but she merits a mention because of her inconsistency. When she contributes, however it may be, she makes Nevada better. When she doesn't, this bench starts to look very, very thin, especially with fellow guard Gabby Rones bouncing in and out of the lineup over the last month.
Megan Ormiston: After a relatively slow start to the season, Ormiston has emerged as one of Nevada's best players through conference play. She's second on the team in scoring (10.2 PPG) and rebounding (5.1 RPG) against Mountain West opponents, and serves comfortably as the team's most reliable shooter both in conference play (50.6 percent) and for the full season (49.4 percent).
Though there's not a single change in her game that really stands above the rest as defining this shift in value from non-conference play into league matchups, her newfound knack for outside shooting certainly deserves noting. The 6-3 graduate senior is still far from a volume shooter from beyond the arc, but she's 10-of-14 shooting on threes in league play after shooting just 1 of 7 on those shots in the non-conference. Given that she had attempted eight three-pointers in her first five seasons of college basketball, Nevada can probably chalk this up as a pleasant shock.
With her offensive improvement has come a higher usage rate, too. Ormiston has suddenly found herself as the team's third-leading offensive player in usage rate during conference play (22.1 percent), trailing only Roden (26.4 percent) and Victoria Davis (22.9 percent). She's seen slight improvements in her rebound rate and defensive efficiency numbers, too. Ormiston is still a good distance from some of the league's top centers, but her 12-point, four-rebound outing against the Aggies when they last met was no fluke – her last month of play has backed it up.
Audrey Roden: Roden has had the opposite shift as she's moved into conference play, despite her team-leading usage rate. She's had outbursts of offensive prowess, including a 15-point outing against the Aggies, 20 points against Fresno State and what can probably be considered her best game of the season against Boise State when Nevada last took the floor – Roden scored 22 points with four rebounds and two assists. But, she's also had plenty of outings that bring to mind worries of a sophomore slump after her MWC all-freshman team nod a season ago.
Immediately before that standout game against the Broncos, Roden shot Nevada out of the game against UNLV, hitting on only 1 of 11 tries, scoring twice and turning the ball over twice before earning a trip to the bench after just 17 minutes of action. Her shooting percentage from the field is down to 36.1 percent in conference play and her outside shooting has disappeared entirely – Roden has hit only six three-pointers in conference play on 35 tries after converting 12 of 42 in the non-conference.
Now, she has seen some improvement as both a rebounder (3.7 RPG) and a passer (1.9 APG) in league play, but Nevada badly needs her scoring to function at full capacity offensively. When she struggles, as she has too often against MWC foes, Nevada tends to ask too much of her battery mate, Davis – which, in turn, takes Davis' attention away from playmaking and defense. Utah State would benefit greatly from limiting Roden and forcing that sort of adjustment in the backcourt.
Stats To Know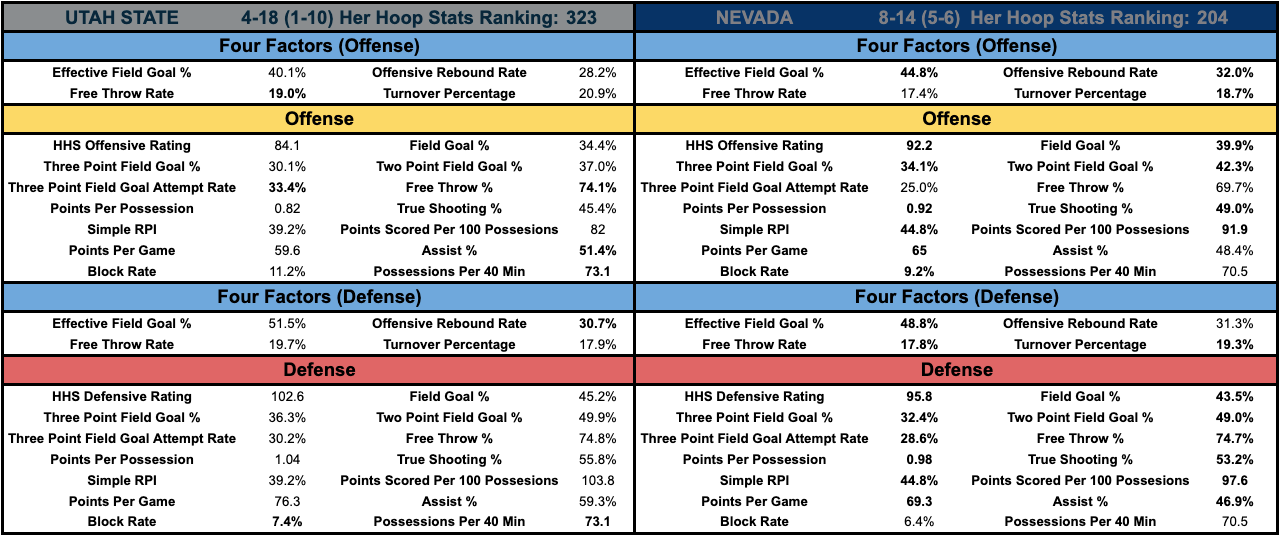 Two Point Field Goal %: Despite what Utah State's shooting performance on Jan. 14 might indicate, Nevada's is not a strong shooting defense. The Wolf Pack are 308th in field goal percentage allowed, 262nd in three-point percentage allowed and 307th against two-pointers.
They've yet to hold a non-Utah State MWC opponent under 35 percent from the field and struggle to limit shots at the basket without a strong rim protector on the roster. Nevada's 6.4 percent block rate is not at all prohibitive and should serve instead as an invitation for Prima Chellis and Ashya Klopfenstein to go to work in guiding the Utah State offense.
Assist %: Where this defense can cause problems, and where it did cause problems for the Aggies, is in its ability to suppress assists. Nevada is 33rd in assist percentage allowed and held Utah State to just three assists when the two last played. The Aggies aren't going to win many games with that kind of output. They need to create open shots with good passing, and they need to do it throughout the game – not just in the first half.
Free Throw Rate: Another good way to generate easy points against this defense is with trips to the free throw line, which Utah State was able to take advantage of with 31 free throw attempts in its first bout. Lexie Givens (2.8 FPG), Roden (2.5 FPG), Ormiston (2.4 FPG), Davis (2.4 FPG) and Alyssa Jimenez (2.0 FPG) all average at least two fouls per game.
The Aggies haven't found enough consistency in their free throw rate, but they have had plenty of strong outings in recent weeks. Again, this would be a great place for Chellis and Klopfenstein to shine, though some help from the backcourt pairing of Maria Carvalho and Tamiah Robinson would go a long way as well.
Prediction
If Utah State plays how it did against Air Force, Fresno State and Wyoming – all encouraging outings since the loss to Nevada – it can and probably will win this game. Nevada is far from unbeatable, especially with Roden struggling as she has, and the Aggies are built well to take advantage of the largest weaknesses in this Wolf Pack team.
If it plays as it did against Colorado State, New Mexico or San Jose State, though, this Utah State team isn't winning another game this season. The defense was disconnected in all three of those games, and the Aggies cannot win with a disconnected defense – nor can they win with isolation ball on offense.
I would expect they'll look more like they did against Air Force, Fresno State and Wyoming than they did in those recent blowout losses. I just cannot, in good faith, predict a complete 40 minutes of basketball from this team.
Nevada 67, Utah State 63