Cover Story: Utah State Flashes Potential In 44-24 Win Over Colorado State
(Free) When faced with adversity this season, Utah State's young group has rallied for each other. On Saturday, in a dominant win over Colorado State, their commitment was rewarded. Cover story: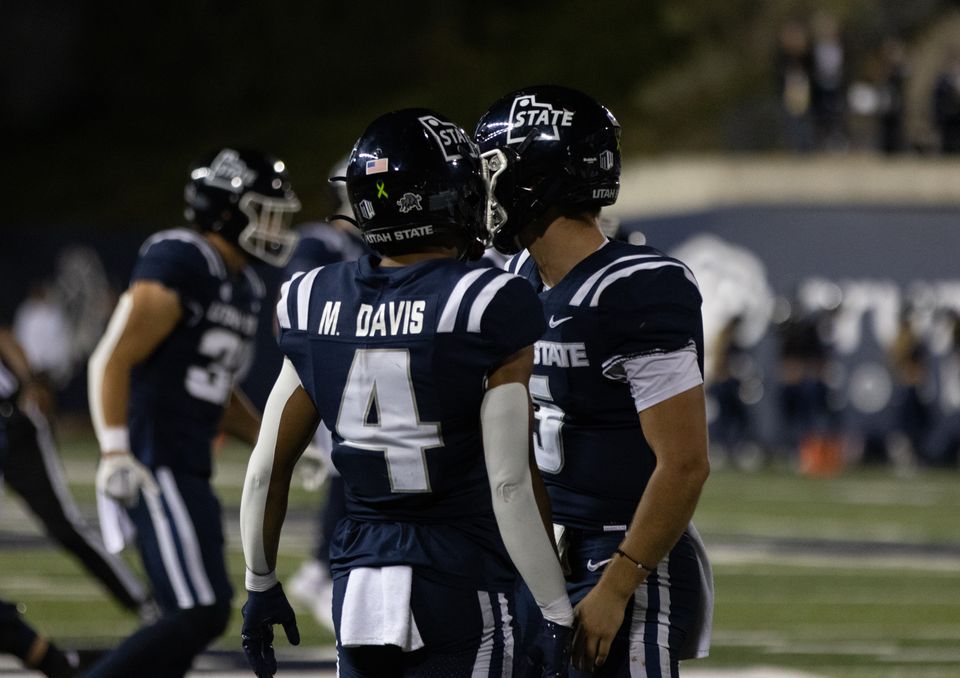 LOGAN – Whether Utah State's 44-24 victory over Colorado State on Saturday night was a sign of things to come or just a momentary flash of greatness is yet unclear, though the Aggies will get a swift answer in short order. They'll be right back on the field in Maverik Stadium only a few short days from now, hosting one of the Mountain West's best teams, Fresno State, on Friday night. The Bulldogs are talented, physical, and offer little room for such questions to linger. In a game like that one, you're either ready – as Wyoming was in Laramie this weekend – or you aren't.
For the time being, with Utah State only beginning to turn the page on its first MWC victory of the year, that question and the worries that accompany it can be relegated to the future. That's a problem to be dealt with then. These Aggies have yet to reach the level of consistent excellence that would afford them the luxury of cruising right past what they did on Saturday night.
In short, Utah State dominated a capable Mountain West foe. It operated with an offensive cohesion that has evaded it for the better part of a year, while this young defense dismantled a Colorado State attack that pushed Colorado to the brink earlier this season before shoveling points onto lesser opponents in Middle Tennessee State and Utah Tech.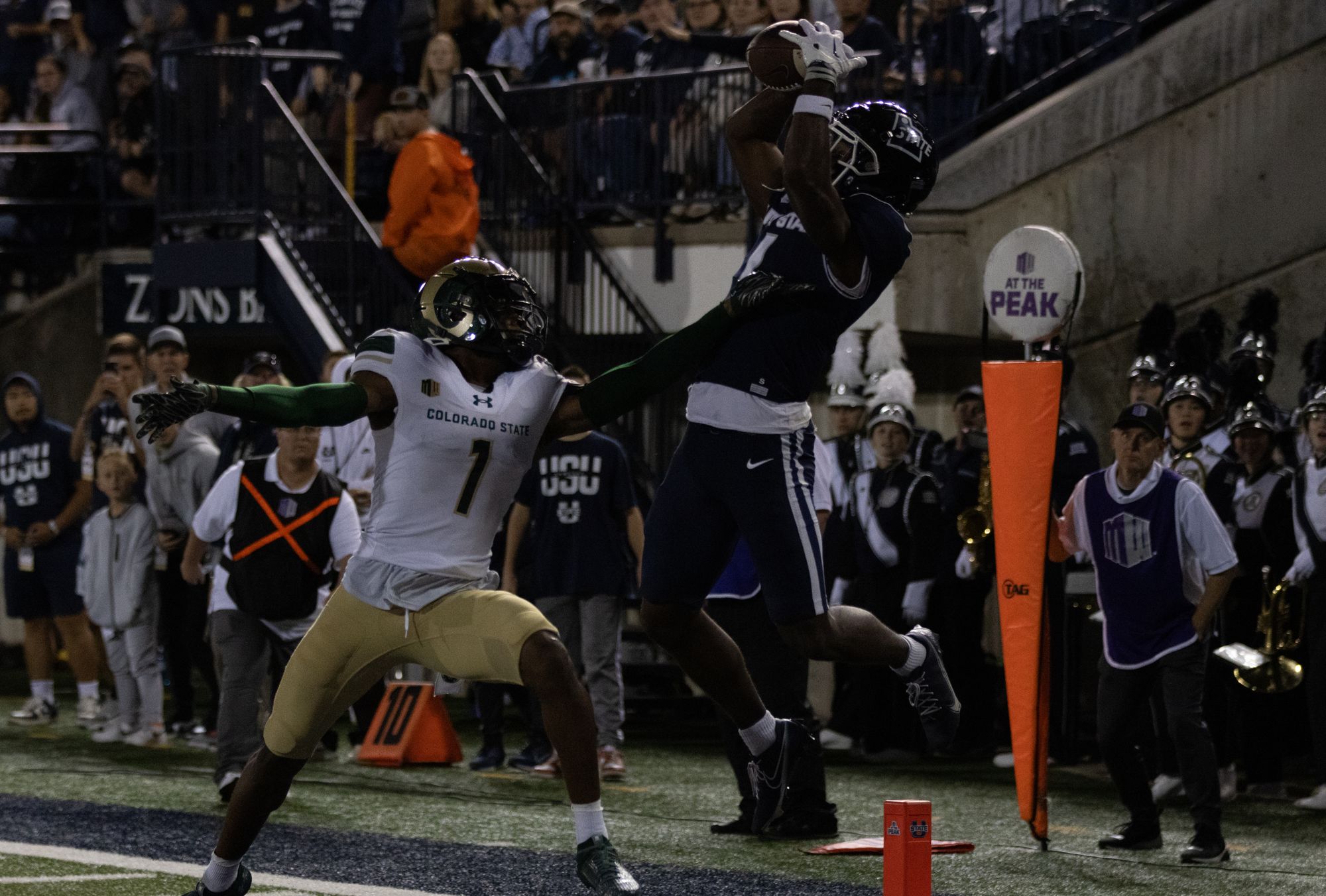 It's been an entire season and one game since the Aggies did that to a conference rival – leaping over the entire 2022 campaign and tracking back to their last league matchup in 2021, a 46-13 win over San Diego State in the MWC title game that this program will not soon forget. Utah State put 639 yards of total offense on the Rams, garnering more than 200 yards from its three-headed rushing attack and more than 300 yards from the Cooper Legas-led passing. It hasn't hit those marks against an FBS defense since 2018, when Jordan Love, Darwin Thompson and company gleefully throttled a hapless San Jose State team.
The Aggies were short of perfect, falling behind by 17 points in the first quarter – as they are wont to do – after a pair of special teams miscues and the first of two Legas interceptions. Again, though, they don't yet have the luxury to concern themselves with perfection. Utah State has to be good before it can be great, and it's been quite some time since the Aggies looked that damn good against a team on a level playing field. Colorado State has All-MWC players, one of the nation's best receivers, and a coaching staff paid very well to win games like this one, and Utah State ran all of them off the field.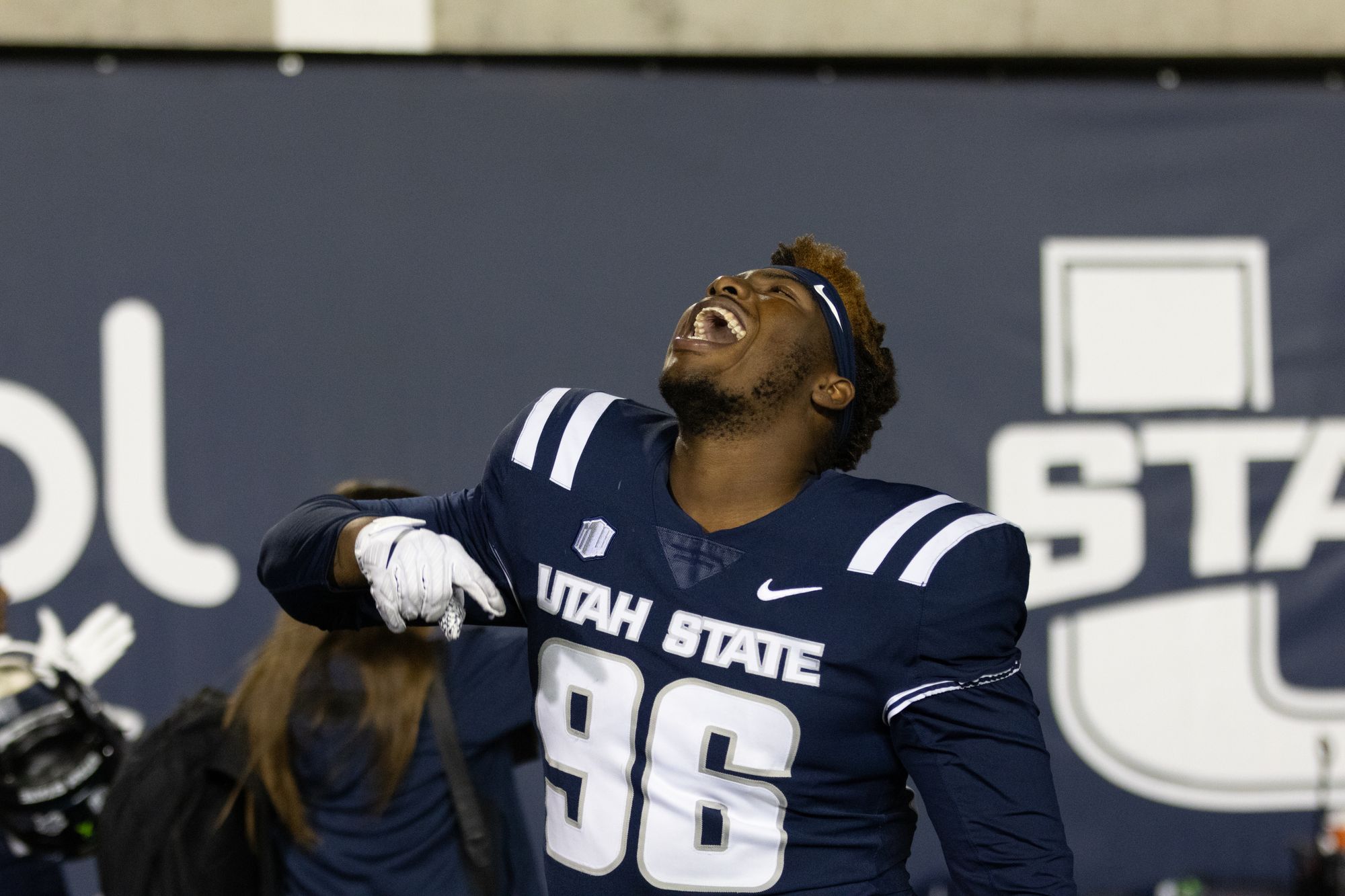 If you'd like, you can consider this as permission to enjoy all of that for a moment. Utah State certainly did, embracing Saturday's win as both a healing balm for a program that's gone through the wringer, and as a great opportunity to let out some pent-up frustration on a physical, chippy upstart – rolling with Colorado State's punches early before methodically turning Jay Norvell's Rams into a crumpled heap on the mat with body blow after body blow.
"We still had to come from behind, but that's a good football team and I felt like it was going to be a battle, I really did," Utah State head coach Blake Anderson said. "I love the fact that as the game continued, we got tougher, faster, and more physical than they were. That was really the conversation all week, that they're going to be twitchy, flashy and explosive early. Keep hitting them in the mouth and our toughness, our conditioning and the way we do things will show up. If they could just hang in and not give up on the process, the process would start to take hold. I think that's exactly what you saw tonight.
"We wanted to make it a mess. We wanted to make it a dog fight and our guys didn't back down from that. We played probably our best game of the season. I don't want them to be satisfied. I want them to keep working to get better, I think there's still better football to be played. We turned the ball over too much and that's something that we have to fix. But, there are a lot of good things to build on tonight."
As simple a sentiment as this is, it feels true, and that's all I can really ask for: Utah State needed this one, and needed it badly. The youth and inexperience of this team have been covered ad nauseam, guiding Utah State to a critical junction at the time of year when those concerns will either overwhelm and doom a team or begin to produce tangible results.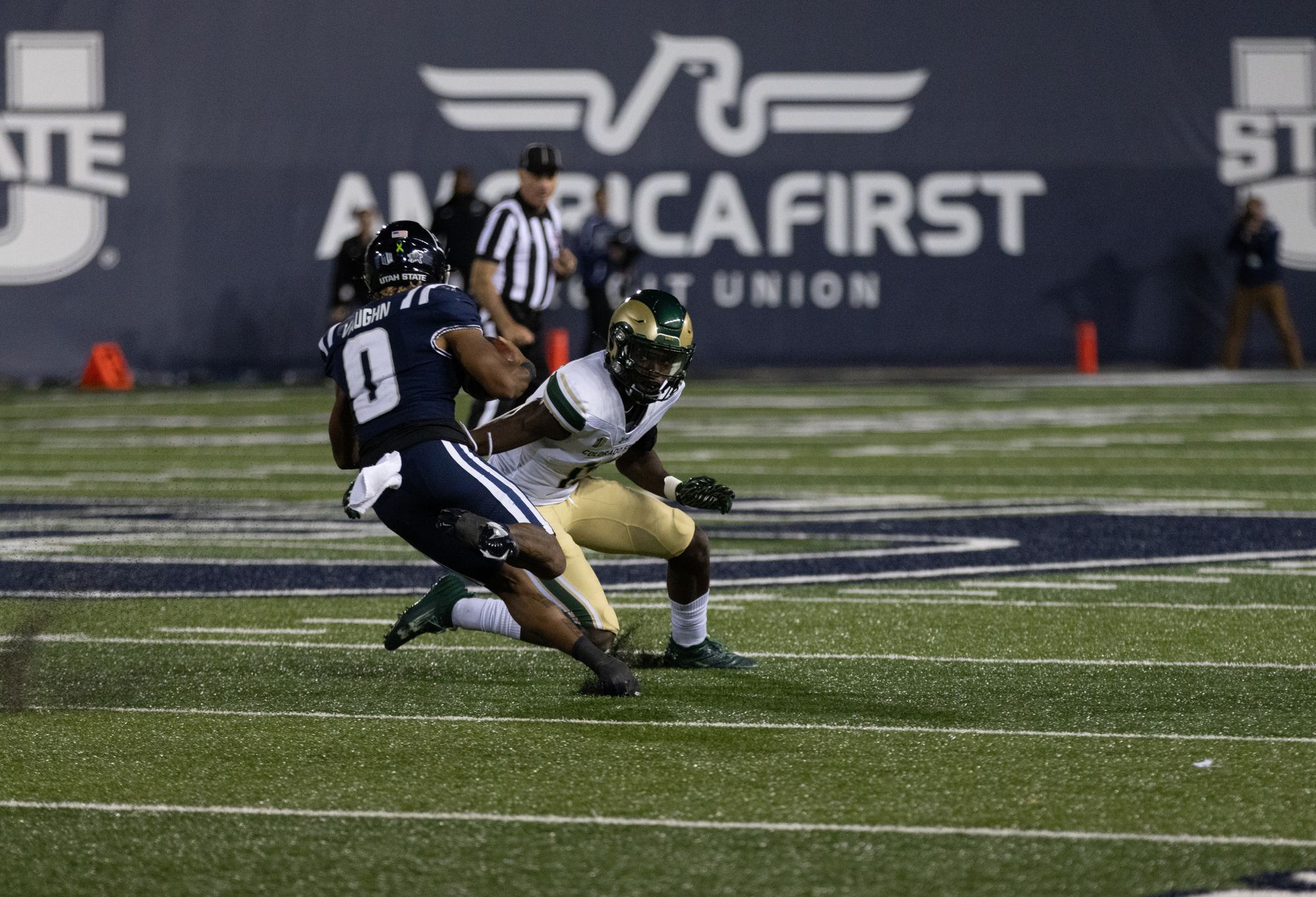 This group has shown its talent on many occasions, but in the season's opening stanza, it was too often overshadowed by the shortcomings inherent to its newcomer-heavy construction. If they're going to make something of themselves, it has to happen here and now – in the middle third of a schedule that won't get any easier. The light has to come on and stay on. It did for just long enough to beat UConn last week, and the Aggies stacked a second win onto that one this weekend.
Utah State is still two difficult games away from its week of rest, and knew as it entered the season that it wouldn't be rescued by a well-timed break. The eight-game marathon placed before it was immutable, and not worth complaining about. All Utah State could do was take its lumps, pull together amid the hardship, and find a way through. Has it done that with this win? The Aggies would really, really like to think that, though they can't know for sure without a larger sample size.
What they do know is what has been apparent all season: This team is willing to fight for its survival. When thrown into the deep end, these Aggies have fought and clawed to stay afloat, individually and as a group. They've asked a lot of players to leave their comfort zone – like cornerback Avante Dickerson, who serves as a shining example.
The Oregon transfer logged 68 snaps on Saturday, easily the most he's taken in a single game since high school. He stood opposite some of the best receivers in the MWC, from Tory Horton and Louis Brown IV to Justus Ross-Simmons, and flourished. Colorado State threw at him nine times and managed to truly beat him exactly once, on a 23-yard completion to Brown (who was covered well and made an outstanding catch on the sidelines) during the game's opening minutes. Dickerson was calm, physical, and as he grew into the game, wholly confident in his own ability. He stared down one of the best receiving corps Utah State will see this year, dominated them for the better part of three hours, and let them know about it the whole time.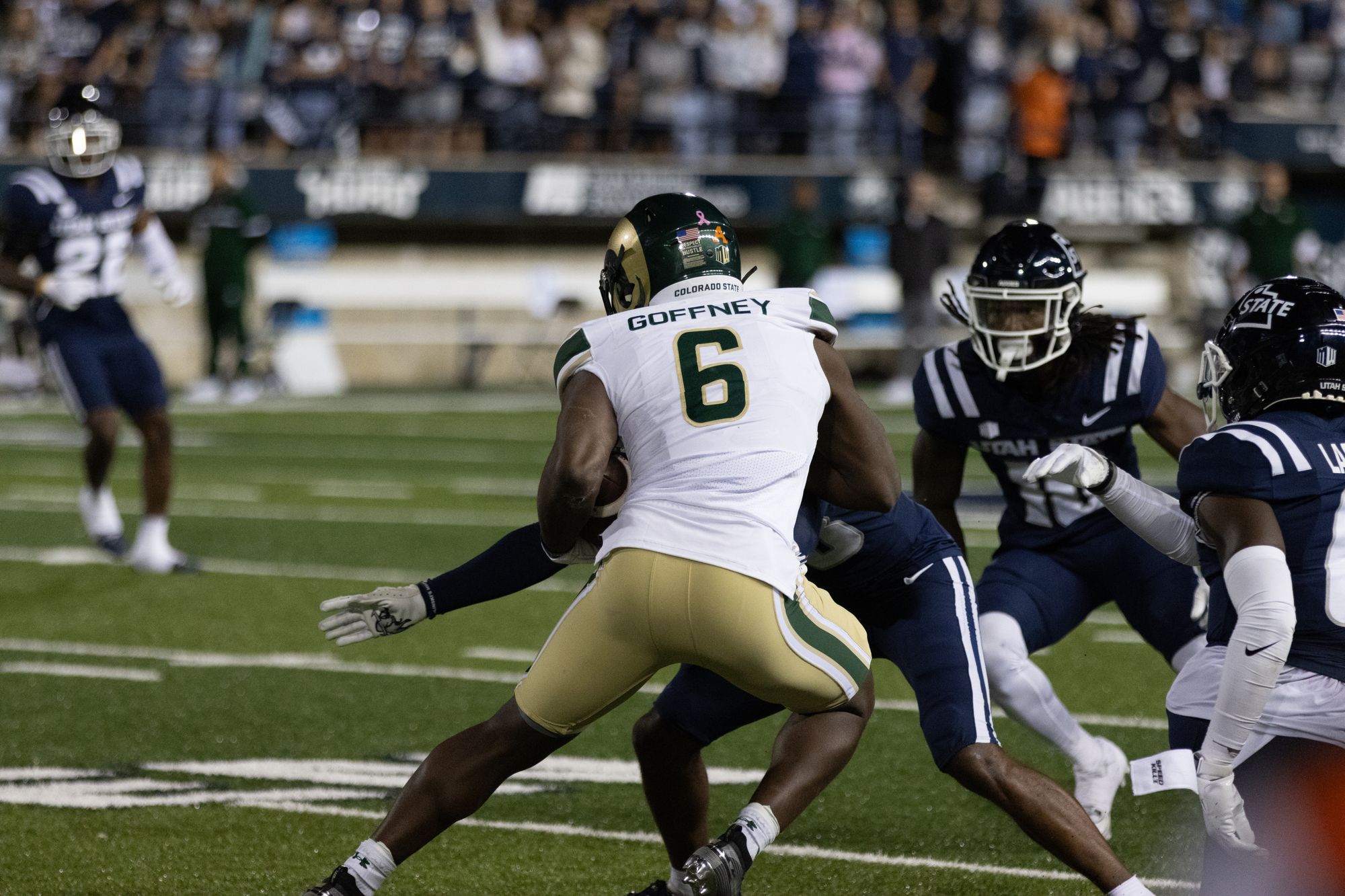 Dickerson was far from alone in facing a challenge larger than any he had before. Utah State's secondary is littered with new faces – Devin Dye, Jaiden Francois and Simeon Harris combined to play 153 snaps – and the front six is no different. Starting defensive end Paul Fitzgerald is a redshirt freshman, joined on the line by players like Siaosi Lauhingoa, Bo Maile, Sir Mells, Enoka Migao, Clifton Mosley Jr. and Cian Slone who are all serving as major contributors to an FBS defense for the first time. Even some of the defense's true veterans, chiefly Blaine Spires and Anthony Switzer, are being asked to play roles they've never held before under the direction of new defensive coordinator Joe Cauthen.
That defense, which has suffered through plenty of growing pains, forced a very dangerous offense into five turnovers, six three-and-outs (plus one four-and-out) and seven punts. Outside of Colorado State's nine-play, 84-yard scoring drive when the game was already approaching out-of-hand in the fourth quarter, the Rams managed only 236 yards on 74 plays (3.2 yards per play).
The Aggies have proven leaders to lean on with defensive tackles Hale Motu'apuaka and Seni Tuiaki, linebackers MJ Tafisi and Switzer (who has taken to his new job without missing a beat), cornerback Michael Anyanwu and a true superstar in safety Ike Larsen – responsible for two interceptions and seven tackles – but can't win with them alone. The group has to grow up together, and it did quite a bit of that on Saturday.
"I talked to them about it a little bit this week, to keep in mind who was coming in and what they're capable of," Anderson said. "We told them there was a scenario where they come in geeked up, ready to go early and it's tough, but that we were going to make this a 60-minute game and our conditioning, physical toughness, and the way we're willing to play would pay off. There never was a panic.
"The defense took a lot of criticism last week. We got tired and beaten up a little bit, and I think they had a big chip on their shoulder. We did the things we had to do tonight. We competed well at the point of attack. We got pressure on the quarterback. They didn't try to run it much, but when they did, we hit them hard. We knew we had to be physical, as we matched up relatively well in most areas. Joe would say that's more points on the board than he wants to be there, but against that offense and what they've been doing, that's a pretty good outing for our defense."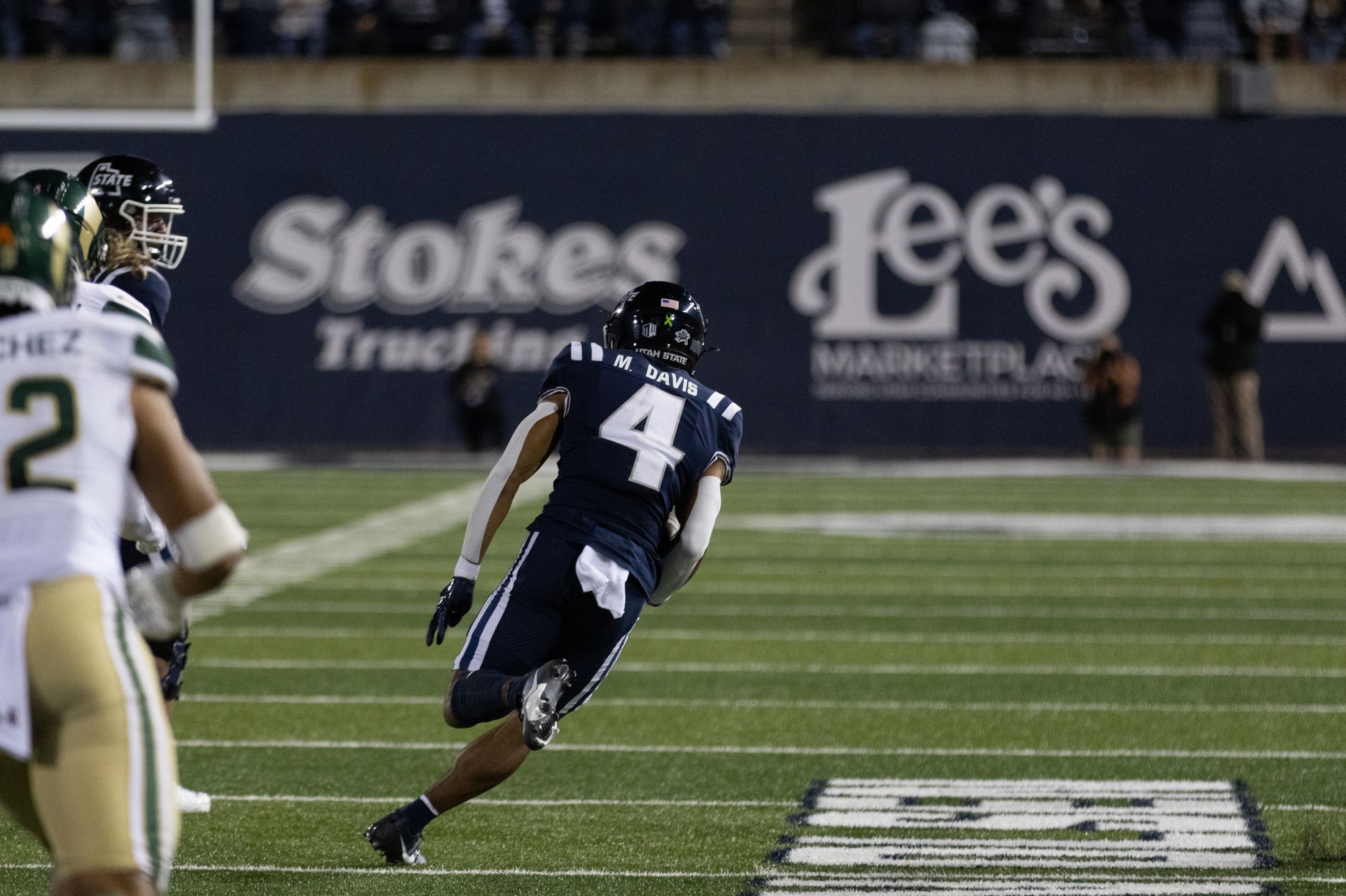 As Utah State continued to chip away and make plays on defense, the offense settled into form and ignited soon thereafter. An offensive line still hampered by injuries to most of its starters shook off four early sacks and surrendered just two in the final three quarters. Legas completed 17 of his last 20 passes after starting 2 for 9 with two interceptions, connecting exclusively with the receiving trio of Micah Davis, Jalen Royals and Terrell Vaughn to rack up 366 yards and four touchdowns over the final 41 minutes of the game. He, too, is emblematic of this team's budding identity – resilience and commitment to the process in the face of turmoil.
"When Coop calms down, takes a deep breath and does what I ask him to do, he can do some great things," Anderson said. "I wanted to choke him a couple of times tonight, but you have to give him credit. He took a butt chewing – a couple of them – and then he took a deep breath. He went out, didn't quit playing, and made some huge plays coming off some mistakes that could have cost us the game.
"He reached a point where he calmed down and just kind of stayed within what we're asking him to do... The thing he's doing really well right now is continuing the process. When things don't go well, he doesn't go in the tank on me. He takes a good butt chewing and then goes out and does what I'm asking him to do. If he can do that consistently, we have the people to help him. He doesn't have to carry the load. His resilience is one of his biggest attributes that allows him to do what you saw tonight and last week."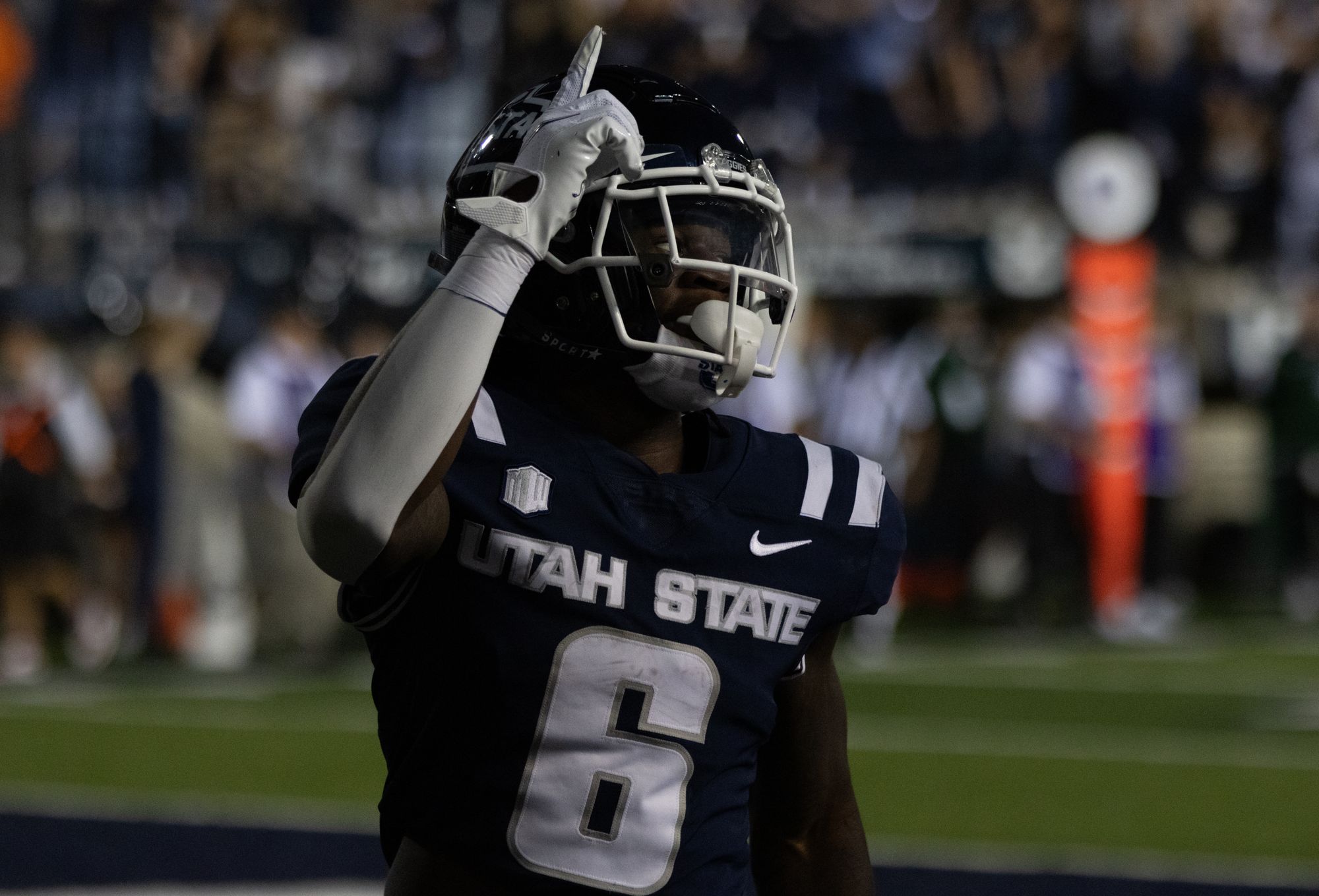 Davon Booth, Robert Briggs Jr. and Rahsul Faison, who comprise Utah State's three-headed monster at tailback, sparked the first forward momentum of the game for the offense and never looked back, combining to gain 272 yards on 42 carries.
Booth, yet another standout making his FBS debut this season, offered the opening and closing remarks of the game for Utah State's offense with a 22-yard score in the second quarter and a knockout punch in the fourth – which came on the first snap after a brutal hit sent punter Stephen Kotsanlee to the hospital with a season-ending leg injury that required surgery in the wee hours of the night.
It was the sort of play that could have very, very easily sent the Aggies spiraling out of control. Their 37-24 lead was solid, but a series of retaliatory penalties would have opened the door for Colorado State. Had it happened last season, or perhaps even just a few weeks ago, one could easily imagine Utah State falling right into that trap.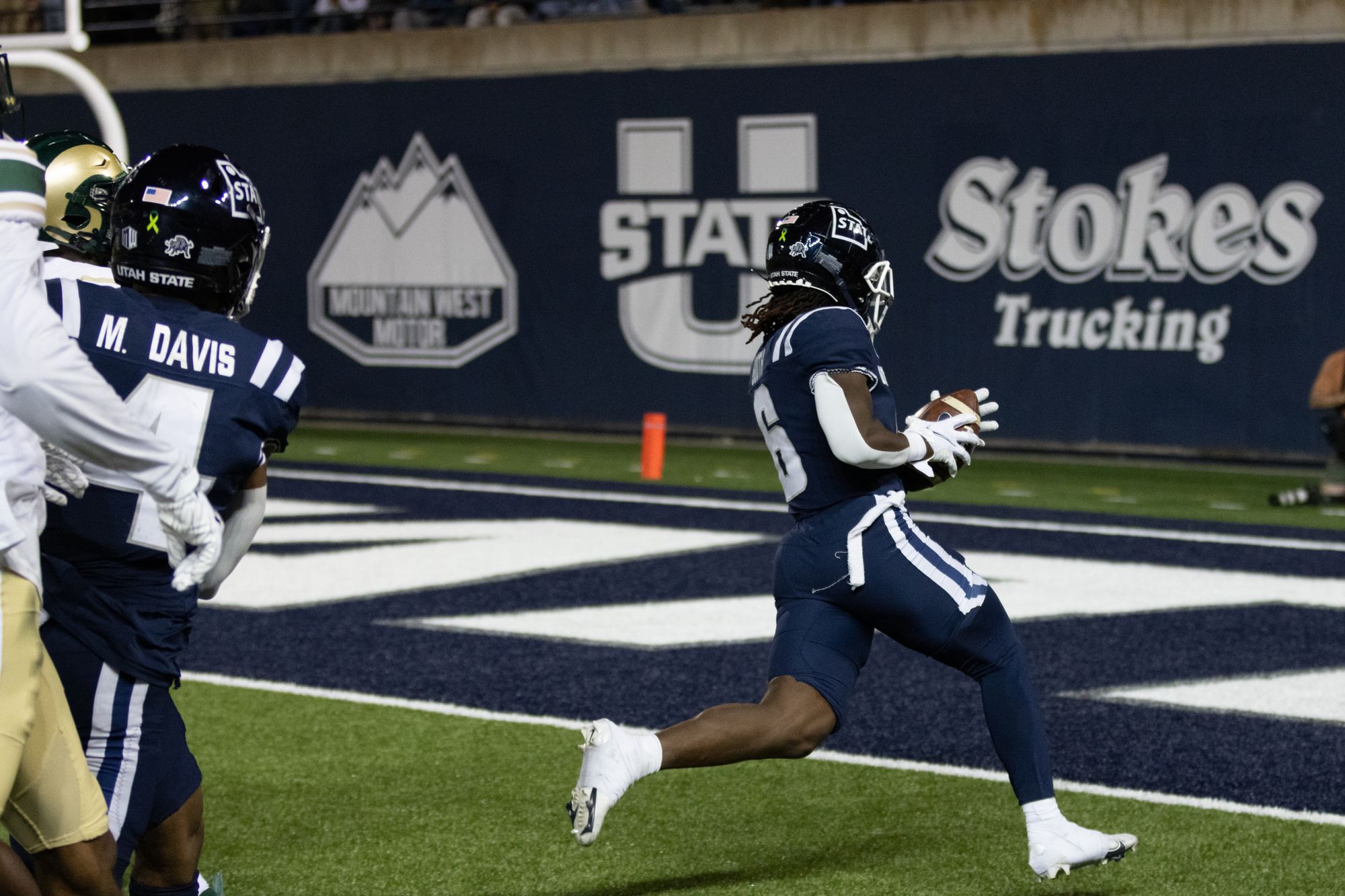 It didn't, though. It happened on Saturday night, to a group that seems to have learned its lesson about not losing control. Anderson and his contingent of on-field staffers launched into action during a timeout, defusing an understandably upset team and transforming their anger into a show of immense love for their injured comrade, surrounding Kotsanlee as he played to the crowd from his seat on the cart. It was very difficult, even as an impartial observer standing on the sidelines with a camera, not to be moved by the emotion of the moment when the Aggies executed flawlessly on the ensuing handoff, clearing a lane for Booth to dart 48 yards through Colorado State's defense to put the win on ice.
"I don't know if you could script the very next play to be any better than it was," Anderson said. "I just handed the ball off. We weren't trying to throw a bomb there, I thought about it, but I felt we should do what we needed to do to finish the game the right way.
"I called the timeout to bring everybody in and try to calm them down. Everybody was upset, and with the exception of one penalty, everybody did a really good job of calming down, taking a deep breath, and finishing the game. It's good to see, but that doesn't surprise me about this team. It could have been anybody laying on the turf and they'd have handled it the same way."
I'm not above a little extrapolation, and when something like that happens, it's hard not to consider it a reflection of something larger. Utah State's finest quality is its willingness to battle through adversity. On a football field, that can come only from a group of players who truly love and care about each other. Who are motivated not by spite, but by an unwavering commitment to deliver for their teammates and coaches.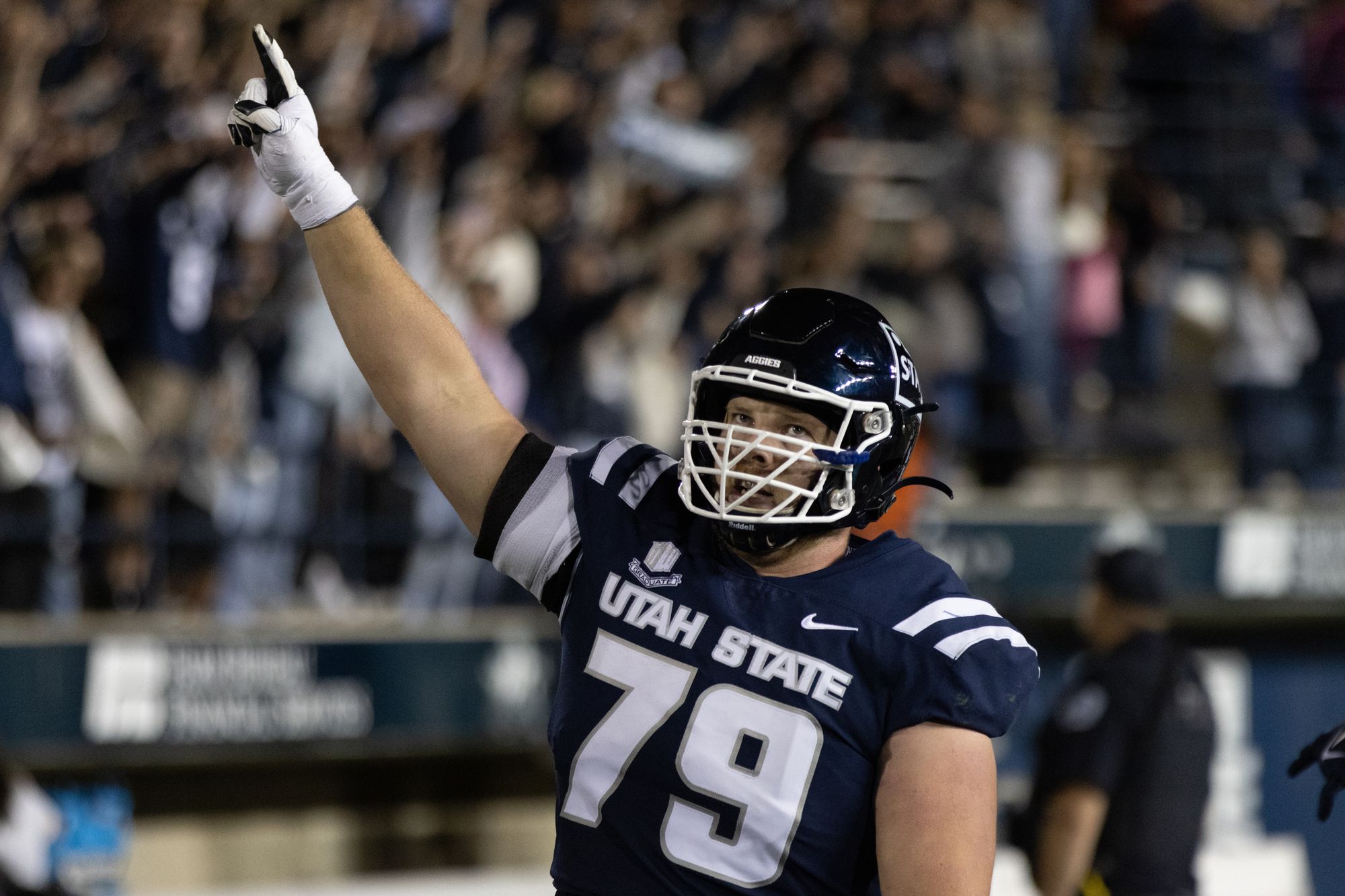 That's the only path for this team to accomplish what it wants to accomplish, and against Colorado State, the Aggies saw it manifest – on Booth's touchdown and in the moments that preceded it, yes, but also through the entire burst of brilliance that propelled them to a 44-7 answer for that 17-0 start.
"This group loves each other, cares about each other and cares about the staff, man. They know we're getting better every week," Anderson said after the game. "We still have a long way to go to be as good as we can be, but it's a lot of fun when you consider how many young guys are playing who haven't played before, and the steps we're starting to take in the right direction."
On Monday morning, I asked the head coach to expand on that.
"You can have good teams if they're coach-led, and you can have great teams if they're player-led," he said. "If the culture is right, the guys really care about each other, will fight for each other and don't let each other down, you have a chance to do special things. Sometimes you can overcome some talent deficiencies and some matchup deficiencies, but I don't think you get great play with a bad culture and a group of guys who don't care about each other.
"We talk all the time about being selfless – Christ came to serve, not to be served, and that's the example I try to share with them every day. I've been really pleased with them, even when things have not gone well. Nobody wanted to start with the record that we had. Nobody wanted to just get close, we wanted to win. But, they've never stopped coming to work every day and giving us what we need.
"You can attribute that to culture, environment and a locker room that's very close-knit, wants to lift each other up, lift us up, lift me up and continue to fight. You're seeing us get better because of it. You're seeing us not give up in games that are not going the way we want them to, you're seeing us fight back. All of that has to do with the culture we have, and you have to give the kids credit. Without them, it doesn't happen. They have to buy in, and they have."