Cover Story: An End To The Beginning
Cover story on the end, for both the 2022 Utah State season and the opening act of this era in Aggie football. Free for all to read, I just ask that you consider a subscription if you enjoy it: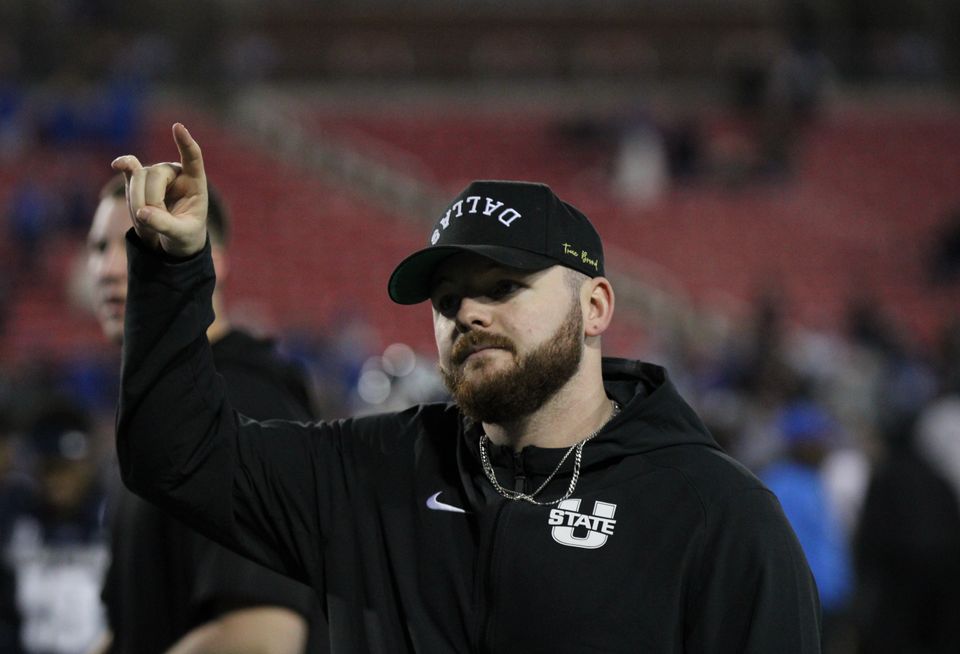 DALLAS – Did you know Bishop Davenport's name in August? A three-star quarterback in Blake Anderson's first full recruiting class at Utah State, Davenport was a household name in the Texas high school football ranks after two dominant seasons at the helm of Spring High School's electric passing attack. He was one of the jewels of the class, an early commitment and a leader for a group that will have no choice but to define the future of Utah State football.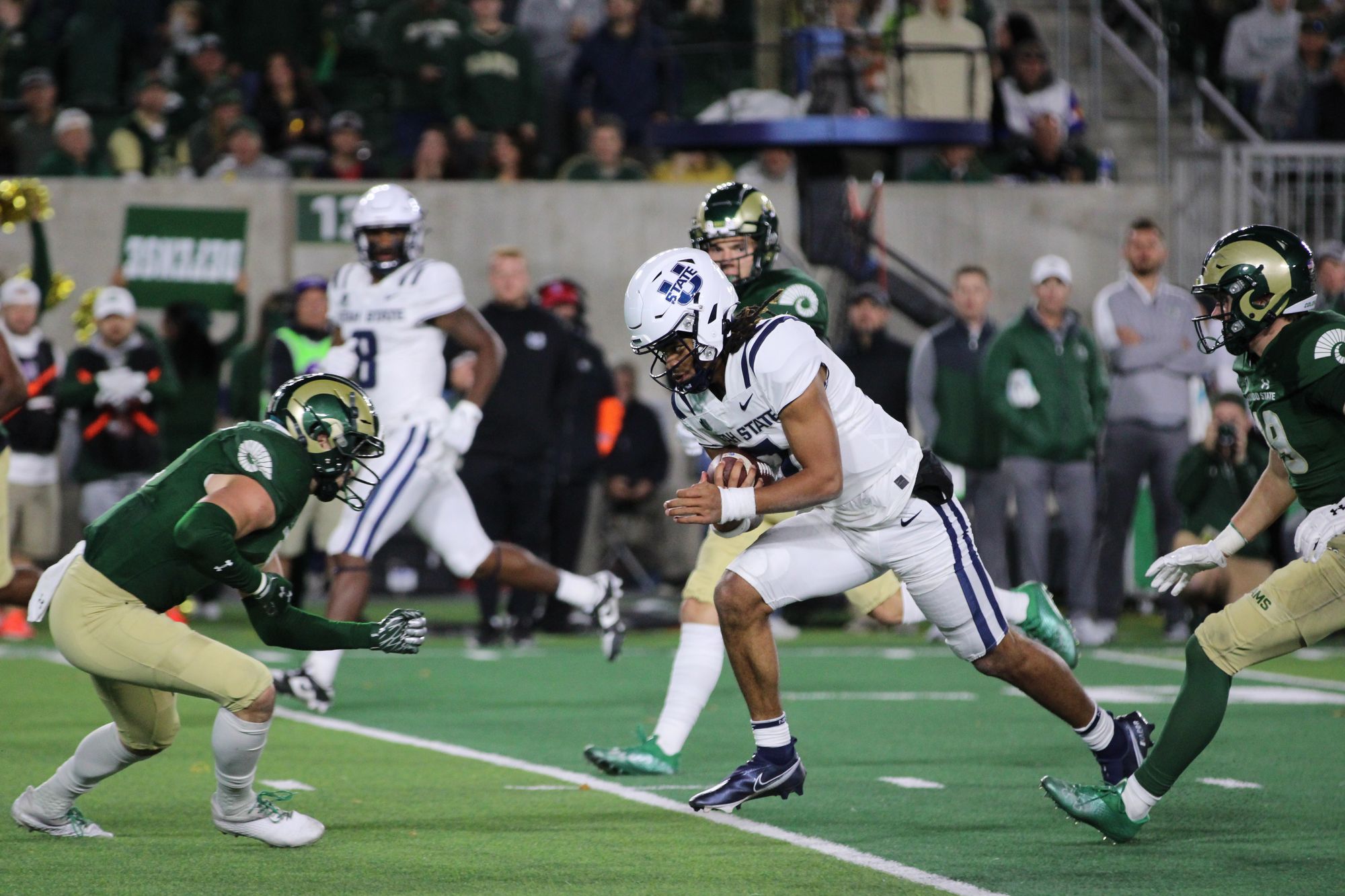 Maybe you knew his name. Recruiting isn't as niche a topic as it used to be, and Anderson certainly sang the praises of the young signal-caller when he secured his signature. Future-minded fans may have gawked at Davenport's lofty high school stats and salivated over his game tape – how could you not get excited about a teenager with Jordan Love's arm strapped to Chuckie Keeton's legs, at least when he played against other teenagers?
But he was No. 4 on the depth chart, at best. Maybe if everything clicked into place, he could battle with Cooper Legas and Levi Williams for the chance to replace Logan Bonner in 2023.
What about Weylin Lapuaho? The Bingham High School offensive guard eschewed interest from quite a few Mountain West programs to stay home, making the trek north from South Jordan to Logan. He was considered the No. 1 prospect in Utah State's class by 247Sports, but offensive linemen so rarely see playing time as freshmen. It was probably safe to hold off on the excitement for at least a year or two while he settled into the program.
Jordan "JD" Drew came even further north, migrating from Tulsa, Okla., to suit up for the Aggies. An exciting athlete without a true position, he was undoubtedly one to watch – just not in 2022. Utah State was loaded at wide receiver and cornerback, touting veteran returner after veteran returner. Something would have to go seriously wrong for Drew to crack the lineup.
How about Max Alford and Robert Briggs? Both played running back in high school, but Utah State liked the idea of playing him at linebacker. He would need time to pick up the minutiae of the position at this level of football, of course, but that's an impressive athlete who can pull off that kind of move. And Briggs, like Drew, would be stepping in behind a great running backs room: Calvin Tyler Jr. leading the way, followed by Pailate Makakona and Fresno State transfer Jordan Wilmore – plus, uber-talented incumbent John Gentry.
No, to know them beyond their recruiting rankings or roster bio would have bordered on fanatical (not that there's anything wrong with that). Utah State had veteran contributors in nearly every position and its eye on repeating as Mountain West champions after Anderson burst onto the scene with a message for the rest of the league in year one: Watch out.
You could say the same of redshirt freshmen like NyNy Davis, Ike Larsen, Enoka Bo Maile, Migao, Sione Moa, Otto Tia and Seni Tuiaki. Maybe they would find their way onto the field, probably on special teams, but these players were slated for the same job in 2022 that young players have been tasked with in college football since its inception. They needed to learn, grow, and give everyone something to look forward to when their counterparts on the field are gone.
Let's jump ahead to Dec. 27, in Dallas. The warmth of the Texas afternoon had long since ceded to a creeping chill as the sun tucked behind the press box at Gerald J. Ford Stadium, and the 2022 Utah State Aggies were leaving the field for the last time.
Some found their way to the tunnel before the Cedar Hill High School band, filling in for Utah State's band, could begin their rendition of The Scotsman, which they learned only days prior. Others lingered well beyond the final note, greeting friends and family in the stands or conversing with the few coaches left on the field.
Defensive coordinator Ephraim Banda hugged seemingly every senior he could get his hands on – not too tall a task because Utah State is graduating only 10 players. Tyler caught up with Robert Turbin, another member of the 2,000-yard club – which Tyler had joined earlier in the afternoon.
"He told me he was proud of me," Tyler said. "I (have) his number and we communicate a lot. He's like a big brother."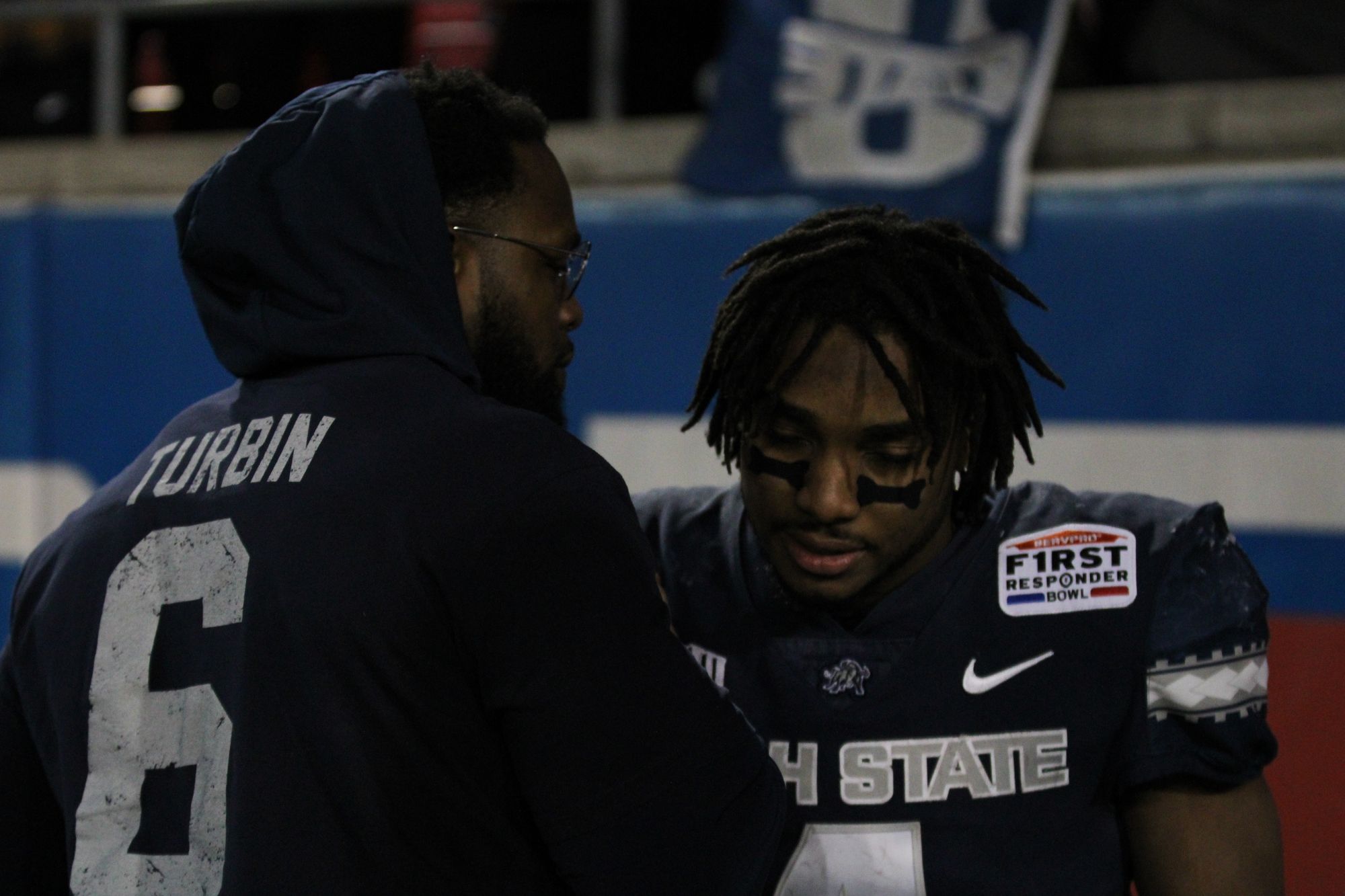 It was an ending. They're always sad, and this one was no different. Tyler fought back tears in his post-game press conference, just as he had on the field when the final moments ran out on his college career. Utah State has meant a lot to him over these two seasons and could mean a whole lot more if he can parlay this second act of his collegiate career into an NFL roster spot.
"It's been a blessing playing college football," Tyler said. "I have a lot of emotions. I mean, I cried a little bit, but I still want to be a good teammate to my guys. I can't let them see me down and I wanted to tell each one of them individually (that) I'm proud of them.
"(I'm grateful for) the opportunity to play football. This was my last college game, I got another chance to play college football and it is just a blessing."
Would Utah State have preferred not to close this season on a 38-10 beatdown against Memphis? Obviously. Utah State would have preferred a lot of this season to break differently.
"We did not cover well," Anderson said after the game. "They had some explosive throws, and we could not get anything generated at all, especially in the second quarter. We gave up explosive throws, didn't cover well in one-on-one situations and couldn't get anything offensive going at all. It's been a frustrating year offensively. We could not get anything generated offensively at all and it just was anemic."
It certainly didn't want Bonner to suffer a season-ending leg injury in September, or for what felt like dozens of teammates to join him – Briggs, Gentry, Andre Grayson, Larsen, Phillip Paea, MJ Tafisi, Tuiaki and Kyle Van Leeuwen were all unavailable in Dallas. Others, like Saco Alofipo, Gurvan Hall Jr., Makakona, Luke Marion, Moa, Ron Tiavaasue, Addison Trupp and Xavier Williams had already departed from the roster when the team left Logan to head south for its 13th and final game. Only 13 Aggies played in all 13 of those games.
"Development is still the key," Anderson said. "We had more injuries this year than we did a year ago. We had 27 guys in and out of the roster and a lot of young guys playing up front. Getting back to full strength, more development, back in the weight room are things to look forward to...
"There were a lot of young guys who got reps this year. We will learn from those. They weren't fun to watch at times. It was forced reps and forced experience, but hopefully, that pays big dividends next year. Most of the team is going to be back. We have 16 new bodies in January to add to the team that we have coming back, and this team can be exactly what they want to be. We have to attack it in some areas, and we have to play better ball than we did."
Although it can and will eventually be swung as a positive, Anderson has been the first to say that he'd much rather the above-listed young core not be a foundational block upon which the 2022 Aggies were built. He had no real choice in the matter.
Bonner went down and ceded to Legas, and when both Legas and Williams were injured against Colorado State, someone had to play quarterback. Davenport was healthy and around, so he went into the game. Legas suffered a leg injury in the third quarter against Memphis (Anderson alluded to a high-ankle sprain and said it probably won't require surgery) and Utah State sent Davenport out to close out the season.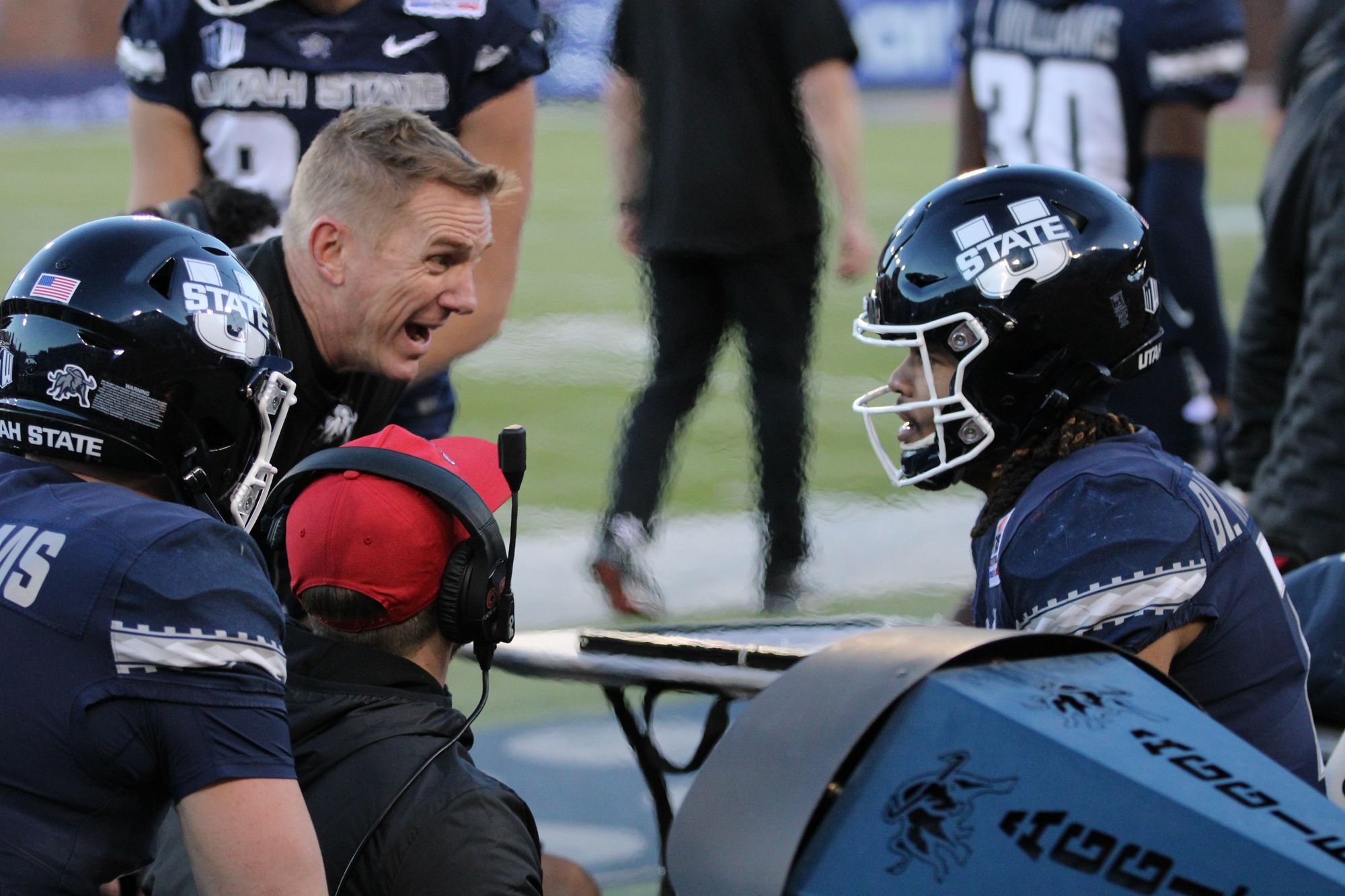 He threw his first collegiate touchdown pass to departing senior Brian Cobbs in the fourth quarter. Anderson told media after the game, almost immediately after sharing the positive news about Legas, that the quarterback competition for 2023 is officially open. They aren't replacing Bonner as anything but the day-one starter, but it's the optimist's dream come to life. The laser-armed freshman from Texas will be a year older, with the experience he was never supposed to have, and he'll have his chance to lead the program into its next phase.
"That is a room that is really important that we get better in," Anderson said. "We need to make decisions that keep us ahead of the chains."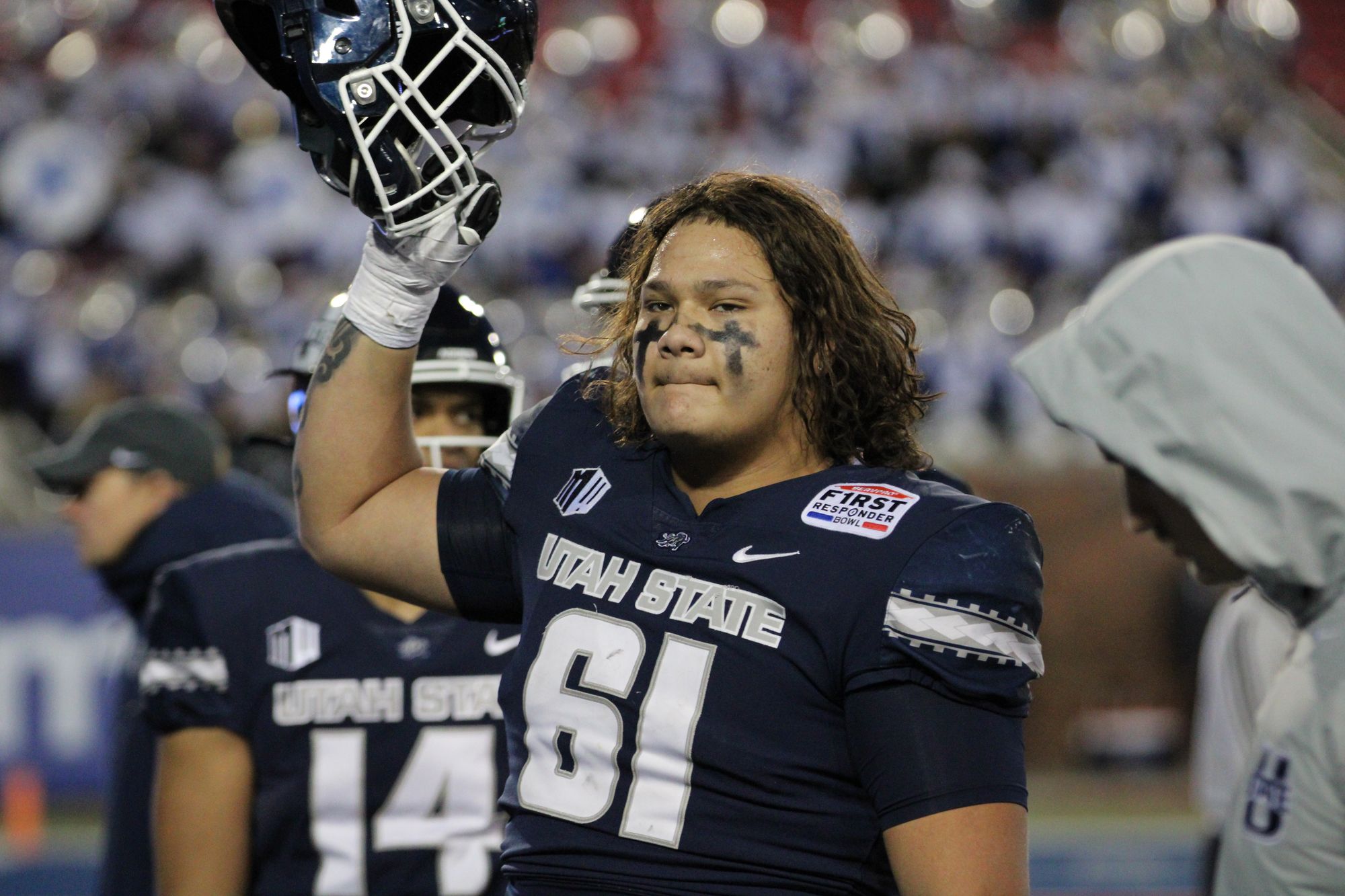 Next to Davenport's center, another departing senior in Chandler Dolphin, stood big No. 61, the baby-faced freshman from Bingham. Lapuaho took command of the vacancy left by White in fall camp and never surrendered it, starting all 13 games as a true freshman. He was among the last Aggies to leave the field, not just in this game, but all season. When Utah State snapped its four-game losing streak against Air Force, no one held a bigger grin in the post-game celebration.
If not for Briggs' injury, he would have taken snaps next to Davenport in the backfield, as he did when the freshman duo combined to help take down Colorado State. Turbin may want to familiarize himself with Briggs, because the two will be mentioned together a lot over the next few years.
On the other side of the field, Tafisi's injury against Wyoming forced Alford and Moa into immediate action next to AJ Vongphachanh at linebacker. Despite his age, Alford played his way into the starting spot, emerging victorious from a competition that had yet to really even begin. He still has a lot to learn, but he started four more games than anyone could have possibly imagined he would and lived to tell the tale.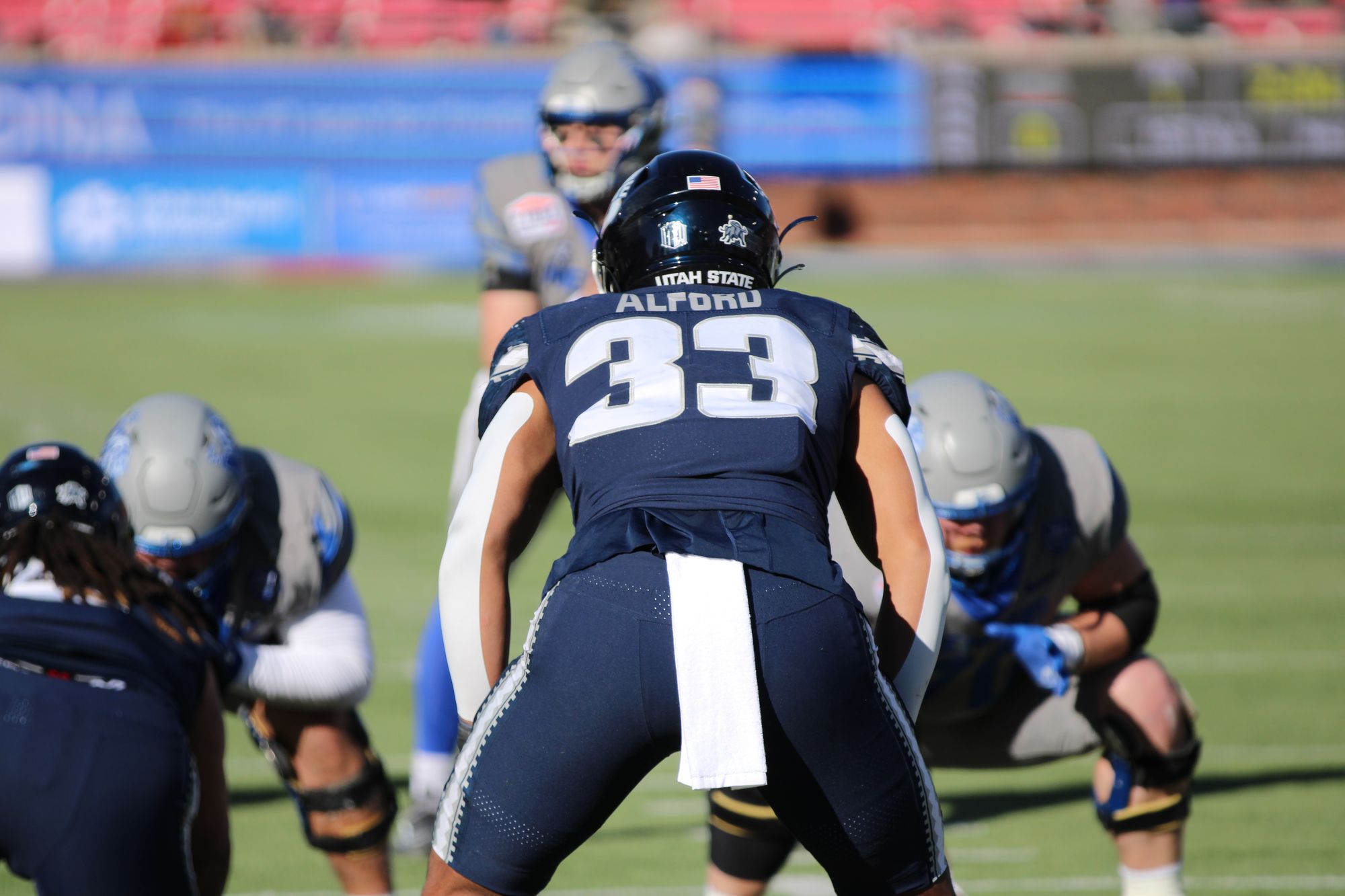 He'll have his veteran mentor in Vongphachanh back next season, along with the steadying force of Tafisi to give him a little more time to learn in the wings before taking on this kind of responsibility again – or, he should. It's probably best not to talk about these things definitively.
"Early on it was tough going into 1-4," Vongphachanh said. "The transition from that stage to turning it around and being bowl-eligible is an accomplishment. It is a testament to the guys being willing to fight.
"It will be a lot of the guys' third year in the system, and we expect a big jump in the front. If everyone does return as planned, we should be really good."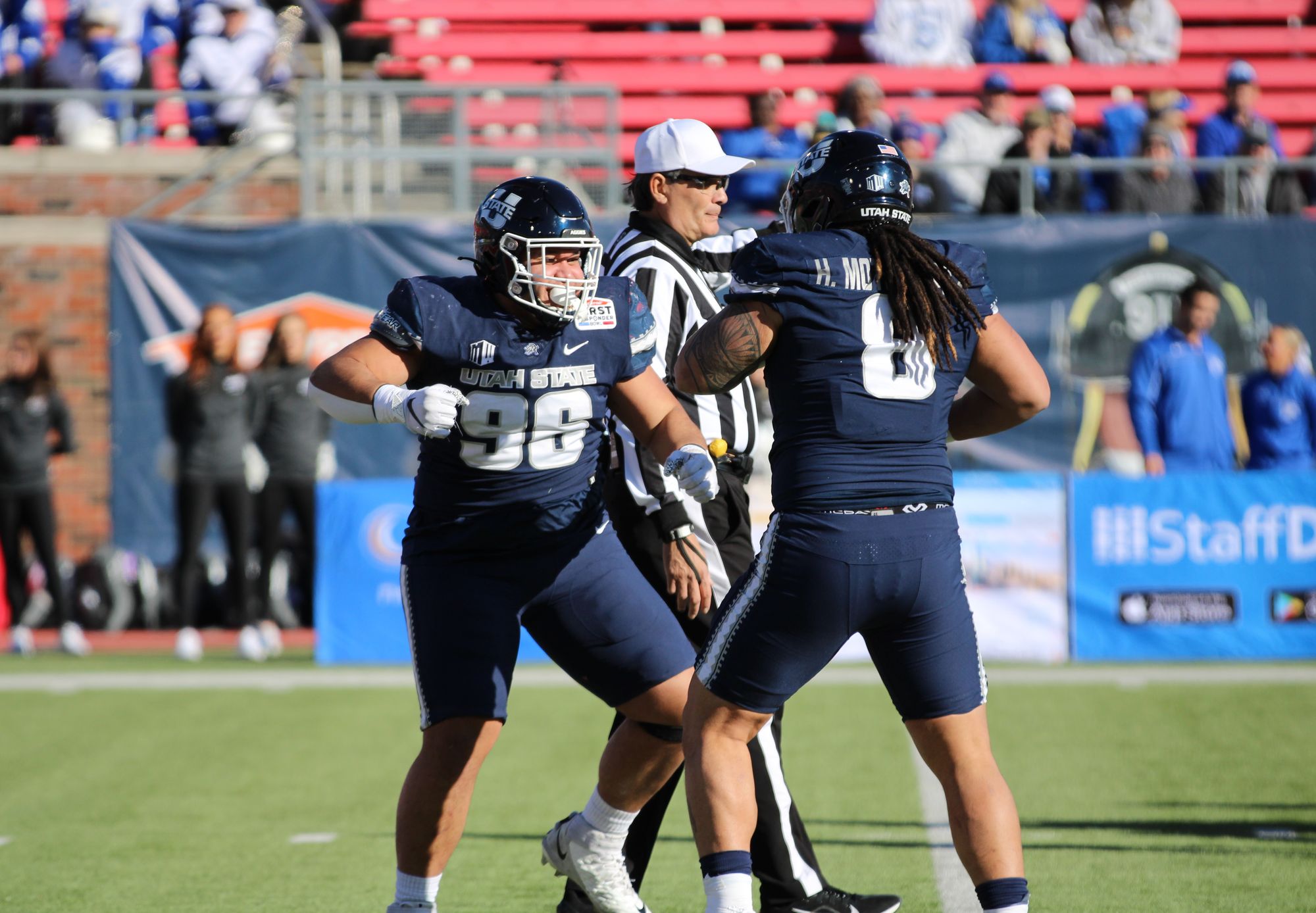 Those linebackers should have one of the best defensive lines in the Group of Five ranks in front of them, too. It was essentially the only unit capable of competing with Memphis physically, and every single piece of that group is expected to return. Tavian Coleman, Daniel Grzesiak, Patrick Joyner Jr., Maile, Migao, Hale Motu'apuaka, Paea, Tuiaki, Poukesi Vakauta, Byron Vaughns and John Ward is a tremendous group that only seems to be getting better.
"We've bolstered (that) group, and we get everyone back," Anderson said. "The (defensive line) will be the strength of our team next year. We're going to lean on that group, they'll need to play well and they'll make it tough on everybody."
The back end of Utah State's season was filled with similar stories. Larsen may very well be the best player on the team when the Aggies take the field next season – a brash, wild prediction made a little less bold when you remember that he was already their best player this year. Drew played multiple series at cornerback on top of his usual duties on special teams against Memphis. Cole Joyce logged four snaps at linebacker. Tia saw 12 snaps and made his first collegiate catch.
This was an end, but not just to a season rife with ups and downs; frustration, excitement, growing pains and reminders of just how far Utah State still has to go as a program. It was the end of Anderson's beginning.
He'll next take the sideline as the third-year head coach of the Utah State Aggies. Those Aggies will be playing without Bonner, Cobbs, Connor Coles, Dolphin, Alfred Edwards III, Grayson, Justin McGriff, Hunter Reynolds, Jacob South and Tyler. They'll see more attrition in the coming months, too.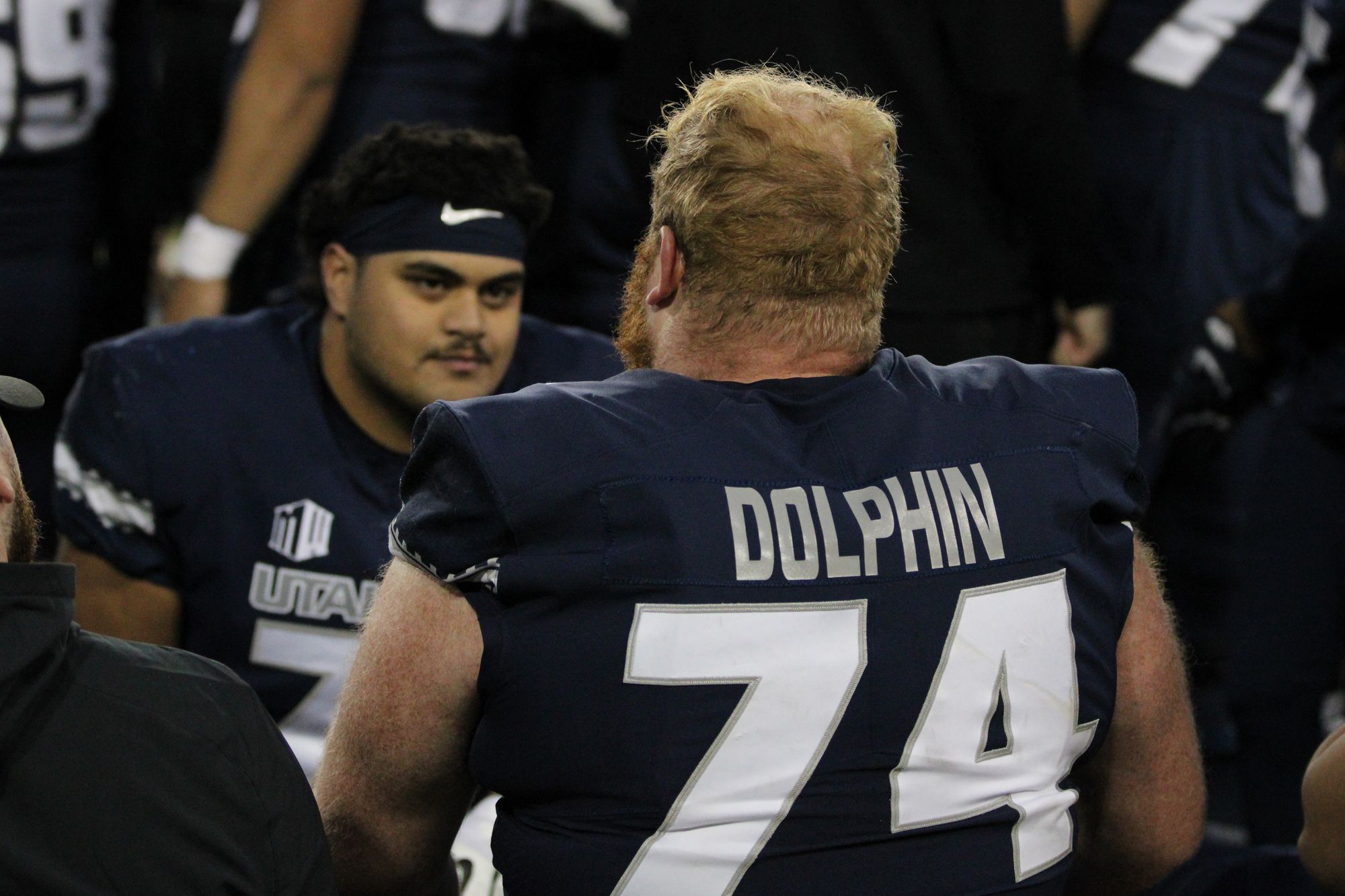 This part is never easy, no matter the season preceding it. Seniors on an 0-12 team are just as deserving of love for the work they put into a program, and Utah State was far from 0-12. There are foundational, program-changing players who will no longer exist as constants within Anderson's budding tenure. Hell, he's had Bonner by his side since 2017.
But, the next pages of Utah State history can be filled only by those who remain. Anderson's opening act is complete. He's 17-10 with a Mountain West title, an LA Bowl victory, two bowl berths and a tremendously exciting young core to sort through. It's their turn to tell the story.
"Oh, they coming," Tyler said. "These guys are young and hungry. This loss is going to leave a bitter taste, (but) they know what they got to do. They know what they have to build off of."