Big Moments Are Nothing New For Bishop Davenport
To see Bishop Davenport on the field was a surprise for his high school coach, @CoachTMiller18. But to see him thrive in the moment? "That's Bishop in a nutshell. He's not going to be denied."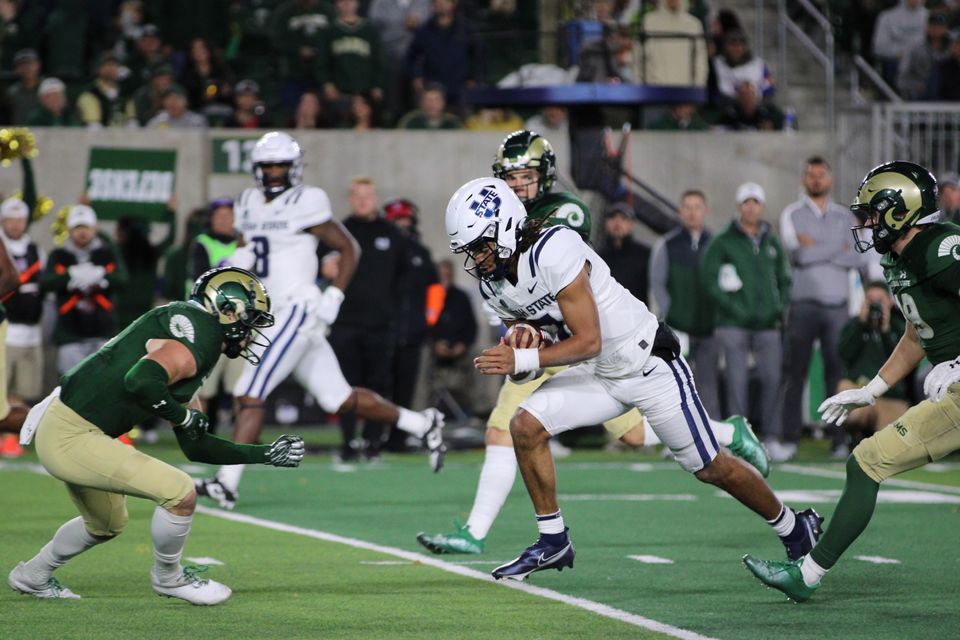 Bishop Davenport looked distinctly unlike a true freshman logging his first collegiate snaps as he led Utah State to a 17-13 victory over Colorado State in Fort Collins on Oct. 15. That's a little odd, given that Davenport very much was both of those things. He signed with Utah State's 2022 class as one of two signal callers and enrolled in school only four months ago.
He's had a lot of firsts since then: first year with a college academic schedule; first time in a college strength and conditioning program; first college fall camp; first snap; first pass; first touchdown; and first victory.
Yet, for a player reaching enough career milestones to pack the post-game notes on his own, Davenport was almost suspiciously calm. He drove the Aggies down the field and set up a game-tying field goal on his first full possession at the helm after injuries to both quarterbacks ahead of him on the depth chart, firing off a pair of pretty passes along the way. He tucked the ball and ran three times for 26 yards on his second time, the last of which gave the Aggies their eventual game-winning touchdown.
Despite a consistent pass rush from the Colorado State defensive front, Davenport was sacked only once and never turned the ball over. He stood tall in the face of both pressure from the defense and the pressure of the moment – evading the former and embracing the latter with a confidence and maturity very rarely seen from quarterbacks his age.
"He's poised," Utah State head coach Blake Anderson said. "I had a chance to see him play in person in the playoffs in the state of Texas against one of the best teams in the country. The thing that I took from that game is the same thing I took from tonight: The moment is not bigger than him. He was very calm. It was not perfect. He'll probably tell you he had some butterflies rolling, but the moment wasn't bigger than him.
"He connected dots when he needed to. He pulled the ball down and ran. There are going to be some plays he's going to look at that we need to fix, but for a guy who had not had any reps with us offensively other than just drill work, he was very calm and collected, and he allowed us to have a chance to win the game. That's all you can ask of him, No. 4 in that room. That says a lot about our quarterback room moving forward."
Anderson's experience of watching Davenport helm the Spring High School offense through big games in the Texas football circuit was not unique to one game. To understand Davenport's poise and maturity – both well beyond his years – you need not look further than his time in the Lone Star State. No one had a closer look at Davenport's prep career than Trent Miller, his head coach at Spring and now the head coach at Willis High School.
"Fundamentally it's always been there, and mentally he's a different breed, man," Miller told The Aggship. "We didn't run the system that we ran offensively at Spring High School until we knew he was going to be the guy. That's when we went to the empty set, five receivers – we felt like he could do it. Nothing phased him. He was just one of those, 'Give me the ball and watch what I do with it' players.
"I think a lot of it has to do with his upbringing and his childhood," Miller said. "He has two heavily involved parents in his life and he was a product of playing the traveling select football circuit growing up. He had a chance to be around the varsity kids (for several years).
"His older brother Bailee was a varsity receiver for us. He's been around the game his entire life, and being around the varsity guys in that locker room at a very young age helped him grow up and mature very quickly. He had a lot of support around him in his upbringing, (including) a great quarterback coach, J.P. Tillman – he trains a lot of the quarterbacks in the area."
---
Poise and experience often go hand in hand for quarterbacks. The more a signal-caller has seen a defense, operated within his offense, faced down hostile crowds and dealt with difficult situations, the more comfortable he'll be when tasked with stepping into those circumstances. Davenport's confidence in the face of pressure is seemingly equal parts innate and learned, and there's no greater parallel for his outing against Colorado State than his postseason debut at Spring.
The Lions entered 6A, DI (Texas' highest level of football) postseason play at 8-2. They had relied largely on junior Aldyn Bradley (now a wide receiver at Kilgore JC) at quarterback throughout the season, though Davenport had found his way onto the field on a few occasions. But, only a few series into Spring's first-round matchup against The Woodlands, Davenport took over at quarterback. His team was ultimately overmatched in a 17-0 loss, but the then-sophomore stared down a physical defense and never flinched.
"He started his junior and senior years for us," Miller said. "He ended up coming in as a sophomore, I think he played in four games his sophomore year. He actually came in for the second series of a playoff game his sophomore year, played three and a half quarters in that game and had a chance to win it for us, but we were just outmatched from a team perspective."
Davenport took over the starting job full-time as a junior and dominated from the jump, despite an offseason impacted significantly by COVID-19 (his junior season was in 2020). In his first game as a starter, the season-opener against Klein Oak, Davenport completed 31 of 40 passes for 404 yards and four touchdowns, adding 27 more yards on seven carries. He ripped 348 yards and two scores through the air on Dekaney in week two, rushing 10 times for 140 yards and three more touchdowns.
The Lions rattled off nine consecutive wins and advanced to the third round of the playoffs, knocking off The Woodlands and Klein Oak in the opening rounds before dropping a heartbreaker against powerhouse DeSoto, 27-21. Across the trio of postseason games, Davenport racked up 1,313 yards and 10 touchdowns on 80-of-121 passing with another 45 carries for 254 yards and two scores. He threw only one interception, just his third of the season, and managed 371 yards and three touchdowns in the season-ending loss to DeSoto.
He ended his junior season with a cartoonish stat line: 234-of-336 passing (69.6 percent) for 3,459 yards and 36 touchdowns, with 97 carries, 680 yards and seven more scores. Davenport torched every defense he faced, operating within a system necessitated by his ability as a passer.
"The system that we ran back in the day at Spring was more of a spread system (that) heavily incorporated the quarterback run game," Miller said. "We knew with him at a very early age that when we gave him the reins, whether it was his sophomore or junior year, we were going to go more to a spread-passing system because of his ability to throw the ball and to see the field… The way he gets the ball out of his hand and spins it; how he sees the field, understands defenses and reads coverages – he's just a special talent."
Davenport's senior season was the same story. The Lions, helmed by one of the most effective quarterbacks in a state packed to the brim with quarterback talent, shredded opposing defenses. They finished the regular season with a 9-1 record and an average margin of 54.2-10.4. In the playoffs, Spring again toppled The Woodlands in the opening round, 52-35, before a second-round shootout win over Klein Cain, 56-53.
Spring fell to Duncanville in Davenport's final game, but he had made his point. He finished his senior season with 234 completions on 342 attempts, 3,807 yards, 41 touchdowns through the air and 766 yards and seven touchdowns on 114 carries.
---
Miller had his attention elsewhere in college football as the sun began to set on Oct. 15. He was watching LSU take on Florida in Gainesville when he got a phone call from Davenport's father, Gene. Bishop was about to take his first collegiate snap.
"I got the game on just in time for them to take that one snap before halftime and watched the entire second half like a proud dad," Miller said. "I was nervous on one hand and excited for him on the other. For him to take that lead and keep that lead, that's Bishop in a nutshell. He's not going to be denied. He's such a great kid and such a tough competitor. I'm so excited to watch him play and grow under coach Anderson, who's a hell of a coach.
"I'll tell you what, I'm getting goosebumps right now thinking about it. You're talking about a proud dad moment. I've known Bishop since he was in sixth grade. To see him go from where he was, a little kid, to where he is now was such an exciting moment for me, my wife and my two little boys who look up to him like an older brother. There wasn't a happier person in the state of Texas, I can promise you that. Seeing all his hard work, dedication and commitment, feeling like he was overlooked in the high school recruiting process, and getting to that moment as an 18-year-old true freshman? That's something I will never forget."
To see him on the field was a surprise – Miller said that the expectation this season was for him to redshirt, given his place on the depth chart. To see him thriving under the pressure of the moment and leading his Aggies to victory? That was just Bishop being Bishop.
If Davenport, in the wake of lingering injuries for Cooper Legas and Levi Williams, gets the nod as Utah State's starting quarterback against Wyoming, he'll do so with a week of preparation – a luxury he was not afforded ahead of the Colorado State game. As Miller sees it, that might be all the quarterback needs to show the nation what he can do.
"This is no knock on the quarterbacks there because I don't know anything about them, but Bishop is a competitor," Miller said. "He's one of the toughest kids I've ever coached, one of the smartest quarterbacks I've ever coached. He lives for the moment. Nothing phases him.
"I can see him going out on Saturday against Wyoming and setting the world on fire after a full week of learning the system and taking reps with the No. 1 offense. I could see him having a performance where he doesn't lose that spot, where he takes it and never looks back. That's just the kind of competitor he is."