Cover Story: Utah State's Signs Of Life Not Enough Against UNLV
Cover Story: Undisciplined play and turnovers doomed Utah State against UNLV, despite signs of life from the Aggies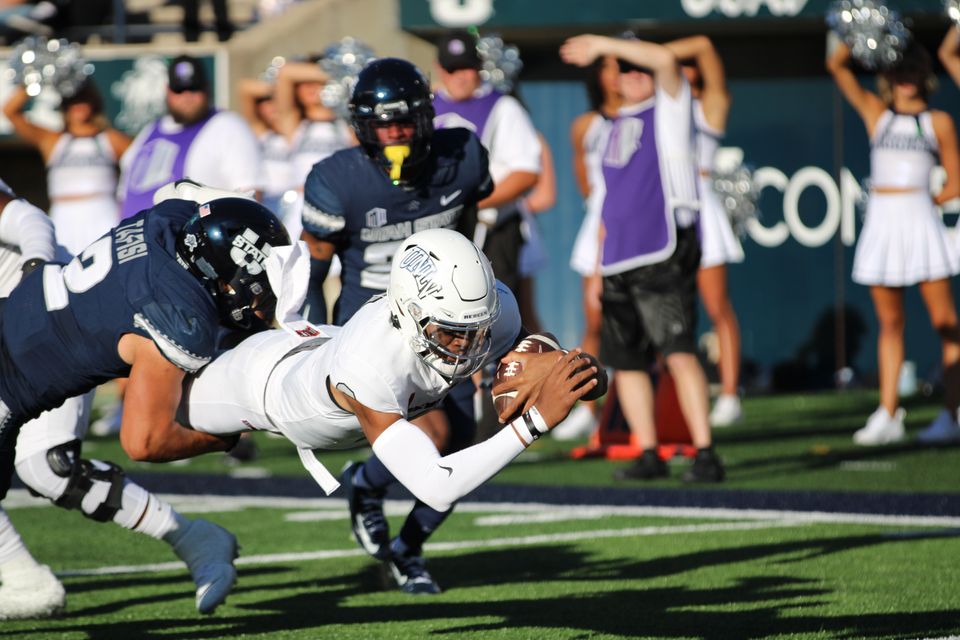 Utah State head coach Blake Anderson paused, just momentarily, before beginning his post-game address to gathered media after Utah State's 34-24 loss to UNLV – a team to which it had not lost since 2008 and a team with a 4-17 record under head coach Marcus Arroyo before their trip to Logan.
He seemed, at that moment, to be exploring the situation he and his team now find themselves in. A pure statement of the facts is damning, surprising and confounding in itself, and it's not hard, especially as the man at the center of all of it, to be struck by everything when giving thought to the facts of the matter.
Utah State is 1-3. The Aggies have lost as many games in September as they lost in 14 matchups a season ago. They struggled through a week one victory over lowly UConn before embarking on a three-game losing streak in what most considered to be the easiest part of this season's schedule.
They were blown out of the water from wire to wire against Alabama and returned home only to suffer a nearly identical fate at the hands of Weber State, the program's first loss to an FCS school in more than 20 years. And now, after a late comeback bid was silenced by quarterback Logan Bonner's sixth turnover of the game, the Aggies had dropped their first Mountain West game of the campaign to a team that went 2-10 last season.
While UNLV was doing that last fall, Utah State was winning the same league that it is now forced to look up at from the bottom of the standings. This defeat to UNLV, in which Utah State claimed an edge in yards gained but suffered 11 penalties, six turnovers and an almost unthinkable level of undisciplined play, came only 294 days after the Aggies dominated No. 19 San Diego State on its home field (well, kind of) to claim the first Mountain West title in program history.
In eight years, across three coaching tenures (two from the same coach), no one had managed to do what Anderson did in his first year helming Utah State football. It was the program's first conference title in any league since 2012, and only its second since the turn of the millennium.
This loss came only 280 days since the Aggies knocked off Oregon State in the LA Bowl, their second victory over a power conference team of the season– which had never before happened at Utah State. That team tied the school record for wins in a season, matching the efforts of the 2012 group that ultimately earned Gary Andersen the head coaching job at Wisconsin.
For Anderson, the man who had engineered such a miracle season, to be returning for an encore with his star quarterback, Logan Bonner, in tow was a historic victory for Utah State. The Aggies had finally made it. Divisional rival and consistent point of consternation Boise State was (and is) suffering through a gully, Wyoming has settled into a consistent range of about six wins a season, Colorado State is in a rebuild and Air Force would be, at most, a worthy foe for the Aggies.
The investment in the program had paid off, plucking Anderson from a successful tenure at Arkansas State was firmly entrenched in coup territory and the momentum was fully on the side of the high-flying defending Mountain West champions.
These thoughts existed en masse around Logan less than a month ago. This Utah State season is 29 days old.
And as Anderson paused to gather himself before answering for another loss in which his team looked discombobulated, undisciplined and at times completely hopeless offensively, it was difficult not to feel the weight of the nightmarish month Utah State has still yet to finish – even as an outside observer and chronicler of the program. It stuck in the air of Maverik Stadium, the energy drained from the crowd with each concussive blow to a team that at times looked untouchable less than a calendar year ago.
This post is for paying subscribers only