Ike Larsen Is Backing Up The Hype
Free player profile: Cache Valley's own @IkeLarsen19 is already making noise. His teammates and coaches say he's only getting better.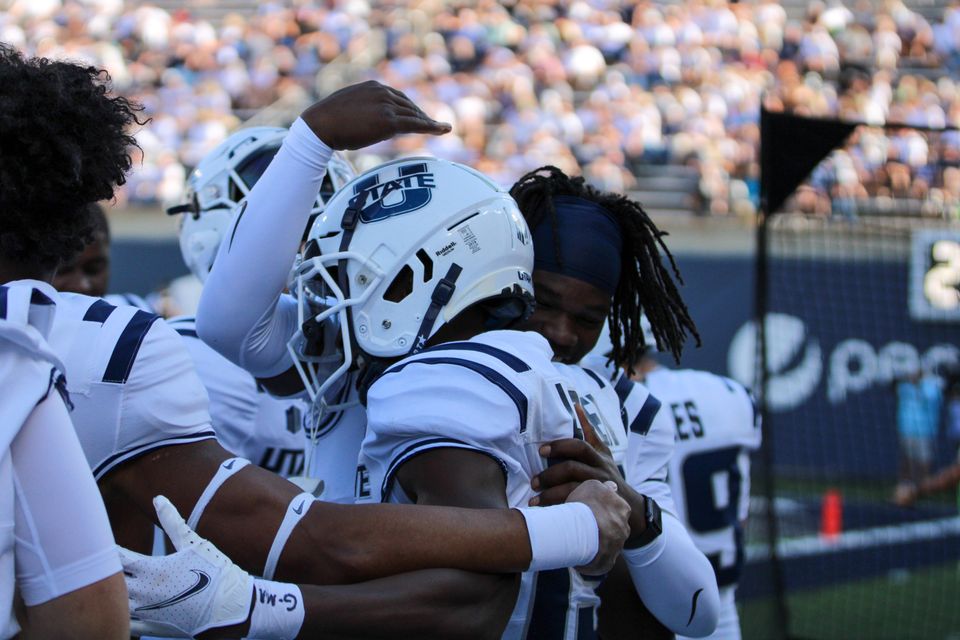 That game-sealing interception you saw in Utah State's victory over UConn? It was no fluke. It was Ike Larsen being Ike Larsen. Tracking the ball and closing about five yards of distance in less than a second? Ike being Ike.
The redshirt freshman might be new to some Aggie fans. He may be touted in some circles as a surprise breakout star – the fervor there is only getting to get louder as he logs more playing time. And while there is some validity to that, given Larsen did not enter this offseason as a projected contributor, the truth is that he's been doing this for months. It can only be a surprise for so long.
"What a great play," head coach Blake Anderson said. "He is a guy who has just been coming on. Freshman from the Valley, I love it when a local guy plays well and he can play. He's stepping up, definitely not playing like a freshman. It was a huge play by him."
There's a quality to Larsen's game you don't often see from redshirt freshman. In professional basketball circles, it may be referred to as "gravity," or the ability of an offensive player to contort defenses using sheer intimidation. NBA defenses pay immense respect to Golden State's Steph Curry as soon as he steps past half-court because they know he can and will shoot from anywhere beyond that line. They'll make structural sacrifices to account for him, pulling extra players away from their usual spots and adding them into the Curry resistance. It's the ultimate sign of respect for a player's track record.
Larsen hasn't had time to develop a reputation by which he may be preceded. He's logged defensive snaps in exactly one collegiate game, and even though he had an outsized impact across them, he took only 11 reps against the Huskies. By rep No. 5, he had made himself known with a pass breakup on a third-and-long. Three reps later, UConn signal-caller Zion Turner bailed out of the pocket as soon as he saw Larsen coming. Turner's biggest mistake of the afternoon came on rep No. 11, the game-ending interception.
The young safety's gravity comes not from a history of tormenting quarterbacks, but from an inherent understanding that seemed to dawn on Turner – a freshman in his own right – within only a few plays of No. 19's entry to the game. He's a force to be reckoned with because he forces offenses to reckon with him.
Running to the outside? There's Ike. Dropping back to pass? You better watch your blind side, because Larsen is flying past the left tackle with reckless abandon. Think you have enough room to squeeze a pass to your out-breaking receiver because Larsen is trailing him by five yards? Think again.
It's a difficult quality to pin down. Larsen fuses athletic ability with instincts in a way that can be generally explained or understood – it is still football, after all, and being really fast and smart isn't a new concept – but the way he uses those traits is reminiscent of an old Supreme Court maxim: I can't succeed in intelligibly defining what makes Larsen special. But I know it when I see it.
His teammates have similar difficulties in defining their newest counterpart. When asked by The Aggship about Larsen after Utah State's season opener, veteran cornerback Ajani Carter searched for words that could provide sufficient weight in describing Larsen's ability and long-term potential. He, too, couldn't quite put a definition to it.
"Ike Larsen, Logan is his city. That's what he says. This is going to be his city, Ike is going to be good. Man," Carter said, pausing to find the sentiment he wanted," he's going to be good. If y'all stick around to see it? He's going to be really good."
For all there is to say about Larsen the football player, his tact in an interview setting is completely antithetical.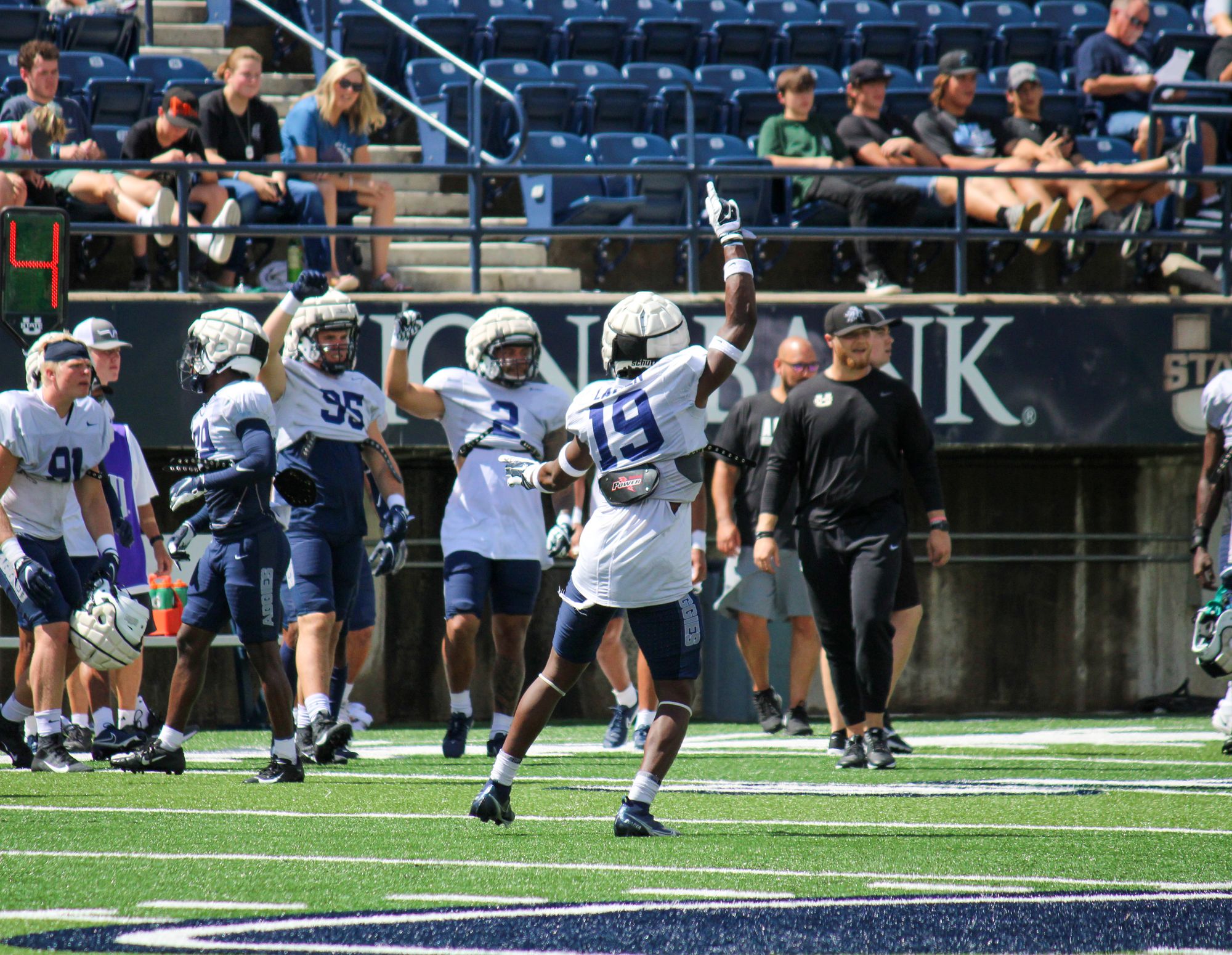 On the field, Larsen is rambunctious, attacking the football with that same reckless abandon Turner encountered. He's talkative and boisterous, windmilling his arms and breaking out a Dikembe Mutombo finger-wag as he runs off the field after a big play.
In speaking to The Aggship after wrapping up a mid-week practice, he's soft-spoken and deliberate. He says all the things you'd expect from a young player, about doing whatever he can for the team and about the importance of his teammates and coaches. Larsen dabbles in music, releasing a pair of tracks this year under the name IKELARSEN.
"I've actually been making music for a few years, probably three or four years back," Larsen told The Aggship. "It's been fun. Now I'm starting to drop a few songs.
"I like doing it because I feel I'm different, I don't swear at all in my music. (Making music) helps me get things off my chest."
For as fast as Larsen's star is rising, you get the sense he was ready for this. None of it seems too big for him.
Now, a lot of youngsters can make noise in small batches. Utah State has seen its fair share of early-season wonders who disappear when the rotation tightens in conference play. Avoiding the numbers crunch is the next test for Larsen, though that's been the case for months now.
He's been asked to take on more responsibilities as Utah State looks to see what it can realistically expect of the young safety, and as the calendar turns to September and the degree of difficulty on the schedule leaps, the Aggies have yet to find his limit. He just keeps making plays.
"He's done a great job of understanding what to do within our scheme," defensive coordinator Ephraim Banda told The Aggship. "He's eliminated a lot of his missed assignments and really, the best thing he's done is that when he's had an opportunity to make a play, he's made it. That's what separated him as a backup to this point."
In Banda's defensive system, which is predicated around controlled chaos, a player doesn't pass the test until he can prove it every day.
"The sign is in training camp, when a guy can handle what he sees every day from our offense and knows what to do within our defense," Banda said when asked if there's a key to watch for a young guy taking a step in his development. "But, I will say that transitioning to the season is different. Can he handle the week-to-week game adjustments, the game planning?
"That's always the trick. Yes, he's looked great through camp and he's done a phenomenal job to this point, but the question is, can you transition to seeing a different offense every week and do that at a high level? That will be his test."
For as impressive as he's been, Utah State never wants to send a player into a situation he isn't prepared for – especially one as young as Larsen. Confidence is a fickle thing, and he has it right now.
"I feel like it's not really a switch flipping," Larsen told The Aggship. "This year, I know what I'm doing a little bit more. Coach Banda has helped me out a lot, and my confidence level has gone up drastically. That plays a big part in it."
Tossing him into an increased role before he's proven his consistency on the practice field may inspire him to play his best football yet; Only at the risk of halting the momentum he's built. Banda is excited, but he's been doing this for a while now. He knows the importance of caution.
"The emergence of Ike gives me confidence," Banda said. "I don't know if he's going to rotate as much as people may think, but if he proves to me that he can handle the things he needs to handle, I'll put him in the game."
In other words? Stay patient. Utah State has a pair of trustworthy starting safeties in Gurvan Hall Jr. and Hunter Reynolds, and a third who would be starting for most defenses in college football with Dominic Tatum. Banda is well aware of the potential his budding star redshirt freshman has. With time will come more reps, and if game one was any indication, with more reps may come something truly special from Cache Valley's own.