Meet McCae Hillstead, Utah State's True Freshman 'Home-Run Hitter' Behind Center
(Free) Utah State's decision to name McCae Hillstead as its new starting QB came to many as a shock. For those who know him best, like @AlphaRecruits15, Hillstead's surge was no surprise: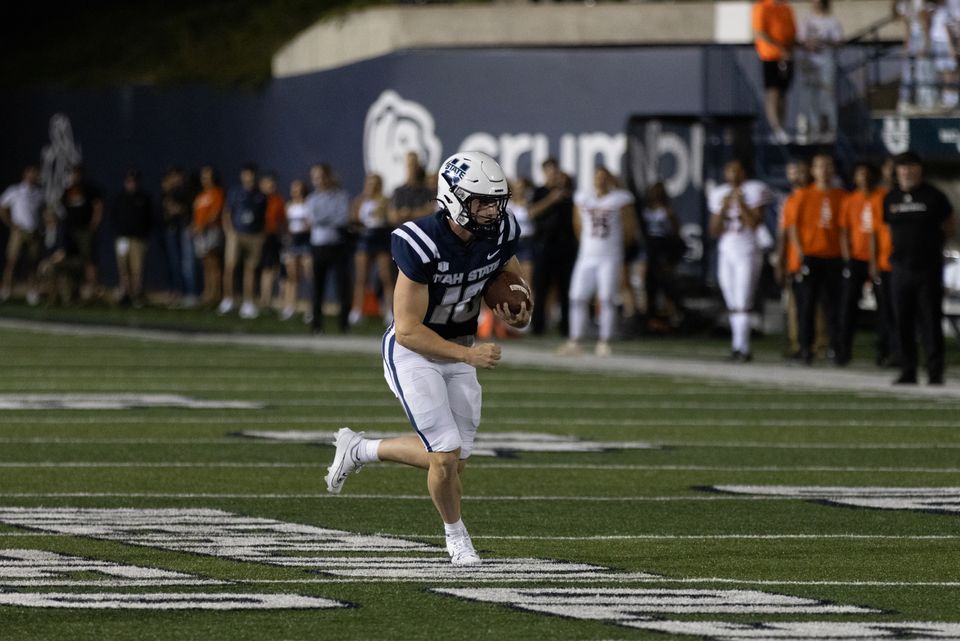 Will Snowden knew very early that McCae Hillstead would be special.
A former running back at BYU, Snowden works as a trainer, mentor and marketer in his capacity as the owner of Alpha Recruits – a recruiting service that helps connect young players with prospective schools. Hillstead and Snowden began their work together in earnest during the former's freshman year of high school, but their connection extends beyond that.
Hillstead and Snowden's son, Smith – now a freshman cornerback at Utah – were teammates and classmates at Skyridge High School, and the elder Snowden had seen the potential of Utah State's new starting quarterback when he was still in middle school.
"I'm a mentor to McCae," Snowden told The Aggship. "I've been mentoring him for quite a long time. I run a recruiting service, too, so I work with kids and train kids. I've played a part in training him and mentoring him.
"The way I started working with McCae is that we were playing him in probably his eighth-grade year, and I just saw his ability to throw the ball and also his sheer speed. People have no idea how fast he is on the field. When I got a chance to see how he ran, I was intrigued by his speed, but more importantly, by his whole skillset."
As Hillstead came into his own, succeeding Emmett Call as Skyridge's No. 1 QB when he was a sophomore in 2020, that skillset just kept growing. He completed 63.8 percent of his passes for 3,077 yards and 36 touchdowns with eight interceptions, carrying 154 times for another 686 yards and 15 scores in his debut at the helm of the Falcons offense, leading them to a 10-3 record and a berth in the Utah 6A playoff semifinals.
In his junior season, Hillstead's passing production dipped a bit (55.2 percent completion rate for 2,493 yards and 24 TDs with 11 interceptions), but he found a groove as one of the strongest runners in the state (122 carries, 819 yards, 13 TDs) and took Skyridge back to the 6A semifinals with an 11-2 mark. Had he finished his senior season, he could have challenged the record books – completing 64.2 percent of his passes for 1,327 yards and 14 touchdowns with three interceptions, and rushing 49 times for 302 yards and seven scores – but a high ankle sprain limited him to only seven games.
Despite his injury and a Sept. 20 surgery in Alabama to repair it, Hillstead returned to the field in November for Skyridge's quarterfinals matchup with Davis, threw for four touchdowns and nearly 300 yards, and parlayed it into a three-game run that Skyridge won't soon forget, closing with the program's first state title in a 17-7 win over Corner Canyon. Hillstead, still hobbled and donning a brace on his left ankle, completed 46 of 69 passes (66.7 percent) for 668 yards with eight touchdowns and only one interception, rushed for another 92 yards on 16 carries, and guided the Falcon offense with poise and resilience as they delivered a title to head coach Jon Lehman in his last game at the program's helm (he's now the full-time athletic director at Skyridge).
"He's a few weeks out of his surgery, but he's not healthy, and he battled. To see him on that journey is special," said Lehman in a 2022 Deseret News story.
"To me, that fight is what it's all about and the belief in each other is what it's all about. It's not finishing on top or me not coaching next year, it's about the resiliency and toughness of the kids and being rewarded for that."
That's Hillstead. He's competitive to no end, mature, and ready to lead a team with both his play and his actions. He grew up quickly, took on a leadership role as an underclassman for one of the best football programs in the state, and proved himself at every opportunity.
"McCae has been through a lot in his life," Snowden said. "He's been through a lot, and he's super mature. His mom has done an exceptional job, and his older brothers have done an exceptional job of rallying around him and really being a support system.
"He has an exceptional competitive drive, he's as competitive as they come, and he understands what it takes. He has people in his corner who understand what it takes, and we're going to continue to push him, motivate him and put him in the best position to have a very successful career with the Aggies."
If not for his size – checking in at a slight 5-10, 185 pounds on Utah State's roster this fall – Snowden says he would have been heralded as a prospect across college football.
"If McCae Hillstead was 6-0 tall – not 6-3, just 6-0 – he would have had every school in the country recruiting him," Snowden said. "That's how good he is. Every school, and when I say that, it is not a joke. The likes of Lincoln Riley and beyond were very, very high on McCae Hillstead. Mechanically, he is as good as they come. He can throw the ball with anyone in the country. He's a dangerous kid."
Ultimately, his being overlooked worked to Utah State's benefit. The Aggies were among the first to recruit Hillstead, making him a top priority in the early days of Blake Anderson's tenure and extending a scholarship offer shortly after he visited Logan in March of 2022. Even after he announced his intention to become an Aggie a little over a month later, Utah State maintained its efforts, fighting off a late surge from Washington State to secure his NLI signature during the December early signing window. He graduated early, enrolled at Utah State in January, and showed Anderson and the rest of the Aggies coaching staff exactly what they had hoped to see during spring camp on limited reps.
What they saw was no different than what Hillstead did throughout his prep days, split between three years as the starter at Skyridge and an extensive 7-on-7 career with Alpha Recruits that matched him and his teammates up against some of the best and brightest recruits in America. He has the arm to make any throw necessary, the anticipation to beat tight coverage, and the confidence to deploy it in any situation.
"That (anticipation) has been something he's had for a long time," Snowden said. "What happens is, he's made those throws in high school, he's made them in 7-on-7 – our program travels the country playing 7-on-7. We get a chance to see some of the best players in the country. Just a couple of years ago, he was going against Travis Hunter, for example. He's been tested against top-level kids, and he figured out early that he's got to get the ball out on time and throw to space, and he does it really well. Blake has just taken it to a whole new level with his tutelage of McCae."
He was seen as a perfect fit for Anderson's wide-open offense, and played that role to a T whenever given the opportunity. With each day spent learning the system, Hillstead's confidence grew – and his play followed. He slid into the No. 3 spot on Utah State's depth chart when redshirt freshman Bishop Davenport entered the transfer portal shortly before the end of spring practice, impressed coaches with his maturity and growth during summer workouts, and continued his push when fall camp opened. Looking cool and collected in his new offense, and fully recovered from his ankle injury, Hillstead took on more reps (about 20 percent, per Anderson) and shone as both a passer and a runner.
"If you watch Utah State football and know about that offensive scheme, you know they really spread the field," Snowden said. "Anyone who is going to play quarterback for Utah State has to really have a strong arm. You have to be able to make the throws to the sidelines. Sometimes, those receivers will line up one yard off the sideline. They attack you by spreading out the field, which creates running lanes for quarterbacks and also challenging throws.
"McCae fits both of those. He can make every single throw, from anywhere on the field, and then if you give him running lanes, he will kill you. He can really beat you with his legs. His speed is dangerous, and he's very good with the ball in his hands. He will throw the ball first, but he's a dual-threat quarterback to the fullest. He's a true dual-threat."
Hillstead's play, as has since become apparent, was more than just impressive "for a freshman." The Lehi kid was consistently strong, and Anderson was watching. Utah State named Cooper Legas its starting quarterback early in the offseason and didn't waver on that heading into the opening stanza of the 2023 season, but Anderson never stopped evaluating the position at the helm of his offense.
"It's been under consideration since day one of fall camp," Anderson said after Utah State's loss to Air Force last week. "Every day was about evaluating how Coop, McCae and Levi (Williams) were progressing. (We looked at) how they played last week when they got their snaps and at how our practices looked every day."
And a little over three games into the year, immediately following a brutal first quarter at Air Force, Anderson made his move. Legas left the game, Hillstead went in, completed 18 of 27 passes for 202 yards and three touchdowns, and was three days later named Utah State's full-time starter behind center – the first true freshman starting quarterback for the Aggies since Kent Myers in 2014 (not including Davenport's work in injury relief last season), joining a long line of youngsters in the job with Myers, Chuckie Keeton, Darrell Garretson and, of course Jordan Love (who was a redshirt freshman, but we'll toss him in here. Anderson cited the same skillset that caught Snowden's eye all those years earlier.
"It was based on what I'm seeing every day in drill work and in team work," Anderson said. "I've seen McCae's skillset – his willingness to work through progressions and get the ball out. I love Levi to death, and he has a role on our team, which you saw there on the goal line. But, even in the reps last week, it was the ability of one versus the other to see things clearly and make a decision to pull the trigger. We have the skill out in space if we get the ball to them, and I felt like right now, McCae gives us the best chance to do that."
Hillstead's promotion should be considered as such. He's stepping into the spot in place of Legas, and Legas' difficulties within Utah State's offense are well-documented, but you would be hard-pressed to find anyone with a bad thing to say about the now-former Aggie starter. Snowden, who was familiar with Legas back in his days at Orem High School, sang his praises without prompting.
"I want to be very clear about this – I am a huge, huge Cooper Legas fan, in every way," Snowden said. "I'm a huge Cooper Legas fan, and I've been a fan of his since high school. I worked with a lot of kids at Orem. Cooper is the ultimate champion. He's such a great leader, and his toughness alone is honorable. There's not a tougher guy on the team than Cooper, and I think he'll do a great job in continuing to mentor McCae while staying ready if they call on him again."
This move is about Hillstead. It's about the fiery competitor, undeterred by injury or anything else that stands in his way. He's earned this moment, several times over. The Hillstead era has arrived in Logan, and to those who know him best, it's no surprise that it came so soon.
"It didn't surprise me, simply because of the racehorse you have in McCae Hillstead. I can't say it enough... He's been a 4.0 student basically since birth," Snowden said. "He's a very smart kid, and when he's able to get into a playbook, no one is really going to out-study him. In anything. In football or in the classroom, he's going to be studied up and he'll be prepared to do his job. He is more than capable of leading that team. His skillset, his maturity, his belief, it's all there, and Utah State fans are going to really fall in love with this kid quickly.
"He's a freshman, and freshmen are going to make mistakes. That's going to happen. But, McCae is going to do it brilliantly, even with his mistakes. He's a home-run hitter, he has the skillset to do it, the maturity to do it, and he will hit home runs. That's what he does. He has a lot of good weapons out there at Utah State, and I would just tell people to get their popcorn ready because the kid can do it. When people say the era has begun, it absolutely has, and in my opinion it'll be a long reign."