NyNy Davis Is Utah State's Next Great Wide Receiver
With the ball, he's an escape artist. For Utah State, he may be the key to fully unlocking Blake Anderson's passing attack. Get to know NyNy Davis (@6Daviis), Utah State's next great wide receiver. (Free post)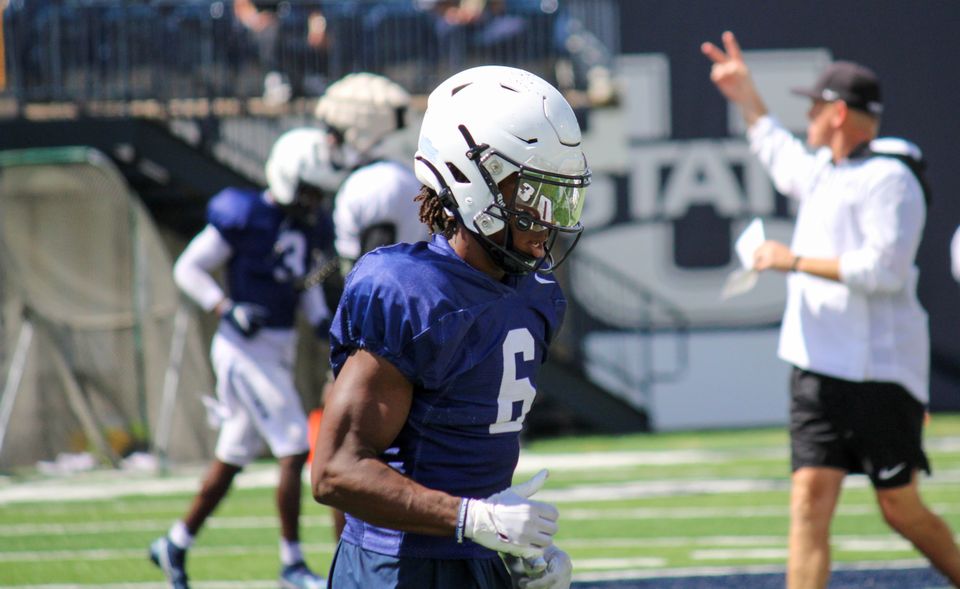 NyNy Davis has no issue breaking the mold. He does it about five times just in the span of his traditional player bio. The first thing you notice – that anyone notices, for that matter – is the measurables. He's listed on Utah State's 2022 roster at 5-8, 155 pounds. Last season's roster tabbed him as five pounds lighter.  
He earned Alabama Class 4A first-team all-state honors as a senior at Attalla (Ala.) Etowah High School for his efforts as a two-way standout at running back, wide receiver and cornerback. His track record (literally!) was perhaps even more impressive.
As a senior, Davis participated in eight outdoor events listed on Athletic.net's records. He won all eight 100-meter races; six of seven 200-meter events he recorded a time in; his lone listed javelin competition; and took second in his only listed long jump. In those eight 100m races, his best event, Davis edged the No. 2 runner by a third of a second on average. He took the state title by nearly a half second, finishing in 10.82 seconds (compared to 11.22 for the No. 2 finisher) – still 0.13 seconds slower than his personal best.
If you grabbed Davis on his best day, straight out of high school, and put him into Mountain West 2022 Track and Field Championships competition, his 10.69 best would have been enough for seventh in the men's 100m finals.
Despite all of this – his football accolades, his positional versatility, his blazing speed – most of the FBS football programs close to home never saw beyond those measurables. Davis claimed 18 offers on his 247Sports recruiting profile, including the likes of local programs like Arkansas State, Charlotte, Coastal Carolina, Florida Atlantic, Georgia Southern, Louisiana, Middle Tennessee State, South Alabama, Troy and UAB. Other G5 programs, like Akron, Central Michigan, Hawaii and Western Kentucky involved themselves as well, hoping to pluck an overlooked prospect out of a talent-rich area. That the bigger schools in the region never involved themselves in his recruitment remains in Davis' mind.
"I feel like in high school, being the size I am, I got overlooked," Davis told The Aggship. "But I know that I can play ball, and that's why I'm here to show everybody that I can do the stuff at the next level that comes naturally."
He committed to Billy Napier's Louisiana program in August of 2020, a pledge which would hold until Jan. 16, 2021, when Davis announced that he was re-opening his recruitment. Later the same day, he shared that he had received an offer from Utah State. Blake Anderson and Kyle Cefalo had recruited him at Arkansas State, and wanted him to be the first Alabama prospect since Alan Bishop in the class of 2005 to sign with the Aggies out of high school.
Three days later, Davis broke another mold, announcing his plans to leave the South and make the 1,800-mile trek to Logan and suit up for the Aggies.
"Coach Anderson, he stuck out to me the most," Davis said. "He kept in touch since my ninth-grade year when he was at Arkansas State. When I talked to him, it wasn't just about recruiting. He talked to me about life."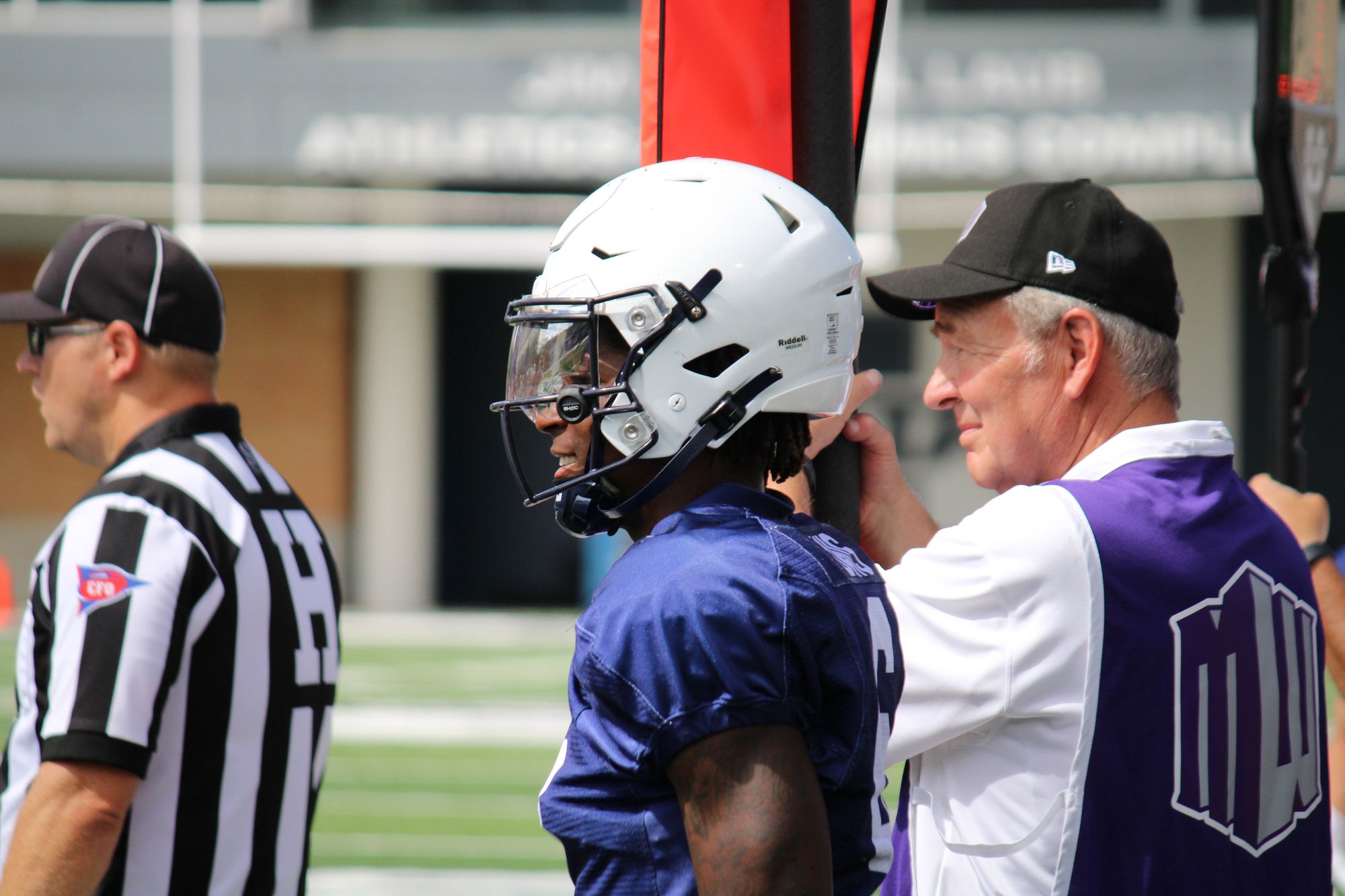 After a year spent working on his new playbook and growth in the weight room, Davis is in previously unfamiliar territory this fall. The redshirt freshman is projected as a crucial contributor to the Utah State offense. He was listed on the team's first depth chart as the top option for its second slot receiver role, which sees the field whenever the Aggies turn to four- or five-wide receiver sets – as offensive coordinator Anthony Tucker did constantly in 2021.
Last season's No. 4 receiver, Brandon Bowling, saw 599 snaps and snared 56 receptions for 835 yards and 10 touchdowns. It may not be a full-time starting job, but it's a whole lot closer than most redshirt freshmen expect to see.
That's not unfamiliar to Davis. He's been a playmaker for as long as he can remember, and if anything, last season's time away from the rotation was more foreign than the responsibilities he faces this fall.
What is new, however, is the same thing that ultimately ingratiated Anderson and Cefalo to Davis, and which eventually drew him to Utah State. After a prep career filled with creating his own lane, with breaking from the mold and doing things differently, Davis has a positional home with Utah State. A role designed almost exactly for him – one that looks to optimize his speed and quickness. A role that doesn't just accept his size, but that actively seeks it out.
A season ago, from the sidelines, Davis watched as Deven Thompkins took the Mountain West by storm. Logging identical measurements on Utah State's 2021 roster to those now associated with Davis, Thompkins hauled in 102 receptions, gained 1,704 yards and caught 10 touchdowns. He led the league in receiving yards and trailed only Jerreth Sterns of Western Kentucky nationally.
And he set the blueprint for the kind of career Davis hopes to have as an Aggie.
"I feel like Deven and I were real close last year," Davis said. "He showed me the way. I just watched him do things, amazing things. This year, I feel like I'm going to take that role. I know that's what I'm capable of doing."
He matches the requirements for the role. He spent the offseason forcing defenders (and, in turn, coaches) to pay attention, burning them on route combinations, snaring passes, and breaking out a collection of lethal jukes. There may not be a faster player on the roster, and there's certainly not an Aggie more sudden in his movements than the Alabama native – Davis often begins his cut upfield while still in the middle of shedding a defender with a different move. On several occasions during fall scrimmages, he left his feet to haul in a pass and had already contorted to change direction by the time he landed, coiling like a spring upon contact with the ground to explode away from would-be tacklers.
This part is the hardest step, but for Davis, it's almost second nature. With his first on-field action as an Aggie only hours away as Utah State prepares to host UConn, he just has to do what he's always done:
"I just want to make non-believers, people that didn't believe in me because of my size, into believers," Davis said, flashing a signature grin. "People at home, I want to make them believers. I want to make my family proud. Make the people who have always believed in me proud."