Preview: Utah State Looks To Right The Ship At San Diego State
Utah State is back in action on Saturday night at San Diego State, with both teams sitting at 3-5 and badly in need of a win to kick off November. Preview: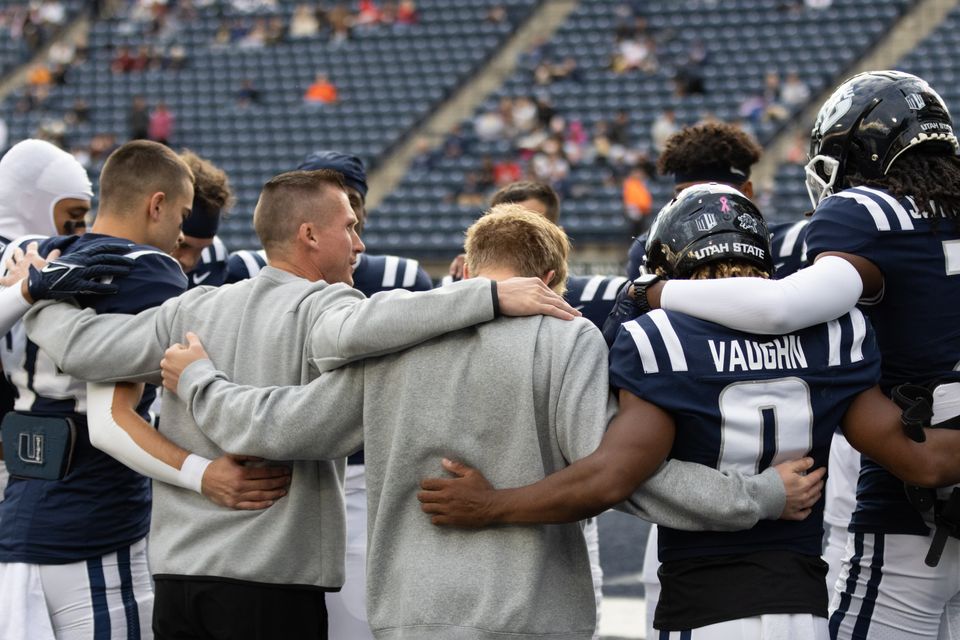 In some ways, San Diego State and Utah State will meet on Saturday evening in San Diego as two teams with a lot in common. Both the Aztecs and Aggies are 3-5, coming off a bye week following a devastating loss to a conference foe they probably should have beaten – for SDSU, it was a dreadful 6-0 shutout against Nevada; for Utah State, a 42-21 whooping at San Jose State.
There's common ground in the path they each took to that record. San Diego State managed a pair of non-conference victories against Ohio and Idaho State; Utah State did the same, swapping the Bobcats for UConn. San Diego State was competitive, but ultimately came up empty against two much better opponents in Oregon State and UCLA; as did Utah State with Iowa and James Madison. They share a multi-score loss to Air Force, a close loss to a team near the top of the MWC standings (Boise State for SDSU, Fresno State for USU) and a surprise defeat to a team near the bottom of those same standings. Utah State's win over Colorado State is better than San Diego State's over lowly Hawaii, but neither side would be terribly disoriented if put in the other's place.
Though the two haven't met since 2021 – when Utah State claimed a decisive 46-13 victory in the MWC title bout – they've largely managed to mirror each other from afar over the last three seasons. There are meaningful differences in the context of those seasons, but both programs broke out with double-digit wins in 2021, regressed to either side of 6-6 (SDSU was 7-6, USU was 6-7) in 2022, and have yet to escape that malaise in 2023.
Of course, as similar as the two are in the record books of late, there may not be two Mountain West programs more different in their approach to the game. On the field, they're fire and ice – San Diego State wants to play in a phone booth, condensing the field and looking to win with rock-solid defense and a deliberately plodding offense; Utah State is diametrically opposed to all of that. For the Aztecs, a meeting with the Aggies is all about survival on the perimeter and dominance in the trenches.
"They're a great offense, averaging about 35 points a game and over 400 yards," Aztecs safety Cedarious Barfield said. "They have two quarterbacks who can play very well, three receivers with five-plus touchdowns, and they have a great running game. With Utah State, it's kind of a different type of offense, they spread you out towards the sideline.
"It's always a fun matchup when we play them. Going back to 2021 when they kind of gave us a whooping, and then even before then, we went over there to Utah State and it was a great competitive game. At every position, they have a lot of ballplayers. It's going to be fun, and there will be a lot of pressure on the DBs, but that's the kind of game we like to play."
For Utah State, a game against Brady Hoke's squad can only be won with speed in space. The Aggies got what they needed in that 2021 meeting, racking up more than 300 yards and four touchdowns through the air and forcing San Diego State into playing at a tempo it cannot maintain. They've maintained that their focus is internal, no matter the situation or opponent, but everyone in the building at Utah State knows what awaits them on Saturday. Both teams are backed against the wall – a win would make bowl eligibility significantly more attainable, while a loss erases any margin for error.
"There's a ton hanging on this game because it's the next opportunity, and it's a game that we want to win," Utah State head coach Blake Anderson said. "We've always talked about being bowl eligible, but we don't talk about it once we get in the season. We're focused on going out and playing the type of ball we're capable of. Our only goal every week is to be our best. That was not what happened last Saturday, starting with me. I got frustrated and made a boneheaded call in the third quarter, it was a moment of pure frustration with how poorly we were playing. I can't do that. I have to be better.
"My only goal is for us to play our best football, and the rest will take care of itself. We need to be process-driven, not outcome-driven. We've done a good job of that for most of the season, we got away from that last week and that starts with me at the top. I have to focus these guys on the job at hand of playing good, sound football. If we do that, we have a chance to win. Bowl games and records and all those things come with that, but there's enough pressure on doing that alone, we don't need to add any other pressure on these guys."
This post is for paying subscribers only