Utah State Plans To 'Shuffle' Receivers After Kyle Van Leeuwen's Injury
Utah State is leaning on NyNy Davis, Terrell Vaughn and the rest of the receiver room to step up after Kyle Van Leeuwen's season-ending injury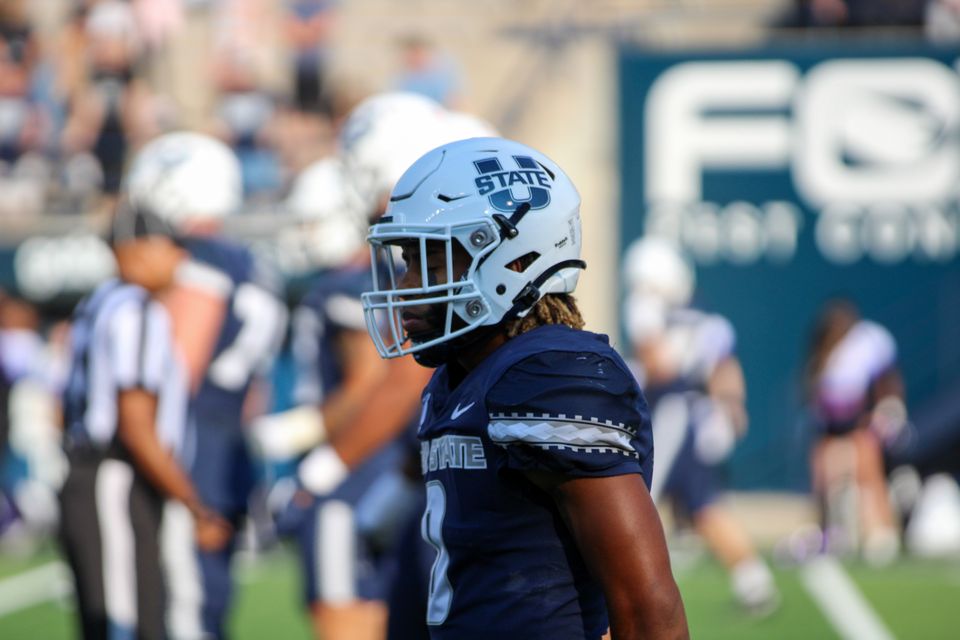 Utah State entered the 2022 season with a keen awareness of its slim margins at wide receiver. The Aggies graduated an almost unprecedented amount of production, losing Brandon Bowling, Jordan Nathan, Savon Scarver, Deven Thompkins and Derek Wright – and, in turn, 216 receptions, 3,425 yards and 33 touchdowns.
If you've kept track with Utah State, you know these numbers well. Head coach Blake Anderson has cited them, as has just about anyone else affiliated with the Aggie offense. To replicate the success of the 2021 season, Utah State needed to pull answers at receiver from a room filled largely with transfers or inexperienced underclassmen.
Justin McGriff was established, thanks to a pair of seasons in town playing a supplementary role in the starting lineup. Whether he could take the next step into stardom was a question, but McGriff's ability to fill a spot in the top group wasn't. Maryland transfer Brian Cobbs was pretty well established too, having spent time in a Power Five starting rotation over his four seasons as a Terrapin.
Kyle Van Leeuwen lacked the on-field experience of his counterparts on the outside, but he had proven himself in practice and was the final truly established piece in the room entering the season, working as Utah State's No. 1 slot option and logging 139 snaps through three games (the third most, behind Cobbs and McGriff).
There was uncertainty, even around the members of the room Utah State entrusted with starting roles, but much of it circled the group behind those starters. The Aggies weren't quite sure of what they had in Alabama transfer Xavier Williams, nor were they convinced of redshirt freshman NyNy Davis' ability to jump into a starting role with only one year under his belt. JUCO transfer Terrell Vaughn drew plenty of hype through the offseason, but much of that came from without the program.
All of that uncertainty remains as Utah State enters its fourth game of the season. Davis and Vaughn have had their moments – highlighted by Vaughn's kickoff return for a touchdown against Weber State – but neither has found solid footing in the offense. Williams, meanwhile, has played only 39 snaps and is solidly a member of the second unit with Quinton Hadnot and Otto Tia at this point.
It's joined, though, by far more shakiness at the top of the lineup than expected. The Aggie passing attack is listless. Receivers have struggled in winning one-on-one battles, boiling over with a disastrous showing against Weber State on Sept. 10. A season removed from deploying one of the most explosive passing attacks in the country, Utah State has been bottled up by defenses at UConn and Weber State it should be dominating, and exits its off week with eyes on shifting the offensive focus to offer more help for its receiving group.
"We're looking for explosiveness, and we're going to have to manufacture it in some areas," Anderson said. "Some of the explosiveness a year ago was just great individual plays. We've had some of those same one-on-one situations this year and have just not created enough. We do need to think outside of the box offensively, and that's something we've talked about as an offensive staff.
"This group may not be as individually based, it may be more schematic and we may need to think more creatively. Some of the things we were really good at a year ago, this group just hasn't quite clicked for it. There's plenty of opportunity for growth, and not just at wideout or quarterback. We have to play better up front as well.
"But, this group has to find itself. Where can the big plays come from? How can we create opportunities? The answers a year ago may not be the same this year, and that's part of being a great coach – figuring out the personnel you have, where your inexperience, strengths and weaknesses are, and working out a way to move the ball... That's been a challenge to this point, we're not consistently good at much of anything. We need to get there and it needs to happen sooner, rather than later."
As Anderson and his staff turn the program upside down searching for solutions to its problems, they've picked up yet another major question mark at wide receiver – perhaps the spot it could least afford more issues. Van Leeuwen has suffered a knee injury. His season is over.
In his place, Utah State has options as talented as they are unproven. Vaughn has worked as the No. 2 slot receiver and looked like the best player on the field for the Aggies against Weber State, taking four receptions for 36 yards. He's done most of his work on very short passes like screens, pop passes and quick outs, drawing nearly 90 percent of all targets (8/9) this season behind the line of scrimmage or within nine yards of it. This offense is built to feature quick-hitting passes, but it has traditionally asked more of its slot receivers and Vaughn has yet to draw any significant downfield assignments.
Davis is the other slot receiver with any real playing time to his name. He has 73 snaps to Vaughn's 90 and offers a little more versatility in his potential utilization. His target share is split 50/50 between passes within nine yards and beyond 10 yards, and he's shown the speed to beat Alabama cornerbacks down the field in one-on-one matchups – a quality this passing game has been sorely missing as it has struggled to create open passes against man coverage.
"You have to hurt them outside," Anderson said. "If they're going to man you up and load the box, you have to hurt them outside. If they empty the box, which we saw a good bit against Weber State, we have to be effective against low numbers. We've struggled in both areas. Consistency is going to be the same answer for everything. We've done things in bits and pieces, but nothing consistently. When the box is empty, we have to be more explosive. When the box is full, we have to be able to uncover and be explosive outside.
"I'm hoping that we start being able to do that, we've not done that yet. This is the challenge we face, we're battling it and coaching-wise, it's about creativity. How do we create opportunities to get guys open, how do we take it off their plate where they have to win one-on-one? We can create leverage points, some numbers and some ways to get people clean. We're going to attack it in every way possible."
Converting his athletic prowess into receiving production has been a problem. He's caught only two of his eight targets on the year and had a pair of costly drops against Weber State – one of which bounced out of his hands and into the arms of a Wildcat defender.
Behind those two, Anderson told media that he's expecting tight end Broc Lane and Utah transfer wideout Kyrese Rowan to help shoulder the load as well. Both have been uninvolved to start the year as they deal with injury issues they've since overcome.
"We've challenged (NyNy and Terrell)," Anderson said. "We've seen glimpses of both of those guys doing good things. Watching Terrell on the kickoff return shows you what he can do in space, and he had a couple of explosive touches. We also get Kyrese Rowan –a transfer from Utah who was out the first few games – back, you'll see him start to be a factor there as well. He would have already been playing in that role a little bit if not for his injury.
"It's going to be a little bit by committee there. We also get Broc Lane back at the tight end position, and he's a little more of a guy we'd enjoy playing out in space. He had missed a lot of snaps due to injury. Getting both of those guys back comes at a good time."
Anderson offered another potential path forward in his weekly press conference, one we'll describe informally as the "break glass in case of emergency" option. Cobbs and McGriff don't fit the profiles of traditional slot receivers, but Utah State has had success with running outside receiver routes from the slot before and could look to do so again as they search for creativity in the passing game.
"We're going to have to be smart about how we utilize our group, we will need to shuffle some guys around," Anderson said. "It's similar to what we did with Deven Thompkins last year, we would move him inside and outside, and I think we'll have to do some of the same things with McGriff and Cobbs and guys who have played more. We need to be more versatile with where they line up and how we use them until some of those other guys get experience and comfort in a game setting. Practice and game are a good bit different."
---
A quick note here at the bottom: If you're interested in purchasing anything in Homefield's new Utah State refresh, I would greatly appreciate it if you used the code AGGSHIP at checkout, or if you just shopped with this referral link. Thank you!