WBB Preview: Utah State Travels To Play Struggling LMU Side
Utah State WBB is set to tip off against 1-8 Loyola Marymount in a few minutes, looking for its third win in four games. Preview: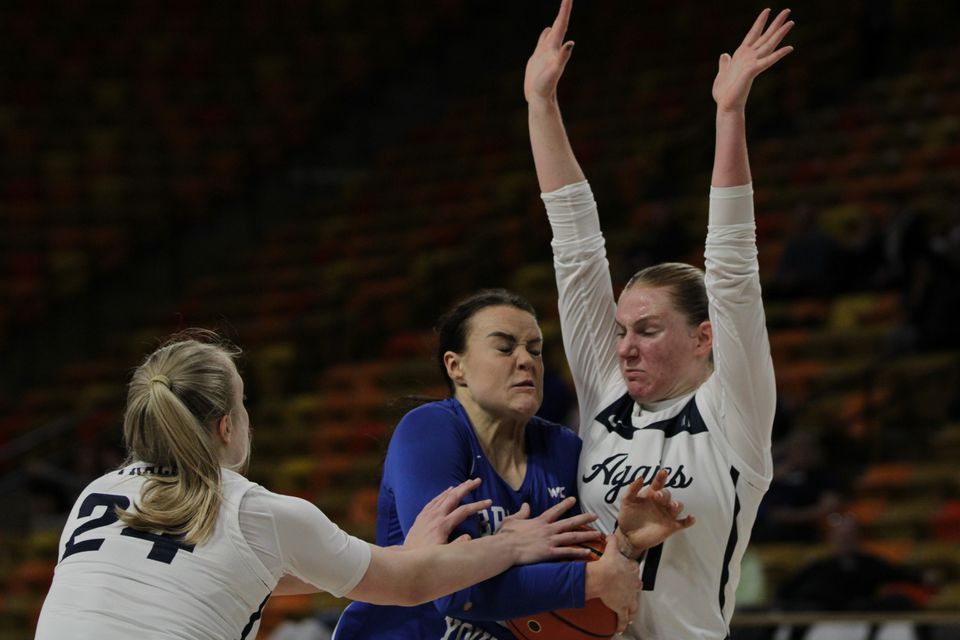 It's been only nine days since Utah State broke a five-game losing streak and claimed its first Division I victory, knocking off Weber State in Ogden, 74-69. A second win over Utah Valley two days later and a competitive showing against BYU on Dec. 6 have changed the tenor of Utah State's young season, but it's still been less than a week since the Aggies broke back into the win column. Fortunes can change in a hurry in this sport.
For Utah State, the hope is that the winds of change will continue blowing in a positive direction. The Aggies have looked much better defensively since the start of December – their intensity and focus are improved, and they're playing much closer to the style head coach Kayla Ard and her staff had in mind. The offense is a different story, but there's plenty of time to work through the myriad issues marring it.
With 1-8 Loyola Marymount and 4-2 Eastern Washington left on the non-conference docket, Utah State can hold realistic hopes of entering the MWC with a 5-6 record. It's not exactly where the Aggies wanted to be, but it would be a whole better than anyone could have really hoped for after a 1-5 start with blowout losses to Ball State and Utah Tech.
This is still a fickle sport. Progress is rarely linear – these teams are collections of very young athletes, and in Utah State's case, very young athletes playing basketball together for the first time. The tide can turn against Utah State just as easily as it can provide momentum entering league competition.
Loyola Marymount is 1-8. The Lions have yet to win a Division I game, toppling DII Cal State San Marcos 62-51 on Nov. 11 but losing their eight bouts with DI opponents by an average score of 76.8-55.5. As Utah State knows very well, none of that matters heading into any given game.
Loyola Marymount took Denver to overtime and played competitive games with Cal (trailed by eight after three quarters, lost 68-49); Texas State (74-62); UC Santa Barbara (64-49) and Wichita State (led by one after three quarters, lost 69-57). All it takes is one to break out of a losing streak. Utah State must be ready for a battle on Saturday afternoon, regardless of what the records say.
Projected Lineups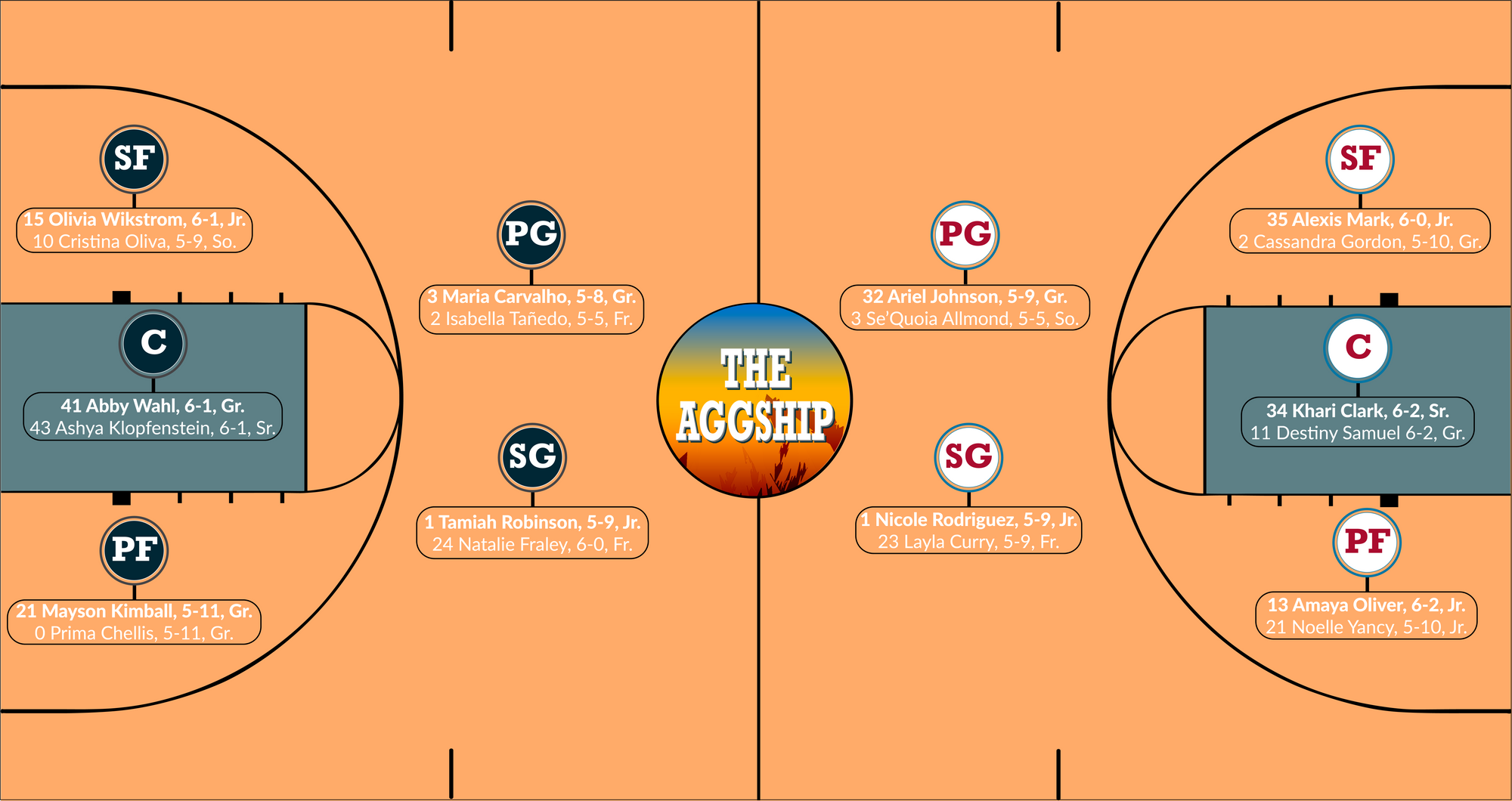 Players To Know
Ariel Johnson: An All-WCC second-team pick in each of her last two seasons, Johnson is central to just about every part of this Loyola Marymount attack – on both ends of the floor. The 5-9 guard led the Lions in scoring, assists and steals in 2020 (12.8 PPG, 2.7 APG, 1.9 SPG) and 2021 (14.8 PPG, 3.7 APG, 1.9 SPG), and she looks to be on the same path again this season.
Through nine games, Johnson is averaging 13.1 points, 2.4 assists and 1.6 steals per contest, shooting 40.4 percent from the field and 88.9 percent from the free throw line with three trips to the stripe per game. Her three-point shooting is down at just 24 percent, but she's a career 33.8 shooter from deep and could be in for a rebound there sooner than later.
It's been a little bit of a down season for her, relative to the standards she set last year, but she's the best player on the court for LMU. If it's going to challenge the Aggies, it'll start with Johnson shooting well and attacking the basket consistently. Once again, Maria Carvalho is faced with a tricky assignment defensively.
Amaya Oliver: Oliver is Loyola Marymount's lineup adjustment player. A 6-2 junior who transferred in from USC this offseason after a strong freshman campaign in 2020-21 (5.1 PPG, 4.1 RPG) yielded a sophomore season on the bench, Oliver can fill in comfortably as a big lineup power forward or a small ball center. She's started just two games this season, but she got the nod in LMU's most recent game and could very well start again on Saturday.
If she does, it'll be at power forward, pushing LMU into its big lineup with Khari Clark (6-2) at center and Alexis Mark (6-0) at small forward. Clark (5.6 PPG, 3.6 RPG, 0.9 BPG), Mark (9.2 PPG, 5.7 RPG) and Oliver (6.3 PPG, 4.6 RPG) would make for a very tricky frontcourt to defend, as Utah State has not had much success playing multiple true bigs together.
If Oliver isn't in the starting lineup, it could be a signal to expect something of a smaller lineup. Mark would slide down to power forward next to Clark while Cassandra Gordon (5-10) would step in at small forward. From a matchup perspective, that's probably a better fit for the Aggies – though they'd be even happier with LMU's smallest lineup, which slides freshman Se'Quoia Allmond (5.6 PPG, 2.7 RPG, 2.0 APG) in at point guard, moving Johnson into a ballhandling small forward role with Nicole Rodriguez at shooting guard, Mark at power forward and Clark in the middle.
Nicole Rodriguez: There are no such lineup quandaries here. Clark and Mark have each started all nine games for the Lions this season, and the 5-9 junior guard is right there with them – and like Clark, she's set in her position. Rodriguez is a shooting guard through and through, filling not just a role as LMU's sharpshooter this season, but the only such role.
Just one member of this team has converted more than six three-pointers this season: Rodriguez. She's hit 22 of them on 51 tries (43.1 percent), which is enough for 10.1 points per game – second only to Johnson. She doesn't do a whole lot of dribbling, rarely gets to the free-throw line (eight attempts in nine games) and has more turnovers (12) than assists (10).
Rodriguez is a true 3-and-D shooting guard, and she's very good at her job.
Stats To Know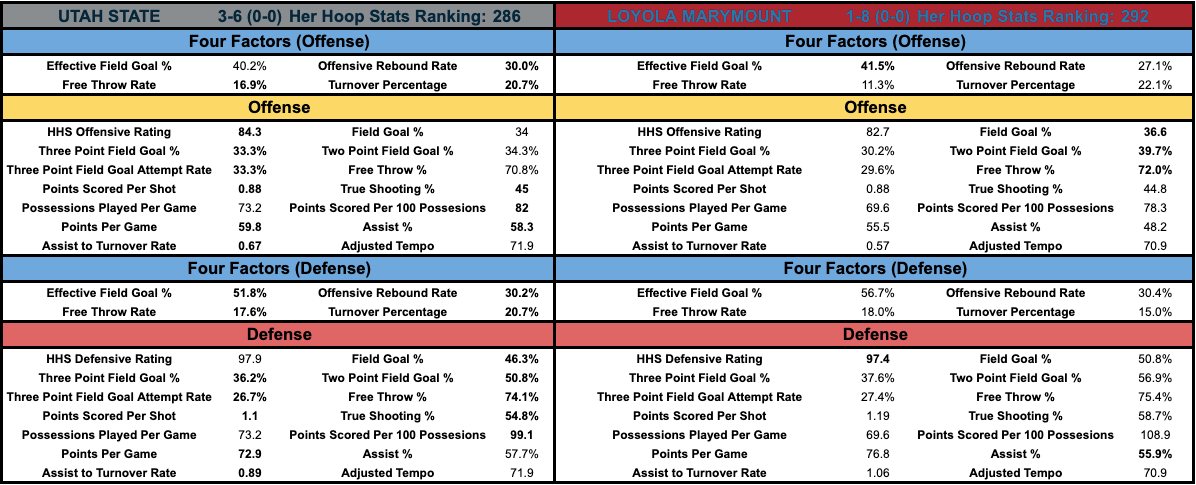 Turnover Percentage: For as much of an issue as turnovers have been for the Aggies this season, they'll enter this game with a distinct advantage in holding onto the basketball. Loyola Marymount holds a 22.1 percent turnover percentage, good for 269th nationally. Eight Lions average at least one turnover per game, four average at least two, and Johnson, the team's primary ballhandler, is sitting at 3.3 turnovers a night.
Utah State is coming off a BYU game in which it forced a whopping 32 turnovers. It may not be able to match that here, but it should be able to cause a lot of problems for the Lions' ballhandlers.
Free Throw Rate: Loyola Marymount's disastrously bad 11.3 percent free throw rate (356th nationally) doesn't make a whole lot of sense. This isn't a good three-point shooting team, nor is it especially keen on firing from downtown. Nearly 60 percent of its points have come on two-point tries, and less than half of all its made shots were assisted on. That's the profile of a team with a lot of slashers or players who otherwise look to score as close to the rim as they can get. It's also the profile, usually, of a team taking a lot of trips to the free throw stripe.
But, save for Johnson, Mark and Oliver (the only three players with a free throw rate above 12 percent), it just hasn't been the case. Utah State, which has been decidedly average about sending its opponents to the stripe, needs to make sure it doesn't allow Loyola Marymount to snap this dry spell. The Lions don't shoot very well, and Utah State's defense has to force them to play into those struggles.
Two Point Field Goal %: I've said it before, I'll say it again: None of this will matter if Utah State doesn't make its shots. BYU held the Aggies to a 28.3 percent outing from the field. They were 32.4 percent from inside the arc – awful, but still just about par for the course this season as Utah State is shooting just 34.3 percent from two-point range against DI foes.
Utah State can be dominant on defense here. It can shut Johnson down, handle the LMU lineups big and small and force as many turnovers as it wants. It won't matter if the Aggies can't score. There's no way around it. Utah State can and probably will win this game with a pedestrian performance on offense. But to this point, it hasn't been able to rely on that kind of output.
Prediction
They aren't identical opponents, but Utah State just beat a team of very similar quality on the road with its win over Weber State. That win was not pretty, and Utah State was not in control of the game until only a few ticks remained on the clock, but the Aggies won it all the same.
If the defense is up to the task and the offense is simply in the building and capable of converting open looks, I would expect a repeat of that outcome on Saturday afternoon.
Utah State 59