Cover Story: After Dominant Win, Utah State Must Refocus Quickly
Utah State enjoyed its 78-28 beatdown of Idaho State on Saturday night, but with a trip to Air Force in a short week on deck, the Aggies can't linger on their impressive handiwork. Cover story: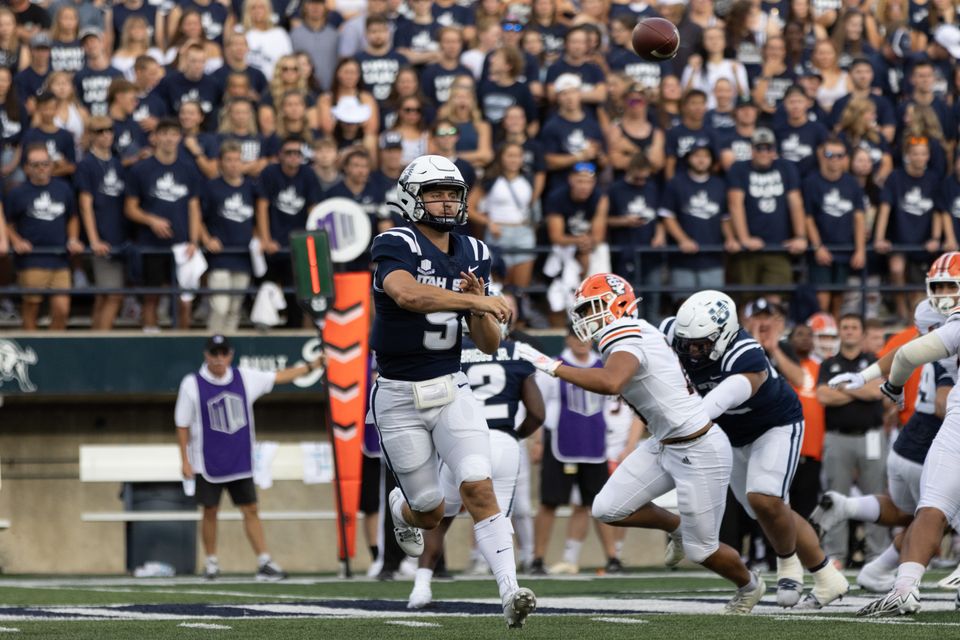 LOGAN – It's a shame, really, that Utah State doesn't have much opportunity to appreciate its handiwork in thrashing Idaho State, 78-28. Wins like that don't come around very often – the Aggies have only surpassed those 78 points thrice in program history, and it's been more than a century since the last time they did it – and Utah State has seen the other end of this sort of matchup not too long ago. Even against an overmatched foe, college football games are overwhelmingly difficult to win.
"I'm super excited for the guys," head coach Blake Anderson said. "These kinds of games can go a couple of different ways, and we've seen it in the past where on paper you should be better than the opponent and you just don't show up and play the way you're supposed to. You have a frustrating, sloppy night. Or, you can do what we did tonight, go out and make a statement that we came ready, we were prepared and we got better. I'm proud of the guys for the way they did that."
Historically dominant or not, Utah State can't be blamed for shifting its focus. The Aggies have a major task at hand this week, facing their third wholly distinct offense in as many weeks with a trip to see Air Force's vaunted triple option on the docket, and it's been made that much harder by a shortened week with kickoff in Colorado Springs set for Friday night.
Utah State's signs of encouragement against Iowa's throwback, downhill rushing attack and its 50-point beatdown of Idaho State's pass-happy air raid will do it no good against the Falcons – who have their eyes trained a breakthrough season after three double-digit win campaigns in four years that netted zero Mountain West titles. No matter how they got there, the Aggies are 1-1 with their conference opener on deck, and 2-1 won't come about through laurel resting.
"I know the score is one of those that you don't get very often, but there are still a lot of mistakes this evening that we have to correct," Anderson said. "We grew up in a lot of areas, but it just gets tougher with a short week against Air Force. Everything we got out of this game is critical, and I'm so fired up for the guys and excited about what's possible. We just have to keep working and not let this one go to our heads.
"That's another challenge that we'll have to deal with. It gets much tougher over the next few weeks starting with Air Force on Friday night. This one won't mean anything if we don't learn from it, grow up and get better, but for tonight we get to celebrate. Those are fun to be a part of. It doesn't happen all that often, so when you get it you have to make sure you give yourself a chance."
This post is for paying subscribers only