Film Study: Ephraim Banda's Big Bag Of Blitzes
To better understand what worked so well for Utah State defensively last season, we need to trace the roots of Ephraim Banda's playbook.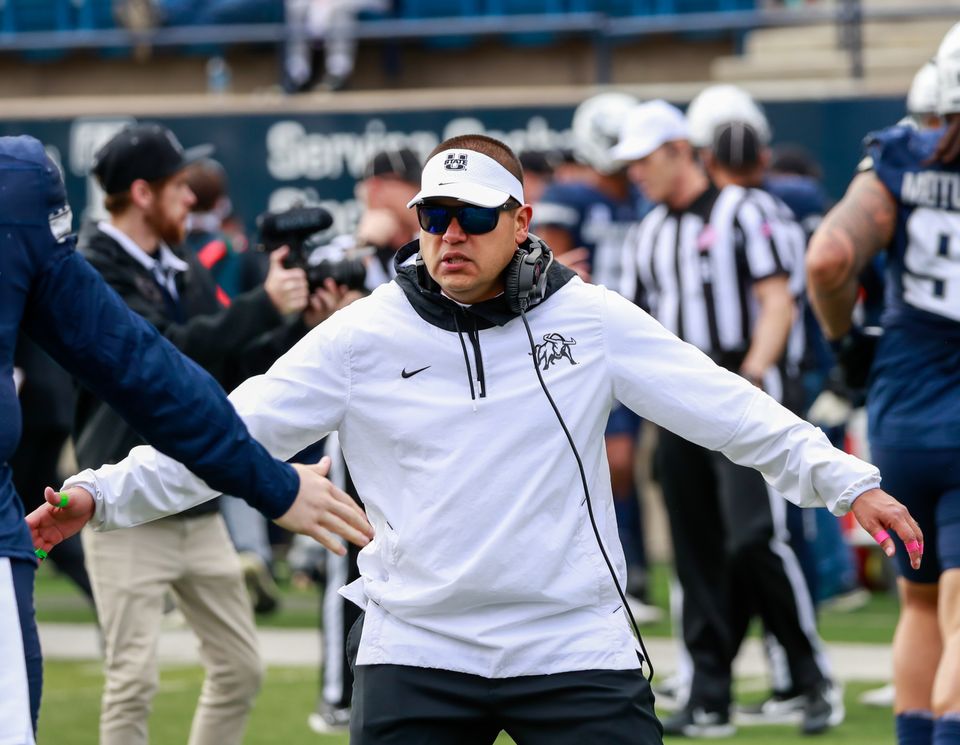 This story, along with all film study stories, is best viewed in your online browser. Most email hosts don't play nice with gifs.
There are no advanced statistics needed to pinpoint the guiding force behind the leap that Utah State's defense took in the last seven games of the 2021 season. Pressure rate, explosiveness, success rate, havoc, predicted points added – all super valuable, and all entirely unnecessary here.
Utah State did see improvement in just about all of those metrics (more on that in a moment), but to identify the root cause of the success Ephraim Banda's group found in the back end of his first season at the helm, there's no need to look further than a stat he can't help but boast.
In the first seven games of the season, Utah State recorded 47 tackles for loss and nine sacks – about 6.7 and 1.3 per game, respectively. In the last seven? The Aggies notched 67 TFL and 23 sacks. That's 9.6 TFL and 3.3 sacks per game. Utah State allowed 28.7 points per game in the opening stanza of the season and 20.1 in the back half (which dips even further to 16.2 if you wash out that shocker against Wyoming). Sometimes, football can be simple.
The advanced metrics agree, too. Utah State allowed a success rate just above 45 percent in the first seven games of the season. It dropped to 40.4 percent in the last seven. Opposing rushing success rate dropped by 11 percentage points, from 47.2 percent to 36.4 percent. Offensive explosive plays allowed fell across the board.
To define the season in all too few words, USU's defense flipped a switch as soon as it understood the value of explosive plays within Banda's system.
It's Banda's system that deserves much of the praise for this leap (though the players executing the system are obviously the most important piece of any football equation). To understand Utah State's surge down the stretch and to set expectations for the 2022 defense, we have to understand Banda's approach to coordinating that defense.