Forecasting The Aggies: Quarterback
Utah State is just about set at quarterback, but has plenty of intrigue through the depth chart.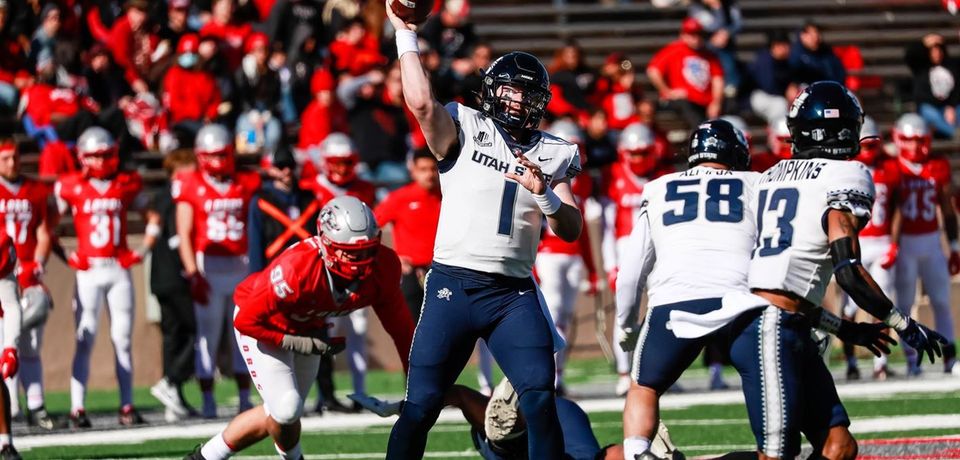 It's been a while since Utah State entered a season with uncertainty at quarterback. There's a case to be made that it's been more than a decade of relative security at the most important position on the field for the Aggies. They've faced turmoil within several seasons because of injuries or poor performance, but there's been a pretty well-established line of succession at quarterback for quite some time now.
The last offseason with real uncertainty at quarterback was probably 2011. Three-year starter Diondre Borel ended his tenure the year prior, and then-head coach Gary Andersen was set to break in a new signal-caller at a critical time for his tenure. He had two 4-8 seasons under his belt and would need to generate a jump forward with a new face at quarterback.
The options for replacing Borel were unproven Andersen pulled Adam Kennedy from the JUCO ranks as the stable choice, with true freshman Houston product Chuckie Keeton serving as the wildcard.
Of course, Keeton would eventually claim the job, starting the first eight games of the season before an injury thrust Kennedy into the role through the end of the year. The Aggies went 7-6 and both quarterbacks returned for 2012 – not a whole lot of drama there. Keeton led the charge on an 11-2 season and presided over the next three seasons as the presumed starter.
Kent Myers, who backed up Keeton in 2015, took over the job in 2016 and carried that title in 2017 before losing the title to Jordan Love. Love entered 2018 and 2019 as the unquestioned starter and left Logan as a first-round pick. No drama there, either
That leaves 2020, just about the only other year that could make a case for its own insecurity at QB. The Aggies did have a long-term starter to replace with Love gone, and they were without established options to replace him (especially after Henry Colombi's transfer). Andrew Peasley had only ever worked as a reserve before 2020, and Jason Shelley was new to the program.
But, Andersen pulled Shelley from Utah – where he had seen significant reps in 2018 – and presumably did so with high hopes that he'd be declared immediately eligible. Shelley wasn't named the starter until fall camp, but that was only three months after his arrival. Even if there was uncertainty around Shelley from without the program that would later be vindicated, it seemed at the time that Andersen was pretty comfortable with it.
"He has come a long way since being around the team," Andersen said when he named Shelley the starter. "He has done a good job."
The 2021 season doesn't need a full rehashing. Utah State returned an experienced option in Andrew Peasley, but Blake Anderson brought Logan Bonner with him from Arkansas State to provide a little more confidence within a new offensive system. Bonner starred and is back for 2022, Peasley has since transferred to Wyoming, and Utah State is now only a month and change out from entering its (arguably) 11th straight fall camp with relative certainty about who will be taking starting snaps at quarterback this season.
But security at the position does not mean that there aren't storylines to consider, even with the season still more than two months away, in the first of The Aggship's position-by-position preview of the 2022 Utah State football roster.
This post is for paying subscribers only