Mailbag: Blake Anderson's Offense, Portal Additions, WBB Roster
The free mailbag is back, taking a look at what to expect from Blake Anderson's offense, USU's portal productivity, and much more: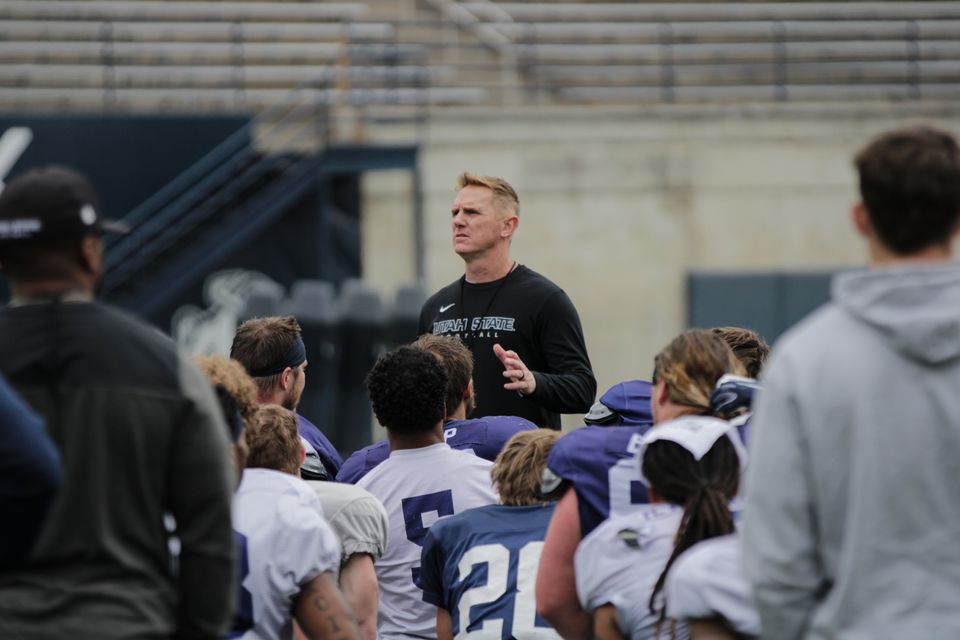 It's late May. Seniors have graduated, students are home, and just about all is quiet in Logan. There are a few track and field events still wrapping up, but the 2022-23 athletic season is just about complete, and we're about three months from the first event of the 2023-24 slate, a women's soccer matchup with Weber State set for Aug. 17.
That doesn't mean the work is done – Utah State has just named a new president, Dr. Elizabeth Cantwell, and has still yet to make a decision on its athletic director position, which has been filled for months by interim AD Jerry Bovee. There's roster-building for quite a few of the Aggie teams, too, though the men's basketball team can no longer be counted in that group (barring any surprises).
A quiet stretch like this one is as good a time as any to take a look around at the questions still lingering in Aggie world. Where better to find those questions than in a mailbag?
I've grouped these to kick this mailbag off because they hit on the same central point – Utah State's offense did not live up to expectations in 2022, and lackluster play calling was chief among the concerns held by media and fans alike. Did that frustration extend to the coaching staff?
Well, offensive coordinator Anthony Tucker is serving now in a similar role at Indiana, replaced internally by wide receivers coach Kyle Cefalo and, of course, head coach Blake Anderson. That's a Big Ten job, which classifies it as a step up, but Tucker was never returning to Utah State for the 2023 season. To understand why, we need to trace some coaching trees and outline a few crucial differences in schematic opinion that shaped Utah State's offense into the form it took last year.
Cefalo, for those unfamiliar, came with Anderson from Arkansas State, having spent three seasons in Jonesboro as a graduate assistant (2013-15), two as an inside receivers coach (2017-18) and two as a special teams co-coordinator as receivers coach (2019-20). In a decade of coaching, Cefalo has been apart from Anderson for just two years (one at Boise State, one at Maryland). There's a lot to glean from Anderson promoting someone with that resume to work alongside him as offensive coordinator – notably, Cefalo is very much a product solely of the Anderson coaching tree.
Tucker was at one point an "Anderson guy" so to speak, serving for three seasons as a position coach under Anderson at Arkansas State (2013-15), but the offensive system he deployed in Logan during his two years at the helm of the offense was very much not of the Anderson tree.
That was by design. Tucker left Arkansas State for Maryland (as Cefalo did) in 2016 to work alongside offensive coordinator Walt Bell, a product of the Larry Fedora tree just like Anderson, and for two years the offensive coordinator under Anderson at Arkansas State (2014-15). At the time, Bell's offense was Anderson's offense, and Tucker followed suit.
It wasn't until 2018, when Tucker took a position on Josh Heupel's first UCF staff, that he began to stray from the Anderson system (which is a more extreme version of the Fedora system). Heupel's offense has some crossover with Anderson's, but the former is built out of Kevin Wilson's (and Randy Walker's) balanced, up-tempo spread offense while the latter is much more of the air raid model – which spread like wildfire through Fedora's home state of Texas right around the time he was rising through the coaching ranks.
In hiring Tucker for his inaugural Utah State staff, Anderson was looking to combine his wide-open vertical passing attack with a rushing attack predicated on tempo and mobility behind center. The idea was that the former could create light defensive boxes, which the latter could exploit by involving the quarterback in the running game to create numbers advantages. This certainly isn't unheard of – it's the core idea behind the Art Briles offense, which has taken hold at the top of the sport through coaches like Kendal Briles, Heupel, Lane Kiffin, Jeff Lebby, Lincoln Riley (and brother Garrett) and dozens more.
If this all sounds familiar, it may be because I wrote about this exact topic last June, in what I believe was the first story ever published in The Aggship. I would recommend reading that story if you want to more about the history of these systems and the minutiae of how they work.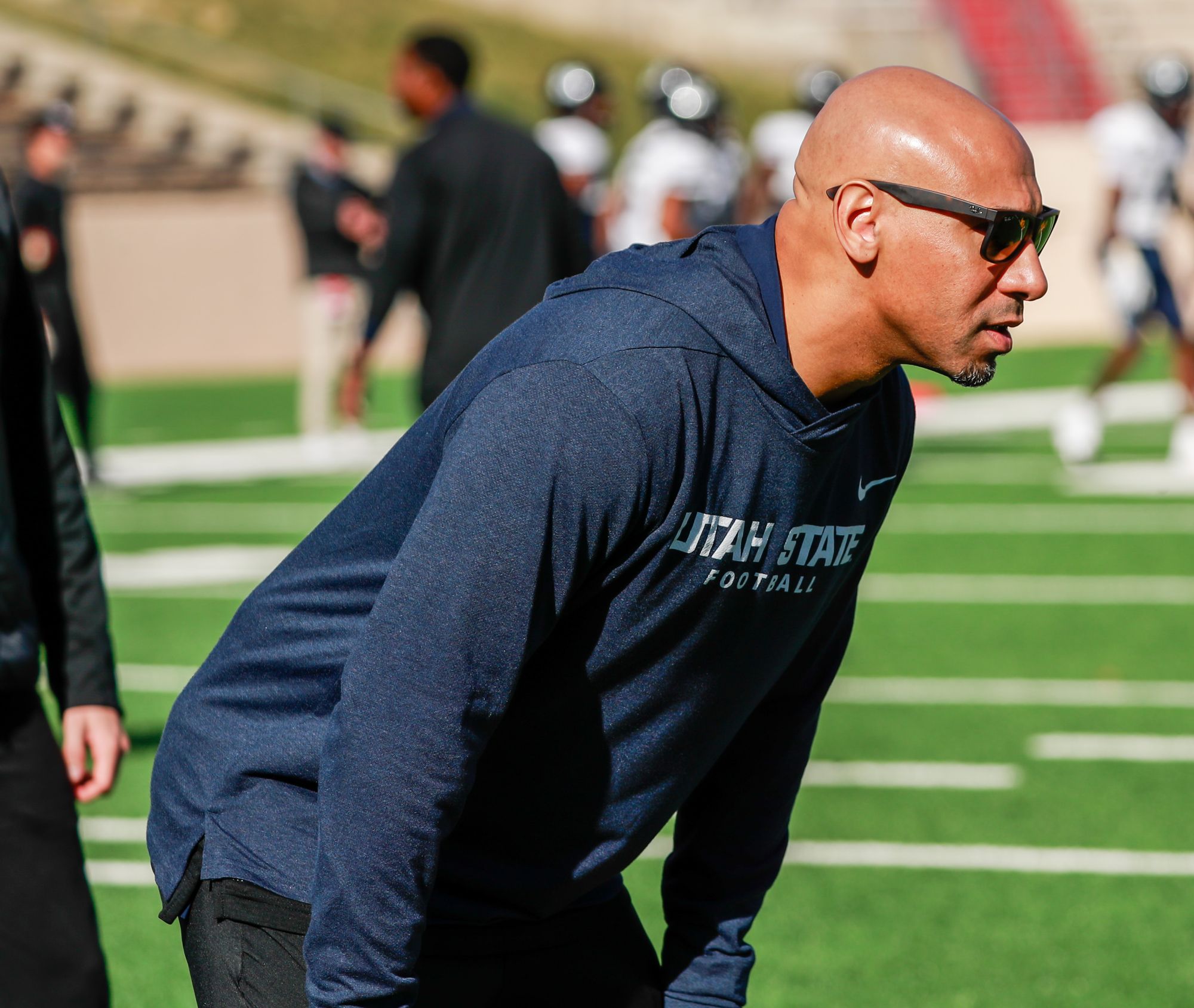 In 2021, it worked like a charm. Utah State averaged nearly 33 points a contest on its way to a Mountain West title, producing the exact kind of balance it wanted to see with more than 300 passing yards and almost 150 rushing yards per game. Logan Bonner wasn't exactly dominating with his legs, but he posed a viable threat to run the ball and paired it with decisive playmaking through the air – which was certainly helped along by an embarrassment of riches out wide in the form of Brandon Bowling, Deven Thompkins and Derek Wright.
Defenses that sold out to slow that trio down opened themselves up to a healthy dosage of Elelyon Noa and Calvin Tyler Jr. on the ground, while groups that loaded the box had little hope of containing the passing game. Utah State had complementary balance and pace, and it happily rode it to 11 wins.
The issue with that hybrid offensive system – and ultimately, the cause of its demise – can be explained very simply: To execute it properly, you need all of those aforementioned pieces. Your quarterback needs to be a capable threat by ground and air, touting both athleticism and arm talent and tying them together with strong decision-making. He needs a receiving corps that can win the one-on-one matchups created by Anderson's vast splits. Up front, you need an athletic offensive line that can handle the tempo, and behind them a halfback (or two) who can do the same while juggling roles as a ball carrier, a pass blocker and a receiving threat.
Utah State didn't have all of that in 2022, and probably won't have all of it again any time soon. It's really hard to pull all of those pieces together consistently as a G5 school without an extremely rich base of talent in its recruiting territory. The system is more common at the top of the sport because it relies on a talent advantage, which top programs can generate much easier than G5 teams can.
Which brings us, finally, to Utah State's offense as it moves forward under the direction of Anderson and Cefalo.
Some things probably won't change. Wide splits are a central feature of the system, and it's hard to imagine a departure from that. From those splits, you'll probably see plenty of passing plays designed to create one-on-one matchups down the field, which the Aggie receivers will be expected to win – creating deep throws the winner of the quarterback battle will be expected to hit. You'll also probably see a bit more diversity in the passing design, primarily on routes within 20 yards. Anderson's system at Arkansas State was predicated on short passes to set up deep passes, and I'd bet this offense will return to that approach.
The Aggies will still need talented players to step up out wide, but Anderson is very good at making things easier on his players through his play design, and that seems to be the focus heading into year No. 3.
Despite a bevy of transfers, especially on the defensive side of the ball, Utah State will field a football team this fall. The Aggies got off to a very slow start in adding new faces, but they've been on something of a tear recently, picking up commitments from Wisconsin CB Al Ashford III, JUCO DTs Harold Brooks and George Lauhingoa, Arizona State OL Ralph Frias, JUCO DB Isaiah Hackett, Colorado DB Simeon Harris, Bowling Green DE Blaine Spires since the beginning of May.
I'll have a full breakdown of USU's portal additions and subtractions coming next week, but I believe the Aggies have 81 players on scholarship right now. It'll be a very different group from the one that took the field in 2022, but the roster will be either full or close to it by the time it enters fall camp.
Utah State's focus has been almost exclusively on the defensive side of the ball over the last month or so, and I don't expect that to change as the Aggies look to fill these last few spots. They may try to bring in a developmental quarterback to pad out a depth chart with two veterans (Cooper Legas and Levi Williams) supported only by a pair of freshmen (McCae Hillstead and Chase Tuatagaloa), but I think the offense is otherwise set.
Defensively, there's still plenty of space at defensive end (six scholarship players) and in the secondary (14 scholarship players), and I'd bet both of those spots will be addressed further. Utah State could really use another upperclassman or two in each spot, given that currently touts just one at safety (Anthony Switzer), two at cornerback (Michael Anyanwu and Xavion Steele) and three at defensive end (Cian Slone, Spires and John Ward).
Shifting now to basketball, Reechard has given me the opportunity to make a spreadsheet, and you all know I'm not passing that up. Using KenPom's Continuity stat, here's what I have:
It's exceedingly rare, but not unheard of. Since 2007, six teams have entered a season without returning any minutes from the year prior. UC Riverside did it in 2011, Mississippi Valley State in 2013, Florida A&M in 2015, Portland and UT-Martin in 2022 and St. Bonaventure in 2023. Portland is the lone member of that group to record a winning record (19-15), with the average record working out to roughly 10-21 (32.6 percent). I would guess it becomes much more common as we get deeper into the transfer portal era, especially with the recent one-time free transfer rule change.
To provide a bit of a larger sample size, I also compiled all of the teams since 2007 to return less than 10 percent of their minutes from the previous season. That group includes 35 teams, including 23 since the advent of the portal in 2018. This bunch has fared almost identically, with an average record of 10-21 and zero NCAA tournament teams – same as the other bunch.
However, there are a few legitimately decent squads among this batch, namely 2013 Kentucky (21-12), 2023 Milwaukee (22-12) and 2023 Northwestern State (22-11). The average record since 2018 is 11-20. Utah State would stand alone (at least for now) if it manages to return to the NCAA tournament in 2024 with an entirely new rotation.
This is a good question, and one that I admittedly don't have much of an answer for, unfortunately. The Alumni Association events page is a good place to start, and Utah State maintains a great calendar of all upcoming events that can be filtered by target audience (eg. general public, students, faculty, etc...). Most of it isn't related to athletics, but there's plenty of fun stuff in there, from gardening to comedy night, musicals, concerts and art exhibits.
I haven't had a whole lot to say about the women's basketball team since season's end because, frankly, there hasn't been a lot to say. Women's basketball recruiting news is hard to come by, especially for mid-major teams, and Utah State's is no different. The Aggies announced six signees in April, and list 11 players on their 2023-24 roster.
Utah State lists eight of those 11 players as guards, but you're right to point out a relative lack of actual guards. College of Southern Idaho transfer Livia Knapp is a true point guard, as is Isabella Tañedo – though I was told about a month ago that she was in the transfer portal. I cannot confirm if that's still the case, though I'll tell you that Utah State would love to have her back.
Elsewhere, the Aggies have a few players who can probably fit as shooting guards if needed – UMass Lowell transfer Ivory Finley (who may be the team's best player), NJCAA All-American Skye Miller, Snow College signee Samiana Suguturaga and freshman Ali Wetta – but Finley and Wetta are probably the only two of that bunch who actually land in the backcourt. Utah State has either two or three spots left on the roster depending on Tañedo's status, and I'd assume all of those spots will belong to true guards.
As for your actual question, I think Occam's razor probably applies: Utah State went 4-26 last season, and just lost nearly its entire roster for the second time in as many years. This program is not exactly an easy sell on the recruiting trail right now. The Aggies are taking the talent they can get, and thus far, that talent has skewed more toward the frontcourt. I don't think it's a conscious effort to build a team of forwards, but I'll ask Kayla Ard the next chance I get.
I have pretty high hopes for several players on this roster – Finley, Lillian Harris, Tiairra Hill-Brown, Knapp, Miller, Birdget Mullings and Suguturaga are all intriguing, as is Tañedo if she sticks around – but it's pretty hard to generate a lot of optimism for a roster without a single player who has proven capable of starting at the Mountain West level. It doesn't reflect well on the state of the team, but I'd probably set the over/under at 5.5 wins right now.
"Who do you think wins a conference championship out of all varsity sports next season?" - @t_creer54
I'm not as well-versed in Utah State's Olympic sports as I would like to be, but I'll give this a shot in the form of a power ranking.
Volleyball
Men's tennis
Men's track and field
Men's basketball
Gymnastics
Soccer
Football
Men's cross country
Women's track and field
Softball
Women's tennis
Women's cross country
Golf
Women's basketball